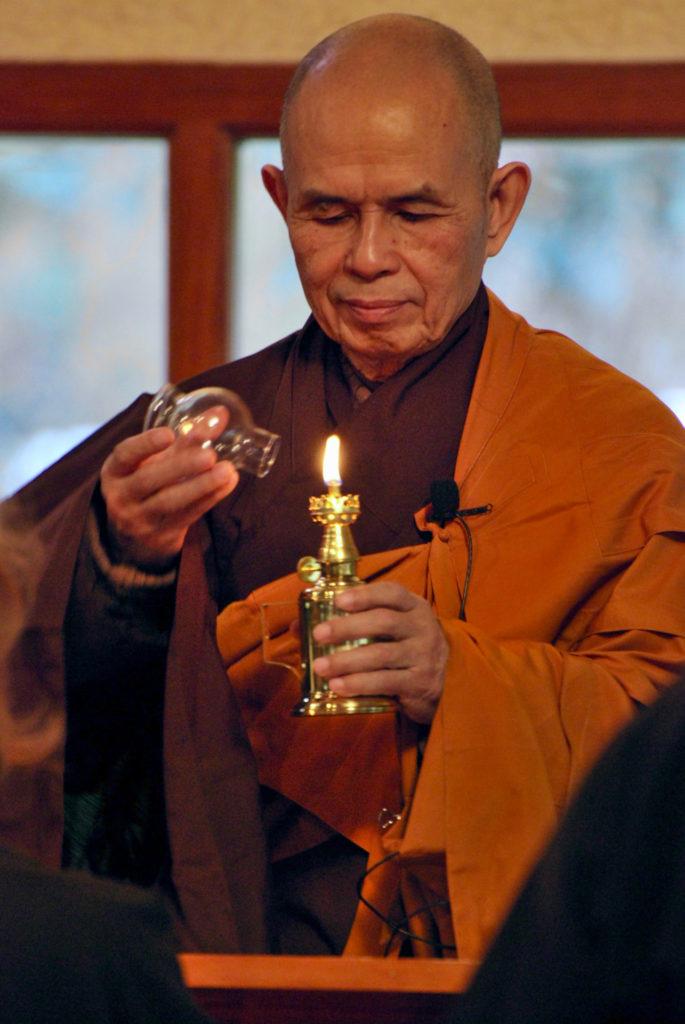 Vanmorgen, 22 januari 2022 is Thay, Zen Meester Thich Nhat Hanh, vredig heengegaan in de Từ Hiếu Tempel in Huế, Vietnam, op 95 jarige leeftijd.
Beste geliefde gemeenschap,
Met een diepe, aandachtige ademhaling kondigen we het overlijden aan van onze geliefde leraar, Thay Nhat Hanh. Hij overleed om 01:30Let op: na meer gedetailleerde informatie van Huế, een paar uur na het publiceren van dit bericht, hebben we nu het tijdstip van Thay's overlijden bijgewerkt, van middernacht (toen Thay in transitie ging), naar het moment dat Thay officieel overleden is verklaard (01:30 uur) uur op 22 januari 2022 in de Từ Hiếu-tempel in Huế, Vietnam, op 95-jarige leeftijd.
Thay is een uitzonderlijke leraar geweest, wiens vrede, teder mededogen en heldere wijsheid het leven van miljoenen heeft geraakt. Of we hem nu op retraites zijn tegengekomen, bij openbare lezingen, of via zijn boeken en online lezingen, of gewoon door het verhaal van zijn ongelooflijk leven – we zien dat Thay een echte bodhisattva is geweest, een enorme kracht voorvrede en genezing in de wereld. Thay was een revolutionair, een vernieuwer van het boeddhisme, hij probeerde het onderricht van de Boeddha nooit aan te lengen en groef altijd diep in de wortels van het boeddhisme om de authentieke betekenis ervan naar voren te brengen.
Thay heeft voor ons allemaal een prachtig pad van geëngageerd en toegepast boeddhisme geopend: het pad van de Vijf Mindfulness-trainingen en de Veertien Mindfulness-trainingen van de Orde van Interzijn. Zoals Thay zou zeggen: "Omdat we het pad hebben gezien, hebben we niets meer te vrezen." We kennen onze richting in het leven, we weten wat we moeten doen en wat we niet moeten doen om het lijden in onszelf, in anderen en in de wereld te verlichten; en we kennen de kunst van het stoppen, diep kijken , en het genereren van ware vreugde en geluk.
Dit is een moment om terug te komen bij onze bewuste ademhaling en te loopmeditatie te beoefenen, om de energie op te wekken van vrede, mededogen en dankbaarheid om deze aan onze geliefde Leraar aan te bieden. Het is een moment om toevlucht te nemen tot onze spiritule vrienden; onze lokale sanghas en in elkaar.
We nodigen je uit om je online bij onze wereldwijde gemeenschap te voegen, terwijl we het leven van Thay herdenken met vijf dagen van beoefenen en ceremonies die LIVE zullen worden uitgezonden vanuit Hue, Vietnam en Plum Village, Frankrijk en die starten op zaterdag 22 januari.
Zie onze website. Meer details volgen binnenkort: plumvillage.org/nl/herdenken. Een deel van de website zal ook beschikbaar zijn in het Nederlands.
Laten we allemaal de komende dagen de energie van mindfulness, vrede en mededogen naar onze geliefde Leraar sturen. De komende uren zullen we op de Plum Village-website enkele inspirerende gezangen, teksten en mindfulness-oefenbronnen publiceren, om je te helpen om samen te komen met je lokale sangha om een collectieve energie van mindfulness en mededogen op te wekken en je eigen ceremonie of oefensessie te kunnen samenstellen als eerbetoon aan onze Leraar. Zoals Thay altijd heeft geleerd, niets is belangrijker dan broederschap en zusterschap, en we weten allemaal hoe krachtig de collectieve energie is.
Om de komende dagen met ons mee te doen in deze tijd van collectieve beoefening, kunt je je aanmelden voor onze internationale e-maillijst voor meer updates: https://bit.ly/3fJx7pd
We nodigen je uit om je berichten van dankbaarheid of persoonlijke transformatie en genezing te delen op onze website: plumvillage.org/nl/dankbaarheid
Met liefde, vertrouwen en saamhorigheid,
De monniken en nonnen van Plum Village,