Lower Hamlet and the Happy Farm team are delighted to announce our next 'Happy Farm Experience Week' in Lower Hamlet from the 16th to the 23th of September 2022.
This special week offers a unique experience, combining a week's retreat in Lower Hamlet with our community, with a special hands-on experience in helping us on our organic farm.
The Happy Farm is a project of organic agriculture within our mindfulness practice community. You will have a chance to experience first-hand the interconnection between earth, rain, sun and seed, with the hands and feet of a "farmer". The farm uses a variety of organic methods. The Happy Farms' volunteer team practices mindfulness in our work as part of our vision of promoting wellbeing for individual, society and the earth (read more on thehappyfarm.org).
We practice service meditation on four days of the week, when we will enjoy bringing mindfulness to our organic farming work for three hours each session. During the week we will share and experience together what it means to bring mindfulness to work. We also enjoy Plum Village mindfulness practices such as sitting meditation, walking meditation and "Dharma / Farmer sharing" during the week. At the end of the week, we will celebrate together to say thank you for your presence and practice with us.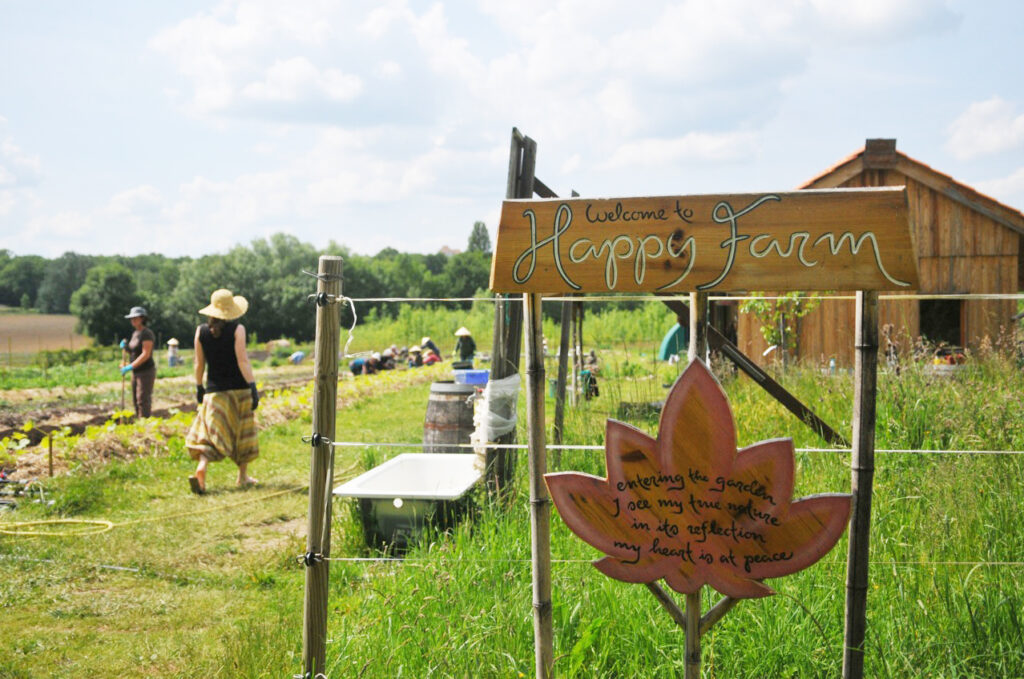 Retreat information
You will enjoy the full normal weekly schedule of Lower Hamlet and also enjoy your meals with the community. Due to the limited capacity of indoor rooms in Lower Hamlet, registration is only possible in camping or camper vans, for a maximum of 12 people.
As the Lower Hamlet is the home to our monastic sisters, they can receive only women and couples.
To support the stability and collective energy of mindfulness, all participants are asked to stay the full week, and only arrive and depart on the designated days: Friday 16 September and Friday 23 September.
You can find more information about visiting Plum Village for a retreat on this page.
For practicalities such as transportation, arrival and departure, what to bring and what to wear, please see our practicalities page.
Registration