In mid July this year, Plum Village is offering three 6-days retreats open to everyone, including families and children. We would like to invite experienced practitioners in our tradition to support us from July 2 – 31 as volunteers in this Summer Opening (July 9 – 29).
Practical Information
Volunteers will arrive on July 2 to settle in, meet the monastics and the volunteer team. We will learn, practice, play, and prepare for the retreat together.
Volunteers will also stay a few days after the retreat, departing on July 31, to help us and to join the farewell gathering.
You will camp during the retreat and contribute €200 for your stay.
We also welcome experienced Plum Village volunteers to support us as general volunteers for a shorter period, either from July 2 – 24, or from July 9 -31. Your contribution will be €175.
Please note that we can only consider your application if you have practiced at one of the Plum Village centers.
All volunteers, please provide:
A copy of ID card
Proof of health insurance and visa if needed.
Children and Teens program volunteers – a copy of the Child Protection Certificate, police check record, or similar document from your country. For residents of France, this can be obtained here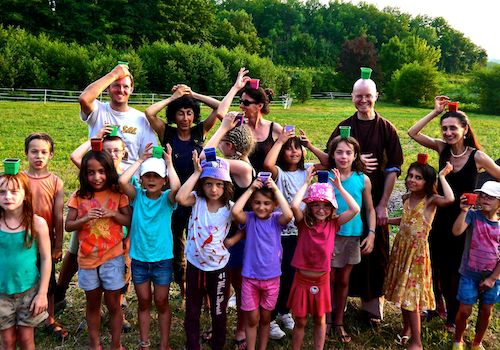 There is still space for volunteers in the below Children and Teens programs:
| | | | |
| --- | --- | --- | --- |
| Program | Language | Location | For |
| Children's program | English | Lower Hamlet (with the nuns) | Anyone |
| Teen girls' program | English/French | New Hamlet (with the nuns) | Women |
| Teen boys' program | English/French | Upper Hamlet (with the monks) | Men |
Apply to be a Children or Teens program volunteer
All other General volunteers
Dear friends, we are still looking for general volunteers in the New Hamlet and Lower Hamlet.
First time volunteers
If it is your first time volunteering at Plum Village and
are able to support us from July 2 – 31, please apply below:
Experienced volunteers
If you have volunteered at Plum Village before and
are able to support us from July 2 – 24, or July 9 – 31,
please apply below:
A lotus for you, a Buddha to be