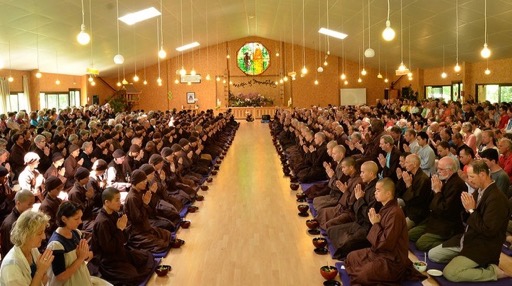 Plum Village, France is actually composed of three separate monasteries, called "hamlets".
The hamlets are self-contained communities where the monastics and lay practitioners live, eat, practice, work and relax as a spiritual family. All three hamlets come together at least twice a week (on Thursdays and Sundays) to listen to a teaching and enjoy a full day of mindfulness practice as a community.
Visiting Plum Village, France
To visit one of our hamlets you can either register for a retreat or visit on a scheduled Day of Mindfulness.
[Please note, we are not able to host guests who arrive without a booking. We also cannot host guests who wish to stay overnight outside of the retreat dates. Thank you for your support and understanding.]
Who can stay where for retreats?
New Hamlet and Lower Hamlet are the two communities of Plum Village nuns (or "sisters"). If you are a woman coming on your own, please register once only at either New Hamlet or Lower Hamlet. They are located about 18 kms apart.
Upper Hamlet is where the Plum Village monks live and practice. If you are a man coming on your own, please register in the Upper Hamlet.
All hamlets accept couples and families.
If you are arriving together with a member of the opposite gender, and wish to room together, you can register at any of the 3 hamlets, however the following requirements must be met:
Either you are blood relatives or
Both members must be above 35 years of age and
Must be in a long-term relationship, made known to family & friends
If you are arriving together with a member of the opposite gender and wish to room apart, then please register separately to the respective Hamlet.
Please send all questions/concerns to the appropriate Hamlet so that we may get back to you in as timely a manner as possible.
Contact information
Please note that the Registration Offices in the three hamlets have different opening hours.
Upper Hamlet
For single men, couples, and families
Pháp Vân Temple – 法雲寺
Address: Village des Pruniers, Le Pey 24240, Thenac, France
Office hours:
Varies according to retreat schedule. It is best to send an email and the office team will try to reply within 3-7 days.
Contact: Contact Form

---
Lower Hamlet
For single women, couples, and families
Cam Lộ Temple – 甘露寺
Address: Village des Pruniers, 1336 Route de Lalande, 47120 Loubès-Bernac, France
Office hours: 11am-12noon on Tuesdays, Wednesdays, Fridays, Saturdays.
The office is closed every Monday, Thursday and Sunday.
Phone: +33 (0) 5.53.94.75.40 (Please note that due to the monastery schedule, it is best to reach us by email rather than phone).
Contact: Contact Form
---
New Hamlet
For single women, couples, and families
Từ Nghiêm Temple – 慈嚴寺
Address: Village des Pruniers, 13 Martineau, 33580 Dieulivol, France
Office hours: Tuesday, Wednesday, & Saturday from 16:45 to 17:30.
Friday from 10:00 to 11.30 and from 15:00 to 17:30.
The office is closed every Monday, Thursday and Sunday.
Phone: +33 (0) 7.65.19.37.45
Contact: Contact Form