Arrival and departure
Our arrival and departure day is usually on Friday, except for special retreats for which it is stated otherwise. Please prepare your travel arrangements so that you can arrive at Plum Village on the specified Arrival Day.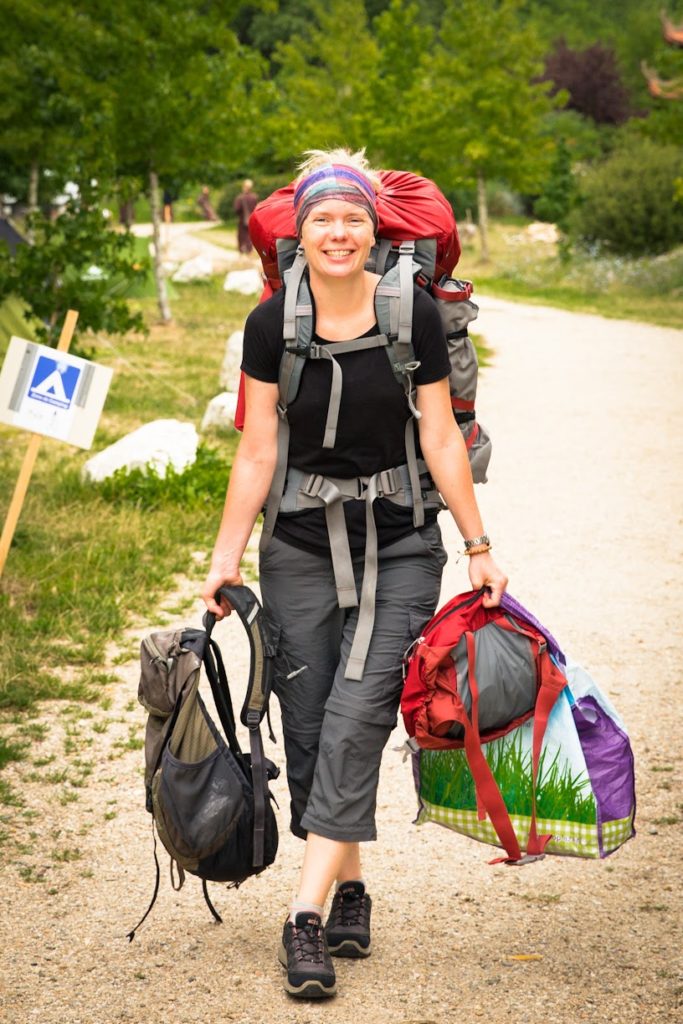 Arrival time
Please prepare your trip in such a way that you can arrive before 6pm. Due to our monastery schedule, we are unable to check-in new arrivals after 9pm/9.30pm. This will give you time to register, settle in and have dinner before your first evening session around 7:30pm.
In order to support the collective energy and stability of our retreats, please do not plan to arrive on a day that is not the specified Arrival Day.
Orientation
We offer an orientation session about Plum Village practice and the week ahead to new retreatants either on Arrival Day evening or the following morning. The orientation gives essential information about our practice and will help you enjoy your stay. We recommend all our newly arrived guest not to miss it.
Departure
Please arrange your departure time between 7am-12 noon on our Departure Days, to give you time to relaxingly pack and say goodbye.
Transportation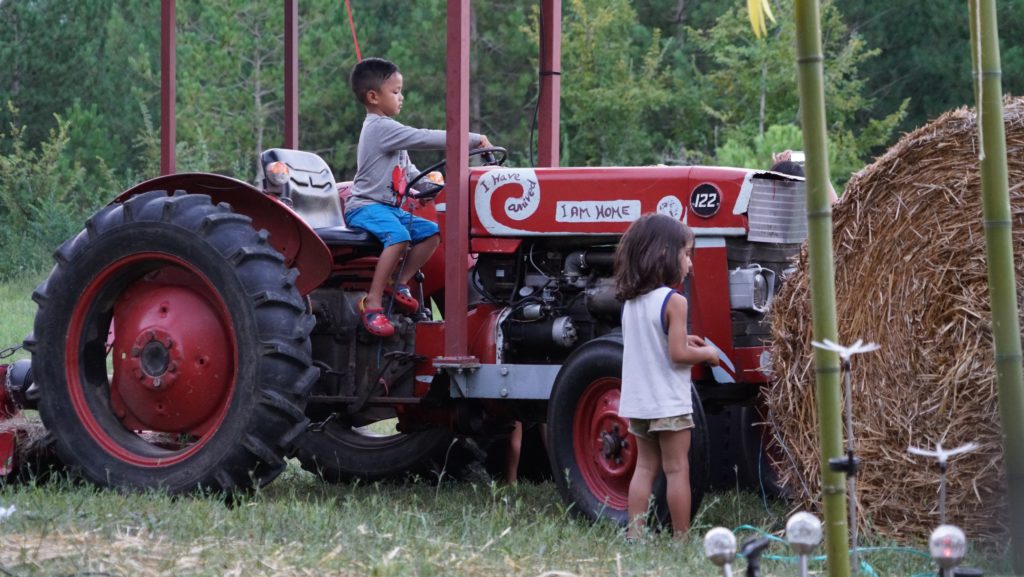 Plum Village is located about 85 km east of Bordeaux. There are different ways to reach us:
Our small teams of ~ 8 brothers, sisters, and friends in the office are doing their best to care for the thousands of current and future retreatants. Please kindly make all your travel arrangements and have a copy of the necessary documents before you come.
Train
Bordeaux is 2 hours from Paris by TGV (High-Speed Rail). Most of our friends change at Bordeaux St-Jean or Libourne to take the local train to Sainte Foy La Grande station.
Sainte Foy La Grande is a 25 minute drive from Plum Village.
Upper Hamlet picks up and drops off friends at Sainte Foy La Grande on our Arrival and Departure Days; generally, between about 7 am and 7 pm. Detailed times from each hamlet are sent to you after reservation.
For New Hamlet and Lower Hamlet, the transport between the hamlet and Ste Foy La Grande on the arrival/departure day is taken care of by the taxi service: http://www.vtc-aquitaine.com/plum-village.php
To buy your train ticket, you can visit:
If you arrive outside of our pick-up times you can take a taxi – from Sainte Foy La Grande to any of our hamlets, the taxi costs around 40€ – 60€.
If you travel via Bergerac airport, then you can take a taxi to Bergerac train station and travel to Sainte Foy La Grande or you can take a taxi directly to Plum Village (cost around 40€ – 70€)
VTC Jardini: +33 (0) 7.77.90.21.47
Taxi Richard: +33 (0) 6.21.63.23.56
Taxi David: +33 (0) 6.84.91.00.80
Mr. Gachet: +33 (0) 5.53.83.07.87
Mr. Dumora: +33 (0) 6.30.03.00.49
Bergerac Taxis: +33 (0) 5.53.23.32.32
Car Pooling
To help the Mother Earth and reduce CO2, you might like to participate in carpooling. We have a site for carpooling to Plum Village: Plum Carsharing
You may also like to check the international public carpooling websites: BlaBlaCar or Carpooling (for finding shared rides not listed on the limited-membership Plum Carsharing).
Upper Hamlet
Lower Hamlet
New Hamlet
Flying
Bordeaux has an international airport: Bordeaux-Merignac (BDX).
There is a shuttle from Bordeaux-Mérignac to Bordeaux St-Jean train station, which takes about 45 minutes. From there you can continue your journey by train.
Contribution and refund
Plum Village monastery is a non-profit charitable organization and registered religious congregationCOMMUNAUTE BOUDDHIQUE ZEN VILLAGE DES PRUNIERS, association déclarée, immatriculée sous le SIREN 425182565supported by "dana". "Dana" is a Pali and Sanskrit word meaning "donation" or "offering". For over 2,500 years, the Buddhist monastic community has been sustained through the generous donations of practitioners, rather than by taxes, land, or other accumulated wealth. In exchange for your residential retreat with us, we invite you to offer a financial contribution towards your stay.
These registration fees for retreats in Plum Village are contributions per person and per week of retreat. We ask that you contribute the full amount as soon as you receive the confirmation email from us.
We can offer 50% reduction for students 25 years old and under, upon presentation of a valid student card by email, as well as up to a 50% discount for those on unemployment benefits, upon presentation of proof of your situation and your income by email (please note: this is only applicable to a dormitory of 6-10 people with shared bathroom or camping).
We gratefully accept additional donations to support our monasteries and service projects around the world. It is thanks to your participation and support that the monastic community can thrive and share the path of mindfulness practice, both in Plum Village and beyond.
You can contribute in the following ways:
• Through Stripe – a trusted online payment service based in Ireland. This includes Sepa – Direct debit, Creditcard, iDEAL, SOFORT & Bancontact.
• Cheque in Euros from a French bank. Please make cheques payable to Communaute Bouddhique Zen Village des Pruniers (or CBZVP).
(We cannot accept cheques from outside France, nor in currencies other than Euros)
Cancellation & Refund:
If you no longer can attend the retreat, please cancel your reservation as early as possible so the space can be offered to others.
If you let us know:
• More than 3 weeks before the arrival date, your contribution will be refunded, minus a €50 cancellation fee & service charges.
• Less than 3 weeks before the arrival date, 50 per cent of the contribution will be refunded.
• On or after the arrival date, there will be no refund.
If we do not receive your contribution within 28 days of you making a reservation, the reservation will be automatically cancelled.
Cancellation of Retreats by Plum Village
Plum Village reserves the right to cancel a retreat under any circumstances. In this event, you will be offered a full refund for any payments you have made to us already. Plum Village accepts no further liability for retreat cancellations beyond the retreat registration fee refund. For example we cannot be liable for any funds spent on advance travel arrangements, such as flight tickets and visas.
Thank you for your understanding and support.
What to bring
Essentials
Personal towel & toiletries
Ear plugs and eye mask, if you are a light sleeper
Flashlight
Alarm clock/device (or you can use your mobile to set an alarm)
Water bottle/thermos/travel mug
Water-proof shoes that are easy to slip on and off (for entering & leaving the communal buildings easily)
Slippers (for using inside your accommodation)
Umbrella or rain coat
A copy (digital or paper) of your invoice and travel documents
Earphones & extension cord (3-5m) to listen to teachings given in various languages
Recommended
Insect repellent (mosquito, & potentially ticks, chiggers) in Summer & Autumn
We recommend that during your stay, you check yourself daily for ticks during Spring, Summer and Autumn, especially if you have been outside in the wooded and grassy areas. You may like to bring your own tick remover.
Laundry soap – clothes washing is mostly by hand
For Large Retreats
June; Summer; Francophone; 21-Day; Wake Up; Health & Wellness; Business; Cooking; Christmas; New Year; Lunar New Year
Earphones & extension cord (3-5m) to listen to teachings given in various languages
Lunchbox/Tupperware for packing picnic lunch
For Summer
In New Hamlet and Lower Hamlet, for all accommodation types, please bring your own sleeping bag or beddings (we will provide pillows). Rental is available if needed. This helps us reduce the amount of
water necessary for frequent washing.
In Upper Hamlet, bedding is available in rooms.
Wide brim Sun hat to protect from harmful rays as we will have activities outdoors
High SPF sunscreen
Campers & Caravan
All camping gear & sleeping bag.
There are no water, electric, or septic hook-ups for caravans. There are limited electric hookups in Upper Hamlet available.
Please note:
Please leave your pets at home. Although we love animals, there is no way to accommodate pets in Plum Village.
Each Hamlet has a small shop with most things you might need (drinks, notebooks, snacks, toiletries, postcards & stamps etc)
What to wear
Plum Village is a mindfulness practice center and monastery, home to diverse cultures. To respect and support our collective energy of practice, we ask everyone to wear modest, loose-fitting clothes at all times.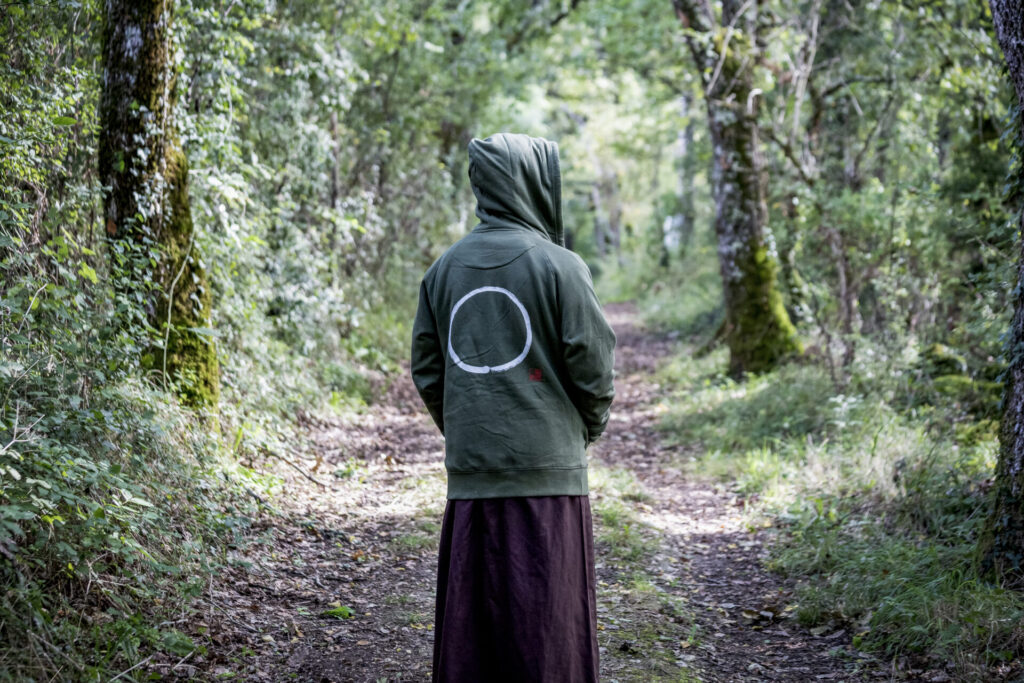 Please wear only clothes that fully cover your shoulders, chest, back and legs past the knees. You may find a light shawl handy in Summer. Please do not wear shorts, hot pants, tank tops, short dresses and so on. If your clothing is too revealing, you may not be able to enter the Meditation Halls. These are sacred spaces.
Simple, casual clothing, that's easy to wash, is best.
You may like to bring something nice to wear for formal lunches, tea meditations or other festivals.
Please note: If you are coming in Winter, we recommend you bring plenty of layered clothes for wet, windy and cold weather, as well as for our drafty, modest accommodation.
Meals
All Plum Village meals are prepared by the monks and nuns with much love and mindful work. We use fresh vegetables, sourced as locally as possible. In Spring and Summer we often enjoy produce from Plum Village's own organic "Happy Farm".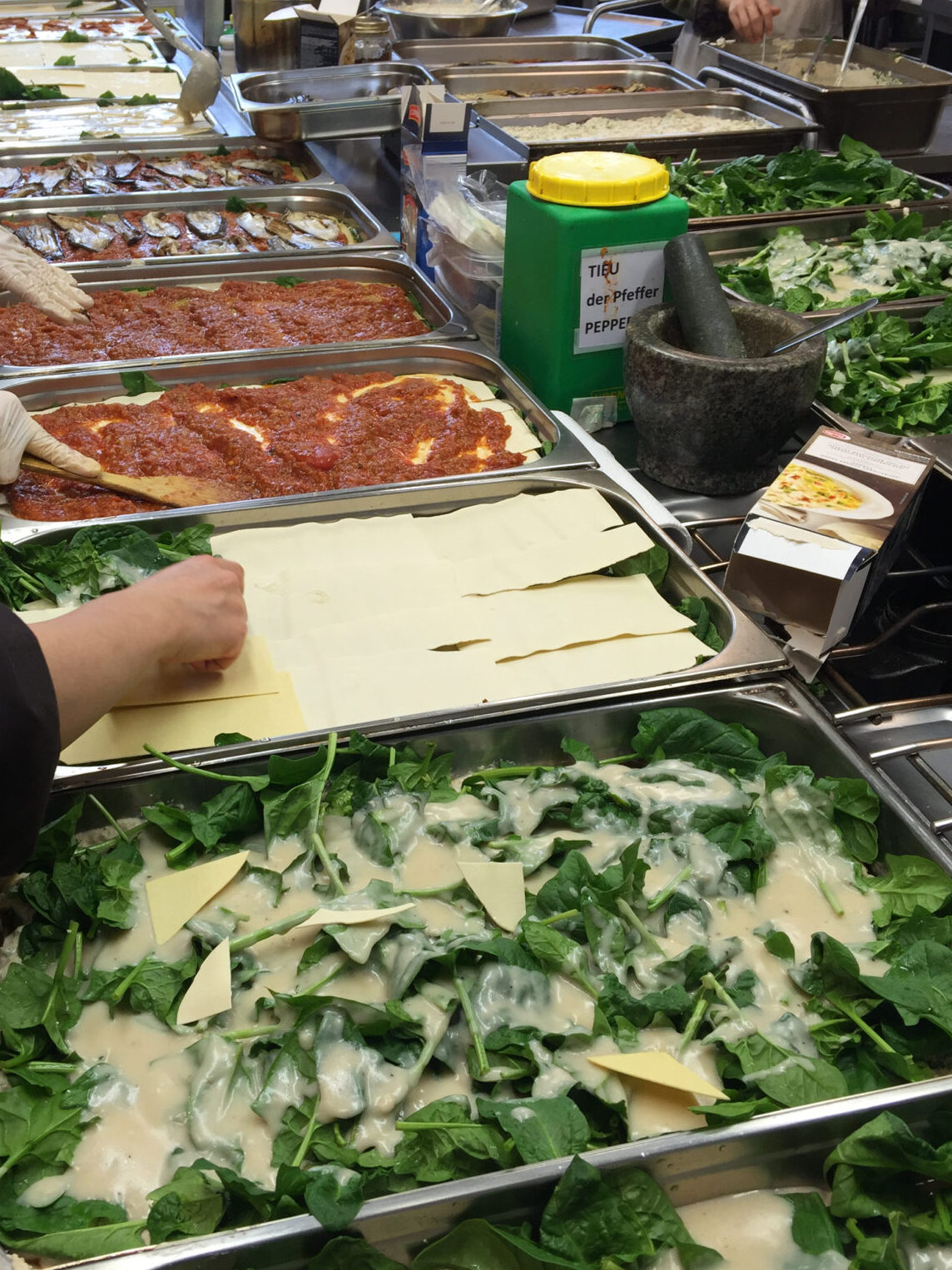 All Plum Village meals are vegan: vegetarian with neither dairy nor eggs, and our staples are usually rice (brown and white), oats, bread. We are vegan in order to nourish our compassion and protect our planet.
We eat our meals together in mindfulness. We usually have 15-20 minutes of silent eating at the start of lunch and dinner, and breakfast is usually fully in silence. Eating in silence helps us appreciate the food deeply, and cherish the presence of those around us. You can read more about our practice of mindful eating here.
We regret that we're unable to cater to specific individual dietary requirements or medical needs, nor provide cooking or refrigeration facilities. Please bring your own supplements (or allergy replacements) as necessary.
Internet and telephone
During the retreat, please also give your cell phone and Internet a retreat. Only access Internet for urgent purposes.
Please remember to put an auto-response on your email, to make all your travel arrangements, and have a copy of your travel documents before you arrive.
We recommend asking friends & family to support your retreat by limiting phone communication (you could arrange a specific day to check messages or make a call).
Duration of stay
Please refer to our Retreat Calendar to find more information on the arrival and departure day for each specific retreat. Most retreats offer a stay for one week.
If you wish to extend your stay once you are in Plum Village, please speak directly with the Registration Office of the hamlet you are staying in to enquire about this option, as it will depend on the time of year and availability. You may be asked to write a letter of aspiration to share about why you wish to stay longer. If there is space, the community will look into your request.
Please read extended stay to learn more about staying longer in Plum Village.
It is also possible to come for a day (i.e not to stay overnight in Plum Village) to attend one of our Day of Mindfulness (DoM) on some Thursdays and Sundays during the year in the Spring, Autumn and Winter. Please read Day of Mindfulness for more details on the schedule, dates and location.
Lazy day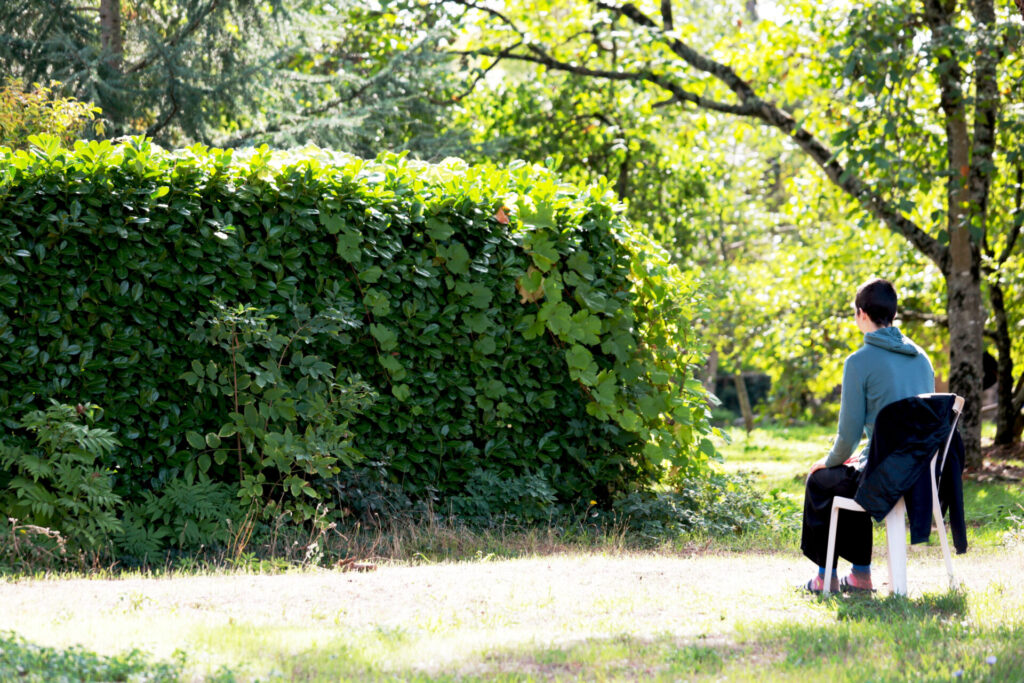 One day a week at Plum Village is Lazy Day, and there are no scheduled activities.
Lazy Day is a deep practice. Lazy Day is an opportunity to let the day unfold in a natural way while still maintaining mindfulness. It is a day to practice being rather than doing. It is a day to nourish ourselves with silence, nature, rest, journalling, reading, exercise or perhaps music. Lazy Day offers us the time, peace and space we may need to write a letter to a beloved one, or perhaps a letter of reconciliation.
On Lazy Day we may like to take a walk through the nearby countryside, practice relaxation, or slow walking meditation around the hamlet. Our meditation halls are always open for those who enjoy sitting meditation or total relaxation.
We ask everyone to stay within the monastery on lazy day in order to fully benefit from this special day.
Teachings and interviews
Teachings:
Dharma Talks are given in either English, French, or Vietnamese with simultaneous translation into the other two languages. Translation into other languages (for example, German, Dutch, Spanish, or Italian) are available depending on the need.
Interviews:
Retreatants can ask a question directly to senior Dharma teachers during the "Question and Answer" sessions that take place once a week during big retreats. Dharma teachers and experienced monks and nuns are available to offer private consultation sessions to those in need throughout the year. Please enquire in the hamlet where you will stay.