1st December, 2019
Dear Beloved Community,
We're happy to announce that on Thursday 28th November, Thay traveled from Huế, Vietnam to Bangkok, Thailand for a full medical check-up in Bangkok. The trip and hospital visit went smoothly.
Yesterday morning, Thay decided to travel on to visit our community at Thai Plum Village in Pak Chong, a few hours' drive north of Bangkok. At this point, we anticipate that Thay will stay at Thai Plum Village for a short while, before returning again to Từ Hiếu Root Temple in Huế ahead of the Lunar New Year.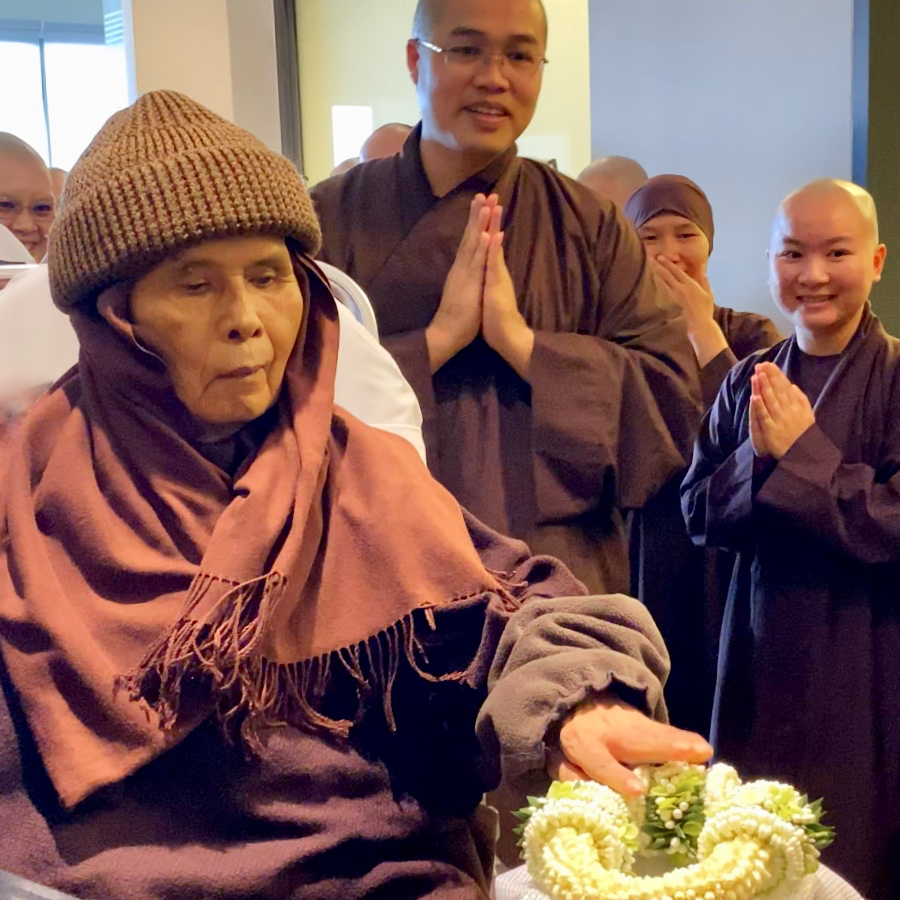 Since his 93rd birthday last month, with the cold and rains in Huế, Thay's health has been somewhat weaker, and he caught pneumonia. In order to have check-ups with specialists, which were difficult to organise in Vietnam, last week Thay chose to go to Bangkok, where he received treatment last year.
On 28th November, Thay arrived in Thailand accompanied by a doctor, a nurse, and five monastics. The doctor remarked that Thay seemed to be "doing even better in the air." Rather than lying down, Thay sat upright and alert, and spent most of the journey contemplating the beautiful landscape below. Thay was met at the airport by fifty monastic and lay students, before going directly to the hospital.
Thay had a check-up and a new set of blood tests—his first since traveling to Huế this time last year—and the results were very promising. As soon as Thay had rested, he was ready to leave the hospital right away, and decided to travel up to Thai Plum Village in Pak Chong, on the edge of the Khao Yai National Park, arriving yesterday morning (30th November).
Thay is very comfortable in the clear air of Khao Yai, and the weather is sunny and dry. Both Thay and the whole attendant team have been resting and eating well, surrounded by the joyful young community.
We will wait to see how long Thay chooses to spend in Thai Plum Village; he may stay on to support the upcoming ordination of novice monks and nuns in two weeks' time. We have the impression Thay will want to return to Vietnam soon, where he has been enjoying spending time, and has been eagerly following the renovation of the Từ Hiếu shrine hall.
We are grateful that Thay is so clear and engaged with respect to his medical care, which helps us make decisions to support his needs. We are learning from Thay's grace and dignity as he rides the waves of physical fragility. We are investing all our hearts in nurturing Thay's spiritual community, continuing his teachings and aspiration in the world.
With love and trust,
The Monks and Nuns of Plum Village

If you would like to receive updates like this about Thay and news about the community continuing his legacy directly in your inbox, please sign up here. 

Future updates will be posted from time to time at plumvillage.org, langmai.org, villagedespruniers.org, and www.facebook.com/thichnhathanh, as well as at thichnhathanhfoundation.org.