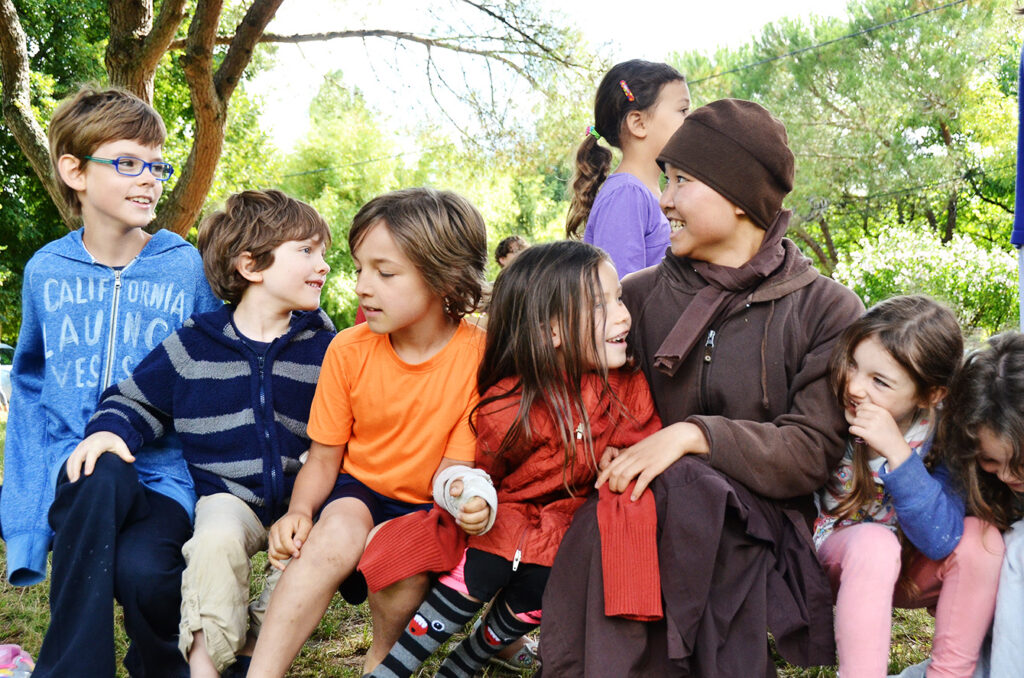 During our annual Summer Opening in July/August, Plum Village monks and nuns offer a special program of mindful play for children, and a guided mindful activity program for teenagers. The programs are mostly outdoors, enjoying the beautiful countryside and nature around Plum Village.
Who can join the Children's Program or Teens Program?
The Children's Program is open to children aged 6-12, who can speak and understand either English, French, German, Spanish or Italian. The Teens Program is open to 13-17-year-olds who can speak and understand either English or French.
According to French law, all children 17 years old or younger must be accompanied by at least one parent (or legal guardian) in the same Plum Village hamlet where they are staying.
Can children under 6 years old join?
You are welcome to bring little ones with you to the Summer Retreat, but we are unable to offer a dedicated program for them. So please note you would need to take care of smaller children under 6 yourself at all times, which typically means missing certain elements of the program (eg. silent sitting, dharma sharing circles, mindful community work etc).
It is best if you bring a companion with you to help with caring for little ones, so you can take it in turns to attend the program.
Plum Village provides a peaceful, mindful atmosphere across our large campus and varied hamlets, that you can benefit from while taking care of little ones. We ask everyone to respect and support the silence and concentration of the meditation halls, which may mean inviting those with small children to leave if it is having an impact on the main retreat program.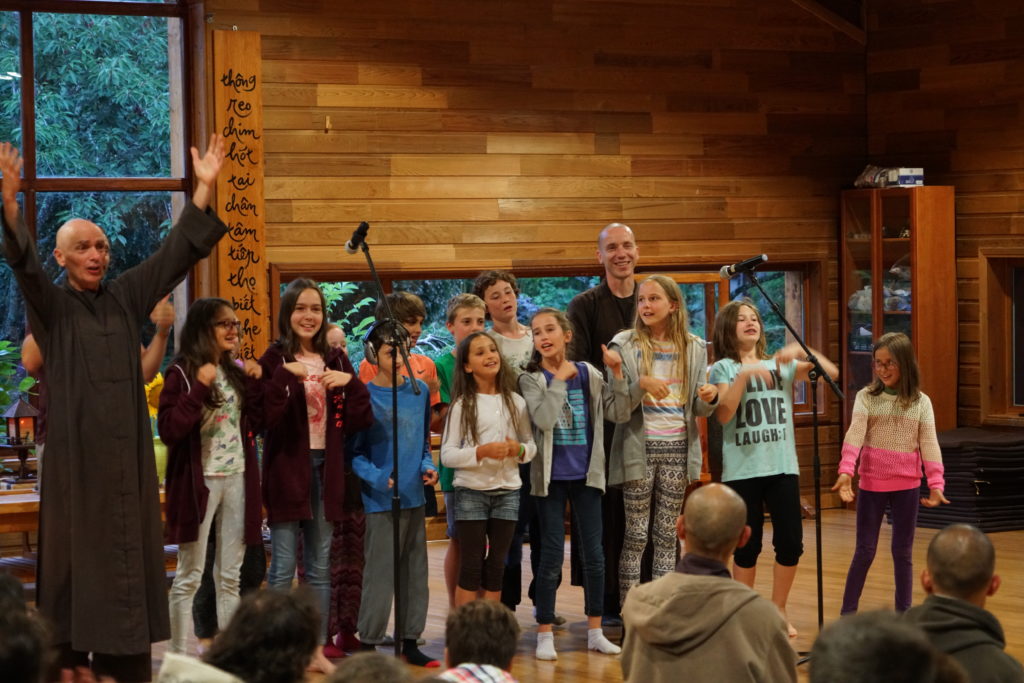 What is offered in the Children's Program?
The children's program, led by Plum Village monks and nuns with the support of lay volunteers, introduces children to basic mindfulness practices and offers three sessions of mindful outdoors play for children aged 6-12 throughout the retreat. Activities include games, sports, arts and crafts, five days a week.
On the Arrival Day each week, an "orientation" for parents and children is provided in the evening, but please note that on this day, as well as on Lazy Day each week, there is no program, or only a limited program offered. Outside the Children's Program activities, children are in the care of their parents at all times.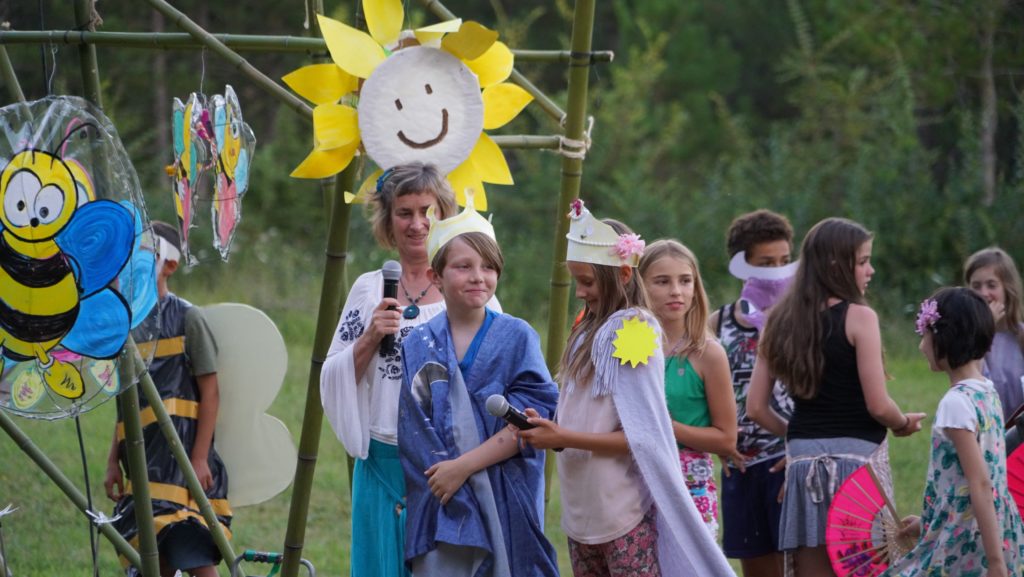 Children camp and eat all meals with their family, but in the morning, afternoon, and evening, they have a chance to go off and play with the program leaders and other children of a similar age and language. We hope to offer a balance of unscheduled family time, mindful family interactions, and opportunities for both parent and child to enjoy their own retreat.
How can I register my 6-12 year old for the Children's Program?
Registration for the Children's Program is organised by language. If your child is between 6-12 they will be expected to attend the children's program.
You will need to stay in the hamlet that is offering a Children's Program in your child's language.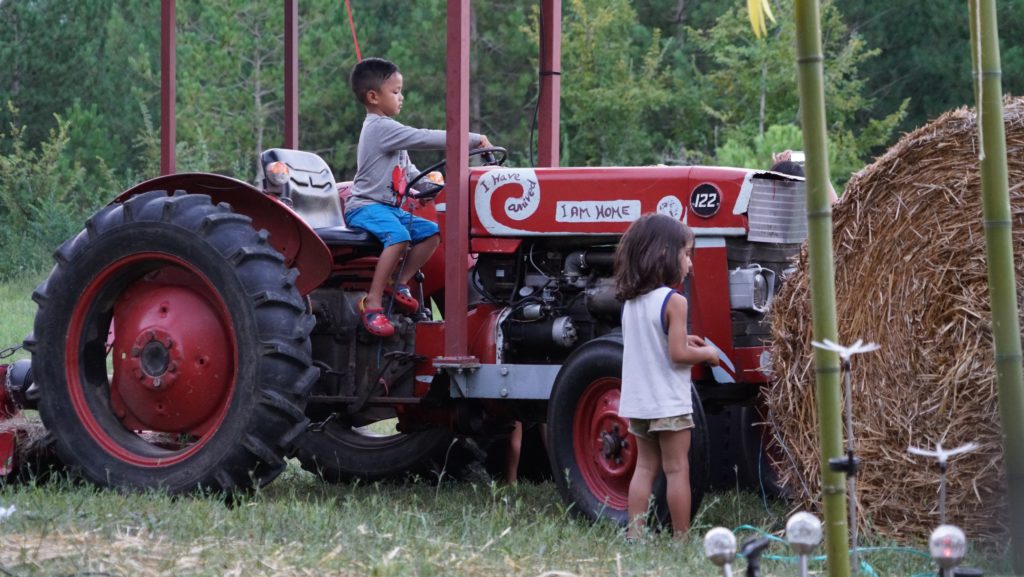 What is offered in the Teens' Program?
Plum Village monks and nuns offer a special program for teenagers to have a joyful and meaningful time in the monastery. Young people have an opportunity to form deep friendships and hang out with others from many different nationalities and backgrounds.
Together we create a safe, nourishing atmosphere where everyone feels free to be themselves, accepted just as they are. To do so, we ask everyone to refrain from alcohol, drugs, and sexual activities during the retreat. To make the most of the beautiful natural environment, and the presence of each other, we encourage everyone to take a break from cellphones and other electronic devices during the retreat.
We learn how to listen deeply to each other and support each other. We learn some simple ways to handle our strong emotions and difficulties. We play a lot of games, music and sport, and usually have several creative projects, depending on what everyone would like to do.
The monks and nuns also offer a relaxed, light program of meditation and physical exercise that is relevant and impactful.
To support the collective energy of the retreat, all teens staying at Plum Village during the Summer Retreat are expected to take part in the teenager program, unless they have permission from their parents and their hosting hamlet to do otherwise.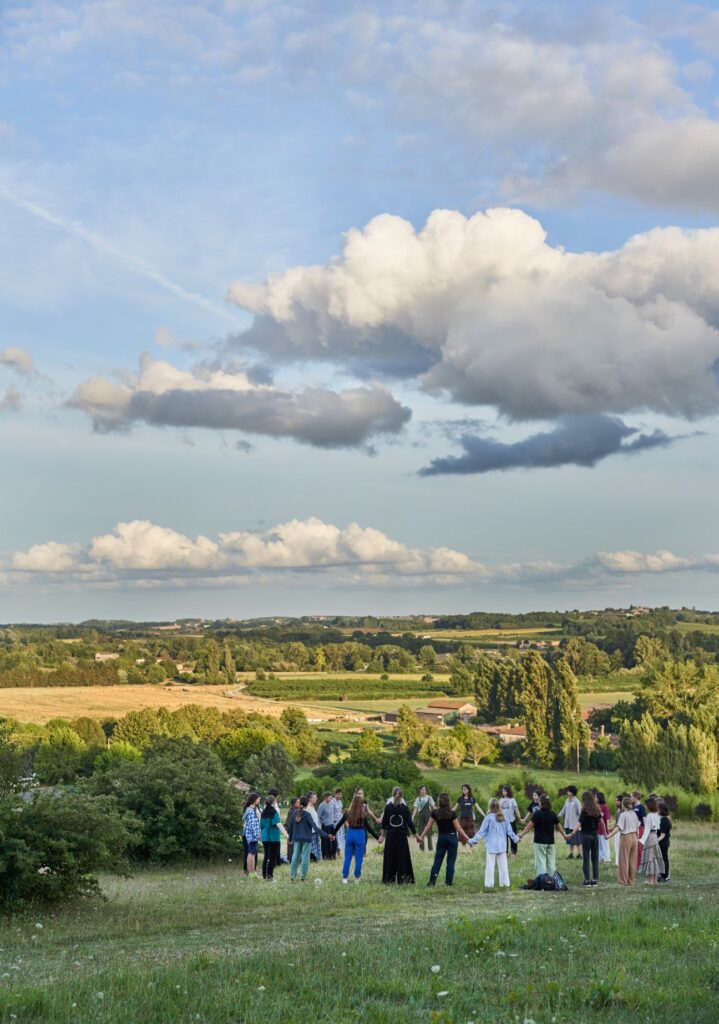 How can I register my teenager for the Teens' Program?
The teen boys' program is led by the monks in the Upper Hamlet, and the teen girls' program is led by the nuns in the New Hamlet. At several times in the week, all the teens have activities together.
At least one parent or legal guardian must stay in the same hamlet where the teenager is staying. Please note that according to French law, neither monastics nor lay volunteers can be legal guardians of your teenage child. We realise this may create challenges if you have both a teenage son and daughter, or a child in the children's program in one hamlet and a child in the teens' program in another hamlet, as you will need to stay in separate hamlets, but we ask for your support to make the necessary arrangements.
The teens' program is led in English and French. If your teenage child does not speak English or French, please contact the relevant hamlet to see if we can still accommodate them.
For the Summer Opening Teens' Program:

Teen boys & parent/guardian: Register in Upper Hamlet
Teen boys will camp together as a group and parents can camp in another section for families.
Teen girls & parent/guardian: Register in New Hamlet
Teen girls will camp with parents/guardians in New Hamlet
* Please note that outside of program activities, parents are fully responsible for their teenage children at all times