Official Announcement
To all Plum Village Practice Centers,
To all Practice Centers and Sanghas worldwide,
To our Dear Beloved Friends,
We are very happy to confirm that earlier today, 29th August 2017, at 12h35 local time, our dear Teacher landed safely at Đà Nẵng airport in Vietnam. This is his first visit to Vietnam since 2008.
In recent weeks Thay has expressed a strong wish to visit his home country once more, and the sangha is delighted to have been able to realise his wish. Thay's trip will include a visit to Plum Village's Root Temple, Chùa Từ Hiếu, in Huế, where Thay began his monastic training in 1942.
We would like to express our deep gratitude to our global community for your continued generous support for our dear Teacher, both materially and spiritually. Your support has given Thay immense strength for his recovery, and has helped make this trip to his homeland possible.
We know how precious it is to still have our dear Teacher with us, radiating great courage, strength, and presence. And we know that Thay draws his energy from the daily practice of every one of his students across the world. He is present with us, every time we take a mindful step or mindful breath, and bring peace and joy to ourselves and the world around us.
While there are no plans for any retreats or public events during Thay's visit to Vietnam—to help conserve Thay's health—we encourage you to join us as we continue his vision of a collective awakening, by participating in events in 2017 "Awakening Together, Healing the Ancestral Heart" US Tour (with events in New York, California, New Mexico, Tennessee, and Mississippi), our 2017 UK Tour, or by visiting one of our mindfulness practice centers around the world.
"Walk With Me," the documentary film about Thich Nhat Hanh and Plum Village, narrated by Benedict Cumberbatch, premiered to sold-out screenings in the US this month, and has begun opening in cinemas across the US, Europe, and Asia. We hope everyone in our worldwide community will have an opportunity to enjoy this cinematic journey into our world of mindfulness, and to share it with friends, helping realize Thay's vision of transforming cinemas into meditation halls.
As Thay said on his second return trip to Vietnam in 2007, "I've been a monk for 65 years, and what I have found is that there is no religion, no philosophy, no ideology higher than brotherhood and sisterhood." Thay reminds us that with solidarity and true brotherhood and sisterhood, everything is possible.
With love and trust,
The Monks and Nuns of Plum Village
Future official reports on Thay's recovery will be posted from time to time at plumvillage.org, langmai.org, villagedespruniers.org, and www.facebook.com/thichnhathanh, as well as at thichnhathanhfoundation.org.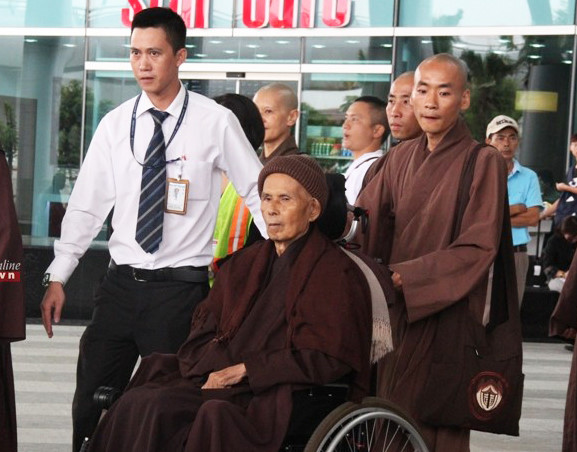 Download this announcement as PDF (letter)