Plum Village, near Bordeaux in southwest France, is the largest international practice center in the Plum Village tradition, and the first monastic community founded by Zen Master Thich Nhat Hanh (Thay) in the West.
Plum Village is where Thay has realised his dream of building a Beloved Community: creating a healthy, nourishing environment where people can learn the art of living in harmony with one another and with the Earth.
Plum Village began in 1982 as a small, rustic farmstead, and has today grown into Europe's largest Buddhist monastery, with over 200 resident monks and nuns, living and practising in four different hamlets spread out across the French countryside. It is a continuation of the original "Sweet Potato Community" that Thay first founded near Paris in the 1970s, soon after he was exiled from Vietnam.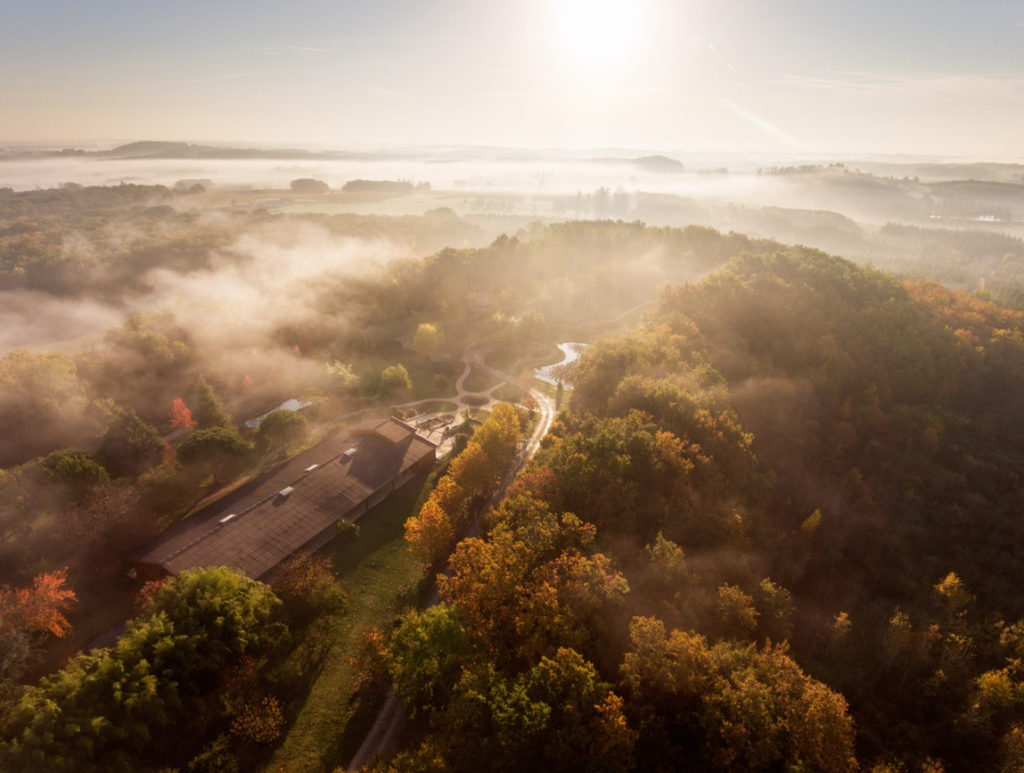 At Plum Village we weave mindfulness into all our daily activities, training ourselves to be mindful throughout the day: while eating, walking, working, or enjoying a cup of tea together. Plum Village is a home away from home, and a beautiful, nourishing, simple environment in which to cultivate the mind of awakening.
We enjoy periods of silence, sitting meditation, rest, relaxation, mindful work and play. All practitioners who come to Plum Village are invited to join in the communal activities in their hamlet, whether it is preparing meals, cleaning or washing dishes, as a way of learning to cultivate joy and mindfulness whatever we are doing.
Every year, Plum Village welcomes thousands of meditation practitioners from all around the world who come to experience the art of mindful communal living. Over 40 nationalities are often represented at the festive four-week annual Summer Opening Retreat which offers special programs for children and teenagers.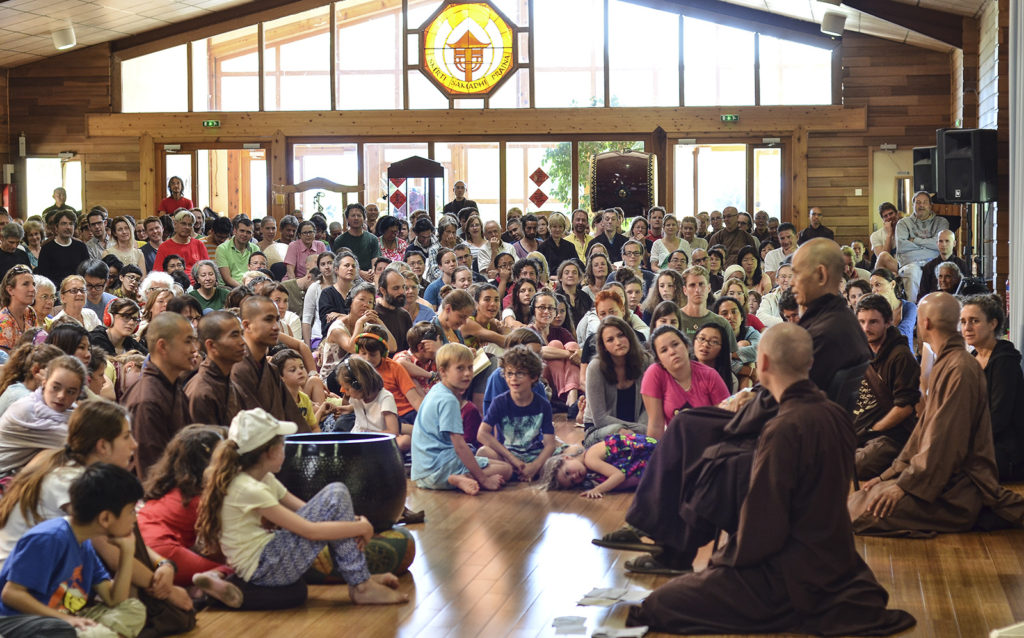 In addition to Spring and Autumn retreat seasons, where visitors are welcome to stay for a week or more, Plum Village also offers special mindfulness retreats for French speakers, teachers, and young people. The annual 3-month Rains Retreat, which is open to lay people people who are not monastics as well as monastics, attracts hundreds of practitioners who come to deepen their practice of mindfulness and live simply and harmoniously in community for ninety consecutive days.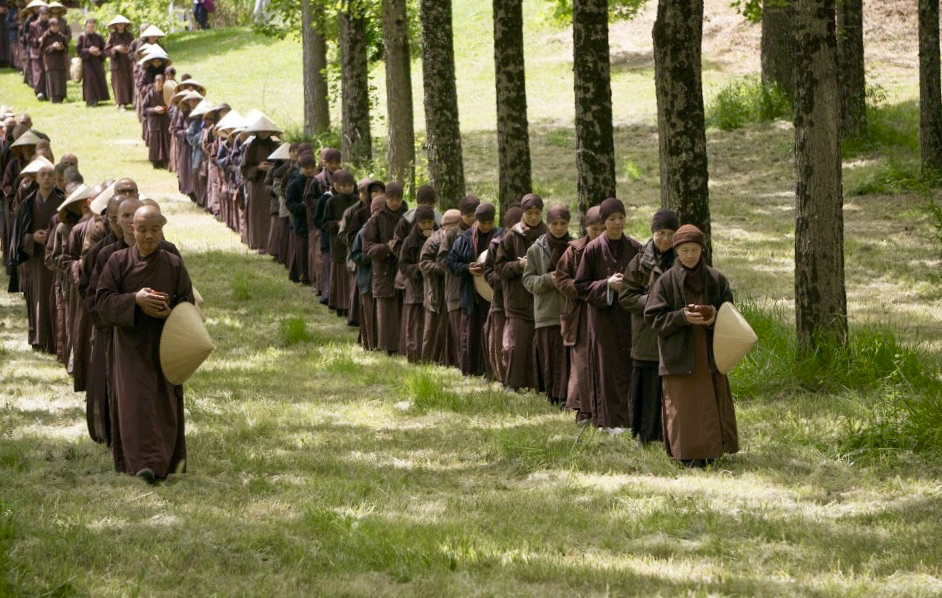 Legal Information
Plum Village is registered as:
Communauté Bouddhique Zen Village des Pruniers
Meyrac
47120 – Loubes Bernac
Tel: +33.5.53.58.48.58
SIRET: 425 182 565 00019
The Hamlets of Plum Village has a volunteer programme for youth service, and have opened an organic "Happy Farms," where year-long resident farmers combine ecology and mindfulness as they cultivate vegetables for the community's vegan meals.
Before recently returning to his native Vietnam, Thich Nhat Hanh lived at Plum Village when he was not travelling. Whilst in Plum Village he wrote, taught, gardened and guided his global community. Many of the trails around the hills and fields of Plum Village have become legendary paths of walking meditation for Thich Nhat Hanh and his community.
Today there are a further eight monastic practice centers in the Plum Village tradition in Europe, the USA and Asia, all founded by Thich Nhat Hanh himself.