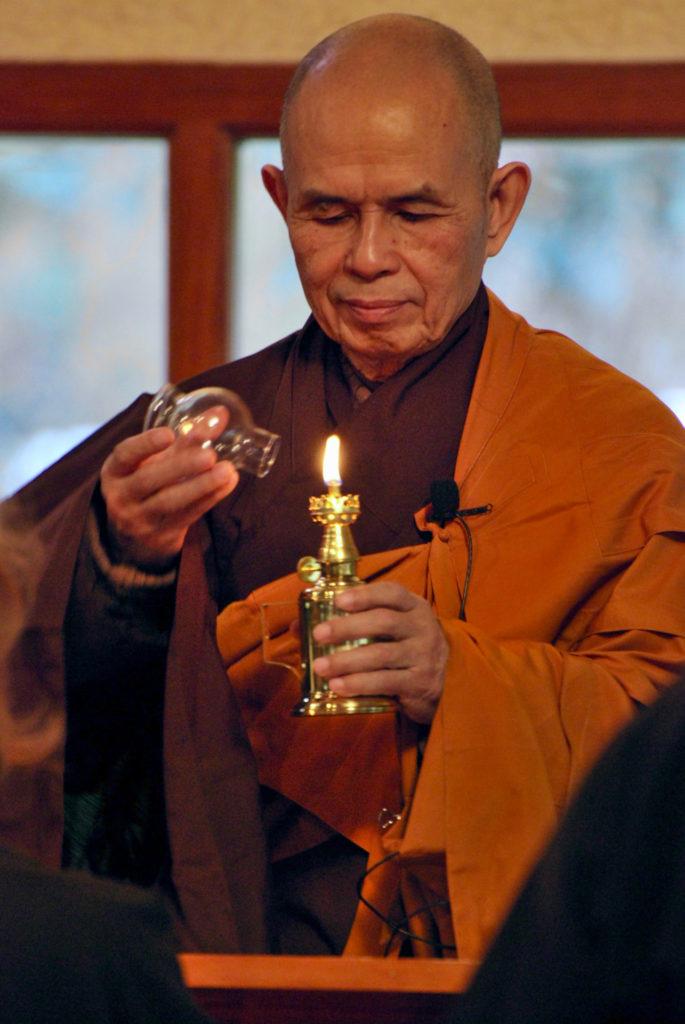 Dini hari, 22 Januari 2022, Master Zen Thich Nhat Hanh yang akrab disapa Thay, telah meninggal dunia dengan damai di Wihara Từ Hiếu, Vietnam sekitar pukul 00.00 pada usia 95 tahun.
Komunitas terkasih,
Dengan napas sadar penuh yang mendalam, kami ingin mengumumkan bahwa guru kami, Master Zen Thich Nhat Hanh telah meninggal dunia pada dini hari, 22 Januari 2022, pukul 01.30* di Wihara Từ Hiếu, Vietnam pada usia 95 tahun.
*Catatan: informasi lanjut dari Huế, beberapa jam setelah mempublikasi artikel ini, kami memperbarui waktu Thay wafat, dari tengah malam (ketika Thay mulai bertransisi), ke momen ketika Thay secara resmi dinyatakan wafat (01:30).
Master Zen Thich Nhat Hanh yang akrab disapa Thay (artinya Guru), merupakan guru luar biasa, kedamaian, kelembutan welas asih, dan kearifan terang terpancar darinya telah menyentuh begitu banyak orang. Apakah Anda sudah pernah bertemu langsung dengan Thay secara langsung di retret, ceramah publik, atau lewat membaca buku, juga ceramah online, atau membaca kisah hidupnya yang sangat menakjubkan, Anda bisa mengenali bahwa Thay adalah seorang bodhisattwa sejati, sebuah kekuatan pendorong besar untuk perdamaian dan penyembuhan dunia. Thay merupakan seorang revolusioner, seorang yang mengupayakan pembaruan dalam agama Buddha, tidak pernah mendangkalkan agama Buddha, namun Thay selalu mengali lebih dalam hingga ke akar demi menampilkan pancaran otentik agama Buddha.
Thay telah membuka jalan indah yaitu agama Buddha terjun aktif dan agama Buddha Terapan (Engaged and Applied Buddhism) untuk semua: Lima Latihan Sadar Penuh dan Empat Belas Latihan Sadar Penuh dari Ordo Interbeing. Sebagaimana nasihat Thay, "Karena kita sudah melihat jalan itu, maka tidak perlu takut lagi." Kita mengetahui arah hidup ini dalam diri sendiri juga untuk orang lain, juga dunia ini, dan kita telah mengetahui seni berhenti, menatap mendalam, dan membangkitkan sukacita dan kebahagiaan sejati.
Saat ini merupakan momen untuk kembali kepada napas dan jalan berkesadaran penuh untuk membangkitkan energi kedamaian, welas asih, rasa terima kasih untuk dipersembahkan kepada guru kita, Thay. Inilah momen untuk berlindung pada sahabat spiritual (kalyanamitra), komunitas lokal (local sangha), dan sesama.
Kami mengundang Anda semua, komunitas daring global, untuk mengenang kisah hidup dan warisan dari Thay, dalam acara latihan dan seremoni selama lima hari yang akan disiarkan secara daring dari Kota Hue, Vietnam, kemudian juga akan disiarkan dari Plum Village Perancis mulai dari hari sabtu, tanggal 22 Januari 2022. Informasi dalam bahasa Inggris bisa dilihat di: www.plumvillage.org/id/memorial.
Marilah kita berusaha sebaik-baiknya dalam beberapa hari ini untuk membangkitkan energi kesadaran penuh, kedamaian, welas asih untuk dilimpahkan kepada Thay.
Selanjutnya, kami akan mempersiapkan beberapa publikasi lewat website tentang naskah pendarasan, teks, dan sumber latihan berkesadaran penuh, untuk memudahkan Anda dan komunitas lokal untuk mengikuti kegiatan membangkitkan energi kesadaran penuh dan welas asih, dan Anda juga boleh mengadakan seremoni tersendiri atau sesi untuk mengenang Thay. Sebagaimana yang selalu diajarkan Thay, tiada yang lebih penting daripada persaudaraan kakak dan adik (brotherhood and sisterhood), kita semua tahu kekuatan dari energi kolektif.
Anda bisa mengikuti kegiatan praktik secara kolektif dalam beberapa hari ini lewat mendaftarkan email Anda lewat pranala ini: https://bit.ly/3fJx7pd
Dengan kasih sayang, kepercayaan, dan kebersamaan,
Biksu dan biksuni dari Plum Village