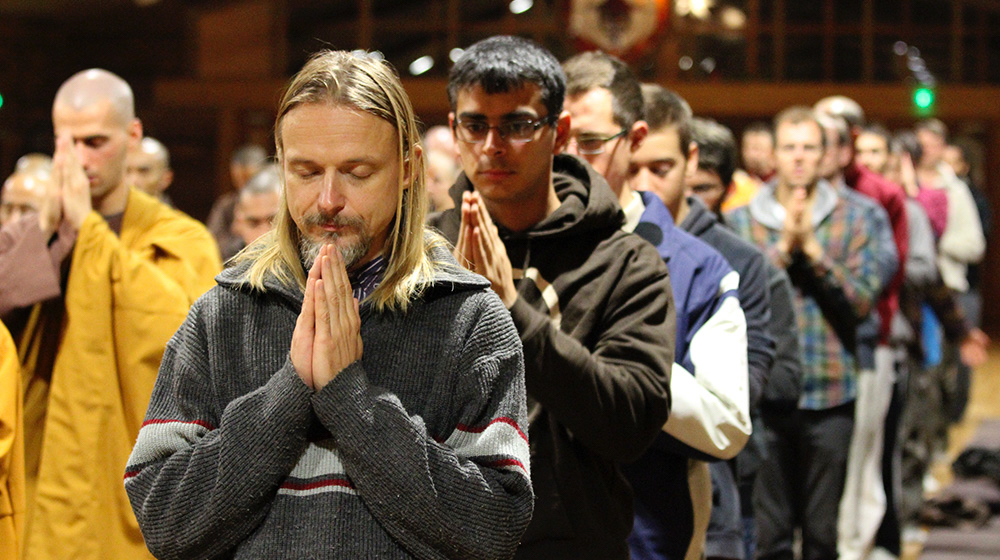 Plum Village is a Buddhist monastery, where both monastics and lay people train in the art of mindful living. The only permanent residents of our community are nuns and monks, but we offer mindfulness retreats year-round, ranging from one week to as long as three months for the Monastic Rains Retreat.
Besides our usual retreats, there are sometimes opportunities to live and train with the Sangha long-term. New Hamlet receives long-terms for up to 6 months, Upper Hamlet and Lower Hamlet, offer a one year program.
Application
At present, we do not have an online application process for long-term stay in our community. In Upper Hamlet and Lower Hamlet, applications for long-term stays are accepted during the Rains Retreat, and only from those who have participated in the whole retreat. New Hamlet will review requests for long-term stays from anyone that has booked for a regular, two-week retreat and paid the full price for the initial booking.

In every hamlet you will be asked to write a letter of aspiration requesting to extend your stay with the community. Once accepted you will be asked to keep clear communication with the community through contact with your mentor or through periodic aspiration letters, sharing your growth in the practice, your difficulties, and any developments in your aspiration and engagement with community life.

Contribution
Upper and Lower Hamlet have a fixed monthly rate for the one-year program. In New Hamlet you may request a discount on your accommodation after being accepted as a long-term. The amount you will be asked to contribute will depend on what type of room you stay in. In Spring, Summer, and Autumn, camping is a possibility and this is the most affordable time to come. Please bear in mind that during Summer the only accommodation available for long-term stay may be camping.
We ask that long-term retreatants attend the community schedule and always go in the direction of developing harmony and connection with the community. As long as these basic requirements are met, your request for long-term stay will be granted. In New Hamlet your stay can be extended by two weeks or a month at a time.
If you ask for a reduction in the contribution amount, please let us know the reasons, and how much you can contribute each month. Requests are reviewed on an individual basis and the amount of a requested reduction will be considered accordingly. Please be advised that reductions are not guaranteed, and if offered, the amount of the reduction may not meet your financial need.
If you come up against difficulties during your stay then you only need to kindly request the help of the sisters or brothers to learn more about how to adjust to life in our community which may differ from your past experience or expectations. You will be interacting every day with people from many cultures and countries. Only through your own experience can you truly know what community living is like. The brothers, sisters and lay friends in Plum Village are here to help you learn the art of living mindfully and appreciating the many wonders of life that are available in us and around us in the present moment.
Volunteering
During our retreats, whether you are here for a week or longer, there will be opportunities to support the community with optional service meditation. We do not offer free board and lodging in exchange for work. We do offer a Service Retreat for those who would like to volunteer for the Summer Opening Retreat for a small fraction of the cost of a normal retreat.
We hope this information is helpful to you in planning your stay at Plum Village, and we look forward to welcoming you here!