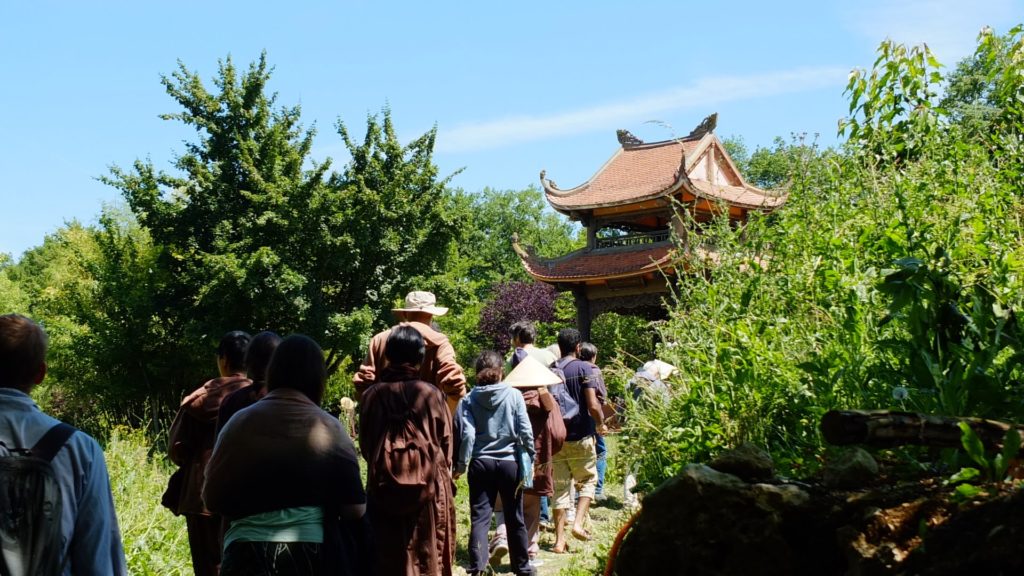 This page describes in-person retreats at Plum Village, France. You can also experience a Plum Village retreat in our other international monastic practice centers and when Plum Village monastics go on tour.
The art of mindful living
Coming to Plum Village for a retreat is an opportunity to enjoy simple and peaceful living, and to learn how to cultivate the energy of mindfulness, so we can have more freedom, peace and happiness in our daily life. It is also a chance to nurture our inner growth as we take time to look deeply in order to transform both our individual difficulties and the difficulties in our society.
Do you want to book a retreat in Plum Village France?
Retreat booking is through our retreat calendar.
At Plum Village we learn how to weave mindfulness into all our daily activities, and live each moment of life more deeply. We practice meditation throughout the day – while eating, walking, working mindfully, sitting, or simply enjoying a cup of tea together.
Practice centers around the world
There are now Plum Village monastic practice centres in the USA, Germany, Australia, Thailand and Hong Kong as well as France.
Community life
Everyone staying at Plum Village participates in community activities such walking and sitting meditation as well as community work such as arranging the meditation halls, cleaning bathrooms, washing pots and other simple tasks as part of the daily practice of mindfulness.
We emphasize community practice so that we can support each other, benefit from our collective energy, and learn to live together in harmony. We request everyone to contribute to the collective energy of practice by joining in all the scheduled activities.
How long to stay
We recommend stays of one or two weeks, especially for those coming for the first time. Depending on the time of the year, it may also be possible to request to stay longer than two weeks, if space is available in the hamlet you register in. Please check directly with the registration office in the hamlet you wish to stay in about extending your stay. You can read some more information on extended stays here.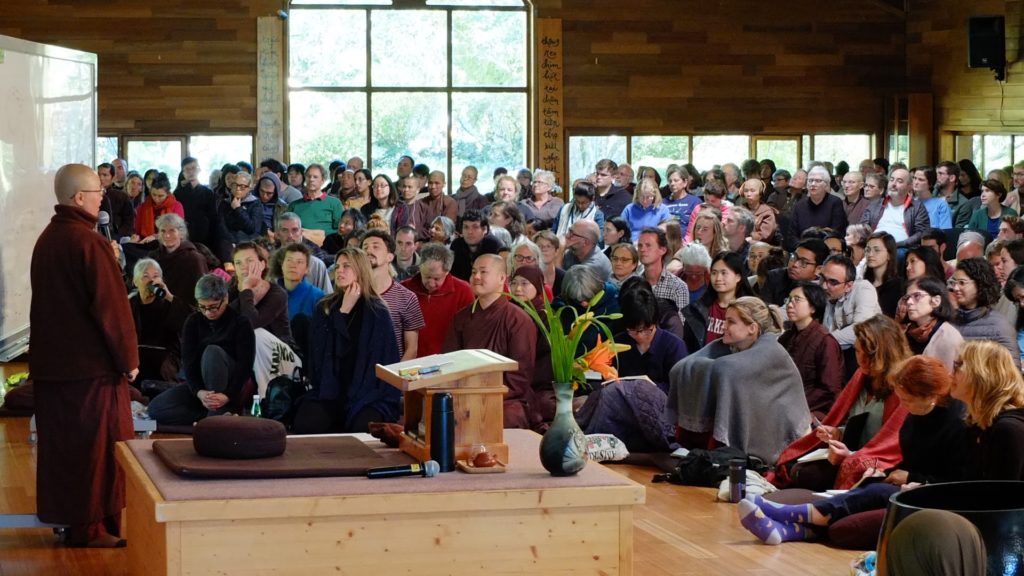 When to come
You may like to come during our regular open seasons, such as the Spring Retreat season and Autumn Retreat season, or for a special retreat, such as a Health Retreat, Ecology Retreat on the farm, Educators Retreat, or our four-week long Summer Retreat. Special retreats have a slightly more intensive program than the quieter Spring and Autumn retreats, and we have many more people (sometimes over 700 across the whole of Plum Village). During special retreats the week-long experience includes daily sessions with a smaller group of 20-30 people, and each group is guided by a monastic. The Winter Retreat is primarily for monastics, but is also a powerful time of deep practice. For more information, please see our program of retreats.
Monastery setting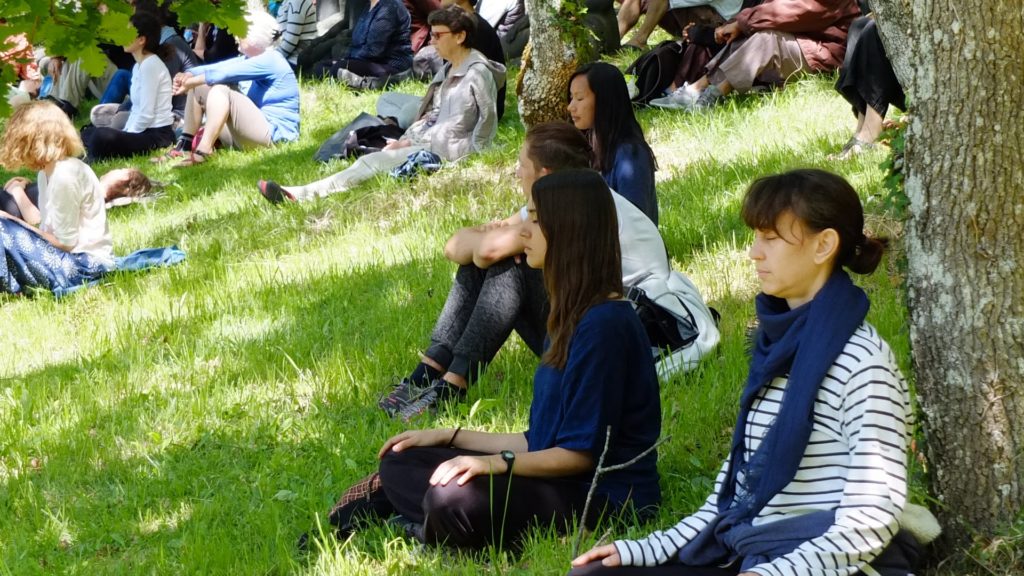 Plum Village is centered around a core residential monastic community of over 200 monks and nuns. As part of your practice on retreat, we ask you to support the monastery atmosphere by following the principles of mindful and ethical living as expressed in the Five Mindfulness Trainings. The Five Mindfulness Trainings are the foundation of the Plum Village community, bringing happiness and meaning to all that we do. Specifically, we request that all retreatants refrain from sexual activity, smoking and drinking alcohol or consuming drugs. In Plum Village we follow a vegan diet, and respectfully ask you not to bring any non-vegan foods to our practice centre.
Who can come
People from all religious backgrounds, cultures, political perspectives, sexual and affectional orientation, gender identity and its expression are welcome for a retreat with us. We also do our best for people with physical disabilities to be able to attend all activities, please contact us before visiting so we know how best to support you.
Health
Many friends have experienced lessened anxiety, a lifting of depression and improvements in general wellbeing through mindfulness practice. However, we urge all friends to continue any medication or treatment prescribed by your health care practitioner during your stay.
If you suffer from any chronic long term mental or physical illnesses, please let us know, and ask your doctor if it is advisable for you to attend a retreat with us. Please be aware that we cannot provide any professional care. If you have any concerns regarding this matter please ask us for clarification.
For friends who have already registered to attend a retreat, please contact us through any of the contact links in our reservation emails.
Which Hamlet?
Plum Village has three "hamlets", or residences – one for the monks and lay men, and two for the nuns and lay women. Single men are requested to register at Upper Hamlet, and single women at either New Hamlet or Lower Hamlet. Couples and families are welcome to register in any hamlet.
Arriving without a booking
Please note, that we are not able to host guests who arrive without a booking. We also cannot host guests who wish to stay overnight outside of the retreat dates. Thank you for your support and understanding.