Zen Meester Thich Nhat Hanh is een wereldwijde spirituele leider, dichter en vredesactivist, bekend om zijn krachtige leerstellingen en populaire geschriften over mindfulness en vrede. Een zachte, bescheiden monnik, Dr. Martin Luther King, Jr. noemde hem "een apostel van vrede en geweldloosheid" toen hij hem nomineerde voor de Nobelprijs voor de Vrede. Thich Nhat Hanh leefde bijna vier decennia verbannen uit zijn geboorteland Vietnam en is een pionier die het boeddhisme en de mindfulness naar het Westen heeft gebracht en een geëngageerde boeddhistische gemeenschap voor de 21e eeuw heeft opgericht.
Ook beschikbaar: uitgebreide biografie in 20 pagina's
De beginjaren
Hoe spreek je Thich Nhat Hanh uit?
De Nederlandse uitspraak is: "Thid Ñaec Han". De "th" wordt uitegesproken als in het Engelse "the", "Ñaec" als het laatste deel van het woord "cognac" en "Han" als in "Hannover". Lees hier een uitgebreidere uitleg met audio op de website van Wake Up Nederland.
Door zijn leerlingen staat hij liefkozend bekend als Thay (uitgesproken als "Theij"), wat Vietnamees is voor "leraar".
Thich Nhat Hanh werd in 1926 in het centrum van Vietnam geboren en trad op zestienjarige leeftijd als novicemonnik in de Tu Hieu-tempel in Hue-stad. Als jonge bhikshu (monnik) was hij begin jaren vijftig actief betrokken bij de beweging voor de vernieuwing van het Vietnamese boeddhisme. Hij was een van de eerste bhikshu's die aan de universiteit van Saigon een wereldlijk onderwerp studeerde en een van de eerste zes monniken die op de fiets reden.
Sociaal activisme tijdens de oorlog in Vietnam
Toen in Vietnam oorlog uitbrak, werden monniken en nonnen geconfronteerd met de vraag of ze zich aan het contemplatieve leven moesten houden en in de kloosters moesten blijven mediteren, of dat ze de mensen om hen heen moesten helpen die onder de bombardementen en het oorlogsgeweld te lijden hadden. Thich Nhat Hanh was een van degenen die ervoor kozen om beide te doen en zodoende de beweging van het Geëngageerd Boeddhisme oprichtten en die deze naam introduceerde in zijn boek "Vietnam, de lotus in een zee van vuur". Zijn leven is sindsdien gewijd aan het proces van innerlijke transformatie ten behoeve van het individu en de maatschappij.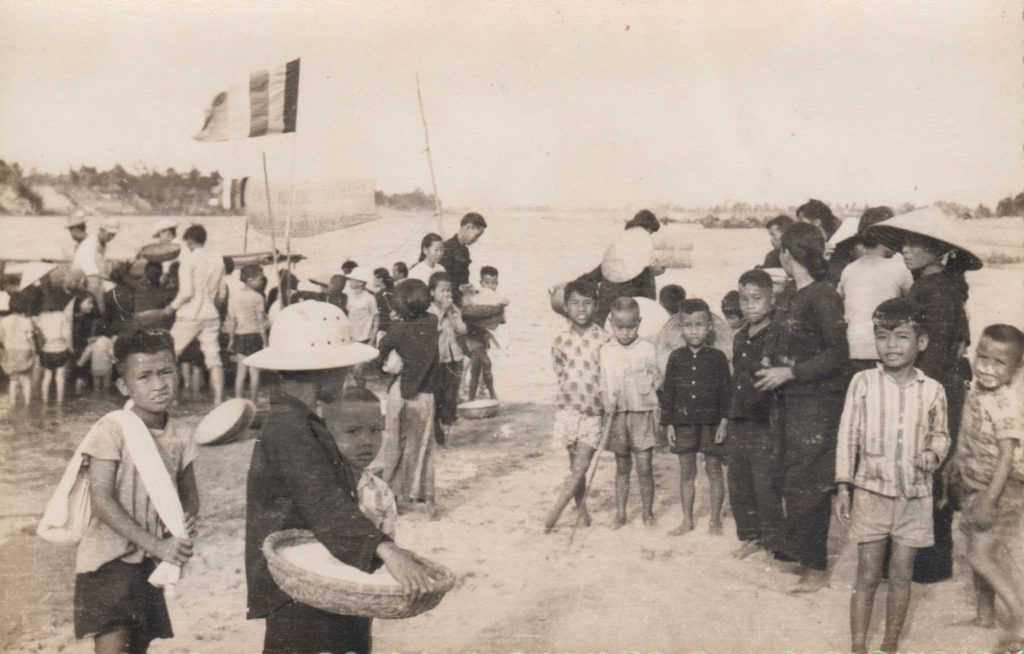 In 1961 reisde Thich Nhat Hanh naar de Verenigde Staten om les te geven in Vergelijkende Godsdienstwetenschappen aan de Princeton-universiteit en het jaar daarop ging hij lesgeven en onderzoek doen naar het boeddhisme aan de Columbia-universiteit. In Vietnam richtte Thich Nhat Hanh in het begin van de jaren zestig de "School of Youth and Social Service" op, een hulporganisatie van 10.000 vrijwilligers op basis van de boeddhistische principes van geweldloosheid en mededogende actie.
Als geleerde, leraar en geëngageerd activist richtte Thich Nhat Hanh in de jaren '60 ook de Van Hanh Boeddhistische Universiteit in Saigon op, de La Boi uitgeverij, en een invloedrijk vredesactivistisch tijdschrift. In 1966 richtte hij de Orde van Interzijn op, een nieuwe orde gebaseerd op de traditionele boeddhistische Bodhisattva-voorschriften.
Op 1 mei 1966 ontving Thich Nhat Hanh in de Tu Hieu-tempel de 'lamptransmissie' van Meester Chan That.
Verbannen uit Vietnam
Een paar maanden later reisde hij opnieuw naar de VS en Europa om te pleiten voor vrede en op te roepen tot het staken van de vijandelijkheden in Vietnam. Tijdens deze reis in 1966 ontmoette hij voor het eerst Dr. Martin Luther King, Jr., die hem in 1967 nomineerde voor de Nobelprijs voor de Vrede. Als gevolg van deze missie ontzegde zowel Noord- als Zuid-Vietnam hem het recht om terug te keren naar Vietnam en begon hij aan een lange ballingschap van 39 jaar.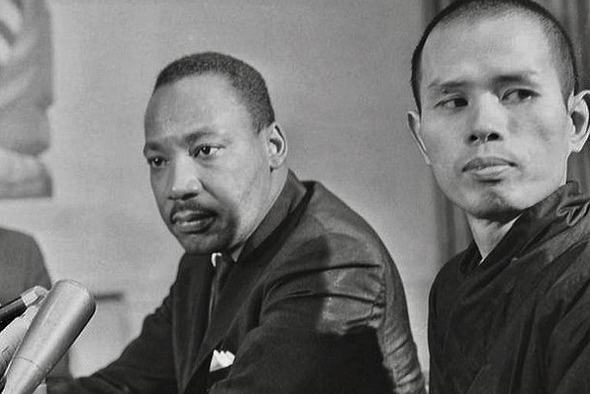 Thich Nhat Hanh bleef de wereld rond reizen, de boodschap van vrede en broederschap verspreidend, en hij lobbyde bij westerse leiders om de Vietnamoorlog te beëindigen. In 1969 leidde hij de boeddhistische delegatie naar de vredesbesprekingen in Parijs.message of peace and brotherhood, lobbying Western leaders to end the Vietnam War, and leading the Buddhist delegation to the Paris Peace Talks in 1969.
Het oprichten van Plum Village in Frankrijk
Hij bleef ook lesgeven, lezingen geven en schrijven over de kunst van mindfulness en 'vrede leven', en was begin jaren zeventig docent en onderzoeker in het boeddhisme aan de Universiteit van Sorbonne, Parijs. In 1975 richtte hij de Sweet Potato gemeenschap op in de buurt van Parijs, en in 1982 verhuisde hij naar een veel grotere locatie in het zuidwesten van Frankrijk, die kort daarna bekend zal staan als "Plum Village."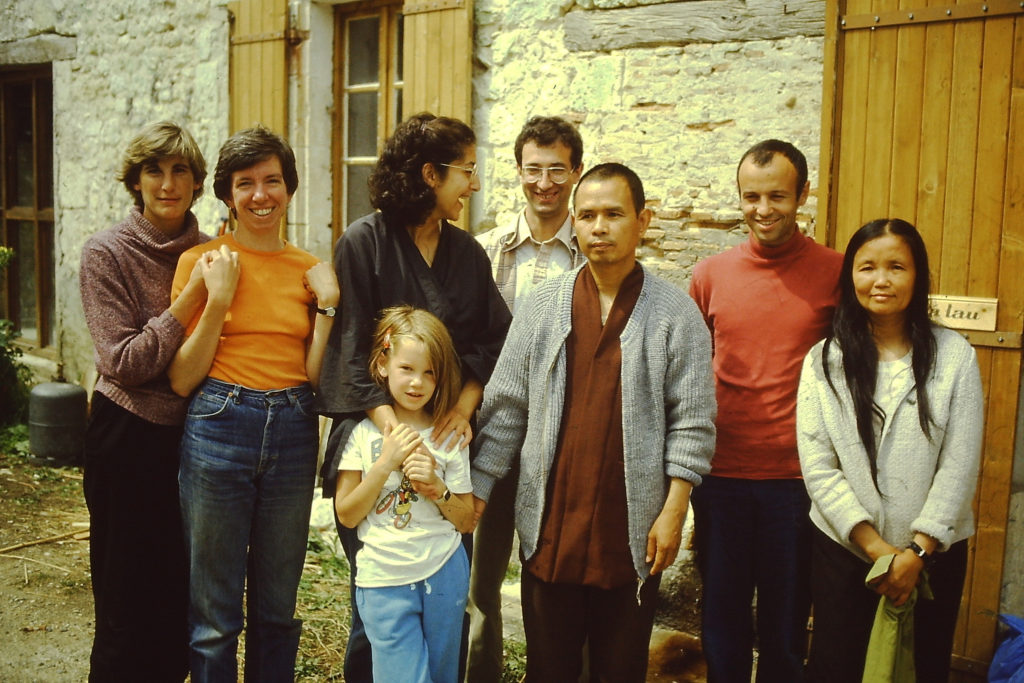 Onder Thich Nhat Hanh's spirituele leiderschap is Plum Village uitgegroeid van een kleine landelijke boerderij tot wat nu het grootste en meest actieve boeddhistische klooster van het Westen is, met meer dan 200 inwonende kloosterlingen en meer dan 10.000 bezoekers per jaar, die uit de hele wereld komen om "de kunst van het leven in Aandacht" te leren.
Plum Village verwelkomt mensen van alle leeftijden, achtergronden en geloofsovertuigingen op retraites waar ze beoefeningen als loopmeditatie, zitmeditatie, eetmeditatie, totale ontspanning, werkmeditatie en stoppen, glimlachen en mindful ademen kunnen leren. Dit zijn allemaal oude boeddhistische praktijken, waaruit Thich Nhat Hanh de essentie heeft gedistilleerd en ontwikkeld om gemakkelijk en krachtig te worden toegepast voor de uitdagingen en moeilijkheden van onze tijd.
In de afgelopen twintig jaar hebben meer dan 100.000 mensen zich ertoe verbonden om Thich Nhat Hanh's gemoderniseerde leefregels voor een universele ethiek in hun dagelijks leven te volgen, die bekend staat als "de Vijf Aandachtsoefeningen".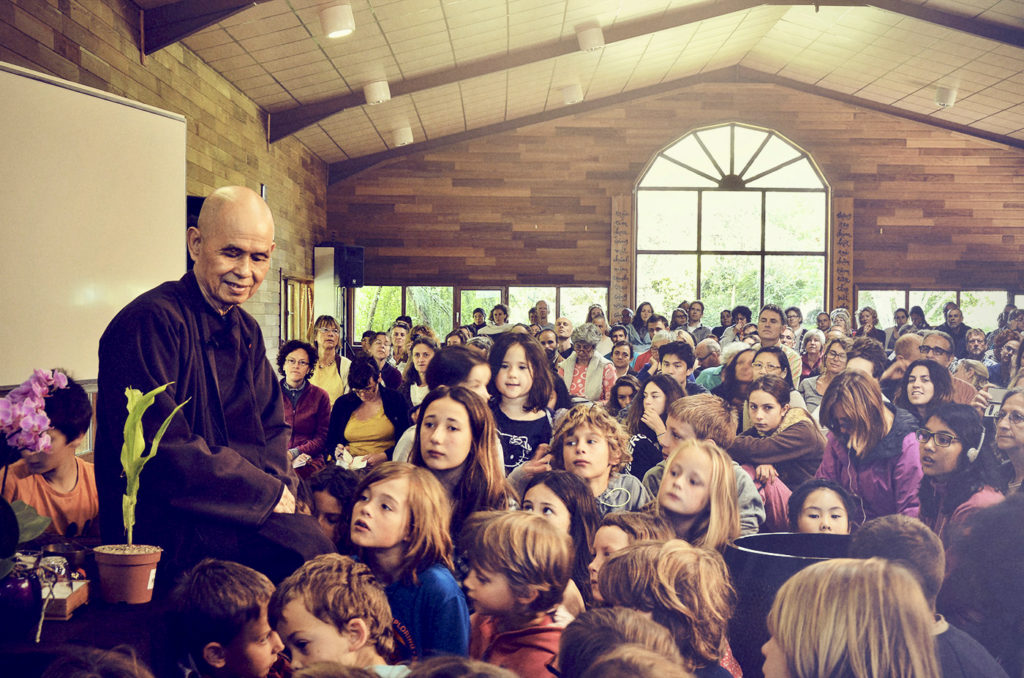 Meer recentelijk heeft Thich Nhat Hanh Wake Up opgericht, een wereldwijde beweging van duizenden jonge mensen die deze aandachtsoefeningen in de praktijk brengen in hun dagelijks leven, en heeft hij een internationaal Wake Up Schools programma gelanceerd dat leraren opleidt om mindful te onderwijzen, op scholen in Europa, Amerika en Azië.
Thich Nhat Hanh is ook een kunstenaar, en zijn unieke en populaire kalligrafiewerken – korte zinnen en woorden die de essentie van zijn mindfulnessleer vastleggen – worden sinds 2010 tentoongesteld in Hong Kong, Taiwan, Canada, Duitsland, Frankrijk en New York.
In het laatste decennium heeft Thich Nhat Hanh kloosters geopend in Californië, New York, Vietnam, Parijs, Hong Kong, Thailand, Mississippi en Australië, en het eerste "Instituut voor Toegepast Boeddhisme" van Europa in Duitsland.
Mindfulness oefencentra in de Plum Village traditie bieden speciale retraites voor zakenmensen, leraren, gezinnen, gezondheidswerkers, psychotherapeuten, politici en jongeren, maar ook voor oorlogsveteranen en Israëliërs en Palestijnen. Naar schatting nemen jaarlijks wereldwijd meer dan 75.000 mensen deel aan activiteiten onder leiding van Plum Village monniken en nonnen.
In de afgelopen jaren leidde Thich Nhat Hanh evenementen voor leden van het Amerikaanse Congres en voor parlementsleden in het Verenigd Koninkrijk, Ierland, India en Thailand. Hij heeft het Wereldparlement van Religies in Melbourne en de UNESCO in Parijs toegesproken en opgeroepen tot concrete stappen om de cyclus van geweld, oorlog en klimaatverandering te keren. Tijdens zijn bezoek aan de VS in 2013 leidde hij spraakmakende mindfulness evenementen bij Google, de Wereldbank en de Harvard School of Medicine.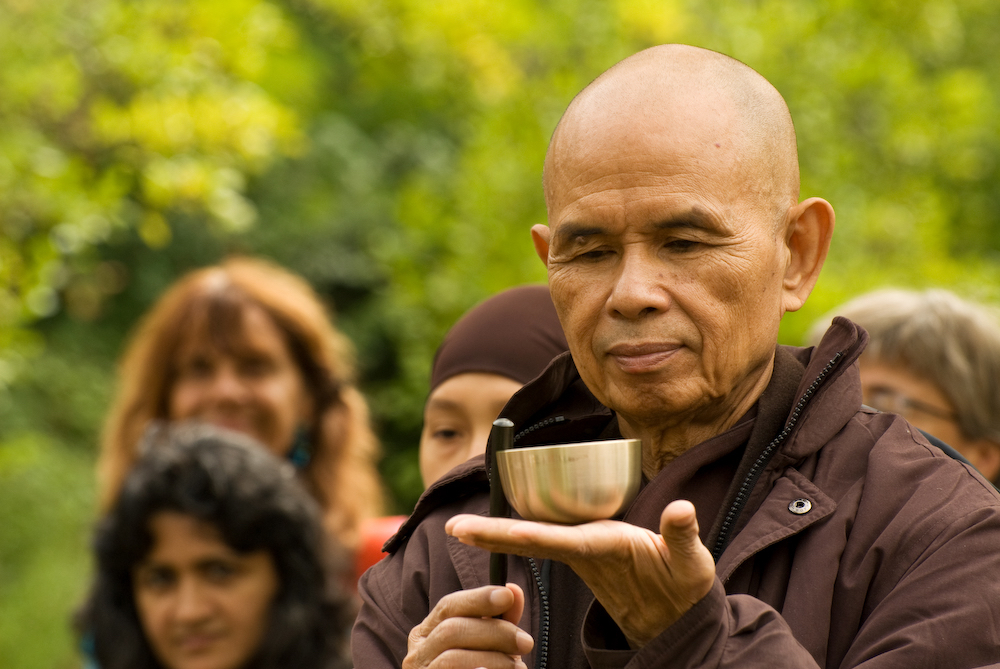 Op 11 november 2014, een maand na zijn 88e verjaardag en na enkele maanden van snel verslechterende gezondheid, kreeg Thich Nhat Hanh een zware beroerte. Hoewel hij nog steeds niet in staat is om te spreken, en rechtszijdig verlamd is, is hij de Dharma en inspiratie blijven bieden door zijn vredige, serene en dappere aanwezigheid.
Thich Nhat Hanh verblijft momenteel in de Từ Hiếu Tempel in Vietnam waar hij op zestienjarige leeftijd door zijn leraar werd geordineerd. Hij heeft de wens geuit om daar te blijven voor de dagen die hem resten. Hij komt regelmatig in zijn rolstoel naar buiten om de altaren van de tempel te bezoeken en de sangha te leiden op loopmeditatie rond de vijvers en voorouderlijke stupas. Zijn terugkeer naar Từ Hiếu is een bel van aandacht die ons allen eraan herinnert hoe kostbaar het is om tot een spirituele lijn te behoren die diep geworteld is. Of we nu een retraite hebben bijgewoond, of gewoon een van Thay's boeken hebben gelezen of naar een lezing hebben gekeken, en geraakt zijn door zijn leer – we zijn allemaal verbonden met deze voorouderlijke stroom van wijsheid en mededogen.
Boeken over het leven van Thich Nhat Hanh