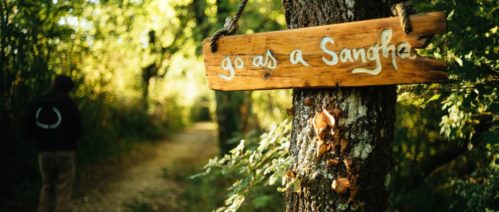 Eine Gemeinschaft von buddhistischen Praktizierenden wird als "Sangha" bezeichnet.(Sanskrit for inseparable)Eine Sangha kann sowohl Mönche, Nonnen als auch Laienpraktizierende umfassen. Als drittes Juwel des Buddhismus bieten die Sanghas einen tiefen Brunnen der Unterstützung und Weisheit.
Wir ermutigen jede(n), sich einer Sangha in Ihrer Nähe anzuschließen oder an Aktivitäten mit einer Gemeinschaft der Achtsamkeitspraxis teilzunehmen, damit Sie von der kollektiven Energie der Achtsamkeit, des Friedens und der Freude profitieren können.
In der Plum Village-Tradition gibt es in Europa, Asien und Amerika Zentren für Achtsamkeitspraxis mit Gemeinschaften von Mönchen, Nonnen, und Laien. Darüber hinaus gibt es weltweit Dutzende von Laienzentren zur Achtsamkeitspraxis und über 1.000 Laien Sanghas, die sich regelmäßig abends, morgens oder an Achtsamkeitstagen zur gemeinsamen Übung und Austausch in Städten und Gemeinden treffen.
Liste aller deutschsprachigen Sanghas
Diese Liste enthält die Kontaktdaten aller uns bekannten Sanghas bzw. Gruppen in Deutschland, Österreich und der Schweiz, die in der Tradition von Thich Nhat Hanh und Plum Village praktizieren.
International Sangha Directory
Find a lay sangha practising in the tradition of Plum Village on the map below.
A list of these sanghas is also available on www.mindfulnessbell.org. If you have a sangha or know a sangha in your region that is not shown, please contact the Mindfulness Bell.
Online sanghas
Es gibt auch eine Reihe von "Online"-Sanghas (die sich nur per Telefon oder Internet treffen). Die Plumline-Webseite ist ein Unterstützungszentrum für jeden, der eine Online-Sangha finden, einrichten, aufbauen und unterhalten möchte. Ein Ort zum Austausch von Ideen und Ressourcen bei der Entwicklung einer Online-Sangha: plumline.org.