Esperamos que disfrutéis de esta sinopsis de la enseñanza impartida por el Hermano Pháp Dung durante el retiro online de Octubre de 2020.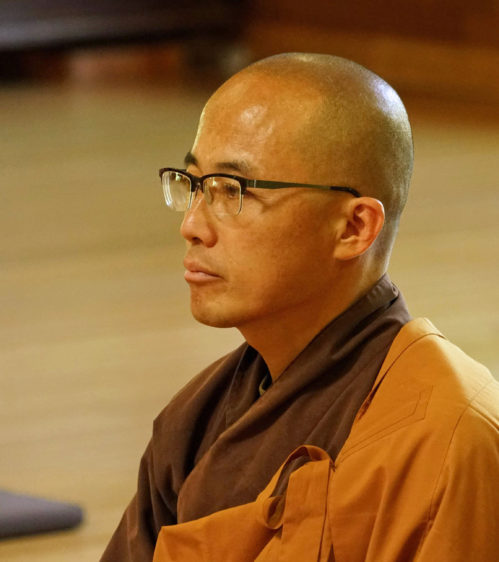 La vida de Thay ha estado consagrada a enderezar los males de la sociedad. Sus enseñanzas sobre presencia, estabilidad y transparencia son todavía hoy relevantes.
Primeramente, una de las enseñanzas fundamentales de Thay y una de las enseñanzas clave de Plum Village es «he llegado, ya estoy en casa». Está dirigida a los enfermos de la sociedad. Nos interpela a quienes no somos felices por ser quien somos en el momento presente. El budismo puede aquí jugar un maravilloso papel porque nos enseña a volver a nosotros mismos, a amarnos y a cuidar de nosotros mismos. Esto es lo que he aprendido como monje. He aprendido a cuidar de mi mismo, mi habitación, mi cama, mis platos y mi tazón, el compost y el reciclaje. Todo esto es un acto de amor. Esto es lo que he aprendido de Thay.
Recuerdo un joven hermano comentando conmigo que había llegado y estaba en casa pero que no era suficiente. Le parecía que no era suficiente estar en casa, que debíamos comprometernos. Que debíamos ayudar a un cambio sistemático. La presión de la sociedad nos arrastra a correr detrás de cosas. A veces olvidamos nuestra básica práctica de cuidarnos a nosotros mismos.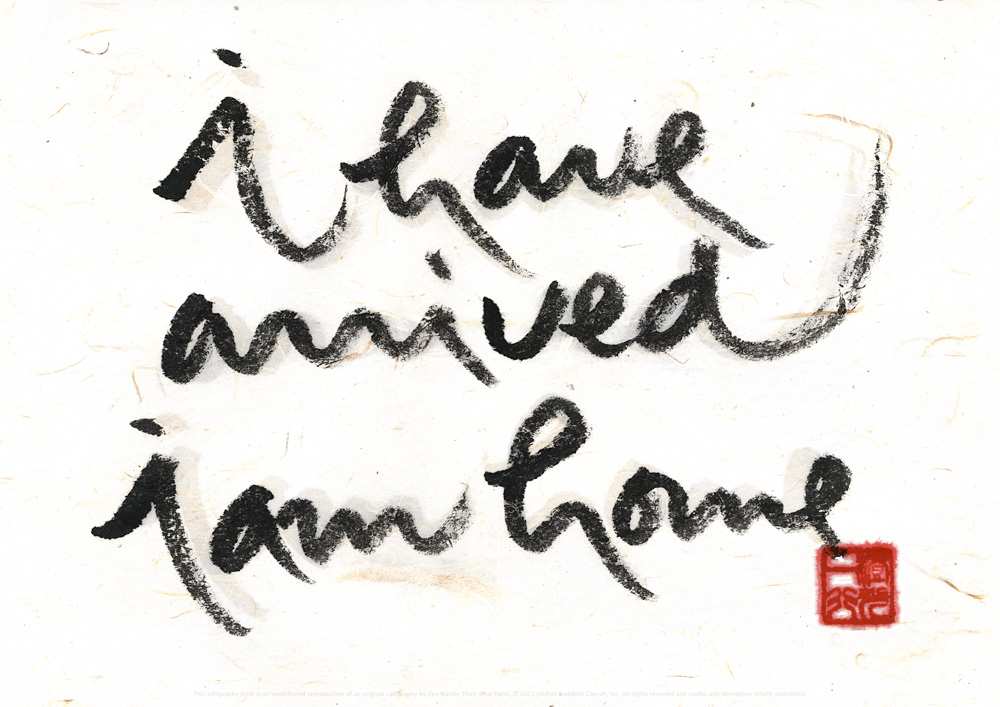 Me gustaría completar el verbo comprometerse con la necesidad de participar activamente y de estar informados
(el juego de palabras original entre engage, involve e inform es intraducible. Damos el sentido.N.T.). Como Shanga global necesitamos indudablemente estar informados y participar activamente para el cambio político y social. Pero no debemos olvidar nunca nuestro compromiso de volver a nosotros mismos. Cuando deseamos un cambio social, debemos acordarnos de volver a nuestro interior y preguntarnos: ¿Qué puedo ofrecer yo cuando llegue el cambio?
El compromiso es crucial, y lo que es fundamental para ello es nuestra presencia. Una de las mejores cosas que podemos ofrecer es nuestra verdadera presencia, y eso es mindfulness. Esto es lo que Thay ha venido enseñándonos.
El mindfulness es muy popular hoy en día y una de los modos de compartir es a través de nuestra presencia.
¿Estamos presentes para nosotros mismos y para nuestra familia? ¿Estamos presentes en nuestras comidas? Presentes cuando fregamos los platos? ¿Qué aspectos de nuestra vida que tomamos como normales son en realidad privilegios?
El grifo que abrimos y del que fluye el agua es un privilegio. No importa cuál sea tu origen. Es un hecho básico medioambiental, un privilegio ecológico. Si tenemos un refugio seguro, una manta y una cama donde dormir, somos conscientes de estas cosas?
Nuestra presencia es un don que podemos ofrecer. Esto va a resultar importante en estos tiempos.
El segundo es concentración. Otro modo de expresar esto es equilibrio. A veces, podemos oir las noticias, ello nos desestabiliza y de pronto nos impulsa de un modo diferente. La práctica es muy estable, y es también un regalo que podemos ofrecer a otros. Como comunidad nos podemos comprometer para el cambio social. Debemos también lograr mayor equilibrio. Nuestra concentración, nuestro equilibrio es lo que podemos ofrecer cuando llegue el cambio.
El tercero es la visión, otro modo de ser cuidadoso y puro. La visión nos permite ver más claramente cómo las cosas nos están afectando en cada momento. Esto es posible cuando estamos presentes y en equilibrio.
Esto es lo que el budismo puede ofrecernos, un tipo de libertad que no-cultural, no-político, no-social.
El hermano Phaáp Dung invitó a los hermanos a entonar una canción. Tradujo la letra:
Por favor, genera tus propias nubes y tu Sol. Genera en ti mismo y no te limites a tomarlos del cielo y la tierra de modo que cuando el Sol y la luna ya no estén ante tu morada, los rayos de la luna sigan brillando y veas ante ti el espíritu. Por favor, genera tu propia luna, tu Sol.
Esto significa que debemos empoderarnos por medio del Dharma y de la práctica. Cuando te sientas y respiras, estás alimentando tu Luna, tu Sol. En ese momento, estás presente con la Luna y todo lo que es hermoso dentro de ti.
Claro que tendrás sufrimiento, retos y stress. Tienes a tu alrededor todo lo que es el drama humano, pero tú eres también un milagro. Un milagro que tardó millones de años en formarse y tienes en tu interior el Sol y la Luna. A veces olvidamos esto, pero la práctica consiste en estar presente para estas cosas. Eres capaz de estar presente para la flor que tienes enfrente o en el jardín del exterior?
Estos son los tres elementos: Presencia, equilibrio y visión. Debemos alimentarlos.
---
This extract was shared as part of an invitation and an ask for help from the Plum Village fundraising team.