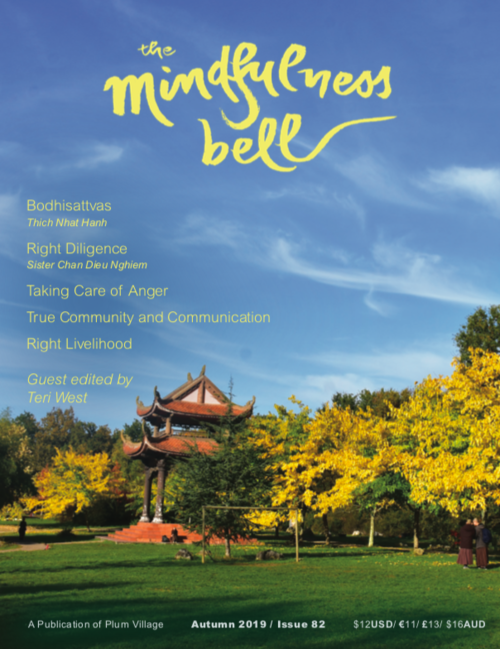 AUTUMN 2019 ISSUE 82, AVAILABLE EARLY OCTOBER
Guest edited by UK Dharma teacher Teri West, this issue shares the fruits of our practice with several of the Fourteen Mindfulness Trainings.
Bodhisattvas: In a Dharma talk, Thich Nhat Hanh tells us about practicing the Fourteen Mindfulness Trainings and what it means to be an Order of Interbeing member.
Taking Care of Anger: Monastic Sister Chan Dieu Nghiem (Sister Jina) teaches about Right Diligence. A practitioner from Czech Republic recalls transforming fear along their path, and a practitioner with African and Indian heritage reflects on practicing nondiscrimination in the UK.
True Community and Communication: Monastic Sister Tam Muoi (Sister Samadhi) reflects on resolving difficulties with her family, and a US practitioner shares about the art of writing a love letter.
Right Livelihood: We learn from practitioners about working with asylum seekers near the Mexico border and engaging in the practice as an activist.
Inclusion: Practitioners from the United States and Canada reflect on openness, reverence for life, and generosity.
SUBSCRIBE OR PURCHASE A SINGLE ISSUE