Three monastic brothers from Plum Village Monastery in France undertook a pilgrimage to visit Sanghas on foot.
This is an article translated from French and edited. You can read the original article here.
You can listen to our three brothers share about their pilgrimage here (in French), and watch the slideshow here .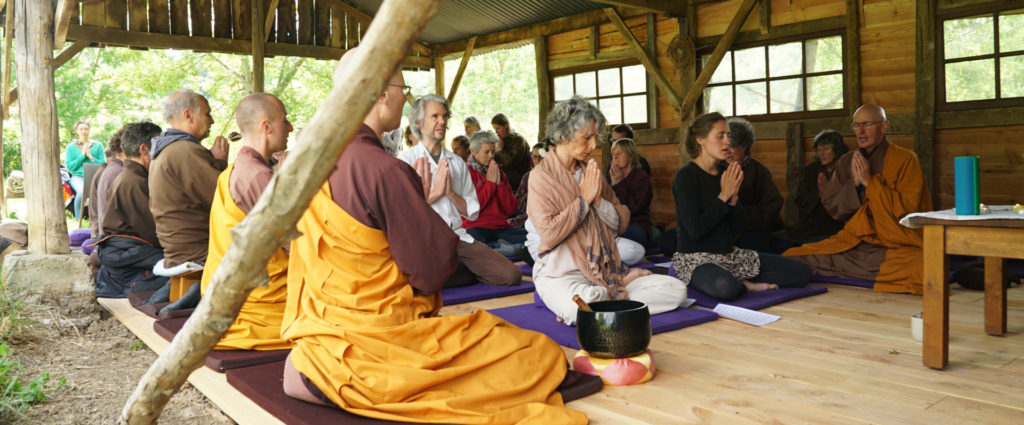 We are brothers Pháp Lý, Đức Hiền and Đức Định, three monastic members of Plum Village. A few months ago, we set in motion a project that had been germinating in our hearts for quite some time: walking from one Sangha to another, just with our backpack and relying on the generosity of our hosts.
The idea focused on the local Sanghas, the people who moved to be physically close to Plum Village but have not been able to come and practice with us for the past year, with Plum Village being closed to the public because of the current health situation.
We wrote a proposal for this neighbor's tour to the council of bhikkhus (fully ordained monks) of Upper Hamlet, which was accepted. Once the online French retreat was over in May, we were ready to hit the road!
Pilgrimage of Gratitude
By Brother Đức Hiền (Frère Bienveillance)
First of all, a huge thank you to all those who opened their doors, their arms and their hearts to us, without whom this pilgrimage could not have happened.
What a joy it is, to be able to set in motion a spiritual tour, springing from this surge of gratitude towards Thay, the monastic community and all our friends who are close residents of Plum Village, whom we affectionately call "neighbors".
We live in a village, don't we? So to visit our neighbors, to take care of them, to share our happiness of being together on this beautiful path, what could be more natural! Especially when we are faced with a rather destabilizing and uncertain health situation.
I fully feel, from listening to our neighbors, how difficult and frustrating it is to have chosen to come and live close to the monastery and to be "forbidden to visit". Of course everyone makes the effort to understand this decision of Plum Village to close, but the feeling of lack can surface from emotions of isolation, separation, rejection… or simply arise from memories of happiness shared during the days of mindfulness or retreats at Plum Village. This is felt by a large number of practitioners everywhere, even if many initiatives have been taken to stay connected and practice online.
I, as well as my daughters, have long taken refuge in the community of practice by coming to bathe in its spiritual energy very regularly and I am well aware of the power of inspiration that can come from this immersion. So much so that I finally made Plum Village my home and put down roots joyfully!
For me, it was also a chance to get some fresh air. I clearly feel the need to put at a distance what is so precious to me, to take a step back and discover again its virtues and benefits.
I see that it is not so easy to renew myself only through interiority, I also need unexpected stimuli, enthusiastic discoveries, disconcerting impromptu events, a certain confrontation with "external" life. For myself, the fire of the monastic aspiration to be of service requires a regular supply of fuel, otherwise the flame will dwindle and risk being extinguished.
A few weeks before our departure, I already felt regenerated by the feeling of having been understood and supported by our brothers, the growing closeness with my two companions of adventure (Brothers Pháp Lý, and Đức Định) and with our three accomplices and bodhisattvas of organization (Adrien, Julien and Christian). Finally we planned to go on foot some 300km, from the ocean all the way to Sarlat, in communion with Mother Nature.
As we went from house to house in May, I was deeply delighted to see that together we could easily reproduce this "miracle of mindfulness" so wonderfully taught and embodied by Thay. I could very often taste the joy of being authentic, of letting the movement of life manifest itself naturally.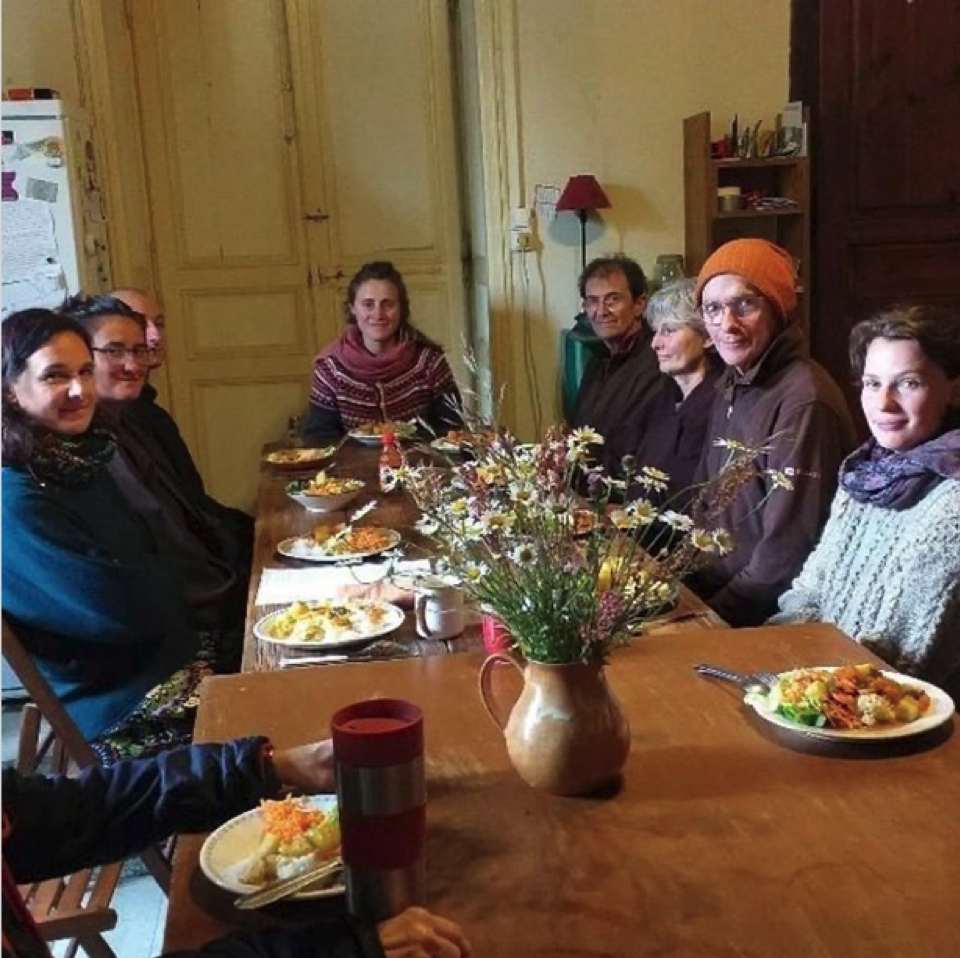 This benevolent spontaneity created an easy rapport with our hosts, released apprehensions, freed fears, untied inner tensions, and made us smile and sometimes even laugh happily. And suddenly, subtly, this perfume of bliss appeared in our consciousness, this indescribable essence of being together, where everything Inter-is.
It perfumes the atmosphere and nothing else matters.
A pure state of grace!
With the friends who received us we with open arms we were able to co-create conditions of joy and happiness while under the same roof or in the garden: a meal in silence, a benevolent look of acceptance of what is, a deep and attentive listening where each one can truly say what he or she is, delicate and attentive gestures, time and availability to be truly together, shared gratitudes, moments of formal practice (sometimes), lightness and humor that defused everything in us that could be taken seriously, gentleness in the intonations of voice and awareness in the words used, knowing smiles, a good dose of humility, the richness of sharing our life paths, the wonder, the welcoming of our sufferings, our discomforts or our ill-being, the energy and interest in cooking vegetarian (or even vegan), our sleeping spaces prepared with care and kindness, and this multitude of details in the daily acts that raised us to the vibration of true love.
And when we took to the road again, we felt in the depths of our being this blessing of having woven together the web of life, a little stunned by so much mutual beauty and affection.
We are definitely brothers and sisters on the path of awakening!
Speaking of brothers, my two traveling companions come back to mind. Their way of being present for each other in silence, of trusting, of supporting each other when doubt appeared, of playing freely, of speaking from the sensitive places within, of respecting humbly, of leaving space and time, of welcoming our vulnerabilities, of encouraging each other to exist fully, of being delicately attentive, this is a beautiful sample of what we were given to live during these thirty days of exploration of our humanity.
A lively brotherhood filled with rapport and love.
As I contemplate these feelings, I realize that I have rarely tasted them, especially before the monastic life. Thank you my dear brothers!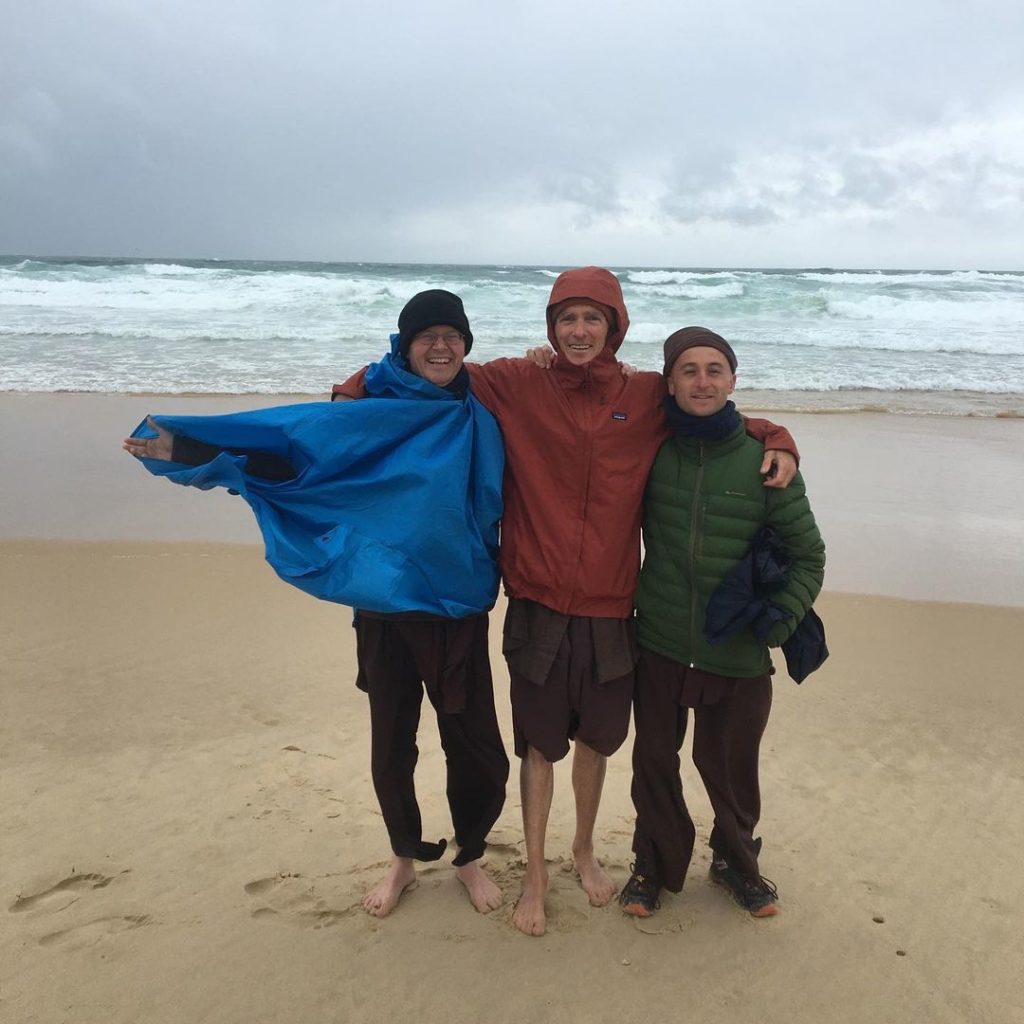 There were also the effects of our footsteps left behind us! Many of our neighbors have expressed that our passage has allowed them to feel once more as cells of the same practice body, renewing the desire to continue to nourish, make bloom and shine all the local aspirations and initiatives of the neighborhood.
We practiced formally with almost 300 people during our journey and many others that we met along the way.
Fortunately, there are the days of walking where, step by step, we relaxed our mind from all the environmental stimulations of the day and came back to the inner silence of contemplation with the movement of our bodies. It was a very nice balance between the joys of social engagement and the return to oneself.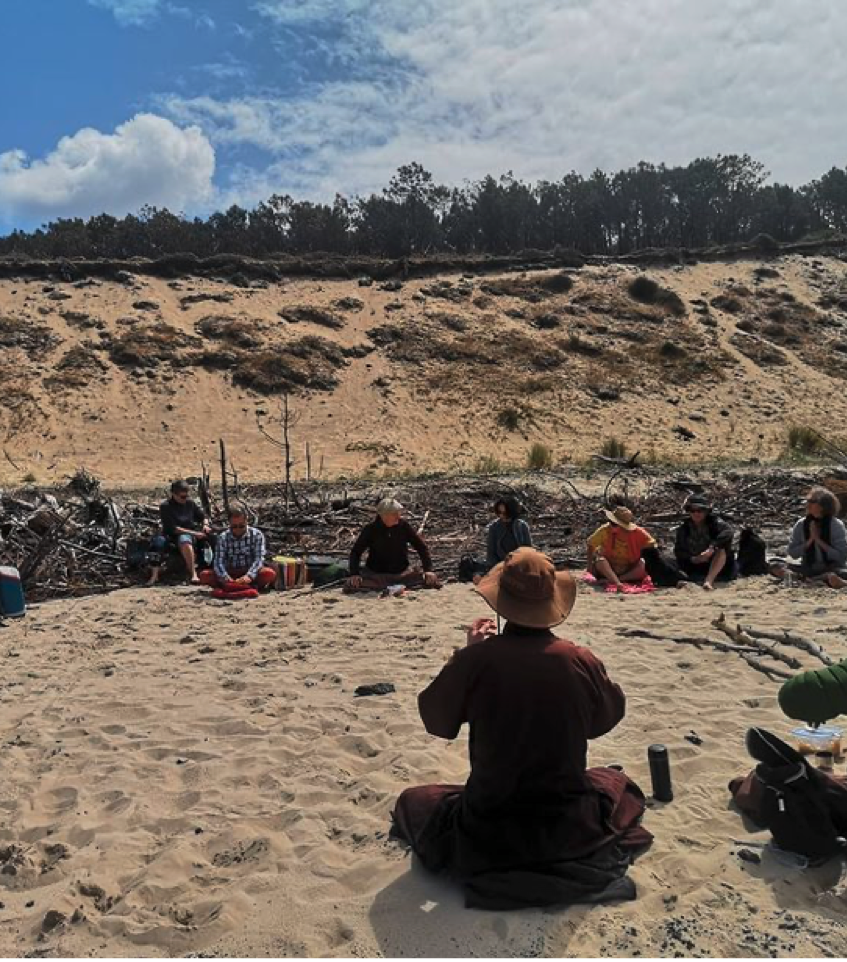 What a gift it is to be in good health and to be able to walk for hours and to let Mother Nature embrace us. We availed ourselves to the slow rhythm of our steps and our breathing and rediscovered the power and the joy of this communion with the mineral, vegetal and sometimes animal world. The whole journey was regularly sprinkled with generous showers!
How good it is to feel very small, rather vulnerable and humbly amazed by the greatness and beauty of the manifested world. The exhilarating crash of the waves on the ocean and the incessant swirl of the rain and wind made me shiver with completeness. The vast expanses of pine trees combined with the green oak, the fern and the sandy soil recharged and soothed me. The magical atmosphere of the flowery meadows dancing with the wind, accompanied by the soft whisper of the creeks, enchanted me. Then the deep and mysterious forests of beech, oak, hornbeam and chestnut that my cells happily recognized as the playground of my childhood.
And finally the rivers, the cliffs and the caves engraved by the trail of time and erosion which reminded us that we are at the same time, this immensity in perpetual transformation and definitely very small.
These memories bring me back to all those timeless moments, during a group sharing, a sitting meditation, a song, an inspired exchange, a meal or a mindfulness walk, where I felt intensely aware of the joy and blessing of "being a monk".
To be the representative of a path, a tradition, a master, a teaching, a community that works for peace in oneself and in the world.
To be the emissary of a practice center where joy and true love are cultivated and where the art of suffering is deepened.
To be a clear bearer of an aspiration, shared with the whole community, to always reveal and celebrate the awakening nature that lies within us.
Or simply "Being" with the powerful and clear support of the robe and precepts body.
I also recognize a part of me that does not yet fully embrace the need to adopt a form (the monastic robe) and longs to live stripped down to the core of what is essential: Love, Peace, Joy! But I see very clearly that this commitment to surrender to something greater than oneself, to devote oneself to the spiritual life, to cultivate and explore the most intimate part of oneself, to take care of the living, to embody happy sobriety, these qualities carry me and inspire those who welcome us.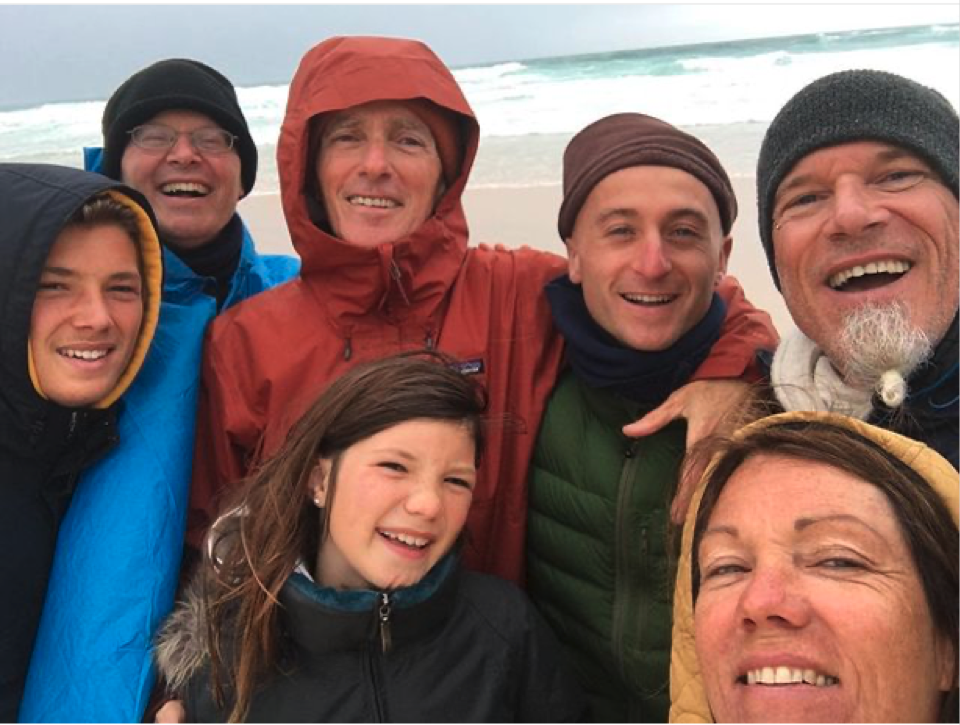 I think back with emotion to these tender and sunny connections with the children we had the pleasure of meeting during our stay. Often after a time of observation from the corner of the child's eye and a few hesitations perhaps, our encounters culminated in an explosion of games, laughter, stories told, gestures of affection, exploration hand in hand, awakening our own inner child and propelling us into an instant joy.
Here too, the borders of all that seems to separate us disappear. All that remains is this intense and flavored freshness which is the subtle fragrance of life, free from any mental or emotional interpretation.
It is exactly this ineffable dimension of the encounter with all of you, companions on the path of awakening, that continues to vibrate and smile within me, as I play with the words of this story to try to share its essence with you.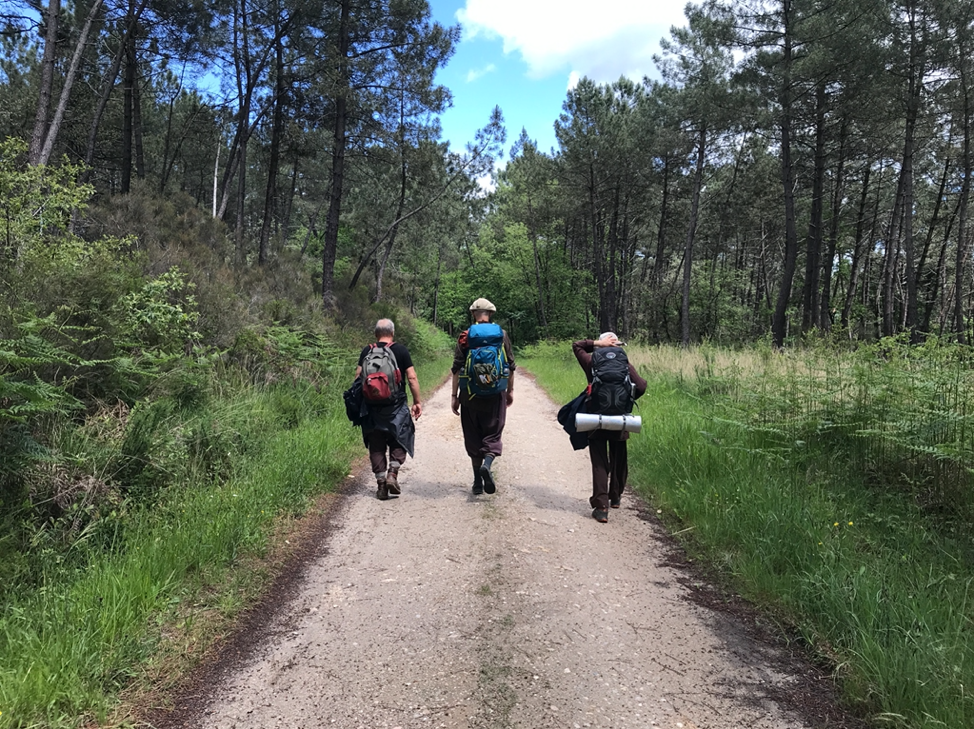 May we cherish this treasure for eternity, aware and happy to know that it is in perpetual renewal. Thank you life!
Ps : and the music of course, with those three songs gleaned on the way (thanks to Pascale and Luce)
This is an article translated from French and edited. You can read the original article here.
You can read the beautiful poetry about the pilgrimage by Br Đức Định here (in French).
Enjoy the three songs offered by Br Đức Hiền below (also in French).
---