Are you currently participating in this course? Login
7 week course:
3-7 hours per week,
Combination of self-paced content and live events.
Language: English
Scholarships are available: For young people (35 and under), BIPOC and those from the Global South, please do not let cost be a barrier for you.
Deadline for registration: 11th May (or once places are filled)
Has started on Sunday 21-05-2023
Ends: Sunday 09-07-2023

Price €200 - €600

Registration is closed
Join this new online course bringing to life the teachings in Thich Nhat Hanh's book Zen and the Art of Saving the Planet.
Do you have a deep sense of care for the Earth, and want to find ways to bring mindfulness to your climate response? This new online journey harnesses the wisdom of Zen Master Thich Nhat Hanh to teach us how to face challenging feelings and create a sense of freedom and possibility. It is designed to empower the human resilience we need to face our current situation.
After nine months of development, we are delighted to offer the course publicly for the first time, running as a pilot from May 21 to July 9, 2023.
This is Plum Village's first long-format online course and limited spaces are available. Take this opportunity to be amongst the first to experience this unique learning experience, before we open the course to a wider audience in autumn 2023.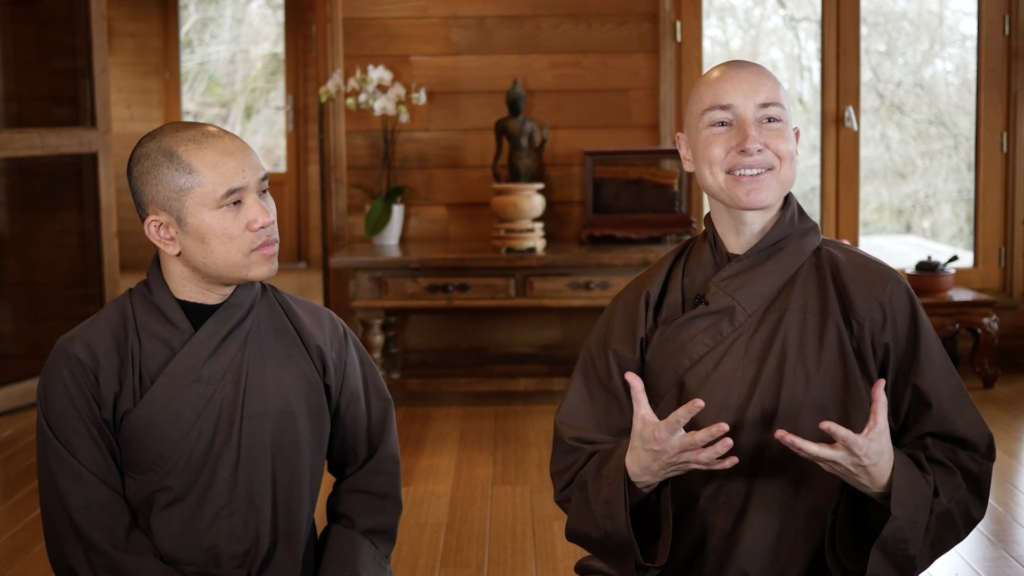 Why Take this Course?
Balance personal wellbeing with climate action
Begin to master difficult emotions and develop inner resilience
Join a grounded purpose-driven community of changemakers
Train in deep listening and compassionate communication
Nourish a profound relationship with the Earth
Turn your climate concern and anxiety into sustainable action
What Does the Course Offer?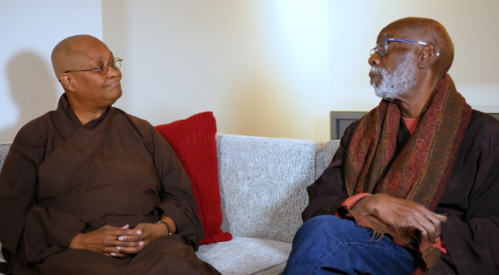 New Teaching Videos
Professionally filmed short-form teachings from Plum Village monastic and lay teachers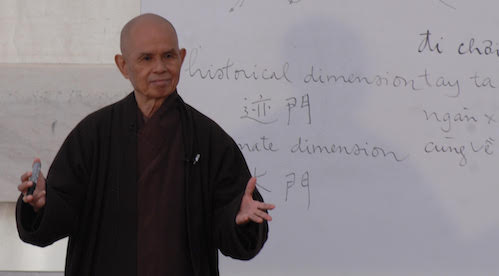 Talks from Thich Nhat Hanh
Specially curated archive footage of teachings on engaged Buddhism and the environment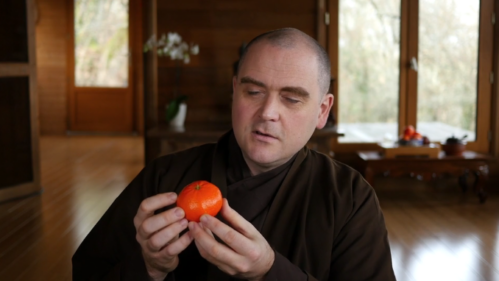 Daily Zen Practices
New guided meditations and other mindfulness exercises to incorporate into daily life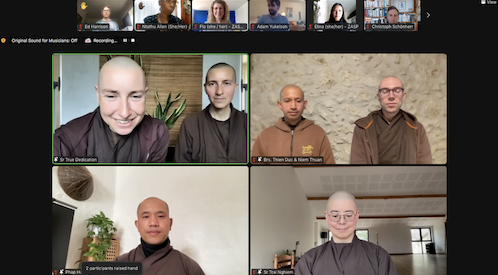 Live events
Learn together with Plum Village monastics and lay teachers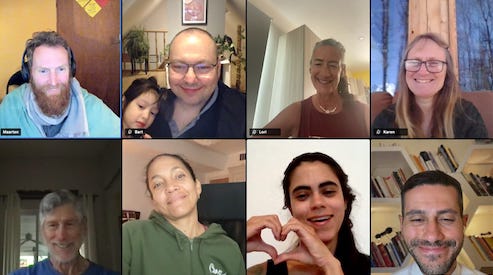 Small Group Sharings
Four group sessions to share insights and absorb the learning with others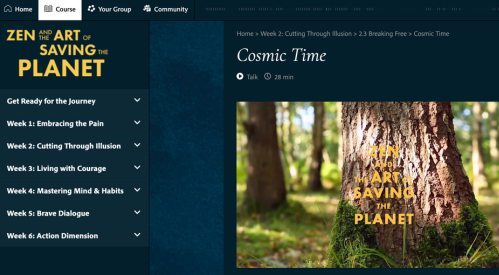 Bespoke Interactive Platform
To connect with each other and feel a sense of community
You will have access to the course material for 6 months after the course ends.
We have entered a period unseen before in human history that requires all hands and all hearts on deck. Whether you're a climate activist, a scientist, a parent, an outdoor enthusiast, or someone who simply doesn't know where to begin, this course will help you respond to the current crisis from a more grounded, thoughtful, connected, and effective position

Christiana Figueres, UNFCCC Chair of the Paris Climate Agreement
What Will You Learn?
Week 1
Embracing the Pain
Become able to ground ourselves in our breath and body, to create the stability and clarity needed to handle the difficulty of our situation.
Week 2
Cutting Through Illusion
Learn to move beyond a human-centric view of the world, to break out of our separation and touch a greater wonder and mystery in life.
Week 3
Living with Courage
Face our deepest fears about our death and the possible destruction of our civilization to have the peace and energy to respond to big challenges.
Week 4
Learning to Rest
A chance to rest & restore, and to reflect on course learnings up until this point.
Week 5
Brave Dialogue
Discover strategies for listening and speaking to help us in the challenging dialogues needed to heal relationships and address the climate crisis.
Week 6
Mastering Mind & Habits
Explore how Buddhist psychology and self-compassion can help us take care of fear, anxiety, and despair, transform our habits, and identify our deep aspirations.
Week 7
Action Dimension
Identify and nurture the power of community to support us beyond this course and feel empowered to walk in the company of bodhisattvas.
Meet your Teachers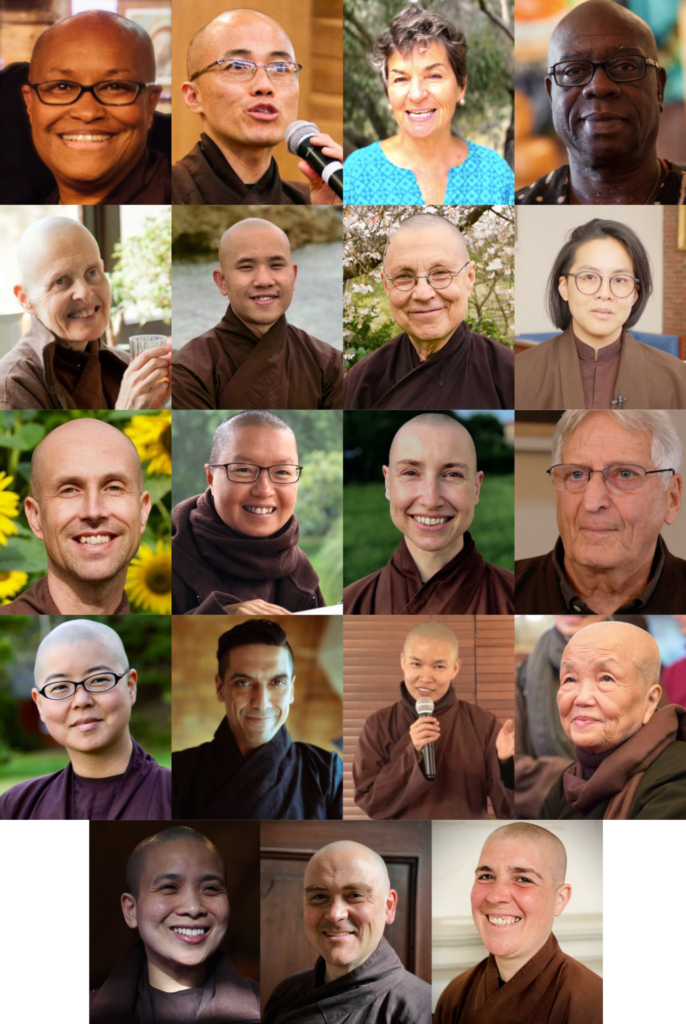 Sister Peace, Brother Pháp Dung, Christiana Figueres, Dr. Larry Ward
Sister Chân Đức, Brother Pháp Hữu, Sister Từ Nghiêm, Anh Tran (Nho)
Brother Pháp Xả, Sister Lăng Nghiêm, Sister True Dedication, John Bell
Sister Trai Nghiêm, Felipe Viveros, Sister Tuệ Nghiêm, Sister Chân Không
Sister Định Nghiêm, Brother Pháp Linh, Sister Lực Nghiêm
Testimonials from our initial closed pilot
What are the Practicalities of the Course?
The live opening session will be on May 21 and the course will finish with a closing session on July 9.
You will need a minimum of 3 hours per week, but we recommend you allow 5-7 hours a week to complete all elements of the course
There will be 4 live events (plus one optional live relaxation) which you can access via Zoom, taking place at the same time of 4pm Central European Summer Time (CEST) on the following dates (ideally you can join us at all of these events live, but recordings will also be made available if you have to miss any):

Sunday 21st May: Live opening (1 hour)
Sunday 4th June: Q&A with monastics (1 hour)
Sunday 18th June: Optional live relaxation (1 hour)
Sunday 25th June: Workshop (1.5 hours)
Sunday 9th July: Closing (1 hour)

We encourage you to join a small group to follow the course with and exchange insights. These groups will meet 4 times, and you can choose either Fridays or Saturdays, with meeting times adapted to different time zones.
Use your tears to put out the fires scorching the Earth, and your breath to redirect the waters of your heart towards wellness, justice and harmony.

Dr. Larry Ward, Senior Plum Village Dharma teacher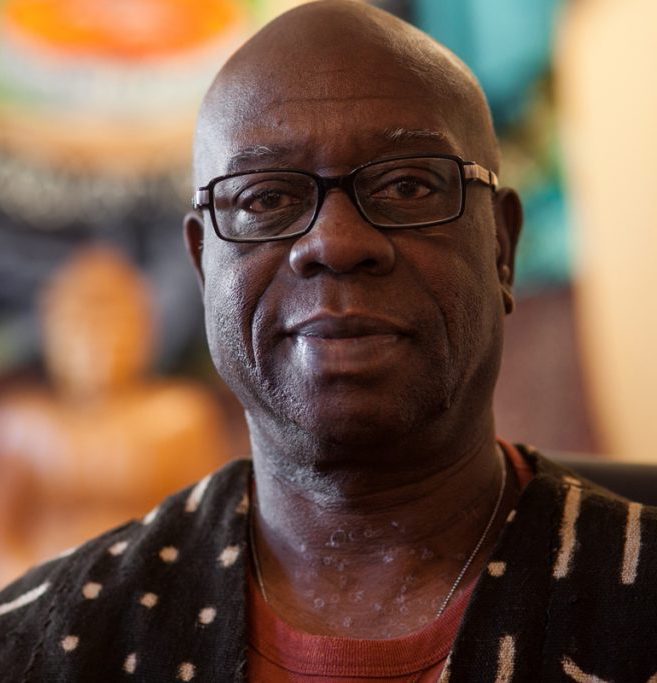 Pricing
Our aim is to make the course financially accessible whilst covering the costs involved in producing and running the course and, if possible, supporting the international Plum Village monastic community.
Standard
This rate helps us sustain the course and the creators and community that is offering it.
$300
Benefactor
This option helps sustain the course and enables us to offer more scholarships.
$600
Concession
For students and people on a lower income that are unable to afford the standard rate.
$200
Scholarship
Heavily subsidized rates for certain audiences who cannot afford the concession or standard rate
$0 – $60
Future Course Dates
Registration is closed for the May-July cohort. The tentative dates for the next course are October 15 – December 3, 2023. Please sign up for updates below if you want to be informed when the dates are confirmed and registration opens.
Subscribe here to receive our course updates