Join us for an inspiring five-day retreat online
[This retreat is most suited to American time zones, if you are in Europe or Africa, this online retreat will be more suitable]
Join the monks and nuns from Magnolia Grove, Deer Park and Blue Cliff Monasteries for this unforgettable first-ever online Holiday Retreat.
Transform your home into a healing refuge.
Enjoy the peaceful, smiling presence of the monastics. Join us in the meditation hall for early morning sitting meditation. Create the atmosphere of a retreat center in your own home. Listen to inspirational Dharma talks. Feel the joy, peace and serenity that is possible when we stop running, embrace our fears and come back to the present moment. Celebrate the New Year as part of a spiritual community. As 2020 comes to a close, we come together to celebrate our connection, new growth and life.
Inspirational talks, questions and responses for the New Year from senior Dharma teachers

Senior Dharma teachers Sister Hỷ Nghiêm, Brother Pháp Dung, Sister Đẳng Nghiêm, Brother Pháp Huy, Sister Thần Nghiêm, Sister Quỳnh Nghiêm, Brother Pháp Lưu, and other monks and nuns from our Plum Village mindfulness practice centers in North America will offer timely teachings on how to practice mindfulness in a period of change and uncertainty, how to reconcile with ourselves and others, and how to create conditions for happiness and peace in our ourselves, our family and the world.
An unforgettable New Year's celebration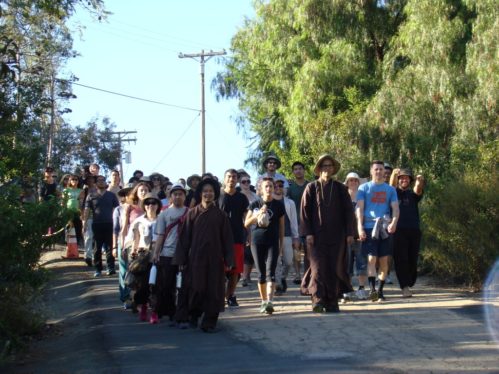 Featuring guided meditations, Dharma talks, Dharma sharing circles, walking meditation, a ceremony to welcome the New Year together, reconciling with our loved ones, a Five Mindfulness Trainings Transmission and applying mindfulness to our daily lives.
Connect with monastics and each other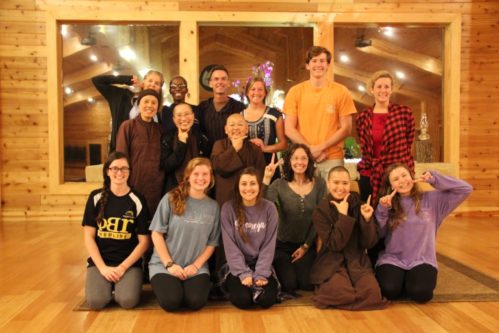 The monks and nuns are here for you; to guide you in the basic practices of mindfulness, to provide safe spaces of sharing where we listen deeply to each other and have a chance to connect with others. This is a space to grow, learn and heal. To let go of the past and to look towards the future as we learn to dwell happily and solidly in the present moment.
I would like to register for this online retreat.
There is no way to happiness, happiness is the way.
On the eve of the New Year, we look back at all that has happened in the past year and we see our resilience, our capacity to ride the waves in difficult times. We see that in spite of all the fear, loss and change, we are still alive and that we have more than enough conditions for happiness right in the present moment. This is a reason to celebrate. To build hope and faith. To celebrate life, to nurture our ability to grow, learn and adapt, and to deepen our relationships with ourselves, with others and with the world around us.
Who is this retreat for?
Anyone, whether a newcomer to the practice of mindfulness and meditation or a seasoned practitioner. People of all ages, religions, ethnicities and genders. Anyone who would like to get in touch with the present moment, with themselves and with others.
Singles, couples, and families with children are all welcome. We are very pleased to offer a special program for teenagers aged 13 -17.
We regret that we are unable to offer a children's program at this time but hope this may be possible in the future.
We also wish to offer safe sharing spaces for BIPOC, LGBTQIA+, and young adults aged 18-35. There will be a sharing group for Vietnamese speakers. Please mark your preferred Dharma Sharing group ('circle' sharing) during registration.
Retreat Schedule
Note that all times listed are Central Standard Time (Chicago, UTC-6)
The schedule is also available in Google sheet for you to view.
How much does it cost?
We offer different payment options in the hope of making the retreat available to all. If you are able to support someone else to attend the retreat, please choose the "Sponsor" option. Your generosity and compassion will be greatly appreciated.
If you need financial support (for students, unemployed, pensioners etc) you can select the "Scholarship" option. If you would like to attend but none of the options listed are suitable for your situation, please write to us at online@magnoliagrovemonastery.org. If you would like to make an additional donation towards our Monastic Healthcare Fund you may do so during the registration process, any contribution would be greatly appreciated.
Prices for Single Participants:
Magnolia (Full Price) – $240
Oak (Donor's Price) – $360
Pine (Reduced Price) – $120
Prices for Families (2-4 people):
Cedar (Full Family Price) – $400
Maple (Donor's Family Price) – $600
Dogwood (Reduced Family Price) – $300
Being there for each other.
Never before has the need for connection been so great.
Now is the time to come home to ourselves and learn how to take good care of ourselves. When we know how to take good care of ourselves, we will be able to take good care of others, and the world around us. What is the way out? The way out is in. The way out leads to home. Let us celebrate together as we reconnect with ourselves, and build connection and community. Together we are one. Together healing is possible. Together we can build a happy future.