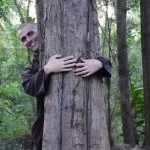 Think about it.
Who has supported you all your life without asking for anything in return?
Fresh air, clear water, food, stability and unconditional love…
The earth provides. the earth cares. the earth loves!
It's about time we love her back again…
Every day – every moment…
And with a huge collective earth hug right around the planet!

When? 12.12.2013 at 12 o'clock (high noon) in your timezone

Where? right where you are!

How? it's easy! it's free! it's fun!
Throw yourself on the ground and hug the earth!
Run to a tree and hug the earth!
Put your arms around each other and hug the earth!
Hug the earth ♥ share the love
More? www.facebook.com/EarthHug – join, like and share!