Our teacher, Zen Master Thich Nhat Hanh, explains how he combined practices from the East and from the West to create "Hugging Meditation".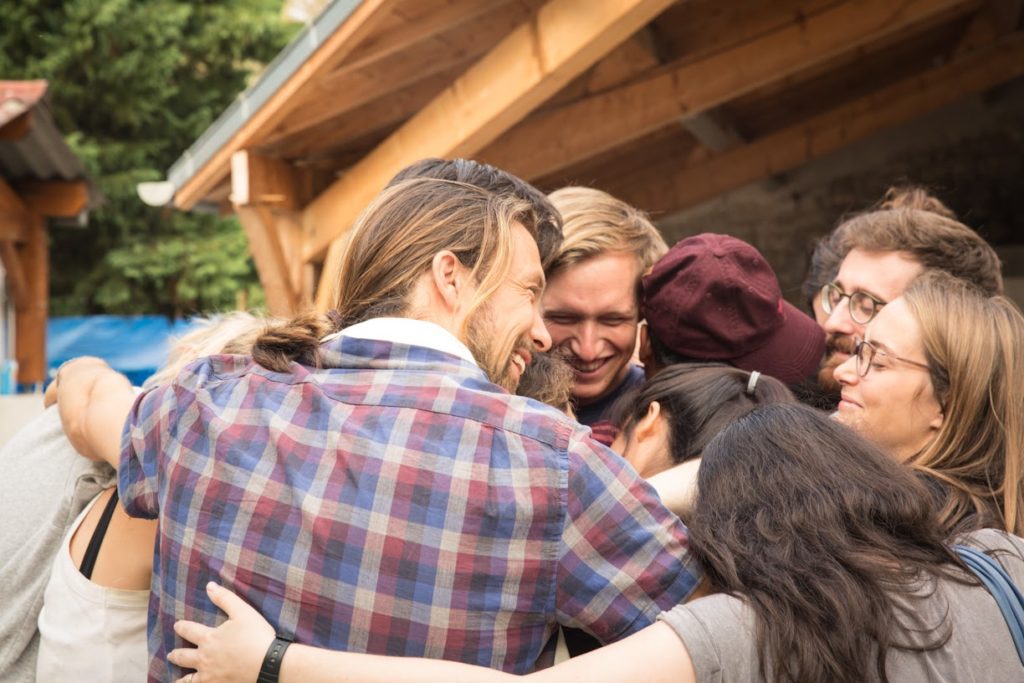 The first time I learned hugging was in Atlanta in 1966. A woman poet took me to the airport and then, before saying goodbye, asked, "Is it all right to hug a Buddhist monk?" In my country, we are not used to expressing ourselves that way in public, but I thought, "I am a Zen teacher; it should be no problem for me to hug her." So I said, "Why not?" and she hugged me; but I was rather stiff. While on the plane, I decided that if I wanted to work with friends in the West, I would have to learn the culture of the West. That is why I invented hugging meditation.
Hugging meditation is a combination of East and West. It's like tea bags. Tea comes from Asia, where we harvest and steep the tea carefully. When tea came to the West, people made tea bags, which are quick and practical.
According to the practice, you have to really hug the person you are hugging. You have to make the person very real in your arms. You don't do it just for the sake of appearance, patting the person on the back two or three times to pretend you are there. Instead, be really there, fully present. Breathe consciously while hugging, and hug with all your mind, body, and heart. "Breathing in, I know my dear one is in my arms, alive. Breathing out, he is so precious to me." While you hold him and breathe in and out three times, the person in your arms becomes real, and you become real at the same time. When you love someone, you want him to be happy. If he is not happy, there is no way you can be happy. Happiness is not an individual matter. True love requires deep understanding. In fact, love is another name for understanding. If you do not understand, you cannot love properly. Without understanding, your love will only cause the other person to suffer.
---
Excerpt from At Home in the World, Parallax Press, 2016