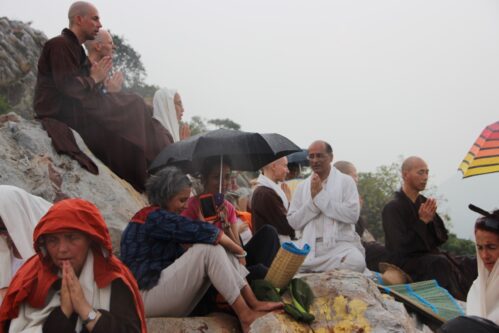 In Autumn 2014 seventy members of the EIAB & European Plum Village sanghas experienced a deep and beautiful pilgrimage through sacred Buddhist sites in India.
Monks, nuns, lay men and lay women travelled as a practising community as we discovered magnificent stupas and peaceful rivers, sacred mountains and simple villages. We supported one another to take each step in peace, and to be deeply aware of everything happening within and around us.
We were aware that we were walking not only in the Buddha's footsteps, but also in Thay's footsteps, following his three legendary journeys through India in 1988, 1997 and 2008.
We hope you will enjoy this newsletter of the sangha's 2014 adventure, and that you may be inspired to join one of these pilgrimages yourself in the future, as an individual or as a sangha. It is our aspiration that these transformative and mindful journeys will become a regular opportunity for the Plum Village community of practice.
View the full Newsletter here >>>
Find out about future pilgrimages here >>>