As much of the world is experiencing physical distancing measures there is a heightened need for peace and healing. How are sanghas responding? We asked in the last Plum Village newsletter, and here is what we found out…
More mindfulness including children's practice in Ireland
"Sanghas in Ireland have shown care and creativity in creating ways to come together with a variety of times offered during the weekday, evening or at the weekend. Additional online sanghas have been created, as well as sessions for dharma sharing, generating loving-kindness and recitations of The Five Mindfulness Trainings. We also have a WhatsApp group where people regularly share inspiring dharma talks, songs or photos; we request support for our suffering and share our joys. We are also chanting the Avalokiteshvara chant in our homes in the evenings, holding our suffering and the suffering of the world with tenderness.
Another jewel of this time is the melting of geographical boundaries; the removal of travel time gives us the potential to be close. In our early-morning sangha, we sit with friends across the island of Ireland and also with friends in Italy, Scotland and Poland. It's very touching to establish our presence together, in our various locked-down homes, and begin the day with care and love.
Practicing for our younger members is also continuing. Sonas children's sangha is e-Sonas at the moment: we have moved our practice from monthly to weekly so that we can connect little and often.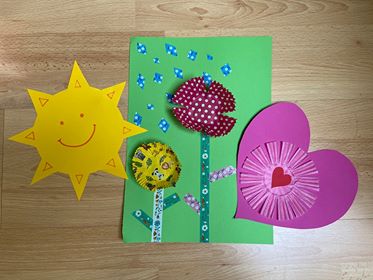 We have a large 'menu' of practices, but three emerged as core practices during this time. The first is Weather, which widens into the different weathers of the week and creates space for sharings of difficult experiences, like loved ones going into hospital (and coming out – hooray!). Second is Flower Watering, which arises so naturally as we connect with the good things in our lives. In our third practice we send out our love and intentions with the sound of the bell, enfolding ourselves, our loved ones and the entire world. We nourish all the wholesome seeds we can – and our pets get to take part for the first time, so we've been enjoying meeting each others' cats and dogs, who sometimes curl up and snooze as we practice. May we all know how to touch the peace available to us in this moment."
Mindfulness Ireland
Meeting more often in the Basque Country
"On this side, in the Basque Country, our sangha now shifted to an online mode, and we are doing well, we even meet more often than before! Some people that use to come to the face-to-face sangha are not coming online, others that couldn't make it are now able to do it online."
Flor, Basque Country
Refuge and support in France
"For the past three weeks, we have been meditating and sharing online. The first meditation was truly jubilant for all: an immense happiness shared by through our screens, with the funny impression of being a little privileged. We all had the feeling that this confinement was a door opening with so much promise to everyone's inner island.
Now we take refuge more because the circumstances for some are difficult: sick or distant relatives, loneliness, professional worries … Nevertheless, we find calm and serenity in our sangha thanks to the attention and deep listening of everyone; we also use a reading to reflect on the path of our practice and to recall one of the Five Mindfulness Trainings. In addition, it is a real pleasure to discover that some people have got to know the Plum Village community through us, what pride!"
Marie, Deep Freedom of the Heart, France
Profound and deep sharing in the USA
"Recently one of our members commented, "Sangha is my lifeline right now". We are Berkshire Mountain Laurel Sangha, located in a small town in western Massachusetts, US. We had been meeting in person for two evenings a week for more than five years. When the physical distancing rules came out because of the virus, some people were already becoming afraid to meet in person and then the space where we'd been meeting decided to close, so we decided to hold our meetings online with zoom.
At first, those of us who facilitate sangha gatherings felt insecure about using a new technology effectively. But we gave each other mutual support and in our meetings, participants were understanding and patient. We also found that attendance at our Thursday and Sunday meetings was very high. One of the things that so nourished me was the ability to see the beautiful faces of so many friends in the practice.
The dharma sharing part of our meeting is quite profound and moving. It seems that relating via computer screens does not deter friends from expressing openly and authentically. I attribute this to the strong atmosphere of trust and the deep need for community. Friends have shared about their loneliness and their fear. They have wept about not being able to be with loved ones and expressed fear for the health of their elderly parents or grandparents. We hear in our sharings how much people have been supported by the teachings and the practices of our beautiful tradition. And we hear the shared joy about things like the first birdsong of the spring, seeing a family of ducks on a pond and the excitement of seeing crocuses pushing up from the ground."
Sharon Coleman, True Silent Speech, USA
---
If you don't have a community to practice with, you can find out if you have a local group that is meeting online or join an online sangha through Plumline.
There is support for how to best use technology to facilitate meetings online via Plumline and in this article.