With much of the world in lockdown or practicing social distancing, sanghas are having to be adaptable and creative as they move meetings online. The technology might seem daunting but it's worth the effort to continue to provide a precious space of practice and connection. Here are a few tips for making the transition.
Which platform to use?
Many sanghas have had success using Zoom. It does require a paid "pro" account to have group meetings longer than 45 minutes, but has really good sound and video and a range of helpful features. If you have a small Sangha and are looking for a free option, Google Hangouts might work, it has a limit of 10 people.
Whichever platform we use it's good to spend some time getting used to the functionality, maybe doing a test call with a friend.
A microphone really helps
Most computers have built-in microphones so we can sit in front of our computer and speak. If we are facilitating though, it is helpful to use a microphone if we have access to one (including headphones with a built-in microphone). Our voice will be clearer and there will be less background noise. Also, when we guide meditations our voice gets softer and it can become difficult for the built-in computer mic to pick it up.
Give a technical orientation
Spend a couple of minutes at the start of the session to get people familiar with the technology. A crucial thing to let people know is that muting microphones is an important condition of happiness when meeting online, asking everyone to mute when not speaking reduces background noise which can become uncomfortable.
If you are on Zoom, the gallery view is a great feature to point people to, as it lets you see everyone on one screen and really gives a sense of togetherness.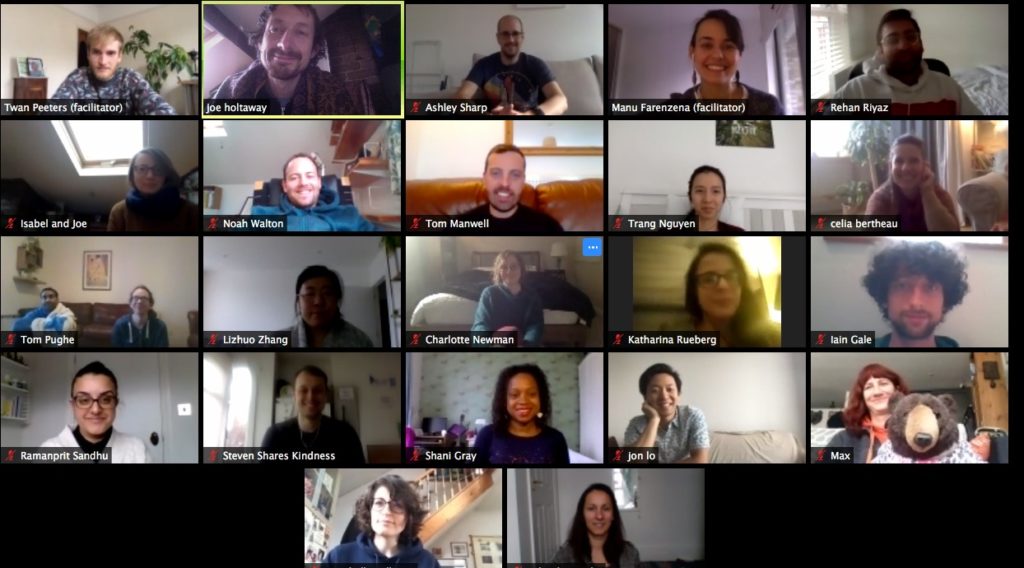 Consider how to create a safe and intimate atmosphere
If we attend a sangha, we know the very special feeling that can be created in a room of people practicing together. Being on a computer is a very different setting and some care is needed in recreating the sangha energy. As a sangha, you might make some agreements such as:
Everyone should arrive on time and commit to staying for the whole session. (Enabling a waiting room allows you to decide to let people in, this can be helpful if the link is shared widely to stop people entering halfway through dharma sharing for example)
Everyone should give the session their whole attention, close other tabs and windows on their screen, and put away their phone as they would do at sangha
If people have the right technology to share their video, they should do so to give everyone a sense of who they are sharing the space with and make it feel more personal
The chat functions shouldn't be used in the middle of sessions, just as we don't whisper to each other during sangha sessions
To walk or not to walk?
Walking meditation is a much loved Plum Village practice and it is obviously hard to do in front of a screen. Some sanghas have replaced walking with movements that are possible in front of a screen but another option is to walk separately but together.
Sangha members can find space where they are to practice walking meditation even if it is just a few steps back and forth. The facilitator can introduce the practice and let people know when to return to the screen. People can then enjoy walking knowing that others are doing the same in different places.
Embrace new possibilities
Passing a book through a computer screen doesn't quite work but there are other ways to share the dharma together. Screen share functionality is great for this. One exciting possibility is watching video dharma talks together. (For Zoom make sure you check the "share computer audio" option).
You can also share a text on the screen to read together, for this or the 5 Mindfulness Trainings you will need to decide who reads and the order in advance as there is no circle online. (You can also share the link to the Five Mindfulness Trainings in the chat as another way people can access them.)
Bow out loud
Some people might not be able to join by video and even on video it is easier to miss a bow, so it can be good practice if people say their name and "bowing in" or "bowing out" so people know who has bowed.
As a facilitator, don't be worried about periods of silence during Dharma Sharing, just as in a room, silent periods can be really powerful online too.
Smile and let go
There are more things to think about when starting to facilitate online. We might notice habit energies of striving, wanting it to be a great experience for the whole sangha or anxiety about how it will go. Do remember to breathe, smile and let go. You are doing a great service in supporting the sangha in difficult times. Any opportunity to connect will be appreciated and if anything goes wrong people will have understanding and patience. Enjoy the experience while experimenting with something new.
Learn from the experienced ones
Plumline has been running online Sanghas in the Plum Village tradition for a while. They have kindly put together a FAQ for facilitators and video.
Share your experiences
Have a tip we haven't mentioned? Or a question? Use the comments below and let's make this a collective effort!
4/10/2020: UPDATE on Zoom security issues