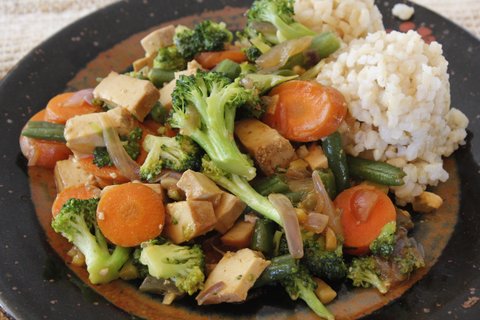 Vegan recipe by Marge Wurgel, member of the Plant-Powered Earth Holder Sangha.
Makes 4 servings. 
Prep. time: 15 minutes.
Cooking time: 8 minutes.
Prepare all vegetables and measure all ingredients before you start cooking, as the stir-frying is quite fast. If you're really in a hurry, you can stir-fry the main ingredients, then at the end just add soy sauce or salt instead of making the sauce, or use a purchased sauce and add just before finishing.
Other vegetables that work very well in stir fry dishes include: green or yellow bell peppers, mushrooms, bok choy (pak choi), cauliflower, and celery.
Sauce
3 tablespoons soy sauce OR gluten-free tamari
¼ cup peanut butter
2 tablespoons water
1 tablespoon vinegar of your choice
1 tablespoon maple syrup
1/8 teaspoon crushed red pepper flakes or cayenne pepper (optional)
Stir-Fry Ingredients
¼ cup water or veggie broth (have some extra on hand)
1 cup chopped red onion
2 cloves garlic, finely chopped
1-2 cup diagonally sliced carrots, less than 1/4 inch thick
1 large red bell pepper, sliced.
3-4 cups small broccoli florets
1 (16-oz) package extra firm tofu cut into small cubes OR 1 15-ounce can (or 1 ½ cups) of your favorite beans, drained
Directions
Combine the sauce ingredients, mix well, and set aside.
Heat the water/veggie broth in a wok or large skillet over medium-high heat. Add veggies and garlic and stir-fry for about 6 minutes or until just crisp-tender (adding extra water/broth, if needed).
Add in the tofu cubes or beans.
Add the sauce and continue cooking, while stirring, for 1-2 minutes.