An immersive retreat with Plum Village monastics
Join us for mindfulness practices, meditations, talks, and circle sharings, ahead of the live-streamed ceremony to receive and spread Thay's ashes in Upper Hamlet, Plum Village, France. This online weekend retreat, which will include the traditional 49th Day Ceremony, is a precious opportunity to come together as a community to share from the heart, participate in live teachings, and nourish our collective energy.
Please note that the ceremony on Sunday 13th March will be publicly live streamed for all on the Plum Village YouTube channel. Signing up for this retreat gives you an additional opportunity to join the monastics for specially-curated live morning and evening sitting meditations, relaxations, Dharma talks, Dharma sharings and dinner hangouts around Sunday's events.
This retreat is offered and hosted by monastics in Plum Village France. The retreat will be offered in English and French (Inscrivez-vous ici).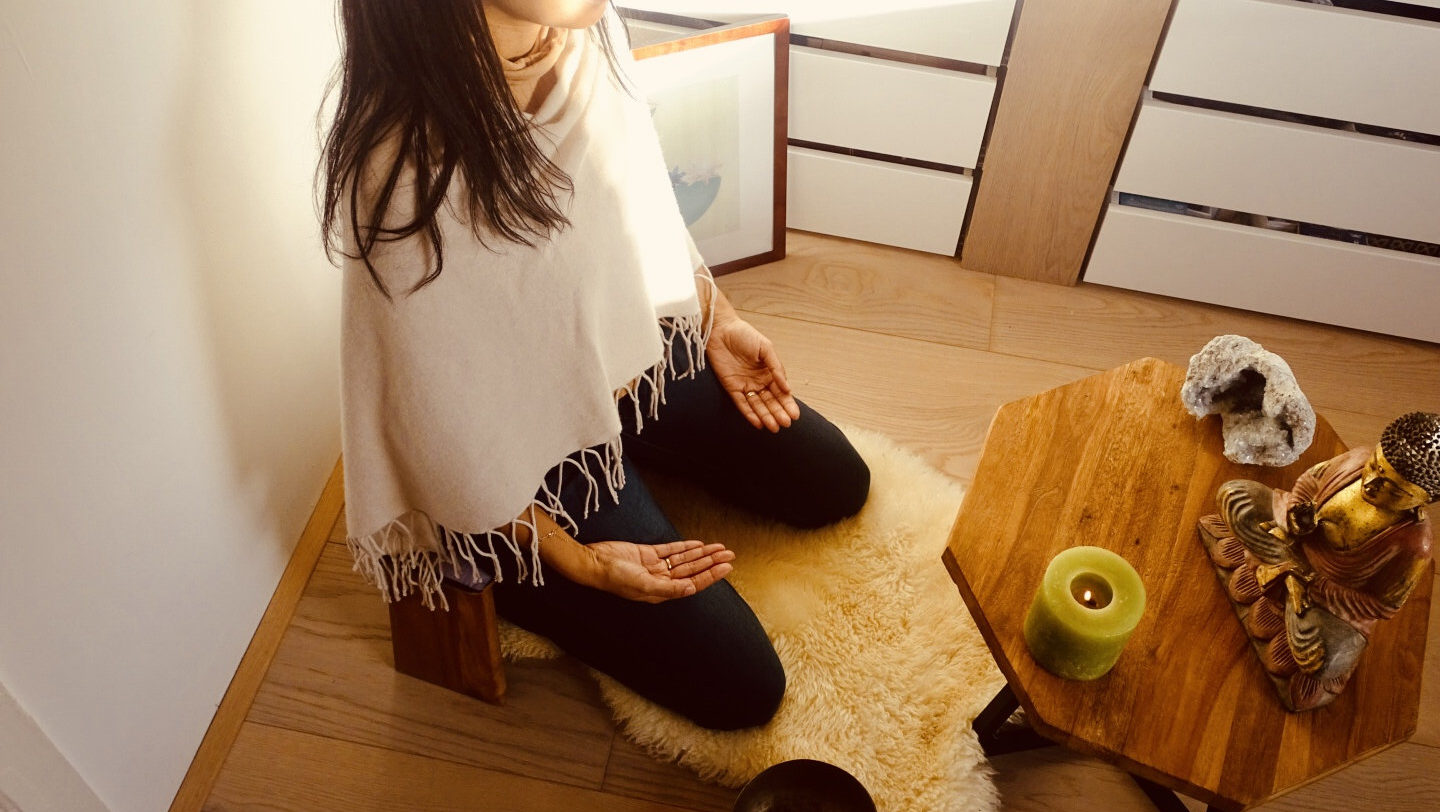 A specially-curated immersive three-day experience
From Thursday evening through to Sunday evening, there will be live guided meditations, relaxations and talks from senior teachers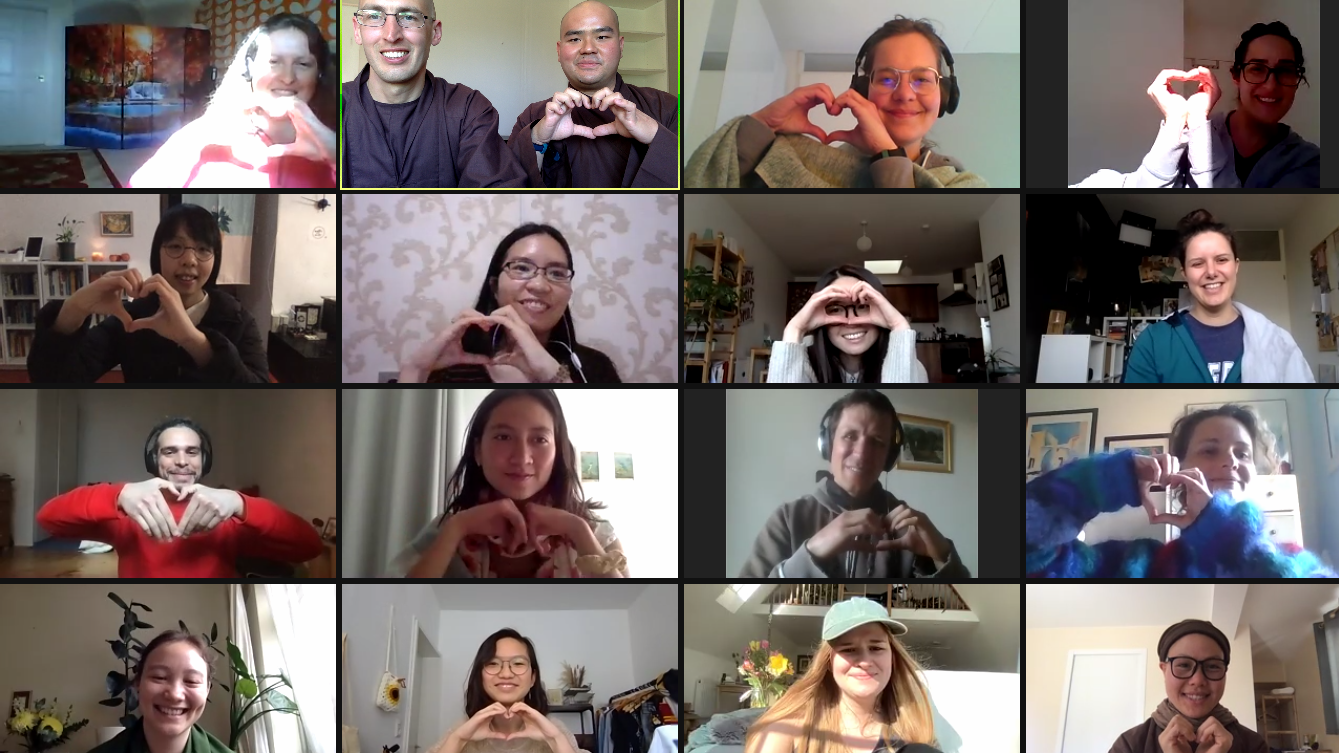 Connect live to our international community
Generating a collective energy of mindfulness and compassion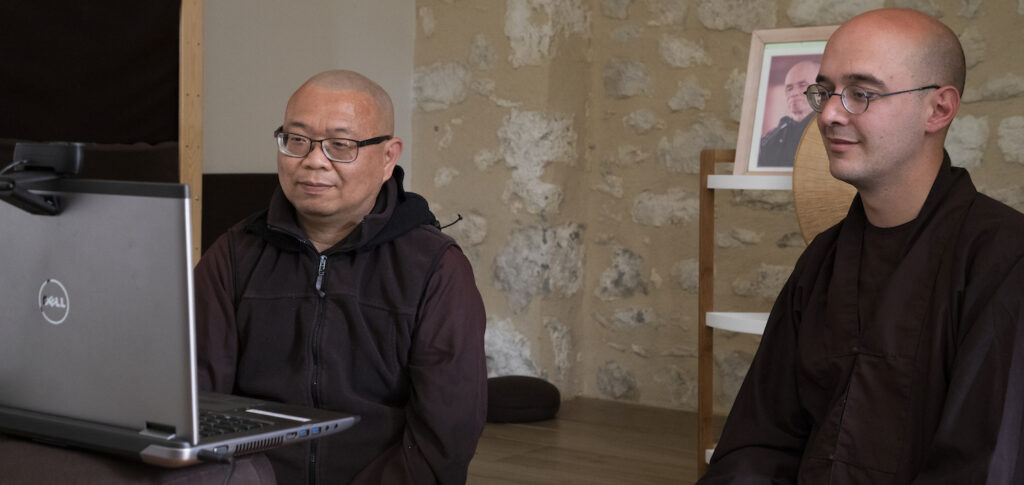 Intimate group interactions with monastics
Join a group of 16-20 people from different countries and backgrounds, guided by a monastic. These "Dharma Sharing" groups are a unique Plum Village offering and allow us to practice deep listening and loving speech and learn from one another's insights and experiences. Please note that spaces are limited.
Exclusive talks from senior teachers trained by Thich Nhat Hanh
Broadcast live from Plum Village, France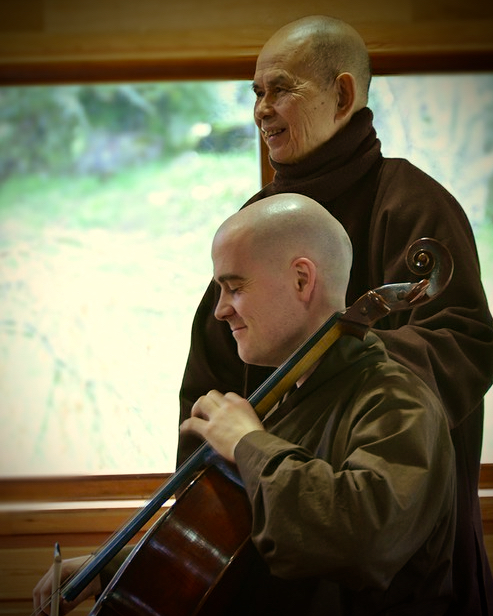 Thursday, 10 March: The Essence of Thay's Teaching on Mindfulness of the Body
As we open this retreat we will allow ourselves to arrive deeply into our bodies and take good care of our feelings, deepening our understanding of Thay's fundamental teachings on mindfulness of the body. We will allow any grief we may be holding to be gently embraced by the collective energy of practice, as we learn how to cultivate a skilful "inclination of mind." Looking deeply, we will discover our teacher and our loved ones right in the heart of the present moment.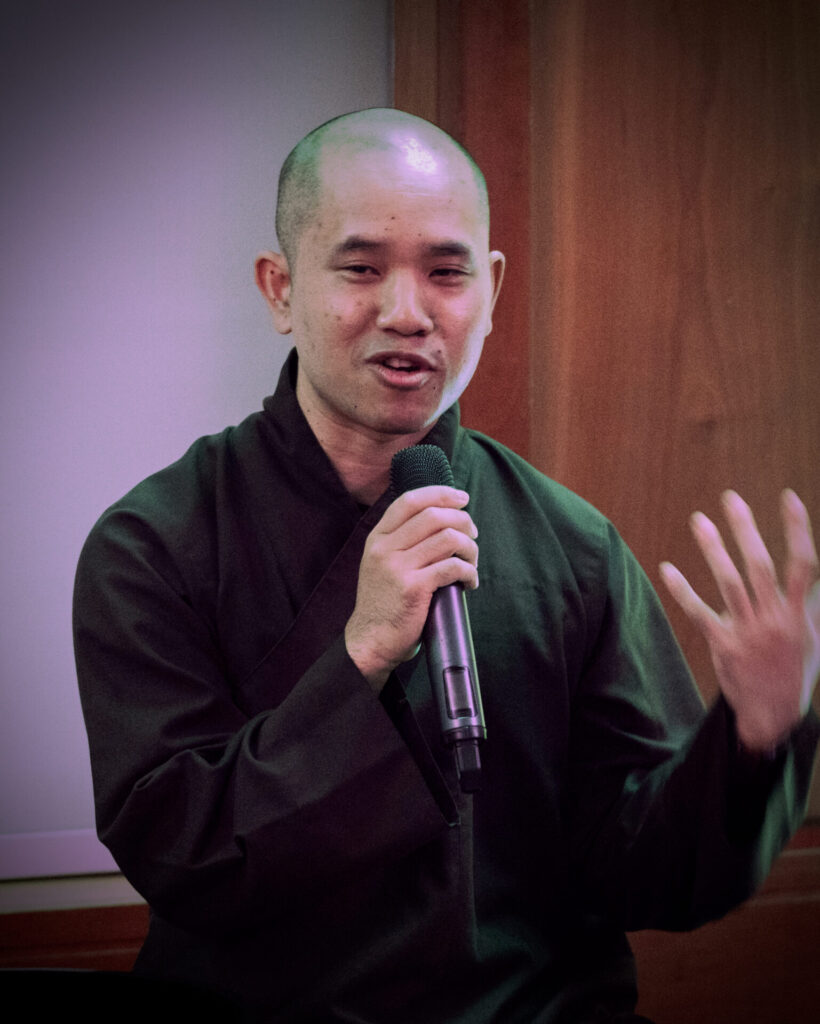 Friday, 11 March: Nourishing Our Buddha Body, Dharma Body & Sangha Body
We are much more than simply our physical body. In Thay's last teachings in summer 2014, he taught that each one of us has at least 8 "bodies." In this talk, we will explore our capacity to awaken (our "buddha body"), the importance of a regular spiritual practice (our "Dharma body"), and the power of the collective energy of community (our "Sangha Body").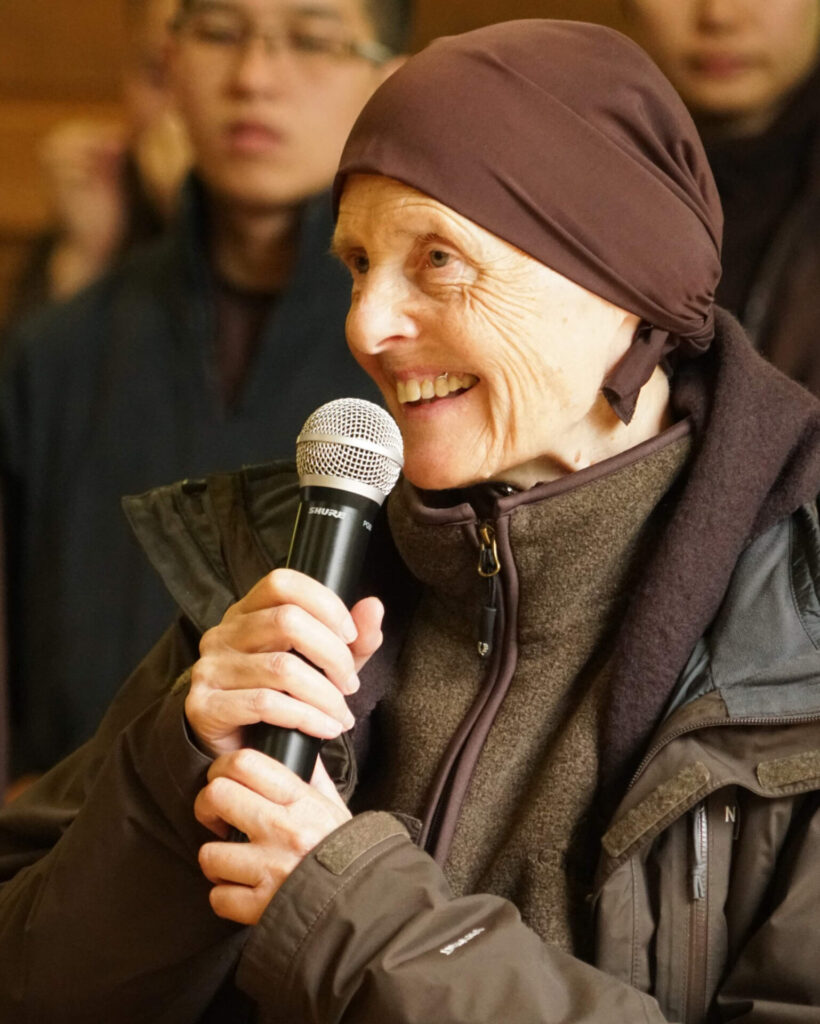 Saturday 12th March: Seeing All Our Continuation Bodies
In this talk, we will explore Thay's teaching on how our actions of body, speech, and mind continue us across space and time. We will learn about deep Buddhist teachings on our interbeing with the whole cosmos and the true nature of reality, as introduced by Thay in his book The Art of Living (2017).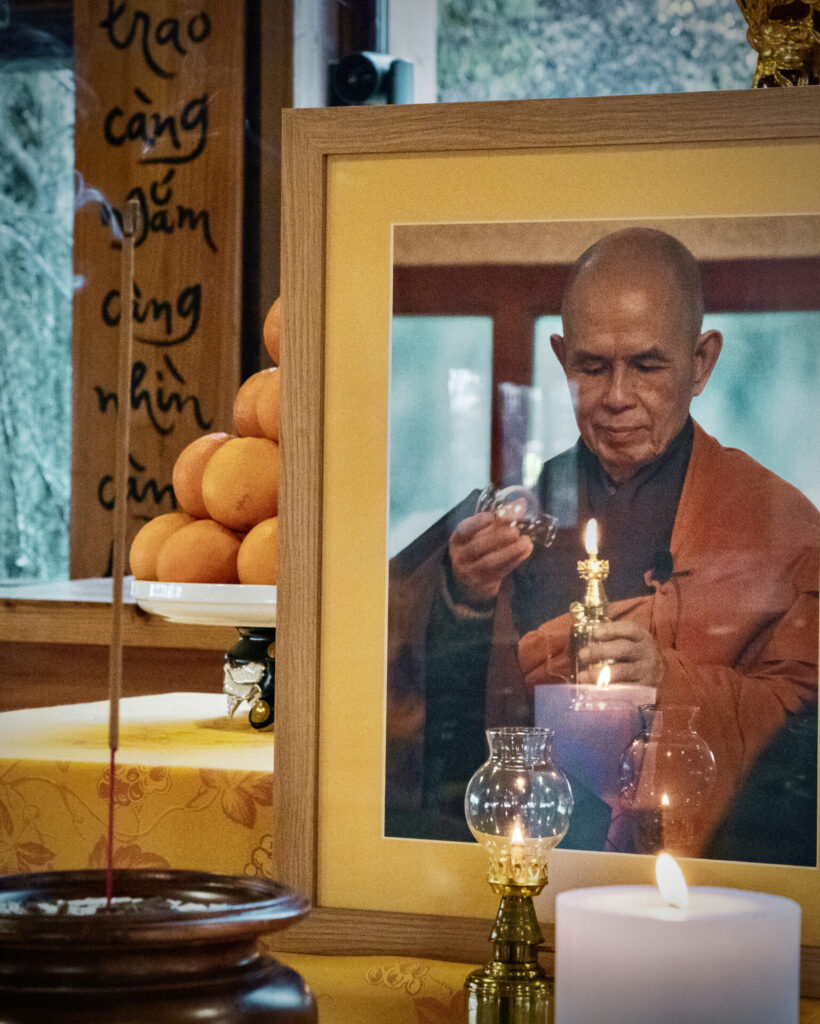 Sunday 13th March: Returning to the Embrace of Mother Earth
On the final day of our retreat we will bear witness as an international community to the legendary moment of Thay's ashes being formally brought to his altar in the Still Water Meditation Hall, followed by a full ceremony, and then walking meditation as a community to Thay's favorite spot on the Buddha Hill, where his ashes will be returned to the Earth. This will be followed by the last sharing circle of the retreat and an evening of musical celebration.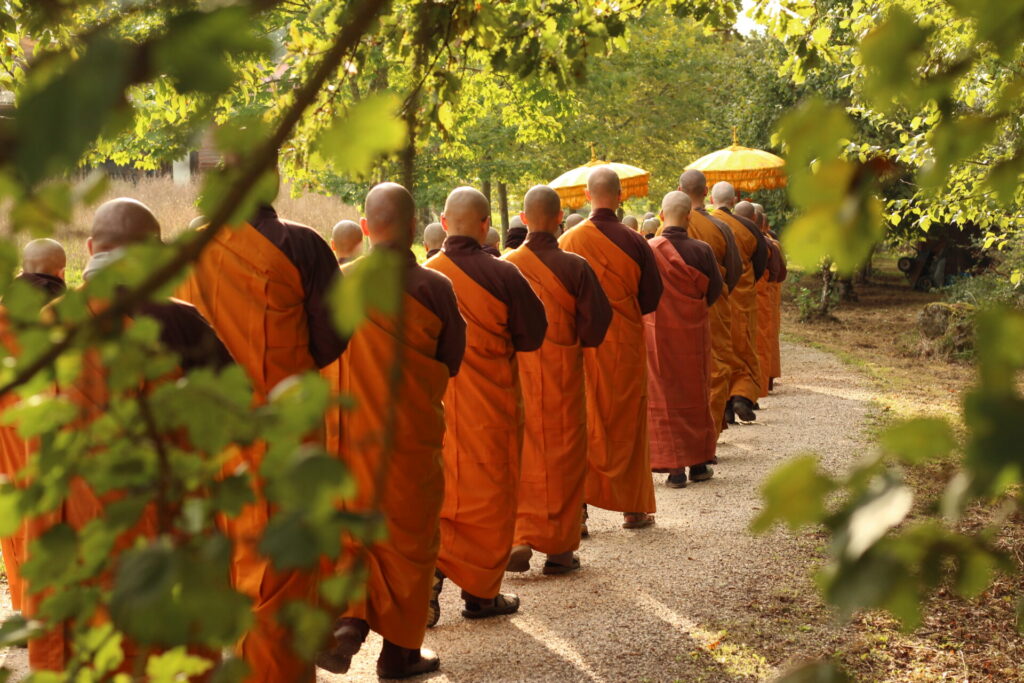 Retreat Program
All streamed content will be uploaded after the session, and will be available to everyone who has registered for six months.
All times are Central European Standard Time (GMT +1)
19:30 – Live Introduction Orientation by Brother Phap Linh
06:30 – Sitting Meditation
09:30 – Dharma Talk by Brother Phap Huu with Chanting
11:30 – Walking Meditation with Live Introduction
12:30 – Lunch Break
14:00 – Live Total Relaxation
15:30 – Dharma Sharing
18:00 – Mindful Dinner and Hangout
20:00 – Sitting and Chanting
06:30 – Sitting Meditation
09:30 – Dharma Talk by Sister Chan Duc with Chanting
11:30 – Walking Meditation with Live Introduction
12:30 – Circle Lunch with Thay
14:00 – Live Total Relaxation
15:30 – Dharma Sharing
18:00 – Mindful Dinner and Hangout
20:00 – Sitting and Chanting
06:30 – Sitting Meditation
09:30 – Procession to bring Thay's ashes from Thay's hut to the meditation hall + Ceremony
11:30 – Walking Meditation to spread Thay's Ashes
15:30 – Dharma Sharing
20:00 – Celebration of Thay's Life through Music and Poetry

Resource Package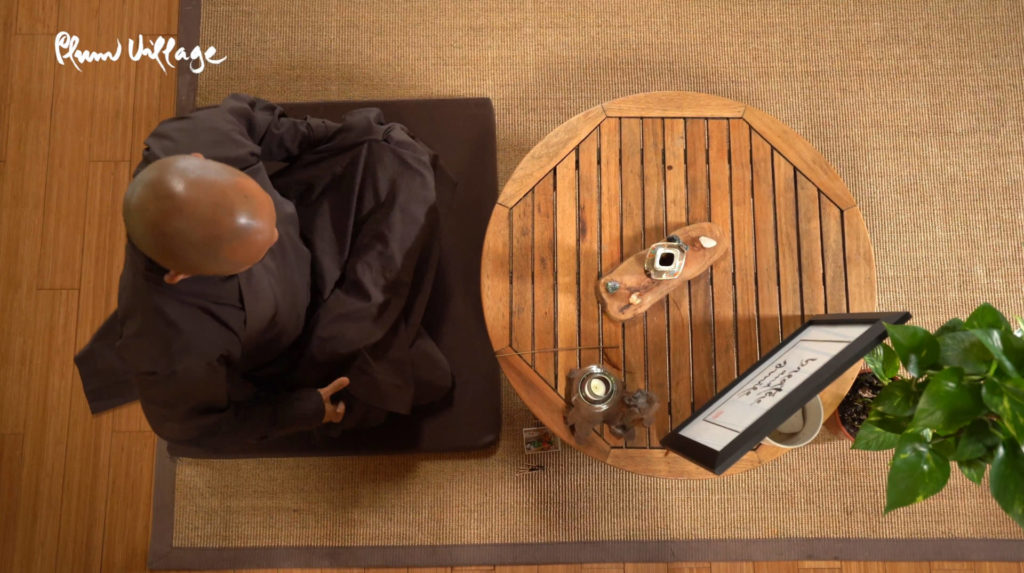 Exclusive Video: How to Create a Retreat at Home
Inspiration for transforming your space and readying your heart and mind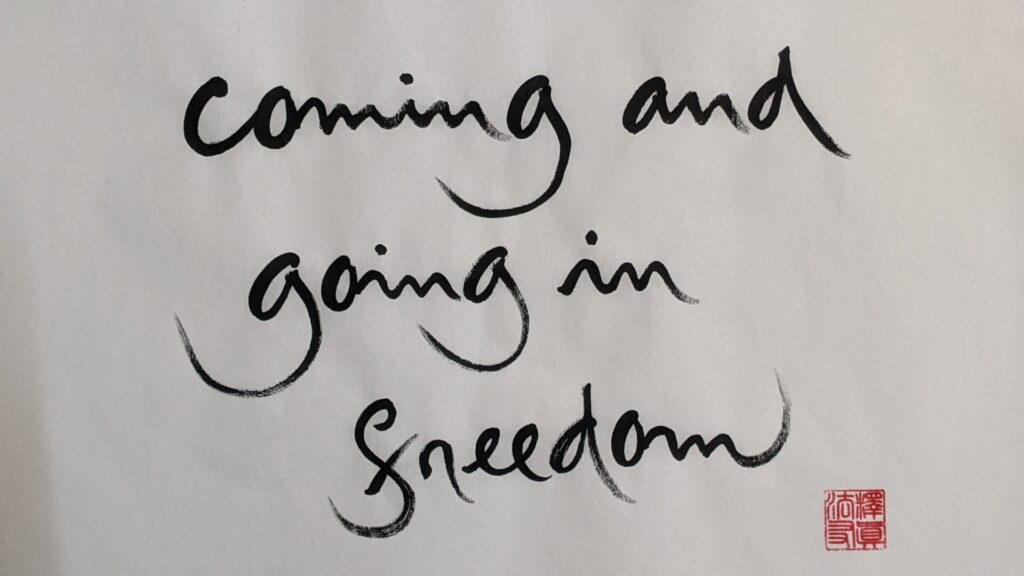 Calligraphies
New artwork from Brother Phap Huu to print and post around your home
In addition to the provided retreat package, we recommend the book The Art of Living by Thich Nhat Hanh as an accompaniment to this retreat.
What is like to attend a Plum Village retreat at home?
Register
Please be aware that there are two steps to complete the registration process:
1. The first step: making payment (this requires a credit card),
2. The second step: filling out an additional registration form (where you can make the request to join a Dharma Sharing group)
You can choose the contribution that suits your financial means, all options give the same retreat access.
Pour le français, veuillez vous inscrire ici
We do not want the financial aspect to keep you from participating. If you want to attend an online retreat and your budget does not allow for it at this moment, please email us at onlineretreats@plumvillage.org to apply for a further reduction.
Questions about the program
How much time do I need to follow this retreat?
This is a 3-day retreat, Thursday evening to Sunday evening. Ideally, it is best if you can clear your days from other commitments so you can fully participate and savor the peaceful energy of the retreat, even when you are not following a scheduled session.
Each day there is a morning session from 06.30 to 11.30 (CET), which includes a one-hour break for breakfast. The afternoon session is from 14.00-17.00 each day and starts with relaxation followed by "Dharma sharing" (breakout groups). The evening session is from 20.00.
Please note that you can request to join the three "Dharma sharing" afternoon sessions (3.30-5pm each day) by completing the request form at the end of the registration. If you make this request, we ask that you commit to join all three sessions, on time, so the group can have a strong collective experience. To avoid disturbing the group, we will not be able to admit people to the Dharma Sharing sessions once they have started.
Please also organize some time before the retreat starts, to familiarize yourself with the videos and information in the "How to Enjoy Your Online Retreat" package, and set up a peaceful corner of your home where you can have an internet connection. We hope that this immersive and interactive experience will help you strengthen your mindfulness practice and establish the spirit of Plum Village right in your home.
If I can't join one of the sessions, can I still follow the other sessions?
We encourage you to attend as much of the retreat as possible to get the greatest benefit from the practice. Please note that if you wish to join the 3 Dharma Sharing sessions, you will need to follow the Dharma Talk in the morning in order to "unlock" the Dharma Sharing session in the afternoon. To support the collective shared experience, it is not possible to join the Dharma Sharing if you have not attended the Dharma Talk.
If I can't join a session live, can I watch it later?
Yes, we try to livestream all sessions to our platform so you can follow both there and on Zoom. The recording of this livestream will remain available afterwards.
What is "Dharma Sharing" or "breakout groups"?
In this retreat, the Dharma Sharing is a smaller break-out group of 20-25 participants, led by a monastic. It gives us a chance to listen deeply, to speak from the heart, and benefit from each other's insights and experience of practicing mindfulness. We can share our experiences, our joys, our difficulties, and our questions relating to the teachings in the retreat, and the mindfulness practices we are following together.
What do I need to prepare before joining this retreat?
Please organize your time and commitments, so you have space from the evening of Thursday, March 10th, to the evening of Sunday, March 13th, to fully participate in the retreat. A few days before the retreat starts, you'll receive a digital package with information and resources on how to prepare yourself and your environment so you can really enjoy the retreat. Please allow an hour or two before Wednesday evening to familiarize yourself with these materials and set up your personal space and computer correctly.
You're invited to prepare a room or corner in your home where you can be online, undisturbed. It is important that you are not interrupted during the various sessions, so you may like to communicate with loved ones, or other people you live with, to ask for their support in this. If you are participating in the Dharma Sharing groups, it will be important for you to log-on from a private space where you can share without others hearing you.
If I have a question about the teachings given during the retreat, where / when can I ask it?
The Dharma Sharing break-out groups are the ideal time to ask questions from the heart about the teachings you have heard and practices we are following together. You can also write a question in the comments below the video of a particular talk.
Will I be able to interact with the monastics directly? Eg. Can I ask them a question and get an answer?
The Dharma Sharing break-out groups offer a rare opportunity to join a circle facilitated by a monastic. If you are interested in connecting with the monastics, we strongly encourage you to make the commitment to opt-in to the three Dharma Sharing sessions. Our teacher, Thich Nhat Hanh, taught us that Dharma Sharing break-out groups are the most powerful way to learn and grow in our mindfulness practice. Please note that these sessions are not direct question-and-answer sessions, but a group where questions are addressed collectively.
I live with other people. Can I still join the retreat?
Yes, you do not need to be in a hut on a mountain to enjoy this retreat. So long as you have a quiet corner or room where you can be undisturbed, and perhaps have space to stretch and do the mindful movements, you will be able to enjoy the retreat fully. You may need headphones and, if you are joining Dharma Sharing, somewhere in the house where you can speak without being heard by others.
You can explain to those you live with your intention in joining the retreat and ask for their support. The idea is not to cut yourself off from them, but to generate a strong energy of mindfulness, peace and presence, during the sessions, that you can bring to your in-person interactions off-screen over the course of the weekend. You will be able to apply many of the teachings on deep listening, mindful eating and so on, right away!
Is this retreat appropriate for all ages? Can children or teenagers join?
This retreat is designed as an adult learning experience, but anyone is welcome to join the meditations, talks, movement and relaxations. Please note that in the Dharma Sharing breakout groups themes may spontaneously arise that are not appropriate for teenagers or children, and so it is not possible to register participants under 18 for the Dharma Sharing groups. We are currently exploring how we can offer a different, more tailored experience for children and teens online. Please check our events listing for future announcements.
I haven't done a retreat before. Will I be able to follow this one?
This retreat is accessible to those new to the practice, and will be a refreshing and deepening experience for those who have been practicing mindfulness for some time. It is a precious chance to connect directly with our spiritual community, and to meet like-minded people.
If necessary, before making a registration, please consider your current mental and physical state and seek the recommendation of a mental health or medical professional to determine whether this online retreat is suitable for you.
I'm not in Europe. Can I join from a different time zone? Will I miss anything?
Please be sure to check the schedule to see which sessions you can follow in your time zone. Many activities can be done at a different time as the recordings will be available afterwards but Dharma sharing groups have to be attended live if you choose to join one.
---
Questions about tech issues
What do I need to join this retreat? Do I need to install anything? Do I need any special equipment?
This retreat will be delivered to you through your web browser and the Zoom app. When following the live events you can choose to join via Zoom or via the embedded video in your browser (link will be provided in advance). If you are opting-in to Dharma Sharing (the smaller breakout groups), you will need to install the Zoom software and you will need a webcam on your computer or tablet, so people can see you (just as you will see others). It is also preferable to have headphones, ideally with a microphone.
What quality will the videos be streamed in?
We try to livestream on 720p, but some of our Plum Village hamlets do not have strong enough internet so it may be limited to 480p. After the retreat we will upload all content in 1080p for your enjoyment.
I don't have a very stable internet connection. Can I still join the retreat?
It depends how unstable. Your viewing quality is similar to watching something on youtube. So if that is a pleasant enough experience, then yes you can join this retreat. But for Dharma Sharing others might find it difficult to hear you. You can ask permission to turn off your camera, so others can hear you better.
Can I join the retreat from my phone?
Yes, when you subscribe you will receive an email with instructions and telephone numbers to join us via Zoom. You will only be able to follow the live sessions; it is not possible to join Dharma Sharing sessions from a phone.
Do I have to open my camera or can I join just audio?
Yes you can join only via audio, you do not have to start your camera, you can also choose only to watch via our platform. Only when you join the Dharma Sharing session, everybody is asked to start their camera to create a safe environment.
Will I be able to save and keep the recordings after the retreat?
All the recordings will be available afterwards on our platform, for you to access for six months. You will not be able to download them.
If I have technical difficulties with my setup, who do I contact?
---
Questions about registration
How are the "breakout groups" formed? Can I choose which breakout group to join?
The groups will be assigned by the monastics, based on our experience of creating diverse yet balanced groups. It is not possible to assign you to a chosen facilitator or to be in a group with friends.
What is my registration fee paying for?
Your contribution will go towards food, lodging, and healthcare for our community of 700 monastics in ten mindfulness practice centers worldwide. It will also enable us to invest in technical infrastructure in terms of internet, cameras, and equipment, so we can offer more teachings live online, with direct contact between monastics and practitioners. Without your support, we would be unable to sustain our community or offer the Dharma online.
Is there a refund option if I need to cancel my registration?
We can offer a full refund within 30 days of your payment.
If I cannot afford the lowest scholarship fee, can I apply for a further reduction?