International Wake Up* Retreat
for Young Mindfulness Practitioners 18-35
1 – 8 July, 2022
Dear beloved young friends,
We are so happy that conditions are sufficient for us to gather once more in Plum Village for time together in nature, to heal and to restore ourselves in this special retreat for young mindfulness practitioners aged 18-35.
We will have a week-long retreat from 1-8 July where we we will welcome many hundreds of you, especially from Europe, to enjoy live Dharma talks, sitting meditations, walking meditations, living together joyfully, simply, and happily. There will be time for hikes, listening to one another, bonfires, and touching a spiritual dimension in our life.
Please spread the word with your friends and be sure to book early as we still have to limit the number of places.
We hope to see you all for this legendary gathering of our spiritual family!
* The "Wake Up" movement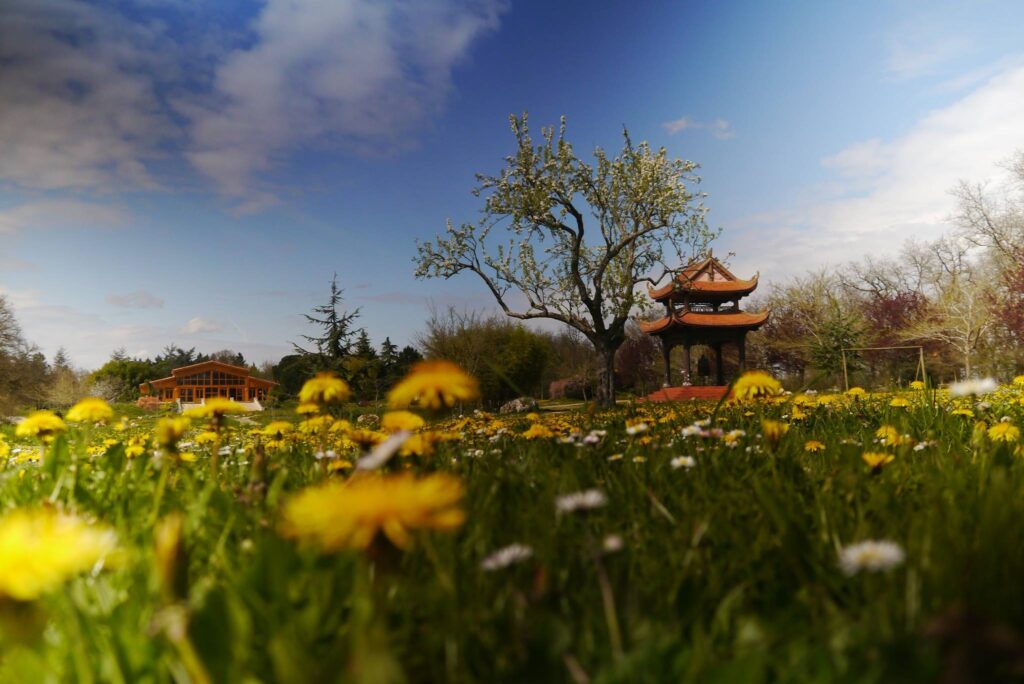 Practical Information
Teachings will be in English with French interpretation
There will be Dharma Sharing families in English, French, and Spanish
To support the stability and collective energy of mindfulness, all participants are asked to stay the full week, and only arrive and depart on the designated days: Friday 1 July and Friday 8 July.
There is an opportunity for experienced practitioners to join us and serve as volunteers supporting the retreat. Please apply here.
Registration
All retreat activities will be in the Upper Hamlet (except for one day), where the monks live. The Lower Hamlet is where the nuns live and is 3km from the Upper Hamlet (a 40 minute walk).
You can find more details about our accommodation and pricing here.
For friends who identify as being female
(limited space in the Upper Hamlet)
For friends who identify as being non-binary
For friends who identify as being male
For couples who wish to accommodate together
We ask that all couples be committed to refrain from sexual activity during the retreat. We encourage couples to stay in separate accommodation and fully offer the retreat to yourself.
---
Keeping our Guests and our Community Safe
We continue to be mindful of the situation with Covid-19 and have put in place a number of measures to ensure everybody's safety.
Please review our Health Protocols thoroughly before registering.
More About this Retreat
As per Wake Up Retreat tradition, there will be a half-day of sharing circles in safe spaces on topics of sexuality. To welcome the LGBTQI+ community, we offer Dharma Sharing circles with experienced facilitators to create an inclusive and safe atmosphere.
We would like to ask all participants to be respectful of the peaceful and contemplative atmosphere of the monastery. This includes choosing appropriate, modest clothing, refraining from sexual activity throughout the retreat, and observing noble silence during the night. We reserve the right to require anyone who does not adhere to the retreat guidelines to leave the retreat without being reimbursed.
If you are physically or mentally impaired, or have other special needs, please communicate with us in advance during registration and we will try to accommodate your as best as we can.
---
Typical Schedule
The schedule will be slightly different from day to day but a typical day will look something like this:
5:00am: Wake Up
6:00am: Sitting Meditation
(followed by Sutra Reading / Touching the Earth / Slow Walking Meditation)
7:30am: Breakfast
9:30am: Dharma Talk / Presentation
11:30am: Walking meditation
12:30pm: Lunch
1:30pm: Rest / Optional Guided Relaxation
3:30pm: Service Meditation/Dharma Sharing
6pm: Light dinner
8pm: Sitting Meditation/ another collective practice/ Personal study time
9.30pm: Noble Silence begins
10pm: Lights out
There is often time in the early morning or late afternoon for personal exercise (eg. Yoga, Chi Gong, Tai Chi, Jogging) or, depending on the weather, group sports (football, volleyball, frisbee etc).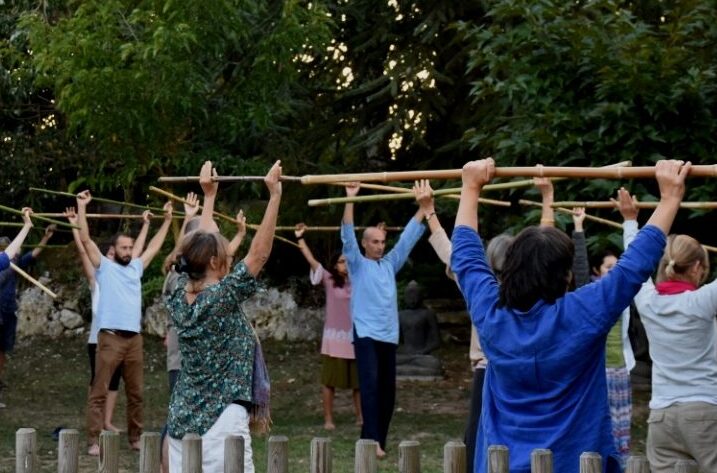 ---
More information about Plum Village Retreats
You can find more information about visiting Plum Village for a retreat on this page.
For practicalities such as transportation, arrival and departure, what to bring and what to wear, please see our practicalities page.