The Plum Village Community of Thich Nhat Hanh is saddened to hear of the passing of Jim Forest on January 13, 2022, at the age of 80.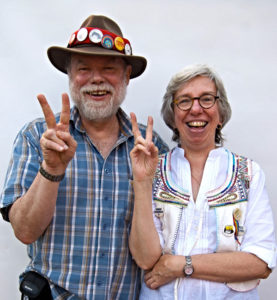 Jim was a dear friend of our community. He was a dedicated peace activist and man of deep faith, who lovingly assisted Thay and Sister Chan Khong in their peace activism in Paris during the 1970s and early 1980s.
His tender and light-hearted memories of this intimate time with Thay and the Buddhist Peace Delegation are captured in his recent memoirs, "Eyes of Compassion: Learning from Thich Nhat Hanh" (2021).
We hold Jim in our hearts with love, gratitude, and appreciation for his sincere and heartfelt contributions to the work of faith, peace and reconciliation in the world.
Remembering Jim Forest
By Sister Chan Khong
Jim Forest was a true man of peace, of reconciliation, and of love. Jim gave me—and continued to give me—a lot of inspiration since we first met him at the office of the Buddhist Peace Delegation at Maison Alfort near Paris, while we were working to call for peace in Vietnam. Thanks to his deep background as a real man of Peace, Jim understood and absorbed everything our teacher Thich Nhat Hanh ("Thay") shared with him, and he wrote many wonderful articles on Thay's message and teachings, in particular in the Fellowship Of Reconciliation magazine. Jim always had a deeply attentive look and seemed to "drink in" everything we shared; we never felt disappointed when we read his summaries and reports for readers. With his talent in writing Jim reported so many of Thay's teachings during that challenging time, and he shared and commented on them in a profound and sometimes very humorous way for the reader, as in the wonderful article "Only the rice loves you."
Jim also helped publish the English translation of Thay's theater script, "The Path of Return Continues the Journey." Many of Jim's earlier peace writings were printed in the Fellowship of Reconciliation magazine, and he shared with the wider American audience many deep exchanges about Sister Nhat Chi Mai (one of the first and profound students of Thay, who immolated herself for peace) as well as the story of the four social workers of the School of Youth for Social Service who were assassinated on the bank of the Saigon River. He also introduced to the community of the Fellowship Of Reconciliation Thay's pioneering and accessible book on mindfulness practice: The Miracle of Mindfulness. In Jim's memoirs, Eyes of Compassion: Learning from Thich Nhat Hanh, published last year by Orbis, Jim shared his profound and insightful experience of our teacher. Jim captured with clarity, compassion, and a historian's eye for detail, many pivotal moments in Thay's peace work during the 1960s and 70s. Jim's love, integrity, friendship and open-hearted learning shine through in his writing and light up the way for others to follow.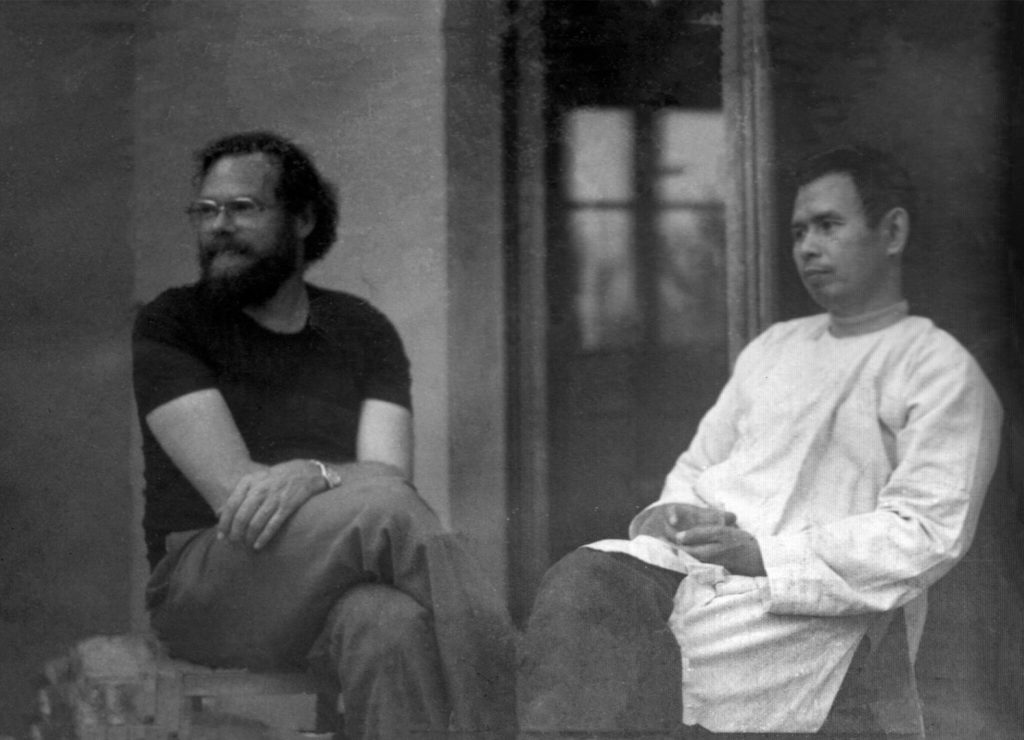 ---
From "The Miracle of Mindfulness" by Thich Nhat Hanh (1975)
In the United States, I have a close friend named Jim Forest. When I first met him eight years ago, he was working with the Catholic Peace Fellowship. Last winter, Jim came to visit. I usually wash the dishes after we've finished the evening meal, before sitting down and drinking tea with everyone also. One night, Jim asked if he might do the dishes. I said, "Go ahead, but if you wash the dishes you must know the way to wash them." Jim replied, "Come on, you think I don't know how to wash the dishes?" I answered, "There are two ways to wash the dishes. The first is to wash the dishes in order to have clean dishes and the second is to wash the dishes in order to wash the dishes." Jim was delighted and said, "I choose the second way – to wash the dishes to wash the dishes. From then on, Jim knew how to wash the dishes. I transferred the "responsibility" to him for an entire week.
---
Excerpt from "Eyes of Compassion: Learning from Thich Nhat Hanh" by Jim Forest (2021)
Wherever he went, Nhat Hanh impressed and disarmed those he met. His gentleness, intelligence, and sanity, plus his fluency in English, made it impossible for most who encountered him to hang on to their stereotypes of what the Vietnamese were like. Not only did his peace proposals make sense, but the vast treasury of Vietnamese culture and Buddhism spilled over through his stories, poetry, and explanations. His interest in Christianity, even his enthusiasm for it, often inspired Christians to shed their condescension toward Nhat Hanh's Buddhist tradition. In the course of his lecture trips, he was able to help thousands of Americans glimpse the war through the eyes of Vietnamese peasants, neither Communist nor anti-Communist, who were laboring in rice paddies and raising their families in villages surrounded by ancient groves of bamboo. After an hour with Nhat Hanh, many who met him were filled with anguish at America's military intervention in the tribulations of the Vietnamese people. No ideology could justify the horror of the skies raked with bombers, houses and humans burned to ash, and children left to face life without the presence and love of their parents and grandparents.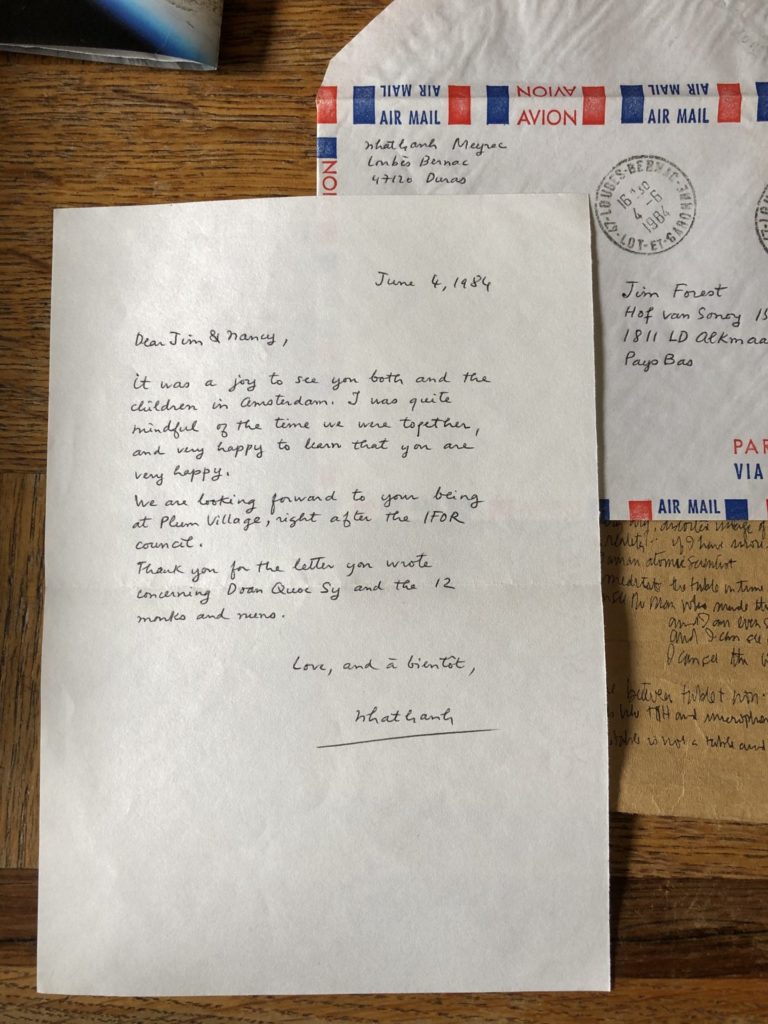 Predictably, Nhat Hanh's peace activities were not appreciated by the U.S.-backed government of South Vietnam. He was denounced as a traitor by several generals, while the Hanoi regime accused him of being pro-American. Warned by friends in Vietnam that he would be in grave danger should be return home, he found himself in exile. What was to have been a three-month absence made him an expatriate for more than forty years.
One of the persons Nhat Hanh had long hoped to meet while in the United States was Thomas Merton, the Trappist monk and widely read author who was known for his opposition to war and also for his deep respect for Buddhism. In late May 1966, Merton welcomed Nhat Hanh, plus John Heidbrink of the Fellowship of Reconciliation staff, to the Abbey of Our Lady of Gethsemani in Kentucky for a two-day visit.
The two monks stayed up late into the night in Merton's hermitage, sharing the chant of their respective traditions, discussing methods of prayer and meditation, comparing Christian and Buddhist aspects of monastic formation, and talking about the war.
Merton started their exchange by asking what the war was doing to Vietnam.
"Everything is destroyed," Nhat Hanh replied. This was, Merton told the Trappist novices in a lecture a few days later, truly a monk's answer—no long-winded political bla-bla-bla, but the situation encapsulated in just three stark words: "Everything is destroyed. Bang. Period."
They discussed the different religious systems in which they were formed and the importance of building bridges connecting each other's tradition. Monastic formation, Nhat Hanh said, had much to do with discovering the significance of "insignificant" activities: cutting vegetables, gardening, pulling weeds, sweeping floors, washing dishes, waiting in line, walking from here to there, paying attention to day-shaping bells. Merton was impressed by Nhat Hanh's comment that it doesn't help to rush from a "less sacred to a more sacred" part of the monastery where, once you arrive, you change gears and move more reverently.
"Before you can meditate," Nhat Hanh told Merton and Merton told his young novices, "you must learn how to close the door." The novices laughed, aware of how often they ran to the church in order to be on time to chant the monastic offices, leaving behind them a trail of slammed doors. "Thich Nhat Hanh is a perfectly formed monk," Merton said to his fellow Trappists. He regarded his guest's arrival as an answer to a prayer. "In meeting Thich Nhat Hanh," Merton said, "I felt I had met Vietnam."
---

Learn more about Jim Forest and his time with Thay:
Many of Jim's writings are also available on his blog, including the story about being with Thay, "Only the Rice Loves You"