Satish Kumar is a renowned Indian-British activist and writer, and was the sangha's distinguished guest during our "Earth Week," held at Lower Hamlet from November 1-8, 2019. Now 83 years old, Satish Kumar has been a Jain monk, a nuclear disarmament advocate, and a pacifist. He is Editor of Resurgence & Ecologist magazine, and founder and Director of Programmes at Schumacher College in the UK, a leading institute for studies on spirituality, ecology and peace.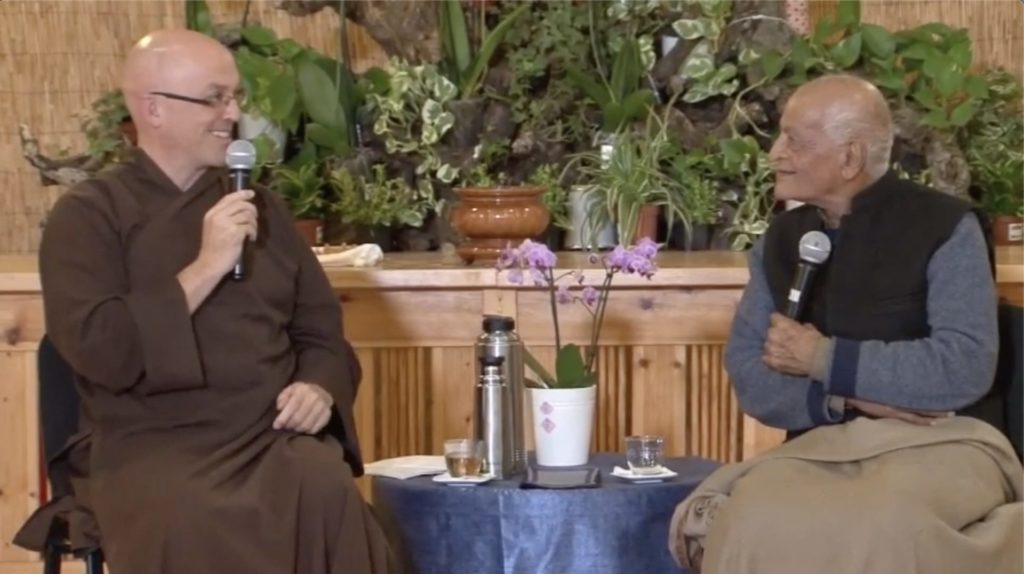 On a cosy winter's evening, the sangha of three hamlets gathered in the Assembly of Stars Meditation Hall, at Lower Hamlet to witness a deep and inspiring dialogue between Satish and Brother Phap Lai.
We would like to offer two excerpts from this wonderful evening. The first is titled "Activism – Caring without Burning Out", where Satish shares how he has been able to find an inexhaustible source of energy to continue his activism with enthusiasm for over 60 years.
The second clip is titled "Encouragement to Young Activists – on Anger, Love and Grief" where Satish shares his insights on acting from anger or from love, healthy grieving for Mother Earth, and his vision for the way forward in these times of climate change.
We wish you much peace and nourishment from watching these two videos.