Br. Thích Nguyên Tịnh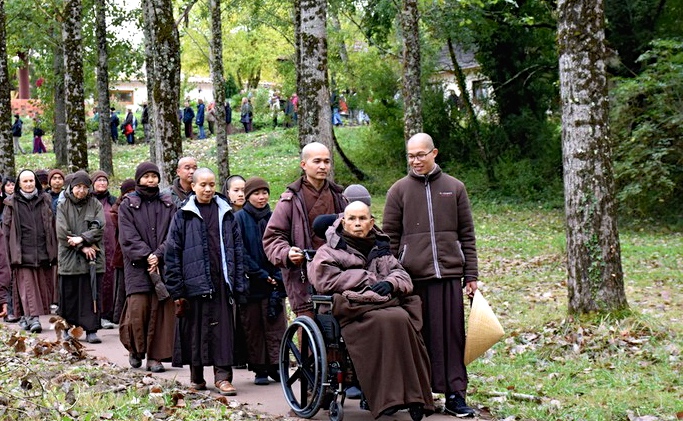 Peals of Laughter
We have many funny stories during the time of attending Thầy. Once, while aiding Thầy to walk, after a few steps he pointed to his feet. My brother and I were dumbfounded to see that we had put the right shoe on Thầy's left foot and vice versa. We suddenly broke into peals of laughter, and so did Thầy. Then he allowed us to swap the shoes before continuing to practice walking. That was not the only story relating to shoes and slippers.
Another time, as Thầy was seated on his bed, Br Pháp Ngôn was helping Thay to put shoes on. Br Đồng Trí was on the bed supporting Thầy. After Br Pháp Ngôn had put on one shoe, he saw Thầy's left foot moving in an unusually playful way. Br Pháp Ngôn paid closer attention and to his horror, realized that he had put the shoe on Br Đồng Trí's foot instead. Br Đồng Trí was rather cheeky, knowing what was going on and trying hard to contain his laughter, he kept silent and just watched. Suddenly, the two brothers broke into uncontrollable laughter. They laughed so hard that they had to hold their bellies. Thầy looked at the two attendants not knowing what happened. When they were able to calm down, they began to explain to Thầy.
As Thầy's attendants, we gradually began to feel clearly the presence of Thầy's five skandhas in our own five skandhas. We have walked, spoken, drank tea, enjoyed the golden autumn leaves, sat and watched the flower of the ruby phyllocactus bloom with Thầy in our own five skandhas – as his continuation.
Singing with Thầy
One day, Thầy was at Lower Hamlet to spend some time with his monastic children. The moon was waning when it shinned into the Areca Flower room. The sisters were very surprised but so happy with Thầy's decision to stay that evening.
Thầy gestured for his attendants to push him into the monastic common room. The ambience was very warm. Thầy was sipping his tea and invited all his monastic children to sit around him. Seeing that it was a bit crowded, Thầy motioned for us to move the wheelchair back a bit to create more space. The way Thầy gestured with his hands and invited his children to sit around him with his eyes really expressed all his love. Everyone thoroughly treasured these wonderful moments beside Thầy. As I stood there witnessing this affectionate bond between Thầy and his children, I remembered that Thầy kept repeating in various Dharma talks that he is still very young. Thầy is still ready and willing to fully engage, and he knows how to really enjoy life! Now I really see that Thầy has never lost contact with young people.
The brothers and sisters around Thầy began to sing with him. Thầy is still very young indeed. We could hear him sing out loud, and on his face is always a gentle smile. We sang over and over the song Cẩn trọng:
Along the deserted path,

the leaves fall.
I follow the small track,

the red earth is the colour of a child's lip.
Suddenly I become mindful of each footstep.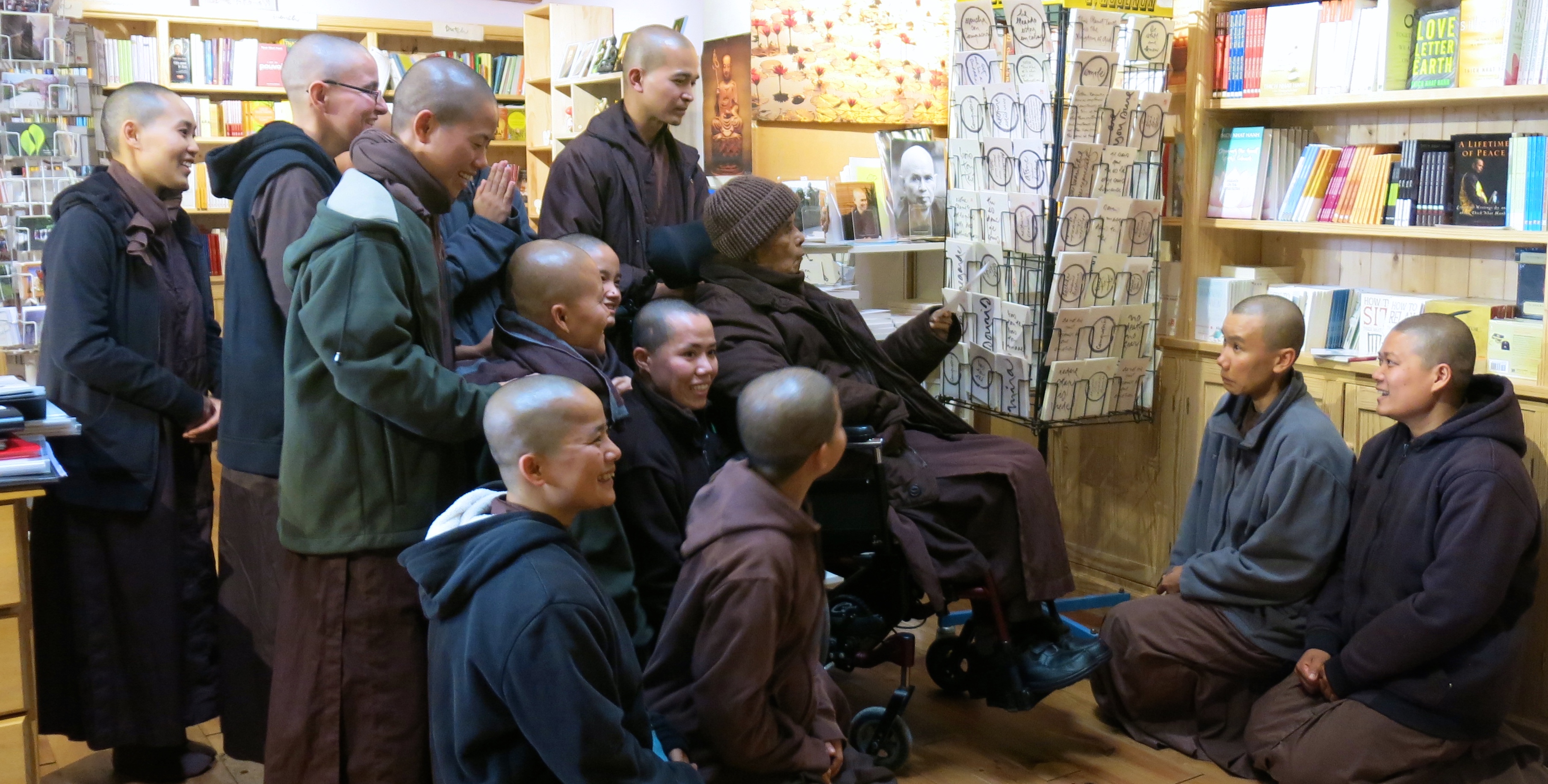 Thầy sang so wholeheartedly. He loves to hear his disciples singing this song, which contains a very deep practice that Thầy wants to remind everyone about. That night, in a loving environment, Thầy was able to articulate clearly many words. We were overjoyed and felt so moved. A few sisters were singing with tears in their eyes. In truth, no one needed to stop these tears of joy.
The brothers and sisters expressed their happiness when they heard Thầy pronounce so clearly the words of this song. Thầy was a bit embarrassed upon hearing the compliments, so he said, smiling: "Oh, that's enough!" Then he said something else but because he was laughing at the same time we could not hear him clearly. We were so amazed at what Thầy was saying because many of us had not heard Thầy utter a single word since his stroke. Thầy pointed to the front and everyone looked in the direction of his eyes. Sr Trăng Non Cao was smiling while using her hands to wipe her tears. It was not only she, but also many others were crying. Thầy was also moved and his eyes were brimming with love. We have found Thầy in the depths of our five skandhas. Coming back to ourselves and being still, we can be in touch with Thầy right away.
I will always have faith in Thầy's words
 ("Oneness" – a poem by Thầy) :
Walk with me now
Let us enter the dimension of oneness
And see the cherry tree blossom in Winter
Why should we talk about death?

I don't need to die

To be back with you