In this new series, students and disciples of our teacher, Thich Nhat Hanh recount their memorable experiences with him. Sometimes funny, sometimes touching, these moments of deep wisdom remain memories of a lifetime for his students.
"Who took Thay's shoes?"
Brother Phap Huu, the current abbot of Upper Hamlet recounts of how our teacher, Thay, faces challenges and how he reacted during a fire emergency in Upper Hamlet.
"You can do it!"
Sister Thao Nghiem from New Hamlet recounts her time as an attendant to Thay, and how these experiences encourage her to continue in the face of difficulties.
When Thay was still well, as his attendant, I only played and enjoyed Thay's company. Thay hardly ever asked me to do anything. It was only when Thay became sick that he needed support from his attendants. Only then did I have the feeling that I was Thay's attendant. Each time Thay asked me to do something, Thay would remind me, "My child, be Thay's feet and go get the book for Thay. Be Thay's eyes and read this for Thay. Be Thay's hands and write this part for Thay." I was so happy to have a chance to help Thay, and I practiced doing those things with Thay's hands, walking with Thay's feet, and looking with Thay's youthful eyes. In those moments, Thay and I were one. Doing something for Thay was doing it for myself, and whatever I was doing, I tried to do it as Thay was doing it. Later, whenever I felt lost or lacking the energy of stability, I would invite Thay to stay with my breath, my feet, and my whole being so that everything I did could have the peace and stability that Thay could always instill.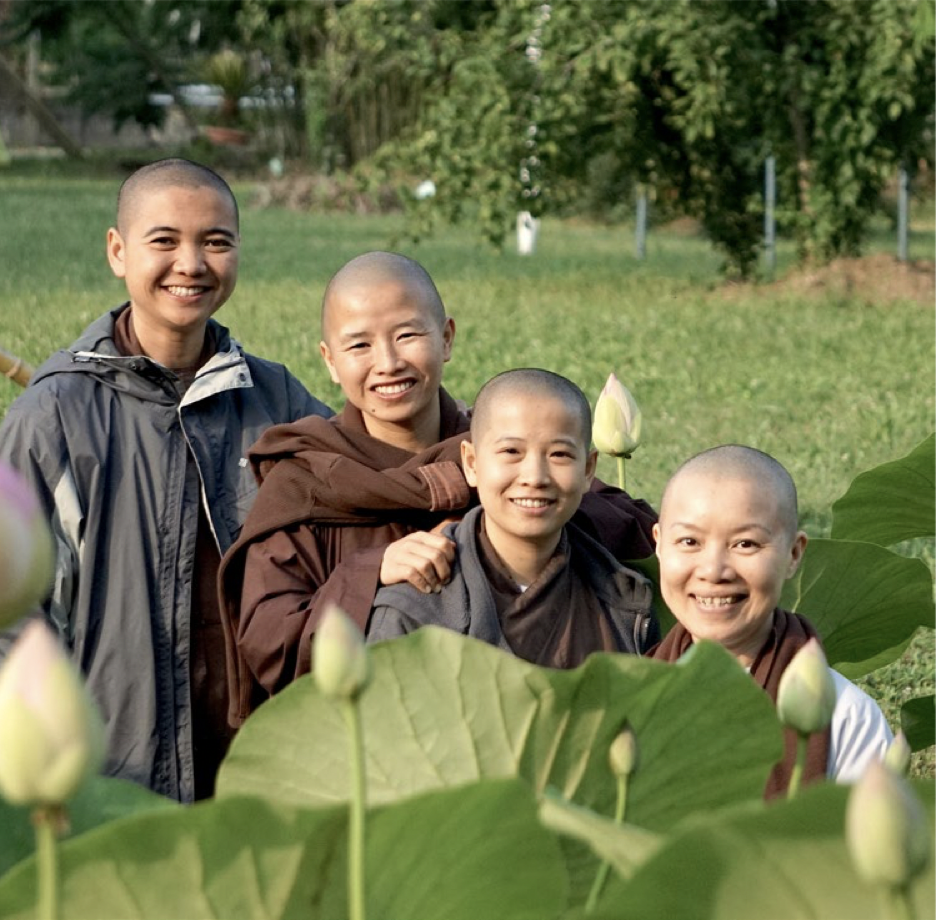 I admired so much Thay's solidity during those days and months. Thay's strength and faith were transmitted to us clearly and steadily and, as a result, all of the attendants were able to be fully present, to function, to go forward, and to follow Thay's directions, which were already more than we could keep up with! Even though Thay's health was declining, Thay continued to maintain his daily work, including translating sutras, finding ways to explain and teach the Dharma to his children, practicing in all daily activities, and looking deeply into what was happening. At every point in time, our Thay was full of compassion and youthful energy. There was a wish for Thay simply to rest––what I called "enjoying old age"––but that was just my own wishful thinking. It had nothing to do with Thay's aspiration and his eternal youthful heart.
Then Thay began to experience more pain and his legs became heavy and weak. Thay had to get used to receiving and accepting help from his children. Whenever Thay was about to stand up from his chair or bed, he always wanted to try to do it by himself. We all stood behind Thay to observe, ready to help if necessary. Thay used to encourage himself by saying, "I can do it!" All of us would also chant, "You can do it! You can do it!" Whether it was a successful attempt or not, Thay and his students all had joy and high spirits in those moments. When it was not successful, Thay only said, "Not yet." Of course, Thay continued to try again and again.
These past few years, I have tried to grow up and learn, but sometimes I feel that I am still so immature and naïve, especially when I don't know how to solve problems in my mind, or how to give better support to my younger siblings. I sometimes feel so bad and so discouraged because it's so… difficult. At times like that, I recall how Thay always tried so hard and encouraged himself. As a result, often tell myself, "I can do it!" Simultaneously, I hear Thay in me encouraging, "You can do it!" Then I have more strength to keep my head up and move forward. If I am not successful, I am ready to try another time and another way.