As we mark one year since Thay transitioned, we share three personal memories from Thay's senior monastic students.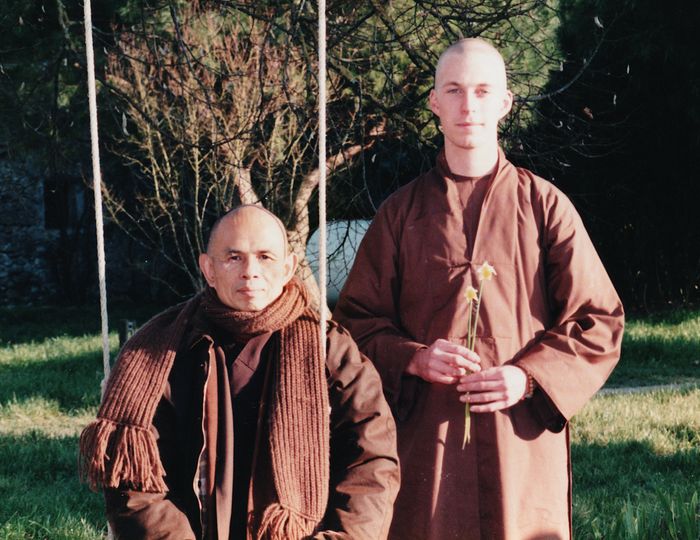 Popcorn Day
Sister Thao Nghiem highlights Thay's sense of creativity and joy in this story of "Popcorn Day".
It was during the early days of Thay's illness. The sangha had not been with Thay for quite a while because he was resting and recuperating at the Hermitage. The sangha missed Thay and Thay also thought of the sangha. Thay did not want the sangha to worry for him. He had already wanted to have a Monastic Day before that so the sangha could meet him at the Hermitage and feel peace of mind. He also wanted to hear the community chant the new Sutra of the Insight That Brings Us to the Other Shore, which Brother Phap Linh had just set to music.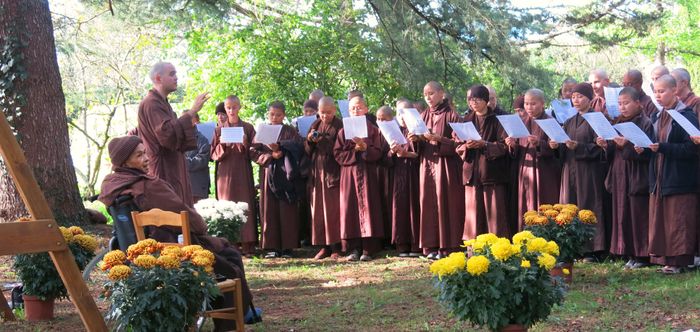 Thay made very careful arrangements to prepare for the day. I do not know how Thay thought of it, but one day, he suggested we buy a popcorn machine for him. Sister Chan Khong and the attending brothers and sisters were all very surprised when we heard Thay's suggestion. None of us had ever imagined what it would be like to have a popcorn machine in a monastery. It must be very difficult to find, what would we buy and where would we put it? Thay said, "Go ahead, buy it for Thay. I will pay for it. I have some money from selling calligraphies." That was enough for us to know that Thay really liked the idea, so Sister Dinh Nghiem searched online and found a real popcorn machine. It was red, not too big, and had wheels to cart it along.
The day the machine was delivered, teacher and disciples eagerly opened it to check it out. After assembling it, we discovered that one side of the glass had broken in transit; the attendants used a plastic sheet to cover it temporarily. Now that the machine was there, Thay said, "Now we go online to learn how to make popcorn."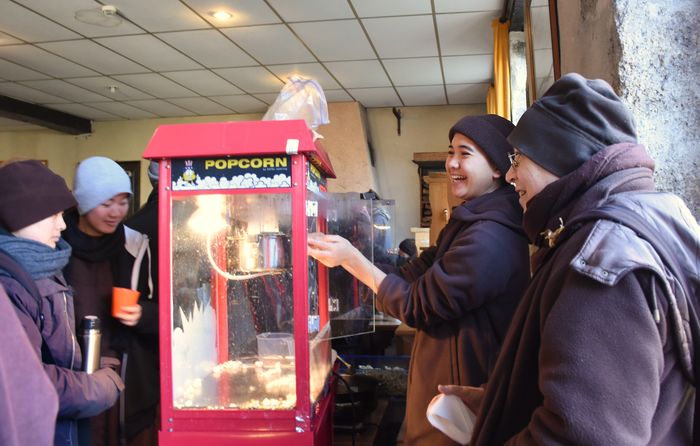 Brother Phap Huu, Sister Nho Nghiem, Brother Phap Ao, Brother Phap Nguyen, and I were members of the popcorn testing committee. The customers were Thay, Sister Chan Khong, and Sister Dinh Nghiem. The moment we put the oil and corn kernels in to try it out and then waited to see if it would work was really exciting. Then the corn popped and came bursting out of the little pot inside the machine. Oh, it was so much fun! Thay laughed, the sisters cheered, and the four of us who had made the popcorn jumped up and down with joy.
Thay was offered the first bowl of popcorn and we were all excited to try it. Thay even suggested doing some research to see if we could add a little salt and caramel to the popcorn to have more flavour. So the attendants busily popped batch after batch to measure the right quantities and work out the timing. During those days we ate popcorn to our hearts' content and even had to send some to the New Hamlet for help.
A few days later, Thay wrote a letter inviting the sangha to come for a Monastic Day and to eat popcorn. Meanwhile, Thay reminded the attendants to bring out the popcorn machine each day and practise using it so we could demonstrate it smoothly in front of the sangha.
Several days before the appointed day, Thay had to go to the hospital for a health check. When the doctors advised him to stay longer, Thay said, "I cannot. I have an appointment for popcorn day with my students." The attendants had to beg Thay to stay and contacted the sangha to postpone the Monastic Day so that Thay could take care of his health in peace.
Then came the day the sangha gathered. Everyone was excited. The attendants had been preparing the popcorn cart, a stove to caramelize sugar, a little salt, and a bucket to contain the final product since noon. We were all worried that as the community was big we would not be able to make enough in time. Thay had arranged the right moment to bring out the popcorn cart for maximum effect.
I still remember how we made the popcorn in a room at the back of the Hermitage where we could look out towards the three cypress trees, (Thay often called them the "Three elder brothers of the sangha"). The sangha had gathered to chant the Sutra of the Insight That Brings Us to the Other Shore. It sounded very powerful and wonderful. Then Brother Phap Ao pushed Thay in his wheelchair to go out and listen to the sangha chanting. Looking from the inside, I could see a few brothers and sisters who could not chant and just stood watching. A few others were standing and hiding behind others … crying.
After an introduction, Thay signaled for us to bring out the machine and to make popcorn for the sangha to see. Everyone got to eat some popcorn. It was a gift from Thay, realized by the attendants. Thay was so happy to see the sangha and the sangha was happy and moved to see Thay. Whether the popcorn was delicious or not was not important. The most precious thing was that everyone had received our teacher's love.
Later the popcorn maker was moved to the New Hamlet and once in a while we brought it out to make popcorn for the sangha. Everyone enjoyed it and thought of that memorable day.
Read Sister Thao Nghiem's full sharing.
Strong medicine from Thay
Brother Phap Hai recounts an episode that illustrates that for Thay, offering compassion did not always mean gentleness.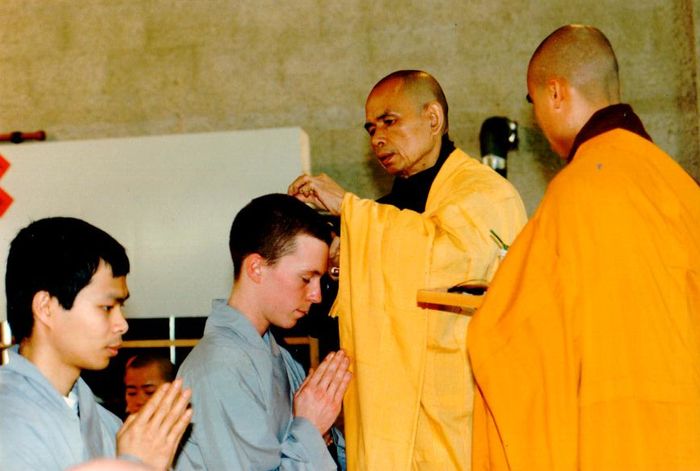 When I was a young monk, I suffered a lot. One time, I shared with Thay a very deep pain that I was carrying. Thay drank his tea, looked out the window and then he coughed. As he was coughing, I thought, Uh oh. (When he used to cough like that, we knew that we were going to get the hammer.) Thay put down his cup, turned to me and said, "Novice Phap Hai, why did you come to Thay and ask questions that you already know the answers to? Go and do it!" That is all the teaching I got! So I stood up, bowed, and walked out. I had hoped Thay would say something like "There there, poor you," etc., therefore I felt a bit angry with Thay.
As I came out of Thay's room, as a twenty-two year old, I remember kicking the gravel around the driveway in New Hamlet. For about two Dharma talks whenever Thay caught my eye, he would smile lightly. I am ashamed to tell you that it actually took me a couple of weeks to realise what Thay had offered me. Thay would always point to the capacity in you and water your confidence in your own ability to transform. The reality was, I did know exactly what I needed to do. I just didn't want to do it. Thay knew this and offered what I needed most in that moment and in my life of practice: confidence in my capacity to be able to understand and resolve issues myself. That was the strongest and most precious teaching I ever received from my teacher and I am deeply grateful. That was when Thay really became my teacher, not just a faraway figure that I would listen to at a Dharma talk or attend, without any real relationship.
Whilst others can help and support us, ultimately, as practitioners, we ourselves need to be able to look deeply and understand our situation to be able to really transform our suffering. Thay gave us those tools.
Brother Phap Hai's full article is here.
Opening a nursery
Thay's nurturing nature shines through in Sister Dinh Nghiem's memory of taking care of chrysanthemums with Thay.
Dear Thay, it was rare for you to be in Plum Village, France during autumn because that was the season of long tours in North America or Southeast Asia. But that one autumn, you stayed home with us and it was the most special, most enjoyable autumn for all of us.
You took a lot of time to lead us on walking meditations in the Lower Hamlet under the alleys of poplar trees with their golden leaves. You often stopped by the New Hamlet to lead us to walk up the plum hill, where the air was infused with the scent of ripe plums. Usually we did not pick the plums but let them ripen and fall naturally to the ground. At that time, the plums were becoming really sweet and juicy. But some sisters preferred to eat the crunchy, unripened plums, so Thay cut open a plastic bottle, tied it to a stick of bamboo and used this homemade tool to harvest the crunchy plums–very effective and convenient.
In Upper Hamlet, Thay loved the most to go for walking meditation in the forest of red oaks. From afar, I always thought it was a forest of flame red flowers. In the Hermitage, every pot of flower, every tree was happy because they received Thay's care each day. Late autumn in France is the season of chrysanthemums. Thay waited for pots of large, round, crimson chrysanthemums to bloom, as well as the elegant ones with petals that curled inwards and outwards like bodhisattvas hands performing mantras.
That morning in the Hermitage garden, Thay went around to gather all the wilted chrysanthemums from the previous year while I brought together all the old plastic pots. Under Thay's guidance, I prepared the pots with soil for you to replant the chrysanthemums. Sitting on a white iron chair under the linden tree, Thay worked leisurely with utter peace and enjoyment. When one pot was done, you passed it to me so I could add another layer of fertilizer to it. In the end, the two of us turned on the hose to water all the pots at once.
It was just like being a little kid long time ago in my garden at home. I only noticed my two hands happily playing with the soil. Sometimes I looked up to see what Thay's hands were doing. The year's last rays of sunlight were trying to peek through the leaves to gently touch your two hands. They also wanted to give a hand to Thay! Occasionally a few ripened leaves fell lightly onto your shoulders, as if to draw your attention: "Dear Thay, we are here, let us play with you!" Those leaves slowly hopped to your feet, then to the earth, to form a pale golden carpet. In a few days or a week, the golden carpet would be thicker and softer for Thay to place your mindful steps upon.
On the other side of the Hermitage, the pines that Thay had planted in the past were now tall and strong. They were retaining their green robes for the season. The Hermitage in the autumn is full of colors and forms and that year, Thay was home. The earth, sky, and trees were all excited and competed to show off their most beautiful paintings for you to enjoy.
There were not enough pots for Thay to continue repotting. I had to go to New Hamlet to find more pots. In the end, that afternoon, pots upon pots surrounded the teacher and disciple–more than a hundred of them. Suddenly I had the image that in just two months, these stems of chrysanthemums will grow strong and healthy and produce many big, round flowers. Excitedly, I said to you, "Dear Thay, if the two of us are successful, we could open a plant nursery!"
Thay smiled happily.
I felt so happy right in that moment, as if we just opened a plant nursery!
Read Sister Dinh Nghiem's full article here.
---
You also can read many hundreds of messages of gratitude for Thay written people, from around the world, whose lives he influenced, and also add your own if you feel inspired to.