Dear Thay, Dear Sangha,
It is now mid November, the temperature is dropping and the frost is arriving. As I type, the giant oak trees, the elms and field maples which stand still all around the Happy Farm are turning hues of bright yellow and orange as Autumn turns to Winter. We have just welcomed the new team of farmers to Plum Village and the Happy Farm this week. This year we have members from The Netherlands, Greece, Belgium, France, the USA, Canada and Ireland. We are looking forward to practising together with our beloved community during the three months Winter Retreat – slowing down, contemplating that which is past and that which is present for us all.  It is a time of transition for the Happy Farm and it seems like a nice point to take a look back at some of the experiences we have had on the farm this year.
All in all we had a great year this year.  This was made possible by the members of our team. In total we were seven guys from around the world. We had brothers from Belgium, Italy, Germany, Ireland and Canada who spent the year here living and practising with the Plum Village community while taking care of and developing the farm. We also said goodbye for now to our dear friend Tif from Ireland who left us at the start of the year due to ill health.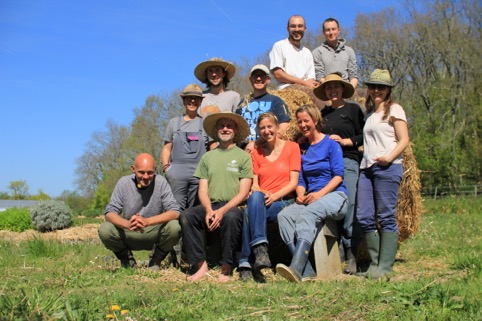 It is testament to the hard work and competence of the team members that everything went so well.  Farming is a discipline that requires many different skills, from germinating seeds to preparing a growing surface.  Also it requires a lot of sustained care to take a seed through the various stages of its life until the final harvest.  Insects, animals, adverse weather conditions, disease and more all have to be dealt with before a harvest is guaranteed.
Through all this the year has taught us a lot.  We learnt about living and working together harmoniously. We signed the 'Peace Treaty' together to take responsibility for our feelings, emotions and behaviour toward each other throughout the year. We practised 'Beginning Anew'- expressing gratitude, expressing regrets and sharing difficulties. We sat together in 'Farmer Sharing' each month. We sat and walked in meditation on the farm and sang our way through the seasons. We learnt how to balance mindfulness practice with the practical needs of the farm, and how to integrate the farm into the wider community of Plum Village.  This year we expressed our deep gratitude to the Sangha for their generosity in helping the farm recruit five volunteers who lived and worked with us in both July and August. This extra help was invaluable in our busy months, and created a lot of space, joy and brotherhood.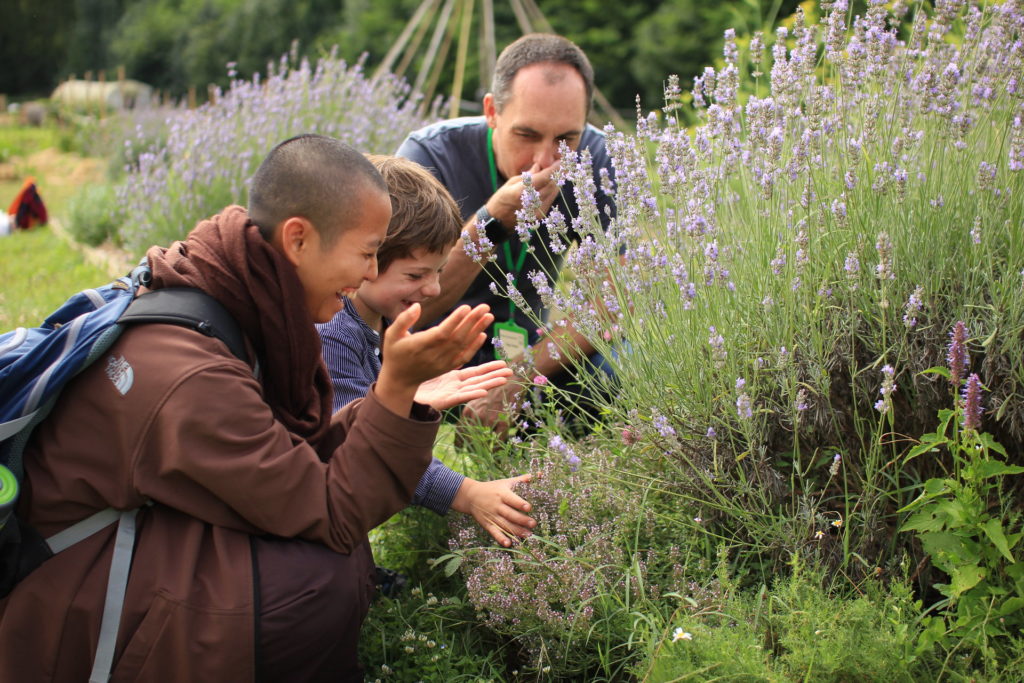 We were so happy to be a big part of the Wake Up Earth Retreat again this summer when we welcomed nearly 500 young adults onto the farm in just one week. We hope that many of our volunteers at this retreat and throughout the year were able to touch the practice through the Dharma door of The Happy Farm.  As always we were delighted to host hundreds of kids from all over the world as part of the Summer Opening, Children's Program. The Farm team were so nourished to share our practice with the children on the farm. We enjoyed harvesting fresh organic potatoes and reveled in the success of our 'watermelon hunt' which ended in joyful celebration, and savouring our delicious and refreshing Happy Farm watermelons. We were also delighted to open the gates of the farm and host our first ever 'Open Farm' event welcoming Sisters and Brothers from all our Hamlets.
This year we were happy to be able to help our friends and Sisters establish a new Happy Farm at New Hamlet. As a result of our contribution, this beautiful farm had a good first year. We were also delighted to be able to continue to support our friends and Sisters at Lower Hamlet in their second farm year. Each month the farmers from Upper Hamlet would go together to work with the sisters on the Lower Hamlet farm. Then the favour would be returned two weeks later. We hope to continue to support each other in 2018.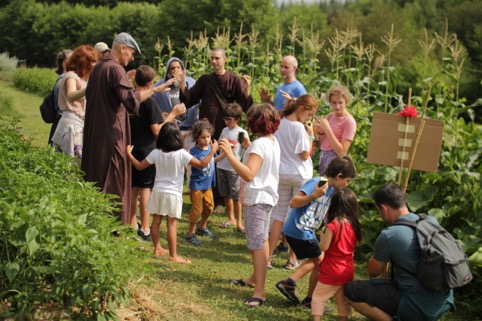 We are so grateful for the practical, spiritual and financial support of the Sangha here in Plum Village, and our global Sangha around the world who continue to support us. Without all this support the Happy Farm would not be possible.
Our aspirations for this next year are to continue to help create physical and mental space for practitioners to practice mindfulness on our farms within the Plum Village Community. To continue to allow the farm to develop at a slow and natural pace.  To continue to allow more mindfulness energy to ease into our work.  We also aim to continue to develop our capacity to educate in the areas of mindfulness and sustainability.
There is a calligraphy which Thây offered to the Happy Farm, it reads 'happy farmers change the world'.  It is our hope that the farm continues to bring happiness to people and create a new breed of mindful, happy farmers/gardeners who will have a positive influence on their communities when they leave here.
With gratitude, love and respect
Mick, Scott, Jonas, Antonio, Nick, Dirk and Marius
The Happy Farm team 2016/2017
The Happy Farm Upper Hamlet
 Harvest Records 2017
Organic Vegetable
Approximate

Weight (kilos)

Value in Euros
Organic Asparagus
210
2520
Organic Chard- still in production
140
840
Organic Basil
90 Plastic crates
1350
Organic Coriander
15 crates
150
Organic Parsley
25 plastic crates
250
Organic Aubergine
1230
4305
Organic Green Beans
250
750
Organic Hot Chilli Peppers
75
600
Organic Courgette
1650
4950
Organic Cucumber
840
2940
Organic Garlic
210
2100
Organic Kale still in production
230
1150
Organic Lettuce-still in production
920
5520
Organic Peas
65
390
Organic Sweet Peppers
195
680
Organic Potato
770
2310
Organic Pumpkin-Squash
2450
8500
Organic Cherry Tomatoes
930
5580
Organic Big Tomatoes
420
1470
Organic watermelon
490
1960
Organic sweet melon
270
1080
Organic sweetcorn
140
560
Organic Jersualem Artichoke
120
360
Totals
11,645 kg
50,315 Euro