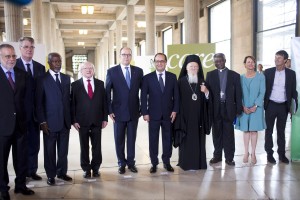 Sister Chan Khong joined elders from many of the world's religions and wisdoms in Paris on July 21 for a World Summit of Conscience to answer the question "Why do I care about the planet?" and launch a "Call to Conscience for the Climate".
The event, which was intended to help prepare the ground for the Paris Climate Talks in December, was opened by former Secretary General of the United Nations, Kofi Annan, and organised by the French President Francois Hollande, who also gave a speech.
Other attendees included Prince Albert of Monaco, President of Ireland Michael Higgins and American politician and actor Arnold Schwarzenegger.
The talks emphasised the parallels between different belief systems and philosophies and the common ground between participants.
Sister Chan Khong spoke in the center stage panel at 2pm.
Here is a precis of her message: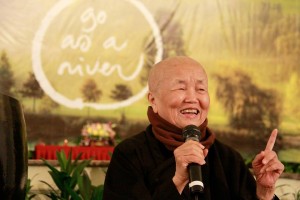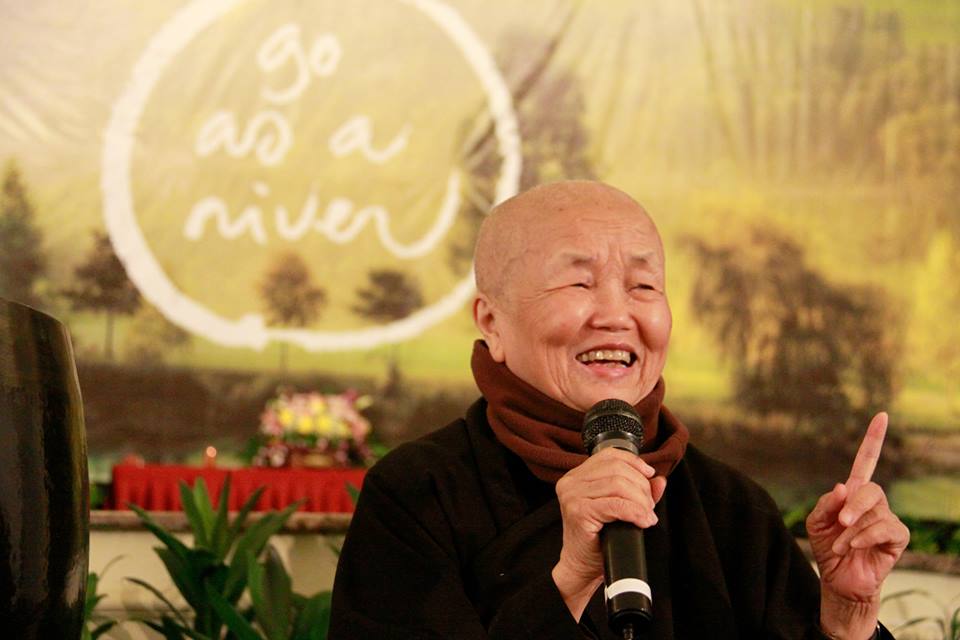 I am Sister Chan Khong, and I am here to represent Zen Master Thich Nhat Hanh at this Sommet des Consciences (Awareness Summit).
Compassion for ourselves and each other
Thich Nhat Hanh always reminds us that as environmentalists, we need to take care of the environment of our own body and mind, in the same way that we aspire to take care of our ecosystem. Whenever we feel frustrated, or a strong emotion such as anger, we also need to take care of it and come back to our breathing in order to restore the peace and harmony of our inner environment. I invite you all to try this with me right now. Please, close your eyes, and breathe along with me.
As I breathe in, I bring my attention to my breath as it enters my nostrils. My mind is fully focussed on the air as it enters and calms my body. I calm the restlessness in my body, all the way from the top of my head down to my toes.
As I breathe out, I release the tension in my whole body. I send my tender care to my heart, my liver, my lungs, my stomach, my legs…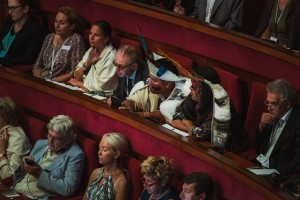 When our emotions are strong and overwhelming, we can bring all our attention down to our abdomen, our belly, and allow our mind to rest there. If there is frustration or another kind of strong emotion, we can train ourselves to let go, and to look more deeply into the situation. We can look deeply to see that we, and the person who has hurt us like that, are like the left hand and the right hand of the same body. We do not want the left hand to make war with the right hand.
Compassion for the planet
When we look deeply into a piece of meat, we know that this one piece of meat is the result of many many kilos of cereals eaten by the animal over the course of many months. Likewise, every glass of liquor has also taken an enormous amount of grain to produce – grain that could have been used to nourish hungry children in other parts of the world.
Today at Plum Village, we are in the middle of our Summer Retreat for families. There are 1300 practitioners living together, and every day we prepare delicious vegan food for the whole community. Every week we are saving the lives of 11,739 chickens, cows, pigs and fish. We are protecting air and water from being polluted and virgin forests from being cut down to provide pasture and grain for the animals. The cars of each practitioner are also "on retreat", and where necessary we use collective transport, saving untold amounts of carbon dioxide from entering the atmosphere.
In his book The World We Have, Thich Nhat Hanh acknowledges the many ways in which humans are destroying the planet, and he emphasises how important it is that each one of us should make our own, personal commitment to the Earth. Each one of us can promise to live more simply, so as not to steal the air, the water or the resources of our children and grandchildren. Thich Nhat Hanh invites us to take time to stop and to look deeply, and see the ways we are leaving a great debt to our descendants, a debt which is growing day by day. With mindfulness and awareness, with compassion and understanding, we will know what to do and what not to do, for a healthy future to be possible.