Join us to reflect over the past year and start the next year mindfully with joy and hope. Plum Village, France and Magnolia Grove Monastery, USA will host online retreats at the end of the year.
Dear Friends,
This year, 2020 has been an extraordinary year with many changes and events that forces us to really reflect on our lifestyle, our connectedness with each other, and our impact on Mother Earth. Is it feasible to continue to live as we have been living anymore?
2020 has created the opportunity for the Plum Village monastic community to evolve in the way we share mindfulness practice – curating online retreats so that we can stay connected and offer support even with the monasteries closed. We're so pleased with the sense of community, the warmth, joy, and learning that has taken place in these retreats. We are really happy to be offering more opportunities to come together online and practice mindfulness together.
As the year comes to a close Plum Village and Magnolia Grove Monastery will both offer a five-day online retreat. This will be a precious opportunity for us, the monastic community and lay community to come together, to share our practices and experiences, and to inspire hope for the coming year.
In these retreats, we will explore questions like: How can the practice of mindfulness help us to deal with our strong emotions, and thoughts that seem out of control? How can we see difficulties and suffering as opportunities to understand ourselves and cultivate compassion, to recognize our interconnectedness with one another and to work together for our future? Is there some sort of global ethics that can give us some direction in life, or concrete guidelines to help us know what is the right thing to do in our daily life?
We invite you to join us, to consolidate our collective energy of mindfulness and looking deeply so that we may be able to see the way out of our current crises.
Registration now open!
**Suitable for Europe & Africa timezones**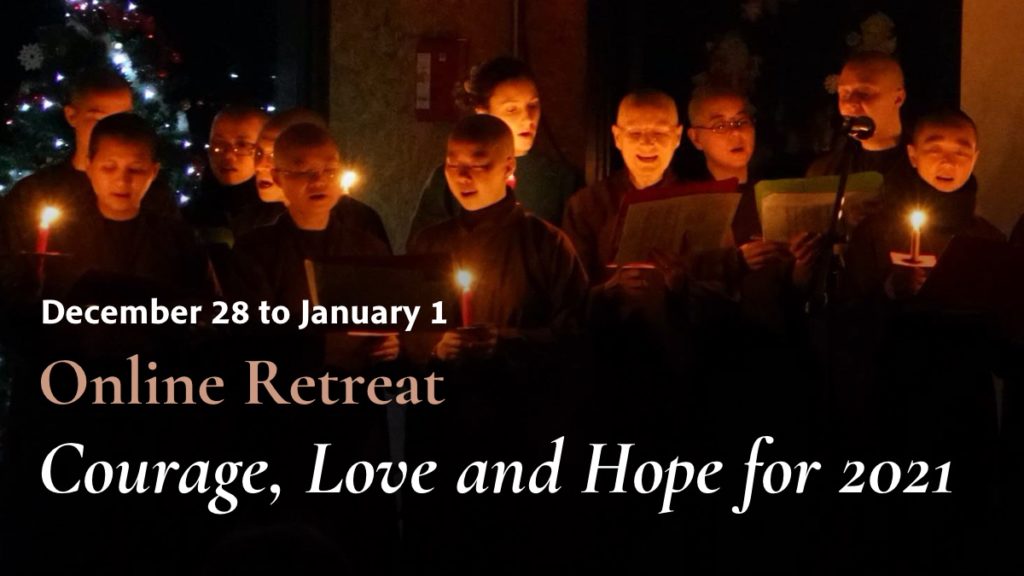 Booking Open
Magnolia Grove Monastery 5-day Online Retreat: Celebrating Our Togetherness
**Suitable for North America & South America timezones**
Please continue to follow our website for updates of online retreats for the coming year 2021!