In the first of a 2-part series, Thich Nhat Hanh gives guidance on how to approach the 90-day Rains Retreat.
Dear friends!
Plum Village community in France begins our yearly 3-month Rains retreat on October 19. Thay (our Teacher, Thich Nhat Hanh) offered a wonderful Dharma Talk regarding the spirit of the Rains retreat on12th September 2004 . Please enjoy excerpts of this talk to be reminded and nourish ourselves. We wish you, our friends who join us online this rain retreat this year, a 3-month full of transformation, joy, healing and happiness.
Dear sangha today is the 12th of September 2004, we are in the Dharma Nectar Temple, Lower Hamlet, and getting ready for our 3-month retreat. The three-month retreat in autumn and winter this year is going to bring us a lot of happiness… We live together as a spiritual family and practice in such a way so that happiness is possible every day, every hour. We dwell peacefully in the retreat, in the framework of the boundaries and 90 days.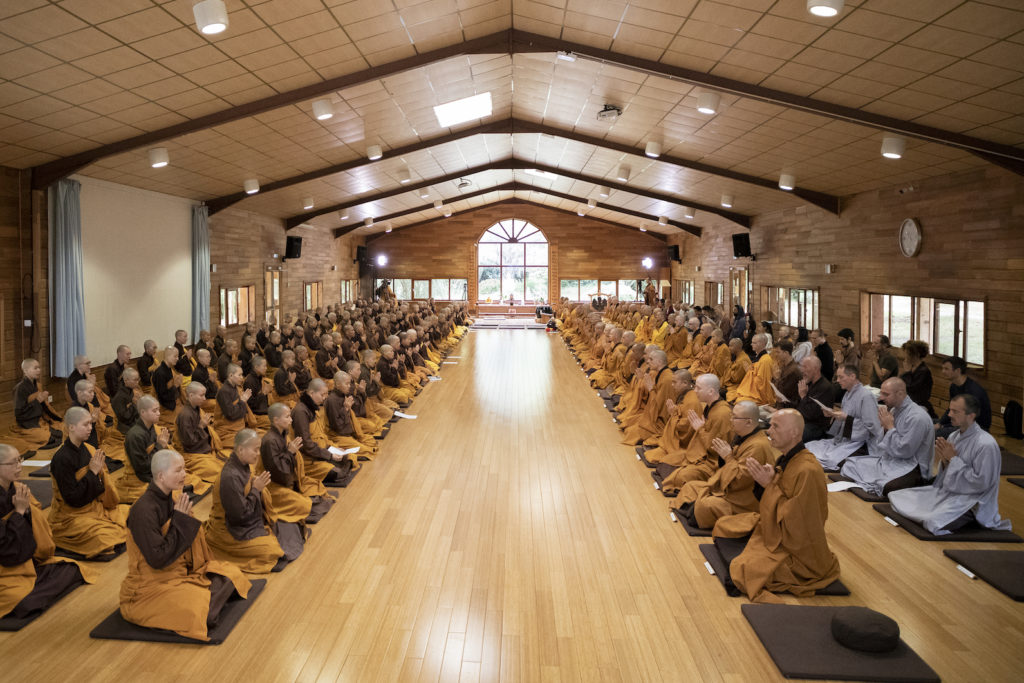 It Is Not a Means; It Is an End in Itself
The retreat is not a means to achieve anything, but an end in itself. The retreat has to be the happiness, it is not a means to gain happiness, but it is happiness itself. And so our practice during sitting is happiness. While walking, we walk in such a way to be happy. While listening to a Dharma talk, listen in such a way to have happiness. While eating, eat in such a way to have happiness. While washing our bowls, mopping the floor, we need to do these things in such a way so that happiness is possible. Everyone needs to make sure that they know how to do this. For example, in sitting meditation, everyone needs to find a way to sit so that during the 45 minutes of sitting, happiness is there. We don't sit because other people do.
Other people who sit together with us, can provide us with supportive energy so that we can succeed in our sitting. And so sitting for 45 minutes is not a duty, not a scheduled activity, but an enjoyment. Because in our world, everyone is very busy. And so being able to sit without doing anything, sit with a clear mind, sit comfortably, sit in order to be ourselves is an opportunity that not many people in society have. So being able to sit together is a great opportunity, and if you see it as an obligation or something you need to do to pass the time, it would be a pity. So we need to succeed in our sitting.
Time while sitting is nourishing and happy. Everyone needs to find their own way to be able to do that. We can consult our elder/younger brothers or sisters, to see how they have succeeded, how they have happiness while nourishing themselves by sitting meditation. We need to be able to do this, otherwise, it's a real waste. Sitting mediation is not a means, it is also an end.
Just Sit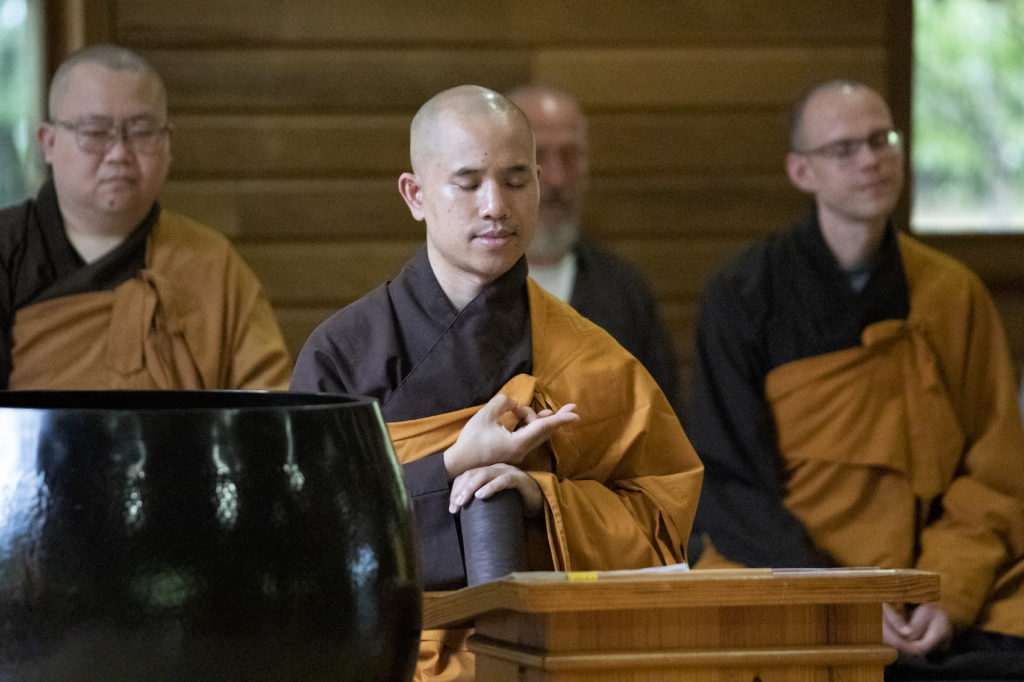 In Soto Zen, they say: "Chỉ quán đả toạ". It means "Just sit", we don't think about the outcome of the sitting. Sit in such a way so that we can be happy, awaken like the Buddha while we are sitting. That is an opportunity for us to become buddha, to be happy. That is called "Chỉ quán đả toạ". And it can be applied for other moments of the retreat. For example, walking is just walking. Walking in such a way that we become a free person. Happiness is in each step we make.
"Chỉ quán đả hành". It means just walk. And when we eat, just eat. We don't eat to become anything. We just eat…and are happy while eating. We have 90 days to do this. We do it every day: sitting, walking, washing our clothes, eating, washing dishes. We do it as a free person because our happiness is based on freedom, not on our desire to consume or to shop. So we need to prepare for this retreat as we prepare for Tet (to celebrate the New Year). We need to see the 90-day retreat as a long Tet period to be happy, not to fulfill a duty. In the last few weeks, the sangha has already started preparing for the retreat. But only preparing in form is not enough. We have had sangha meetings, changed rooms, had new mentors, set a new schedule, selected sutras and chants, and got other things ready. But those things are just preparation in terms of organization. We also need to prepare our mind. Preparing our mind, first of all, is to think that there are 90 days to live and practice together to be happy together is a very big opportunity that many people don't have.
Among us, there are a few lay friends who are able to stay with us for the whole 3 months. Others can only stay one or half a monthWe currently have over 1000 participants joining us online in 2021. And so this is a rare opportunity. Especially at this point in time, being able to have a 90-day retreat is a great joy. We need to prepare it in such a way so that we can be happy during the 90 days. Every day is happiness. Every day is nourishing. Every day is transforming. Every day is there for us to touch the wonders of life. Every day is an opportunity to build brotherhood and sisterhood.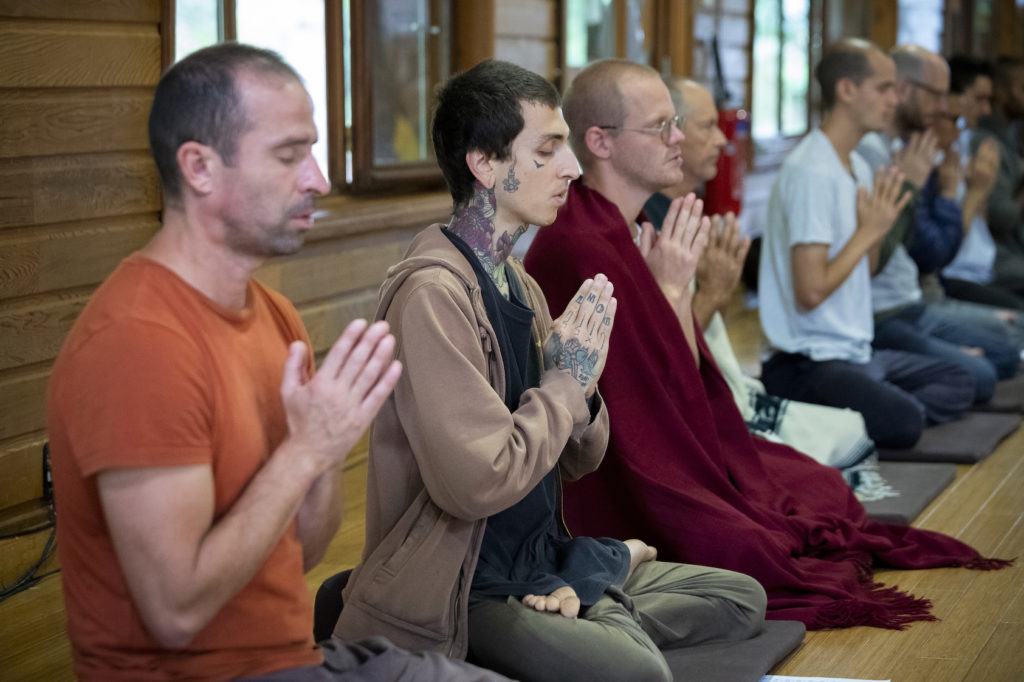 Starting Afresh
Always keep in mind that the 3-month retreat is not a means. It is an enjoyment. It is life. And so before we commence the 3-month retreat with the Face to Face ceremony, we need to untie any unresolved internal knots that we might have, things that remain unresolved between us and our siblings. We need to untie those knots so that on the day of the Face to Face ceremony, we are totally free and clear. If we have any issues with our elder/younger brother/sister, we have 10 days from now to the Face to Face ceremony to resolve them, so that everything is renewed. We need to begin anew with each other. Otherwise, the three-month retreat will not be as whole, pure, and not perfect as we wish. Just like when we prepare for the Tet celebration, [In Vietnam] on the 30th [the last day of the lunar year], we need to pay off all debts.
If we borrow 50 cents or 2 dollars, we need to find ways to pay it off, because on the 1st day of the New Year, if a debt collector comes, the whole year will be ruined. In the New Year, everything has to be new. In the three-month retreat, we need to be new also. That is our great happiness as monastics. Beginning anew can be done quickly. If we wish, we can do it very quickly.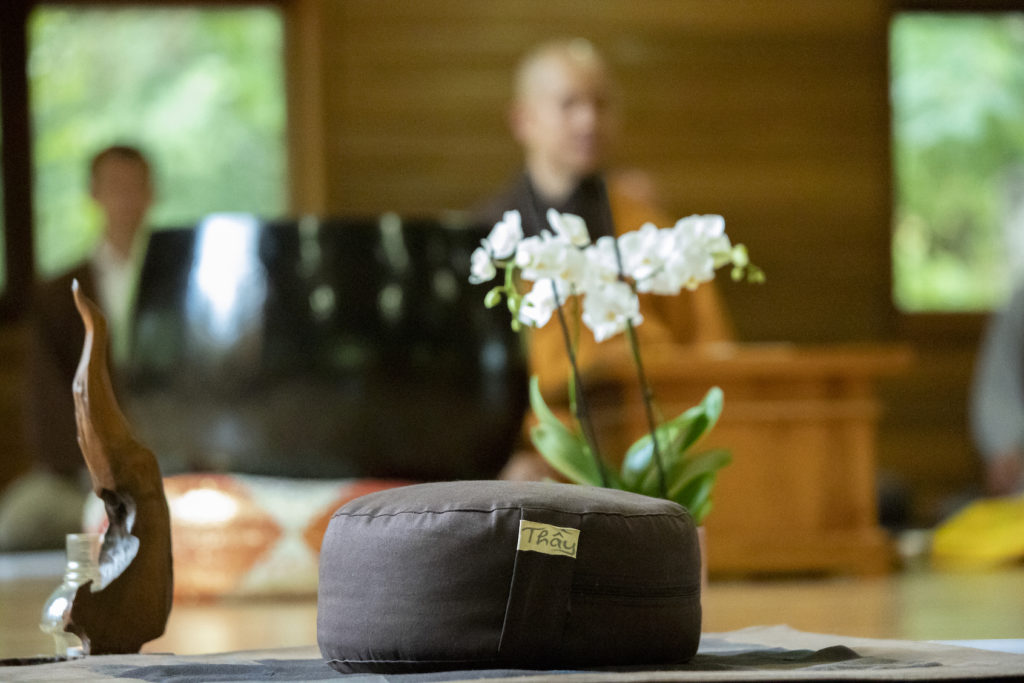 ---
You may also like to read Part 2.