Our teacher, Thich Nhat Hanh explains the difference between hierarchy and spiritual authority and how not to get caught in the forms of showing respect.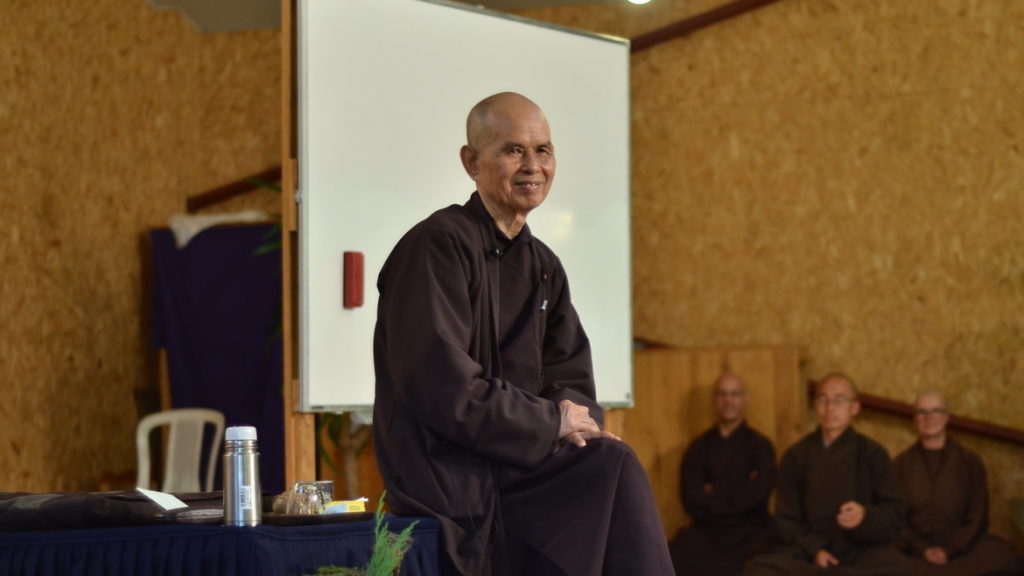 Question: Dear Thay, it seems that in most Asian countries it comes very naturally to people to have a reverence for teachers, for ancestors, for elders. That's also very apparent in the monastic community and in the Order of Interbeing, it was very [visible] as we sat this morning in the ceremony. Yet in the western world, we often seem to get very stuck on the fear of heirarchy and have mental formations about that, probably connected to notions of more than, better than, less than or the same. So would you please explain the difference between seniorship as it is practiced and heirarchy.
(Q&A 20 June 2002)

Answer: A good teacher, a good big brother or big sister in the Dharma always has spiritual authority within him or her. Spiritual authority is not authority. It is because of your practice and because of the fruit of your practice that you command some kind of respect and love that cannot be obtained just by being a long time in the tradition. So spiritual authority means there is understanding, there is love in it. And that moves people to bow and to love you, to respect you, and not because you have come into the sangha before them. That spiritual authority will not be a real thing if there is no loving-kindness, no compassion, no understanding in it. Sometimes we are not able to touch the goodness, the love and the concern in the other person. We think that these things are absent in him or her, that is why we have the tendency not to respect, not to love. So there must be ways to recognize and touch the seeds of love and compassion in other people, especially in those who are older than us.
First, respect yourself
If you do not respect yourself, if you do not love yourself, it will be difficult for you to love and respect someone else, even if that someone is higher than you in the heirarchy, a big brother, a big sister in the Dharma, a teacher. If you know how to look deeply into yourself, you will see all your ancestors within, with all their strength, their weakness, and you will treat your body and your consciousness with respect. But because you are caught in the idea that this body is you, this mind is you, you underestimate the value of yourself. You have got all the ancestors in you with their strength, with their experiences.
So when you are free from the notion of self, when you can see your body and mind as a stream of being, that all your ancestors, including the brightest, most brilliant and compassionate ones, are in you, you'll begin to treat your body and your mind with much more respect. You never commit an act of offense to your body, to your mind, to your consciousness.
Respect in daily life
At that time it's not difficult for you to show your respect to your elders in the sangha. I think in the west, there are still many ceremonies organized that give us an opportunity to bow before the spirit of our country, our people, our ancestors. When a person dies we come and share our concern, our love, so we observe minutes of silence. So that kind of desire to show respect, to show reverence, is always there, alive. When you salute the flag of your nation, and you stand very still and listen to the anthem, the national song, you are showing your respect for former generations of ancestors who have cleared the country, who have put a lot of energy and time into building this country for you to live in. That kind of awareness, that kind of recognition, that kind of gratitude is there in you. You cannot say that it is not. So thinking of our spiritual and blood ancestors who have done so much to make it possible for life to be easier and easier, we are inspired with that sort of gratitude, that sort of love. We should organize more opportunities like that for our children to express that kind of gratitude.
Like before we have lunch, we could spend one minute or two in order to breathe in and out and look at the food. And that food, that dish that is on the table in front of you, comes from a tradition of cooking. Many grandmothers, many mothers, have transmitted to us that recipe. When we look with that awareness, suddenly love and gratitude come.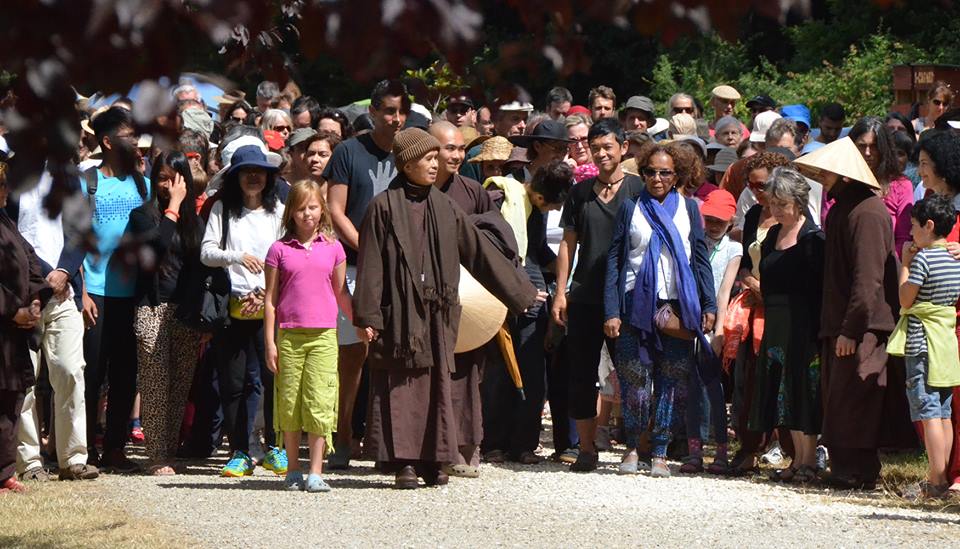 Respect in spiritual traditions
So in the spiritual tradition it's the same. There are many teachers who have spent time and energy to practice, to find out, to set up foundations for practice. If we are aware of that, suddenly our love, our respect will come naturally. And the big brothers, the big sisters who are still young, they belong to the category of ancestors. So when you show respect to him or to her, it's not only to him or to her, but to all the ancestors who have come before. That is why respect for elders is possible even though there are still a lot of shortcomings in the elder.

When I look at a young disciple, I look that way also. I don't look down on the young disciple. I can see in him or in her the presence of all our ancestors, and I have deep respect, I trust him, I trust her. And I can say that when I bow to him or to her, even if he or she is only fourteen or fifteen, I bow really with respect. Not because of his age, but because of the presence of all the ancestors and all the insight and experience of the ancestors in him or her. I really have trust. So, not only I bow to my elder with that attitude, but I bow to the younger generation equally with that kind of respect and gratitude. And because of that I don't suffer, I feel communication is easy.
So we have to learn deeply the content and not just imitate the form. The form is not enough. You touch the earth, you pay respect to someone. If you do it for the sake of the form it does not help much. So while you do that you go to the content. When I was a young monk, I did not like some people to bow in front of me, because I saw that my virtue, my merits are not big enough for someone to bow like that. But now I have changed, and I say we have to allow this person to make three deep bows. That is is his practice. His desire is to show respect to the three gems and I am a monastic, I represent the three gems. They are not bowing to my ego, to my self, they are bowing to the three jewels through me. That is why I sit very upright, I practice mindful breathing, I become aware that it is the three jewels they are bowing to, they are not bowing to my ego, so I remain free . During the time they make the three touchings of the earth they gain a lot of peace and merit and I also gain a lot of peace and merits and I cannot become a victim of pride, of arrogance, because I understand that practice.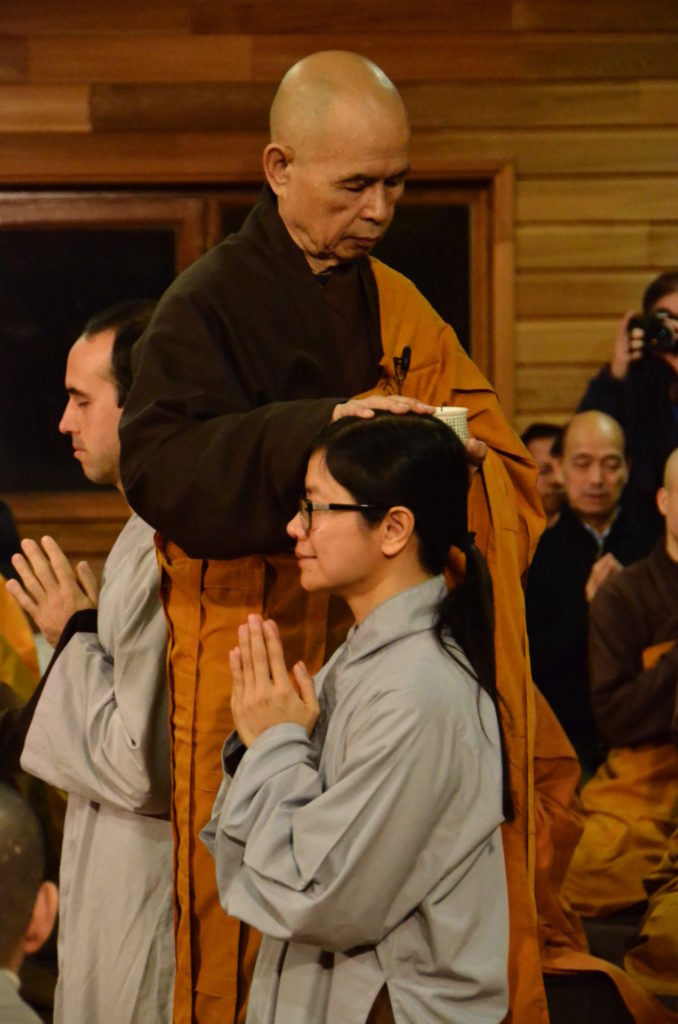 Every time I ordain a novice and they wear the monastic robe [for the first time], I always tell him or her right away: "When someone shows respect to you, you should not run away. You should remember that you represent the three jewels, that is why you have to sit very upright, breathing in and out, and allow them to have an opportunity to show their gratitude to the three jewels. Remember that they are not bowing before your ego, even if you are still weak, if you still have afflictions, never mind. They are not bowing to you, they are bowing to the three jewels and you represent them. So sit very quietly and practice breathing and see all the patriarchs standing behind you, they are bowing to them and not to you."
That is the kind of practice and teaching I gave. And when I go into a room and see all the people standing up or bowing like that, I see that as their practice, it does not have anything to do with me. And for me, I have to practice leisurely, mindfully, not disturbed by that kind of attitude at all. Both sides practice, and I do not become the victim of pride or arrogance.
Every time I transmit the Five Mindfulness Trainings to an audience of seven hundred, eight hundred or one thousand people, I see that they are receiving the transmission from the Buddha, from the patriarchs. I sit there and I am very free. That doesn't affect me, the respect of the people, the reverence of the people does not affect me at all. That is my practice. And I hope that the big brothers, the big sisters, the dharmacaryas (dharma teachers), they will practice like me also in order to remain free. That is a gift: humility, equanimity. So I think this can help with your question. Looking into the content and not being victim of the form.