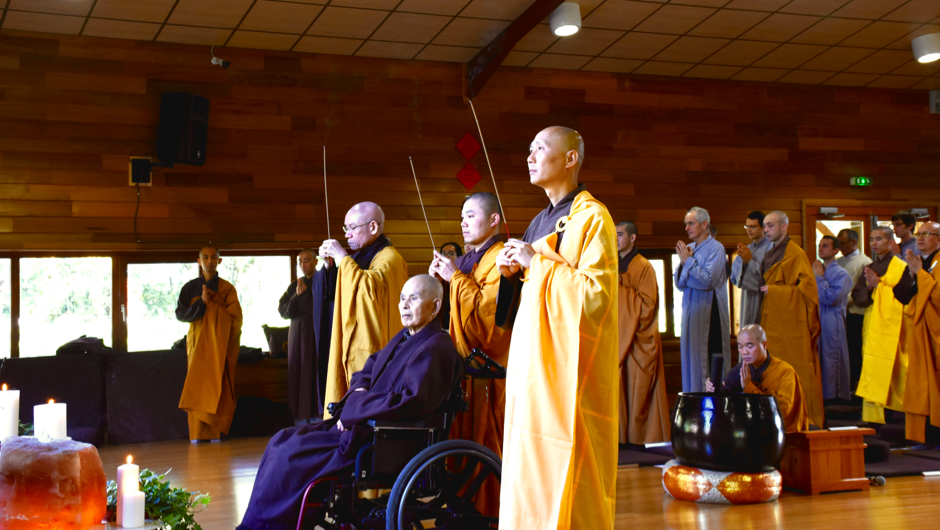 On the morning of Tuesday 15th November, Thich Nhat Hanh joined the fourfold community of Plum Village for a very special opening of our annual 90-day Winter Retreat.
After missing two years of Winter Retreat in a row, the sangha is delighted that Thay's health is now strong enough for him to offer his all-embracing compassionate, fearless presence to the whole community at this key moment of the year.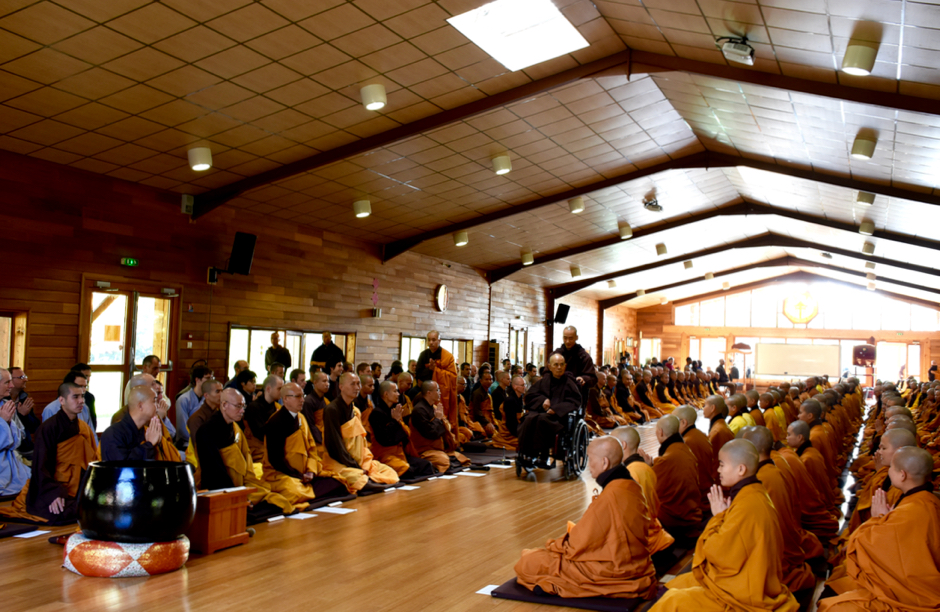 The ceremony is also known as the "Face to Face Ceremony," where we all present ourselves before one another in order to commit to "take refuge" spiritually, for the 90-day retreat. This year, there will be over 200 monks and nuns, and 100 lay practitioners residing together and practicing for the full 90 days, making it the biggest retreat of its kind in Europe.
First, Thay and the visiting venerables offered incense at the altar. In recent months Thay has often directed his attendants to lead his wheelchair to the altars in the meditation halls to offer incense. Every time, Thay's presence and concentration as he holds an incense stick is extremely powerful. Yesterday he was equally present and concentrated, offering incense on behalf of the whole community.
The community then chanted the New Heart Sutra, in full voice with the fish drum. This is the first time Thay has heard over 300 voices chant his new sutra set to music.
Then, the abbot and abbesses of the three Plum Village Hamlets came forward, as leaders of the community, to formally take refuge in Thay, touching the earth deeply.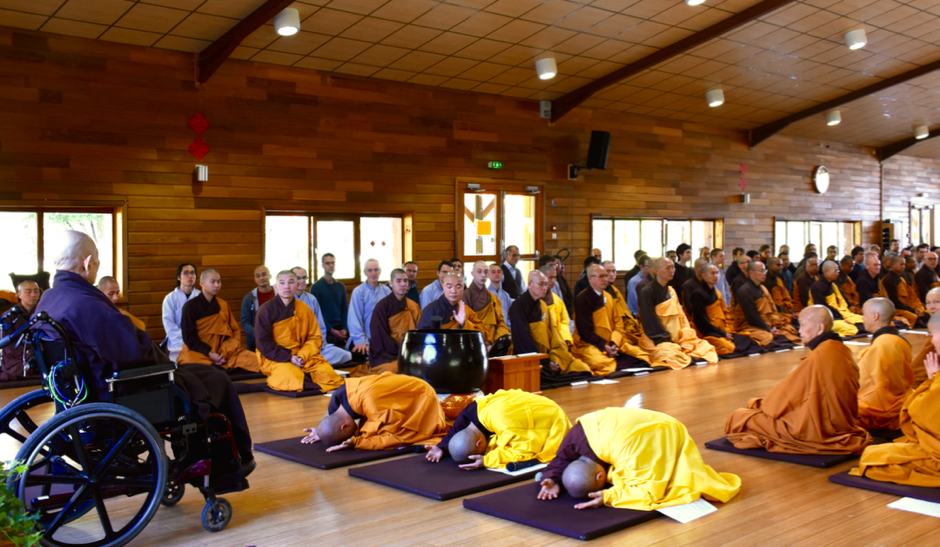 This was a very moving moment as both the Abbess of New Hamlet (Sister Dinh Nghiem) and the Abbot of Upper Hamlet (Brother Phap Huu) have also been absent from Plum Village for the past two winters, as they have been attending Thay through his recovery.
Each abbot and abbess expressed their gratitude to Thay for offering his presence and embodying his deep teaching that it is possible to live happily in the present moment, no matter what challenges we are facing. Knowing how precious it is to have Thay with us, is a great inspiration for the community's daily practice in this Winter Retreat. As Thay nodded approvingly, each abbot and abbess also expressed the aspiration of their hamlet to practice diligently, to nourish seeds of peace and compassion, and to take good care of each other as a spiritual family during these 90 days. We know it is thanks to the merit of our ancestors that we have such good fortune to be together in this way today.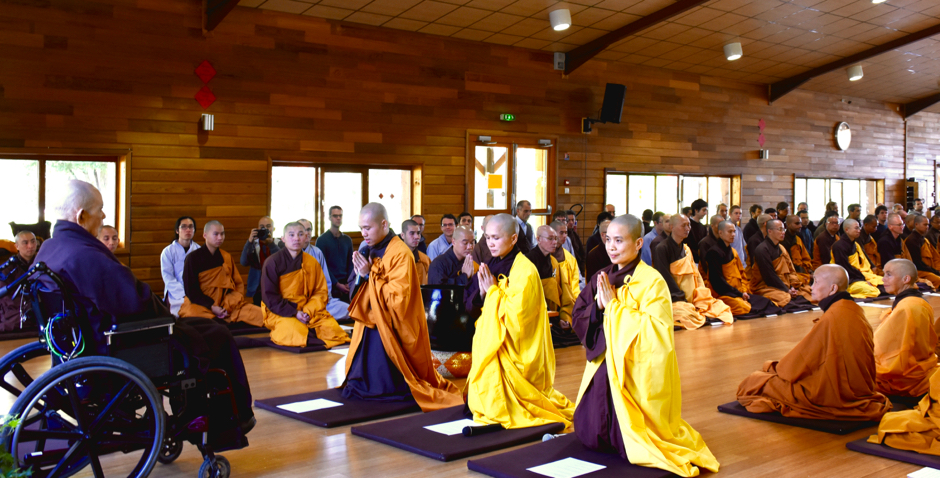 Then, the three "Elders" of each hamlet (Sister Chan Khong, Sister Jina and Thay Phap Ung) came forward alongside Thay to speak as elders on behalf of Thay, as Thay is not able to speak himself. Thay Phap Ung shared his deep appreciation that the monks' community is going from strength to strength, in harmony, and finding creative new ways to organise their life and practice. Son Ha ("The Temple at the Foot of the Mountain") has expanded to have 25 resident monks this Winter, and 12 new novices from around the world will be ordaining in December.
Sister Chan Khong shared that each one of us has the power to generate mindfulness and compassion in every moment of the day, and that we do so for ourselves and for the world. Sister Jina shared that each one of us can walk mindfully "In the Footsteps of Thay" (the theme of this year's retreat), generating compassion for each other, and for the Earth. Now, more than ever, we need to come back to ourselves to create a solid, calm, and stable refuge that others, who do not live in the monastery, can turn to. We generate clarity and stability for the whole world.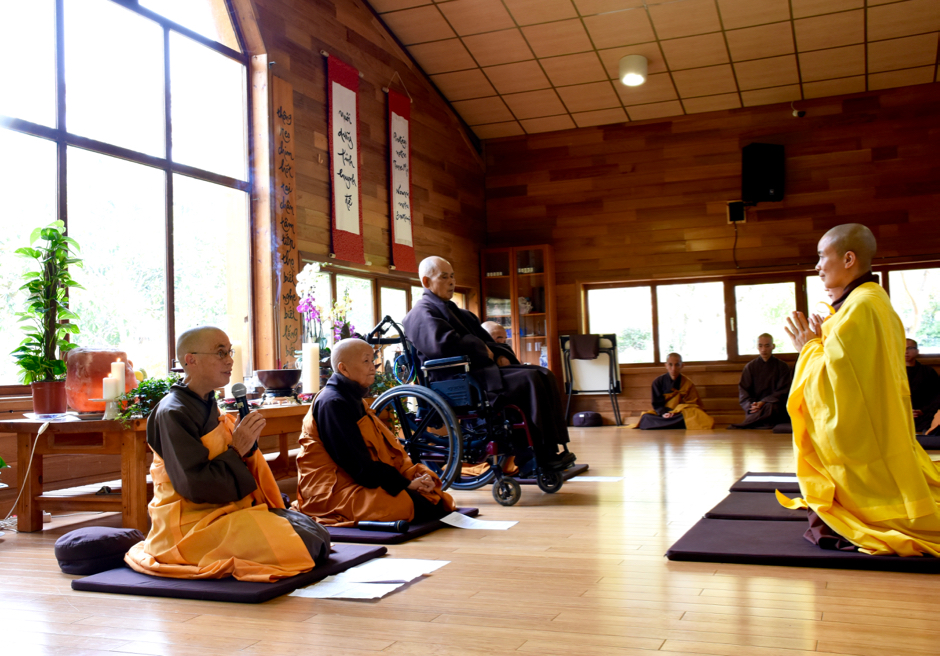 After this, the whole community then knelt up to formally take refuge in the Abbot and Abbesses, the Elders, and our dearly beloved teacher, Thay. This was a very moving and happy moment for our whole spiritual family, and for all the young men and women who are joining us this winter.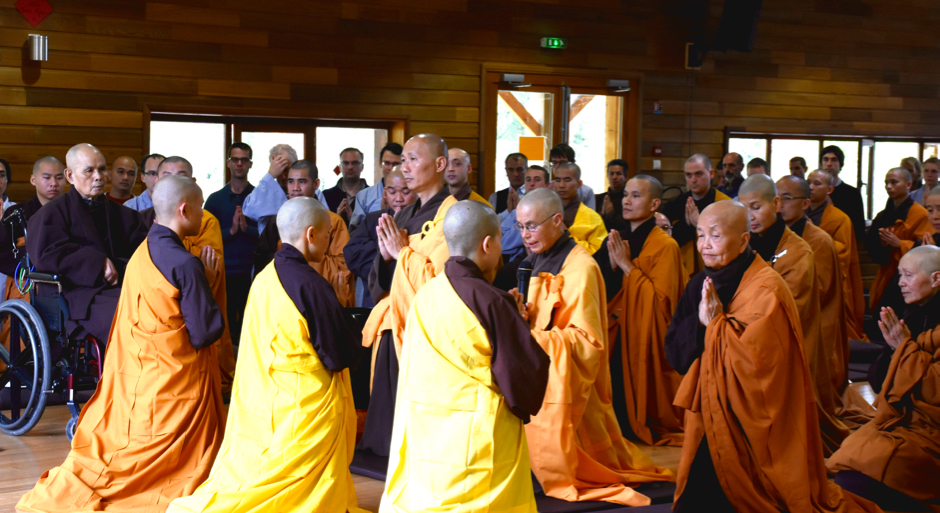 Then, everyone touched the earth. The community is taking refuge in the Abbot and Abbesses, and they are taking refuge in the community.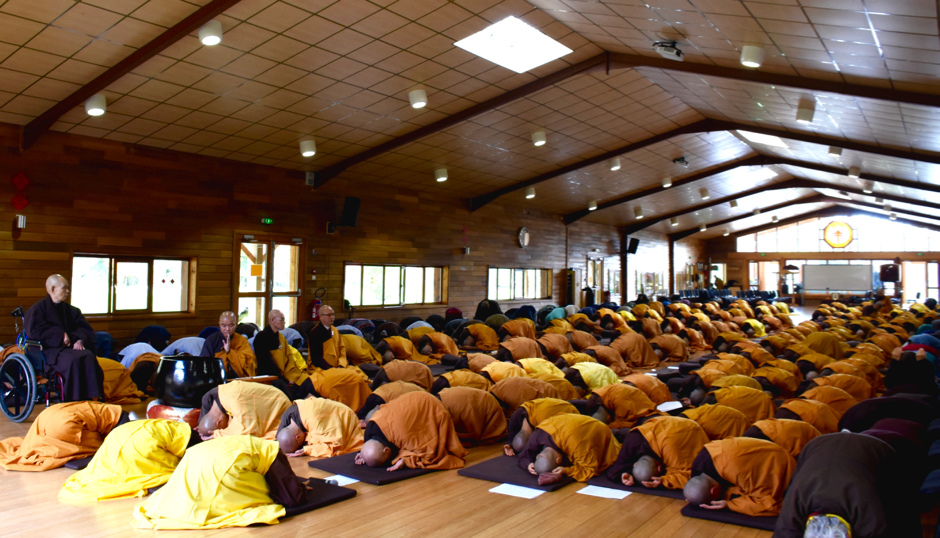 The ceremony closed with the offering of merit to our ancestors and all beings. We know that if our 90 days of practice in Plum Village can be successful and bear fruit, we will be able to offer those fruits of healing and transformation – our compassion, clarity and stability – to the world in the year to come.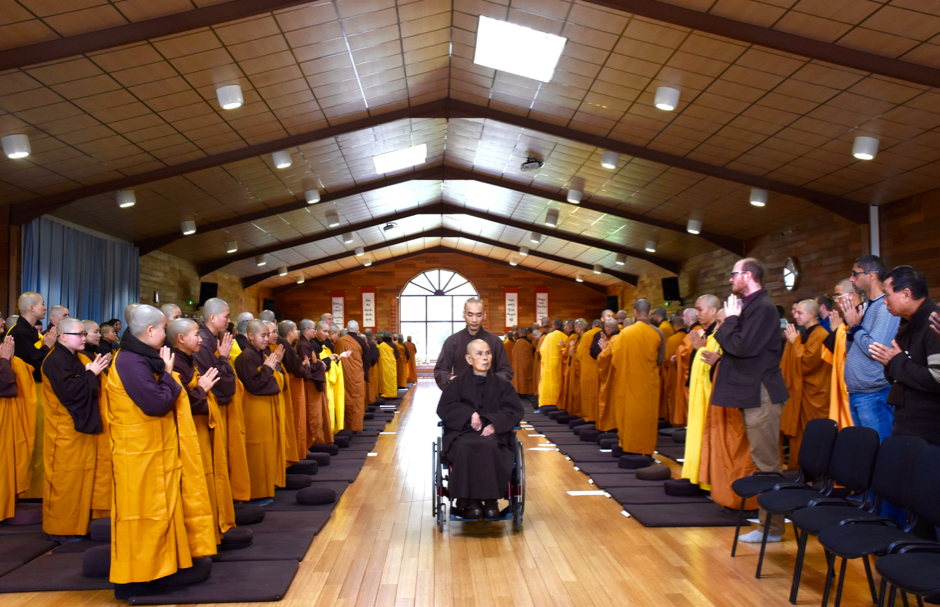 For the Winter Retreat 2016-17, "In the Footsteps of Thay," practicing in Plum Village there will be:
Upper Hamlet: 51 Bhikshus, 18 Novices (+ 12 to be ordained next month), 54 Lay men
Lower Hamlet: 55 Bhikshunis, 5 Siksamanas, 9 Novices, 23 Lay women and men
New Hamlet: 54 Bhikshunis, 7 Novices, 19 Lay women