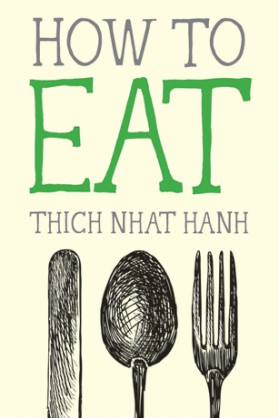 Available August 15, 2014 see details at Parallax.org
How to Eat is the second in a Parallax's series of how-to titles by Zen Master Thich Nhat Hanh that introduce beginners to and remind seasoned practitioners of the essentials of mindfulness practice. Pocket-sized, with bold black-and-white illustrations by Jason DeAntonis, How to Eat explains what it means to eat as a meditative practice and why eating mindfully is important. Specific instructions are followed by a collection of verses written for secular practitioners that help set a mindful intention for each activity connected with preparing, serving, eating, and cleaning up after meals.
The results of mindful eating are both global and personal. Eating a meal in mindfulness shows practitioners that the whole universe is supporting them. This awareness helps develop compassion and understanding, reminding practitioners that there are things they can do to help nourish people who are hungry and lonely. Encouraging moderation, mindful eating can lead to optimum health and body weight, while diminishing waste, and contributing to a more healthy society.
Scientific studies indicate that meditation contributes tremendously to well-being, general health, and longevity. How to Eat is perfect for those who want a comprehensive yet simple guide to eating as a meditative practice.