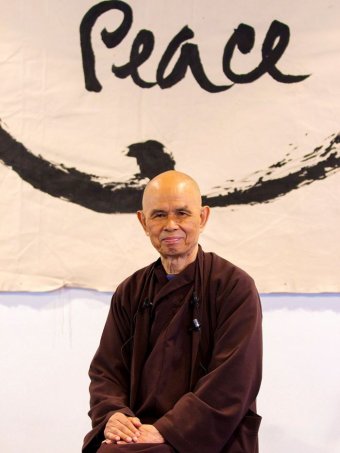 ABC | Earshot | Tuesday 31 March 2015
Presented by David Rutledge | Produced by Kerry Stewart
Running time: 53m 50s
Listen to the radio show online
Download  mp3
---
The extraordinary life of Thich Nhat Hanh
Vietnamese Zen monk Thich Nhat Hanh is one of the most important spiritual leaders of the last 100 years, drawing thousands of people to his talks and retreats in the US, Asia and Europe. His message of being peace rather than looking for it outside oneself is as relevant today was it was in the Vietnam of the 1960s and 1970s.
At a recent retreat at Plum Village, his monastery in France, he spoke with young Israelis and Palestinians about how they can help to stop the cycle of hatred and retribution by looking deeply and addressing the anger within.
Thich Nhat Hanh was born in 1926 and became a monk when he was 16. From a young age he believed that the way Buddhism was practised in Vietnam had lost touch with the people. He set his mind to renewing Buddhism, which he did by introducing mindfulness practice to his students, updating contorted translations of the sutras and chants, and engaging in social work.
In 1963, while the Vietnam War was raging he coined the term 'engaged Buddhism', which encouraged people to get off their meditation cushions and help others. He founded the School of Youth for Social Service, a group of 10,000 volunteers who worked in villages teaching young children, rebuilding bombed houses and helping farmers feed their families.
The group helped both communists and anti-communists, which didn't sit well with either side. Thich Nhat Hanh's life was threatened on many occasions and many monks, nuns and laypeople were killed.
Thich Nhat Hanh left Vietnam for the United States in 1966 to talk to political and religious leaders about stopping the war. However when the Paris Peace Accords were signed in 1973, he was barred from returning to his homeland. While in the US he met and became friends with three of the most important Christians of the time: Martin Luther King, Trappist monk Thomas Merton and Catholic priest and peace activist Daniel Berrigan.
King called him an Apostle of Peace, and nominated him for the Nobel Peace Prize in 1967. That year no one was awarded the prize. Shantum Seth, a teacher in the tradition of Thich Nhat Hanh, says that Martin Luther King was convinced to speak out about the Vietnam War after meeting Thich Nhat Hanh, even though King was criticised for combining civil rights issues with international politics.
Seth feels Thich Nhat Hanh has shifted the consciousness of this age, a bit like Gandhi did. 'As the Nobel committee often say, "We regret not giving the prize to Mahatma Gandhi," … I think they will also say, "We regret not giving it to Thich Nhat Hanh."'
Thomas Merton once said that the only way to be a good Christian now is to practise Buddhism. Others agree.
'We have lost the teachings about mindfulness, the present moment, universal compassion which are all right there in the Sermon on the Mount,' says friend, long-time peace activist and Catholic priest John Dear. 'Thich Nhat Hanh has taken that in so many deep ways and we Christians haven't.'
Father Daniel Berrigan was a founding member of the Plowshares Movement which famously trespassed onto a General Electric nuclear missile facility in Pennsylvania, damaged warheads and poured blood over files and documents.
Berrigan spent time with Thich Nhat Hanh at his monastery in France, and the pair had many long conversations about Jesus and Buddha, life and death, war and peace. These conversations are compiled in a book called The Raft is not the Shore.
Over the last 70 years, Thich Nhat Hanh has led events for US congressmen and women and parliamentarians in the UK, Ireland, and Thailand, as well as mindfulness workshops for the World Bank, the Harvard School of Medicine and Google.
The executive secretary of the UN Framework Convention on Climate Change, Christiana Figueres, has been on retreat with Thich Nhat Hanh and keeps his book Love Letter to the Earth close at hand. 'Real change will only happen when we fall in love with our planet,' writes Thich Nhat Hanh, a message Figueres has taken to heart.
'While on one level of our experience this is a complex problem, I see in my daily life that it is our awareness of this love that can actually be transformational,' she says. 'It can be the strength and power that transforms a conversation, a decision taken, and the awareness why we have to take these decisions.'
Father John Dear was talking to Thich Nhat Hanh one day about how many Christians are involved in, and believe in, war.
Thich Nhat Hanh revealed his despair that many Buddhists are also engaged in violent conflict. 'He is very practical, and trying to engage all Buddhists around the world, saying, "If you're Buddhist you really have to be non-violent. You cannot take up the gun when push comes to shove."
'That's not necessarily happening in Asia.'
Dear says that US Buddhists have the opposite problem; they are bourgeois and comfortable to the point of being disengaged.
'You can say you're practising mindfulness and being peace, but if you're not involved in the struggle, that's not engaged Buddhism.'