The Art of Zen
by Aree Chaisatien | Sunday, April 7, 2013
The Vietnamese Buddhist teacher brings his calligraphy to Bangkok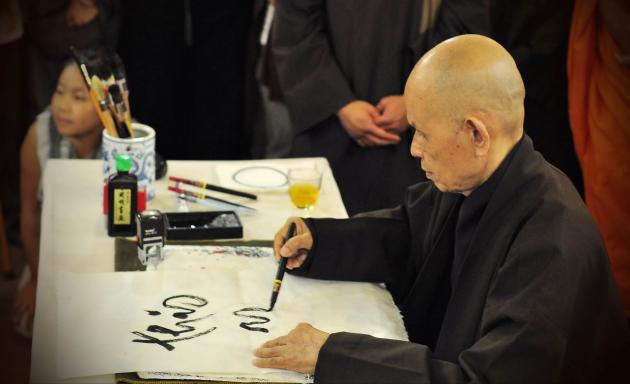 Putting mindfulness into everything we do, even the most simple acts, is the message at the heart of Zen master Thich Nhat Hanh's teaching. He advises us be mindful from the moment we wake up, while washing our hands, brushing our teeth, even when we're behind the wheel.
Now, through his calligraphy art exhibition in Bangkok, the master of mindful living is reminding us once again to live fully each and every moment and bring mindfulness to appreciating artworks.
As part of his Thailand tour this month, the monk and a group of his disciples turned out to the Bangkok Art and Cultural Centre on Wednesday evening for the opening of the exhibition Calligraphic Meditation: The Mindful Art of Thich Nhat Hanh".
"I always begin my calligraphy with a cup of tea. I mix some tea into the ink. In Zen tradition, tea keeps you awake and helps you meditate," says the Zen Master, now 87. While he draws the first half of a circle, he breathes in and while he finishes the second half of the circle, he practices breathing out. "My calligraphy contains mindfulness and tea," he smiles.
Drawing can be a tool for meditating on anatta or "no-self", he explains. "While I draw, I visualise the hands of my father, mother and ancestors, so that they are drawing the circle with me. I know that I cannot remove my father, my mother, my ancestors, my teachers and the Lord Buddha from my hands. There is no separate self."
Each of the monk's calligraphic works is in itself a topic of mediation, conveying his "down-to-earth practical Zen" messages for viewers to contemplate.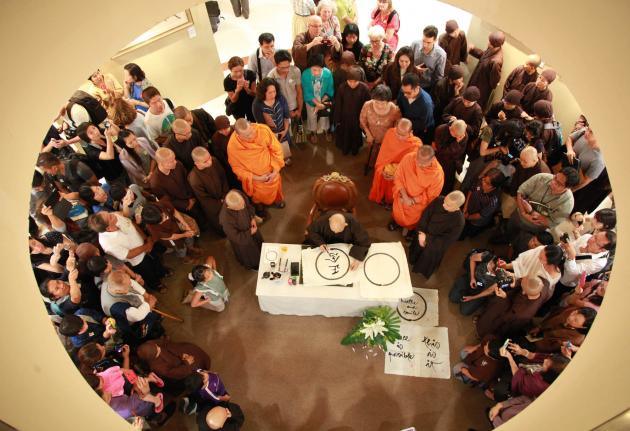 "When I write 'Be beautiful, be yourself'. I want to share my insight that to be really beautiful you do not need to be someone else. Like a lotus, you do not need to transform into a rose. You do not need to wear cosmetics to be beautiful. If you allow yourself to be who you really are, you are a flower in a garden of humanity.
"When I write, 'Happiness is now or never', I wish to share my insight that happiness can come right away. Just let go of suffering, anger, fear or even the notion of happiness. We think we need this and that to be happy but this idea is an obstacle to being happy. If you have the courage to let go of the notion of happiness, you will find that happiness is here and now."
"When I write, 'A cloud never dies', I wish to share my insight there is no birth, no death. If you touch the Mother Nature, you touch the nirvana of no birth and no death."
The Zen master also offers advice about how to appreciate his works. "The best way to look at the exhibition is to breathe in mindfully. You need only a few seconds to be fully present in the here and now. In understanding, there are seeds of joy, seeds of insight and seeds of enlightenment. If you allow the calligraphy to touch the seeds within, you can be awakened."
He suggests walking slowly around the exhibition. "Half an hour spent in the exhibition hall is half an hour of meditation. You can come out of the hall as new person," he notes.
Since his first exhibition, hosted by the University of Hong Kong in October 2010, the renowned author, teacher, peace activist and poet has put his own stamp on the world of Zen art. His works on rice paper sourced in Hong Kong and Vietnam are a fusion of East and West, written in a Roman script with an eastern essence. Traditionally, the Zen circle represents "Eternity" or "Emptiness". Thich Nhat Hanh's circles represent "inter-being", the English word he invented to express his core teaching.
He began calligraphy in 1994 for enjoyment, says Sister Dinh Nghiem from Plum Village. "His works are put on walls and beside staircases to remind students to practice. For example, the message 'Peace is every step' reminds us to go up and down mindfully."
"His students apply his calligraphy to daily life in many ways, such as through printed stickers and with the messages crafted on spoons," says Brother Phap Niem. "I put the 'I walk for you' sticker on the backs of my heels to remind me when I walk. Some followers have crafted messages like 'Do everything 100 per cent' on their spoons to remind them to be mindful while they eat."
In 2000, his calligraphy started to appear in the titles of books, songs and printed articles. Works reading "This is it", "I have arrived, I am home" and "Being peace" were framed and hung on the walls of his practice centres in Europe, America and Asia. Many are now collectors' items and sell for hundreds of dollars every year with the proceeds going to humanitarian projects in developing countries. The funds raised from the Bangkok exhibition will support the building of a large meditation hall at Thai Plum Village International Practice Centre in Pak Chong, Nakhon Ratchasima.
"If we just act with awareness and integrity, our art will flower. Artistic expression will take place in one way or another, but the being is essential. So we must go back to ourselves, and when we have joy and peace in ourselves, our creations of art will be quite natural, and they will serve the world in a positive way," he says.
---
BEAUTY IN BRUSHSTROKES
<< The "Calligraphic Meditation: The Mindful Art of Thich Nhat Hanh" is on display until April 12 at the Bangkok Art and Cultural Centre.
<< On Tuesday at 5pm, the Royal Paragon Grand Hall on the fifth floor of Siam Paragon is the venue for "Thich Nhat Hanh Public Talk: Together We Are One". To register, visit www.ThaiPlumVillage.org or call (082) 340 9801 (Thai) and (080) 441 7871 (English).
Read the full article on The Nation's website.