In this present time of global biodiversity, social and climate crises, how can love show us the way?
The mindfulness practices as taught by Zen Master Thich Nhat Hanh help us cultivate greater understanding, healing and transformation. They are a path of great love – one that does not demand anything in return, that expands us, that frees us from individual and collective fears, greed, and illusion. A kind of love that liberates us to engage in ways that can contribute to a better world for all.
For the first time, Plum Village is hosting a Global Earth Retreat that unfolds both on-site and online (both in Plum Village and in our center near Paris). We will learn mindfulness practices that help us cultivate happiness, love and freedom, and join in workshops and panels on the themes of spirituality & activism; social & racial justice; how to take care of our grief and "eco-anxiety"; among others. Together we will cultivate peace and the insight of Inter-being which can surely be the ground for a better future for all on Earth.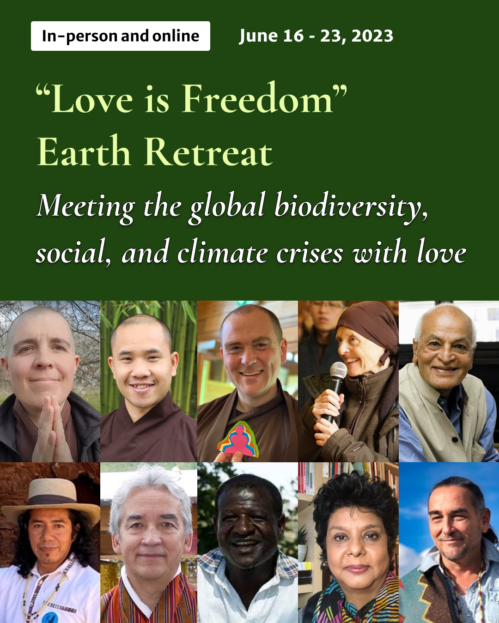 This Global Earth Retreat is open for all ages. The retreat will be mainly in English, with French and Spanish translations. Online Dharma sharings will be available in a few different languages.
Please note: The in-person retreat will be from June 16 – 23, 2023 (including arrival/ departure days). The online retreat will be from June 17 – 22, 2023. The registration for the online circle sharing will close on June 10.
For the online retreat we have carefully curated four adjusted schedules to cater to different time zones for your convenience: for Europe/ Africa, the Americas East and Americas West, and Asia/ Pacific. (Please click on your region to see the schedules of your time zone). Multiple price tiers and scholarships are available and you can follow the online retreat full or part time. Below you will find for more information about joining the retreat online.
In a number of cities and centers around the world local groups will gather to follow the retreat together in-person, see how to join in your region and how to join the onsite retreat in the Healing Spring monastery near Paris.
Go here to register for onsite and here to register for the online retreat.
---
Dharma Talks
Sister Chan Duc ("True Virtue"), Brother Phap Huu, Sr. Luc Nghiem and Br. Phap Linh are among the Dharma teachers who will offer talks during this retreat.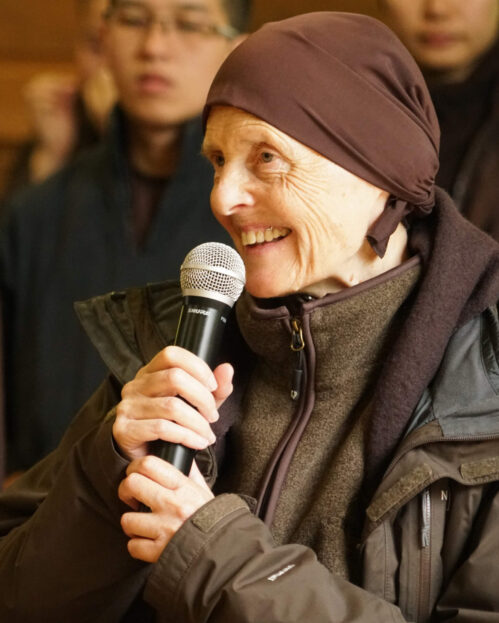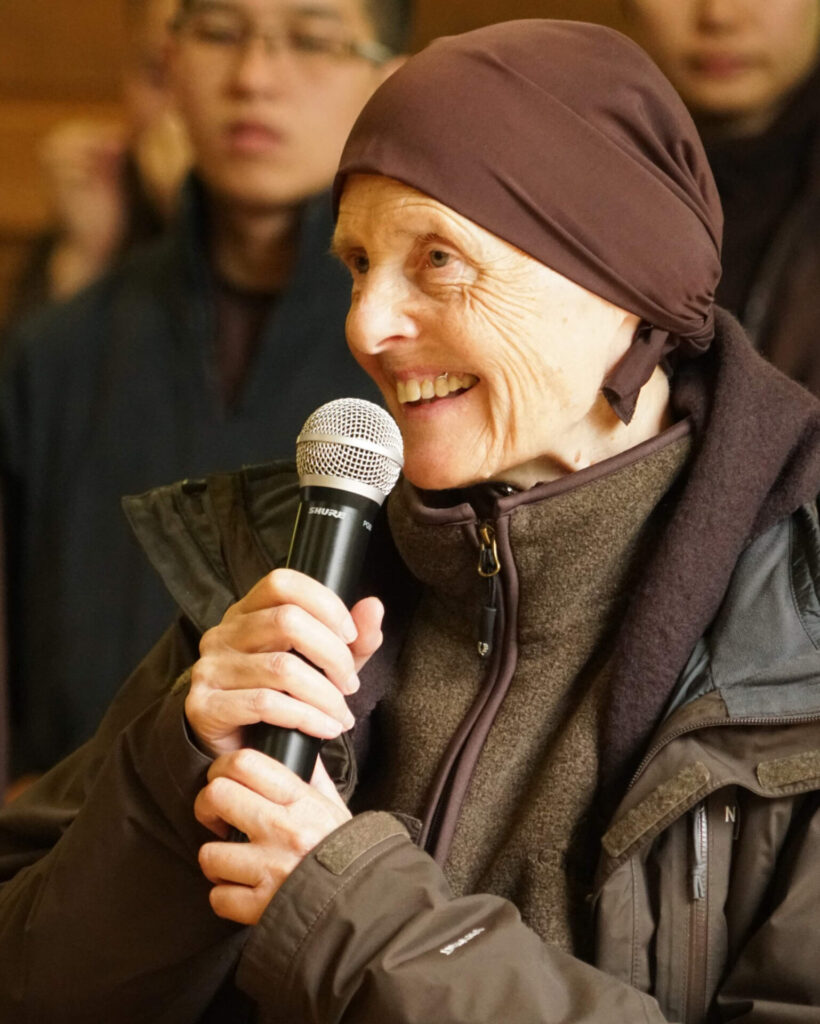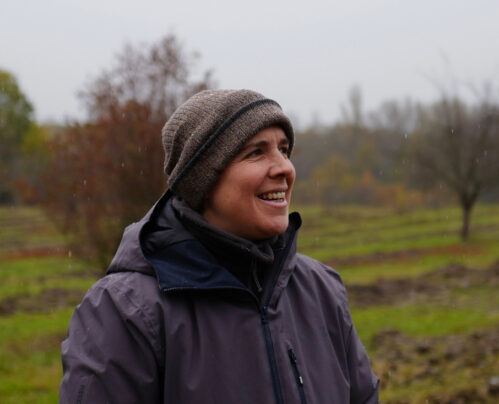 Special panel sharings & inter-faith solstice celebration
We are delighted that some special guests will join our Global Earth retreat:
Satish Kumar, Rehena Harilall, and Tho Ha Vinh will join us via zoom at panel sharings – for both onsite and online participants.
rehena Harilall (Dr.) celebrates African and Indian heritages. She grew up in the South African apartheid era and has been an activist in racial and social justice since childhood. Post democratic elections in South Africa she was active in various reconstruction and development projects, including the Truth and Reconciliation Commission. In 2019 she co-founded "Buddhists Across Traditions" (BaT), the only UK-based BIPoC/Global Majority-centered Buddhist collective uniting traditions towards racial healing, social equity, and justice. She is one of the co-founders of the Sprouting Humane Education for the Ecological Crisis (SHEE) collaboration, part of the EcoDharma network, an ally of Faith for the Climate and has spoken on several European panels and podcasts on Buddhism and ecological justice. She has articles published in the Mindfulness Bell and Lions Roar journals. She is currently supporting various re-pair projects in Southern Africa relating to the renewal of marginalized rural spaces most impacted by the legacy of colonialism and the ecological crisis.
Satish Kumar is an Indian British activist and speaker. He has been a Jain monk, nuclear disarmament advocate and pacifist. Now living in England, Satish is the founder of the Schumacher College international center for ecological studies. In 1962 he went on a peace walk of over 8,000 miles for two and a half years, from New Delhi to Moscow, Paris, London, and Washington, D.C.
Tho Ha Vinh is a lay Dharma teacher in the Plum Village Tradition. He was the Director of the Gross National Happiness Centre in Bhutan, and the Head of Learning and Development at the International Committee of the Red Cross (ICRC). He is the Founder of the Eurasia Learning Institute for Happiness and Wellbeing. He holds a PhD in Education and Psychology.
---
Ejna Fleury, Midahi Baptista, and Wolf Martinez will be present in Plum Village and offer an inter-spirituality solstice celebration.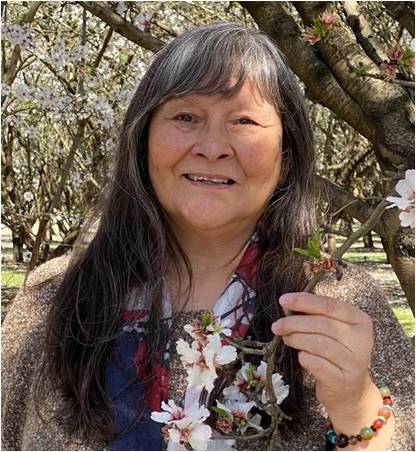 Ejna Fleury is an enrolled member of the Crow Creek Sioux Tribe, South Dakota, and is their first Tribal Peace Ambassador. She is a Mystic, Visionary & Ceremonialist. She is the co-founder of the Wounded Knee Global Ceremonies to heal the multi-generational and multi-lineal effects of massacre, holocaust, and war upon humanity, other species, and our beloved planetary home. Grandmother Ejna has been practicing meditation for more than 40 years and is a certified meditation teacher and spiritual counselor.
Mindahi Bastida (Otomí-Toltec) is Director of the Original Nations Program of the Fountain and until July 2020 was the Director of the Original Caretakers Program, Center for Earth Ethics, Union Theological Seminary in the City of New York (2017- ) and General Coordinator of the Otomi-Toltec Regional Council in Mexico, a caretaker of the philosophy and traditions of the Otomi-Toltec peoples, and has been an Otomi-Toltec Ritual Ceremony Officer since 1988. He is consultant with UNESCO around Sacred Sites and Biocultural issues and for other UN programs. He has written on the relation between the state and Indigenous Peoples, intercultural education, collective intellectual property rights and associated traditional knowledge, biocultural sacred sites, and other topics.
Wolf Martinez is a Third Gendered Ceremonialist of Diné, Ute, and Spanish decent who adopted in the Lakota way of Life. Wolf has practiced healing arts based in Indigenous and Oriental Traditions, Shiatsu, for over 30 years, incorporating mental, emotional, physical, and spiritual well being. Wolf has been a Ceremonial Leader for 25 years based in Native American Traditions. Inipi (Sweat Lodge), Hanbleceya (Vision Quest), Sacred Plant Ceremonies, Commitment Ceremonies, Clearings and so on, awakening us to an expanded awareness of the ever present Relationship with Nature, the Cosmos, the people, and our Self.
---
With the presence of Joshua Konkakoh and Cacique Paje Bane to share their wisdom.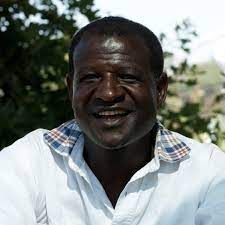 Joshua Konkakoh is an honoured African elder, indigenous wisdom keeper and experienced social change movement builder. He is the founder of 'Better World Cameroon', the 'Spirit of Ndanifor' and the 'Indigenous & Modern Project'. Joshua is internationally best known as the visionary behind BWC, his Eco-village permaculture projects, based on indigenous knowledge, and the "Spirit of Ndanifor', designed to be a youth-led, solution based Permaculture and Ecovillage Alliance on an international platform.
Cacique Paje Bane of the Huni Kuin Kaxinawa tribe, from Rio Jordao in Acre, Brazil is leaving his village in the Amazon for the first time to transmit the message of the forest, a call to live in harmony with the Earth. He shares his ancestral community values, connection to nature, humility – "I take care of the earth, and the earth takes care of me" and to learn from our cultures and traditions.
He founded his village of 149 inhabitants 17 years ago, and assumes his responsibility as "cacique" (chief village) and "paje" (healer). He takes care of everyone's needs (food, traditional care) and that their customs and traditions are preserved [Photo taken during a ceremony for singers to bring the quality of this special bird who can imitate many of the song birds]
Tailored workshops including:
For activists and with activists (from non-violent movements)
Deep relating (from Deep Adaptation Movement)
Mindfulness and self-care: a way to avoid burnout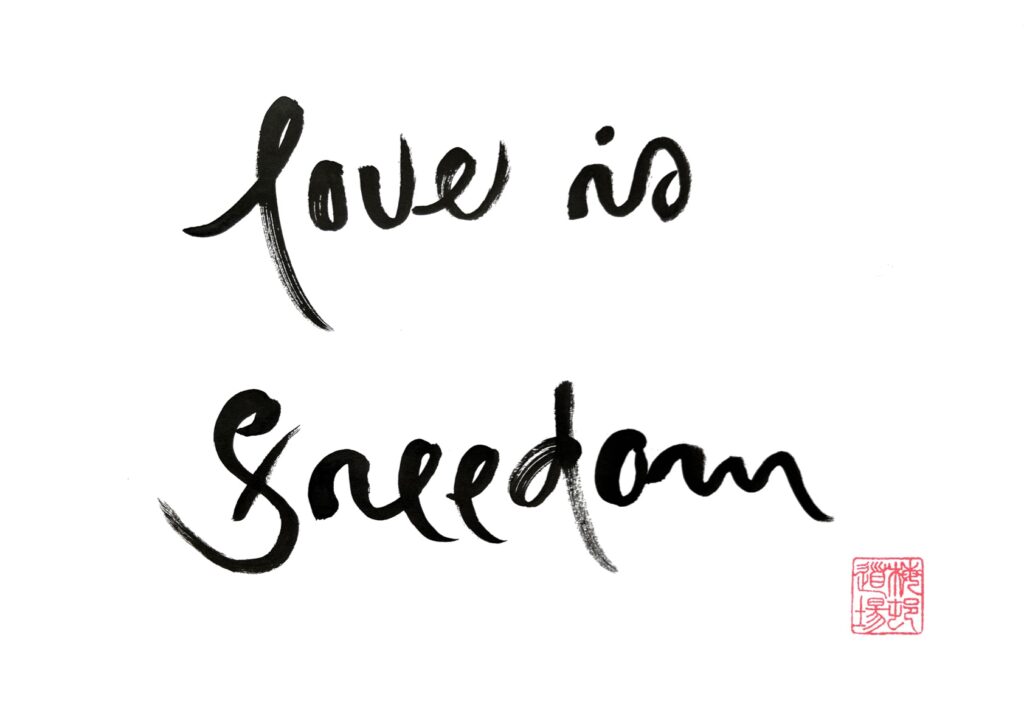 Register for onsite/ in-person retreat
To register for the onsite retreat in the Healing Spring monastery and Maison de l'Inspir near Paris, please go to this site.
** To register for couples, please fill in details of both people.
If there are no more spaces available here, you may like to consider joining the retreat in the Plum Village center near Paris – see more information here.
---
More information about joining us for the onsite/ in-person retreat
Online retreat
The online part of the retreat is being co-organized by the Earth Holder Community and Plum Village. Sessions such as the Dharma talks, sitting meditations, and some panel sharings will be livestreamed from Plum Village. Other events such as workshops and panel sharings, the affinity group meals, and deep relaxations will be facilitated by the Earth Holder Community. Because many monastics in Plum Village will be guiding the circle sharing groups on-site, the online circle sharings will mostly be facilitated by experienced lay practitioners (OI members and Dharma teachers).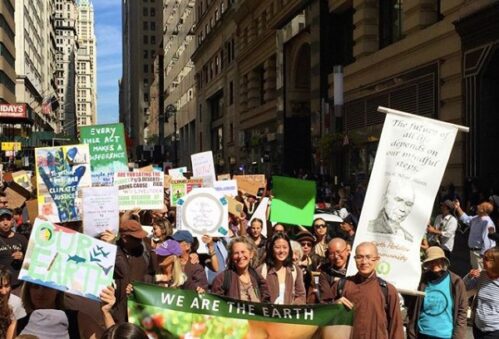 There will be a combination of live and recorded sessions. In some regions there will be a live MC while watching the talks given in Plum Village that day together with other participants. We have carefully created four adjusted schedules so that it flows well with your time zone. Please click on your region to see the schedules of your time zone: Europe/ Africa, the Americas East and Americas West, and Asia/ Pacific.
We would like to make this retreat as inclusive and available as possible, so that many friends from around the world can join and connect with the powerful energy of the global Sangha. We therefore provide multiple price tiers to support students and those without a regular income. Scholarships will also be available .
Please note: The in-person retreat will be from June 16 – 23, 2023 (including arrival/ departure days). The online retreat will be from June 17 – 22, 2023. The registration for the online circle sharing will close on June 10. After that you can still register for the online retreat, but not for the circle/Dharma sharing.
What's an "online" retreat like?
Register for the online retreat from June 17 – 22
Please be aware that there are two parts to complete the registration process:
The first part consists of three short steps:

1. Choosing your contribution
2. Making the payment
The last step of part 1: Creating an user account (name and password)

The second part: Filling out the Registration Form Part 2 (further important information like your time zone, language, and your circle sharing preference).
This will only take a few minutes.
You need to complete both parts in order to register. Only after you have clicked "Submit", will your registration be complete and successful.
This online retreat and its content will be hosted at the online retreat platform of the Earth Holder Community (EHC). Please note: The registration for the online circle sharing will close on June 10. After that you can still register for the online retreat, but not for the circle/ Dharma sharing part of it.
We do not want the financial aspect to keep you from participating. As retreat organizers, we are committed to equity and ensuring that our offerings on Earth & Social Justice are accessible to retreatants from all around the world. We therefore provide multiple price tiers and partial and full scholarships to support students, those without regular income, and friends from across the global South. Financial contributions will help to sustain the activities and offerings of Plum Village and the Earth Holder Communities.
If you are not familiar with English, please use the translation function of your browser (e. g. Chrome, Edge, Firefox).
如果你不懂英语,请使用你的浏览器的翻译功能 (Chrome, Edge, Firefox)。
Please send an email to retreats@earthholder.org if you have any questions.
Onsite retreat in HSM and MdI near Paris
The Global Earth retreat will also take place in our centers Healing Spring monastery and Maison de l'Inspir near Paris. The retreat will be in English and French. Most activities will be live onsite (sitting, walking meditations, Dharma sharing, onsite workshops). The Dharma talks and panel sharings will be livestreamed from Plum Village. The brothers and sisters of Healing Spring in Verdelot and Maison de l'Inspir are happy to welcome you and practice with you during this special retreat. Reductions are available upon request. Please click here for more information and to register.
Join the retreat with practitioners in your region
We encourage local Sanghas/ groups and friends to join the online retreat together with your local group. In a number of cities and practice centers around the world local Sanghas will participate in the retreat together (e.g. in Morning Sun Practice Center in NH, US; Healing Spring near Paris, Berlin, Singapore, Hongkong, Geneva, and other places).
By following the online retreat together, practicing sitting, walking, watching the Dharma talks and having Dharma sharing sessions with practitioners from your area, you will benefit from the siblinghood and the collective energy of the Sangha while following the retreat of Plum Village. Please see this site for more detailed information about where local Sanghas will gather. If you are hosting a local gathering and would like people in your area to find out about it on that page, please fill in this short form.
You can also join the retreat with two or three friends or family members from your home. There are special group rates at the online registration.
More information about the Earth Holders communities :
Questions about the program
---
Questions about tech issues
---
Questions about registration