by Kaira Jewel Lingo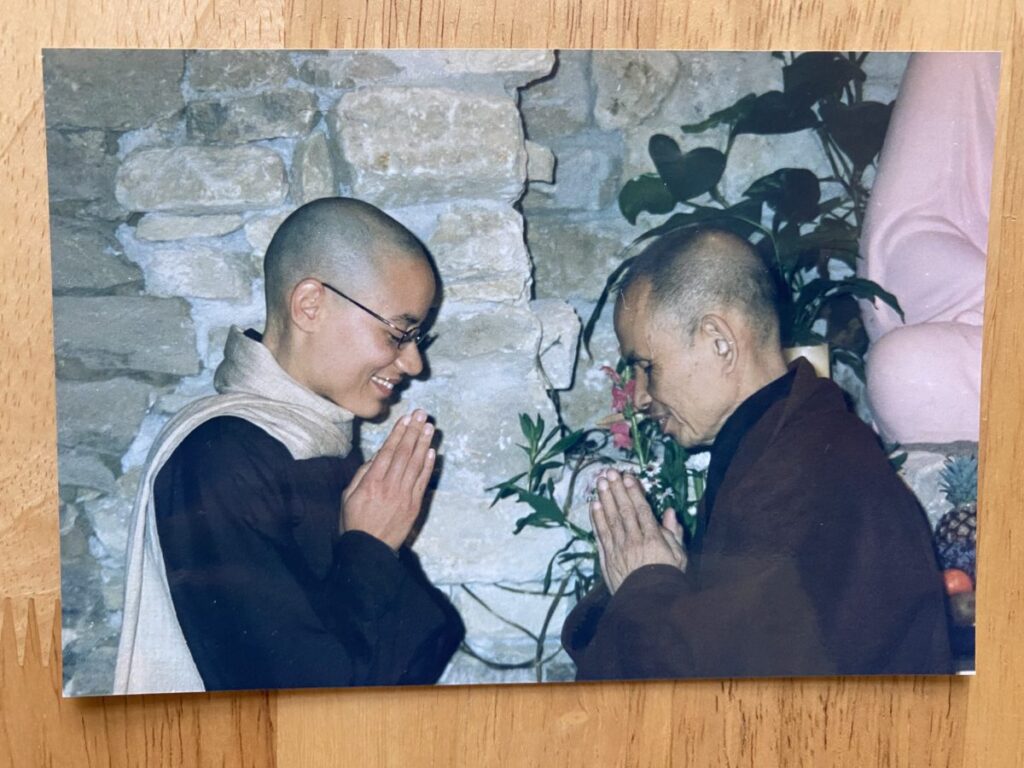 I was the first Black monastic in the Plum Village tradition, and it was Thay's inclusiveness, especially of Black, Indigenous, and People of Color, that helped me see how I could actually live Engaged Buddhism.
I remember when a group of us, including Dharma teacher Larry Ward, approached Thay in 2003, asking him to teach a retreat for People of Color. Right away Thay pointed to his own skin and said, "I am also a Person of Color," and agreed to offer the retreat, which was held at Deer Park Monastery in 2004. We were so happy and amazed when some four hundred people signed up for this first-ever POC retreat in our tradition! Thay asked me to edit his talks from the POC retreats into a book, and also insisted that both Larry Ward and I, as key organizers of these retreats, have our own chapters in this book, which came out in 2010, titled Together We Are One: Honoring Our Diversity, Celebrating Our Connection.
Another time, as a novice nun in rural southwest France, I wrote a letter to Thay sharing that I didn't quite know what to do when I found myself so delighted to see the few other Black people that would come to the monastery. I felt self-conscious about approaching them because they were Black and also worried that my reaction was somehow not equanimous enough. A few days later, Thay was visiting our nuns' hamlet and all of us sisters were having tea with him in his room, discussing what color to repaint the meditation hall. He looked straight at me and exclaimed, "Black is beautiful!" We all laughed. It was a powerful and direct teaching of a Zen master, allowing me to break through my self-imposed obstacles and hang-ups and simply love those who were in my presence with freedom and confidence.
If you enjoyed this excerpt, you can read the full article by Kaira Jewel Lingo titled 'Reflections on Thay' published in the special 'Thich Nhat Hanh Memorial Issue' (no. 89) of the Mindfulness Bell.