On November 5th in the Still Water Meditation of Dharma Cloud Temple (Plum Village France), a group of ten young men and women shed their hair to become novice monks and nuns. They knelt down in front of the monastic sangha to receive the 10 Novice Precepts, witnessed by the wider community and their family and friends.
This "Daffodil Family" of three novice nuns and seven novice monks have been living and practicing as "aspirants" in Plum Village France. During this time, they learned and trained in the daily practices of mindfulness such as sitting meditation, walking meditation, and working in mindfulness. It was also a time for them to ask deeply the question – What is my path in life?
At the ordination, the novices formally committed to a life of simplicity and humility, of cultivating inner peace through mindfulness practices, and sharing the fruit of practice with others.
The new novices received their alms bowl – acknowledging the symbiotic relationship of monastics with lay supporters, one sanghati robe – a connection to the saffron robes of the Buddha's time, and their Dharma name – reflecting their aspiration and the encouragement of the community for their path of practice.
Their Dharma names, in the order of ordination are:
Sister Chân Đôn Hạnh – Sister True Kind Action
Brother Chân Nhất Vân – Brother True Cloud of Oness
Brother Chân Nhất Vũ – Brother True Rain of Oneness
Brother Chân Nhất Thanh – Brother True Clarity of Oneness
Brother Chân Nhất Lương – Brother True Refreshing Oneness
Sister Chân Diệu Hạnh – Sister True Wondrous Action
Sister Chân Đăng Hạnh – Sister True Radiant Action
Brother Chân Nhất Nguyên – Brother True Source of Oneness
Brother Chân Nhất Mộc – Brother True Tree of Oneness
Brother Chân Nhất Xuân – Brother True Spring of Oneness
Please enjoy these moments from the ordination day.
---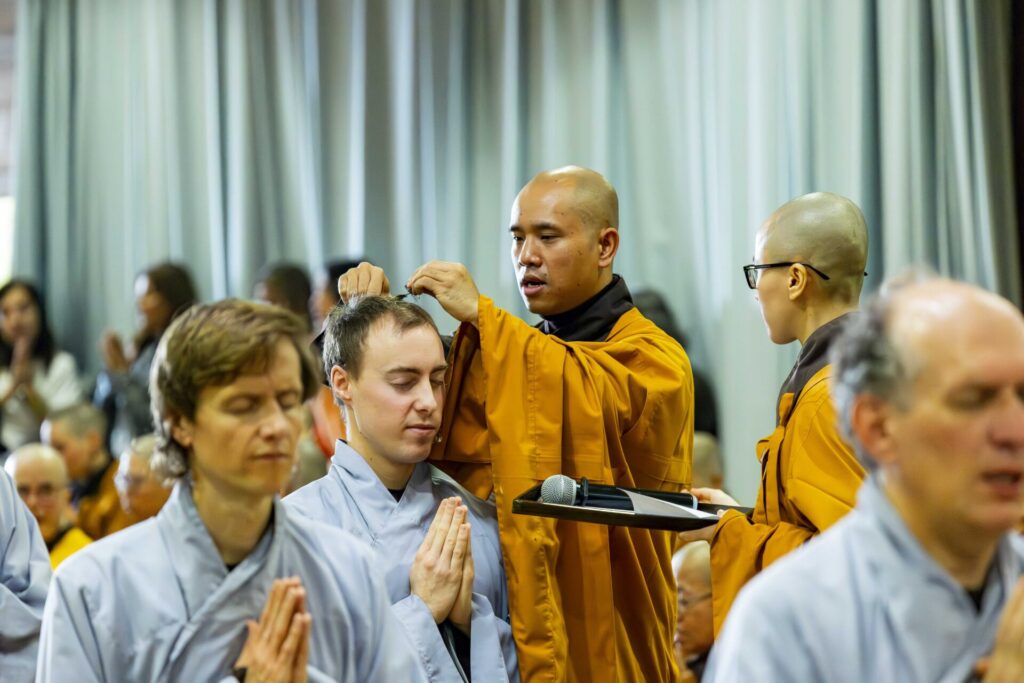 Shedding my hair today
I make the great vow
To transform all my afflictions
And bring happiness to the world
How wonderful this robe
A precious field of all good seeds
I bow my head today
And vow to receive it lifetime after lifetime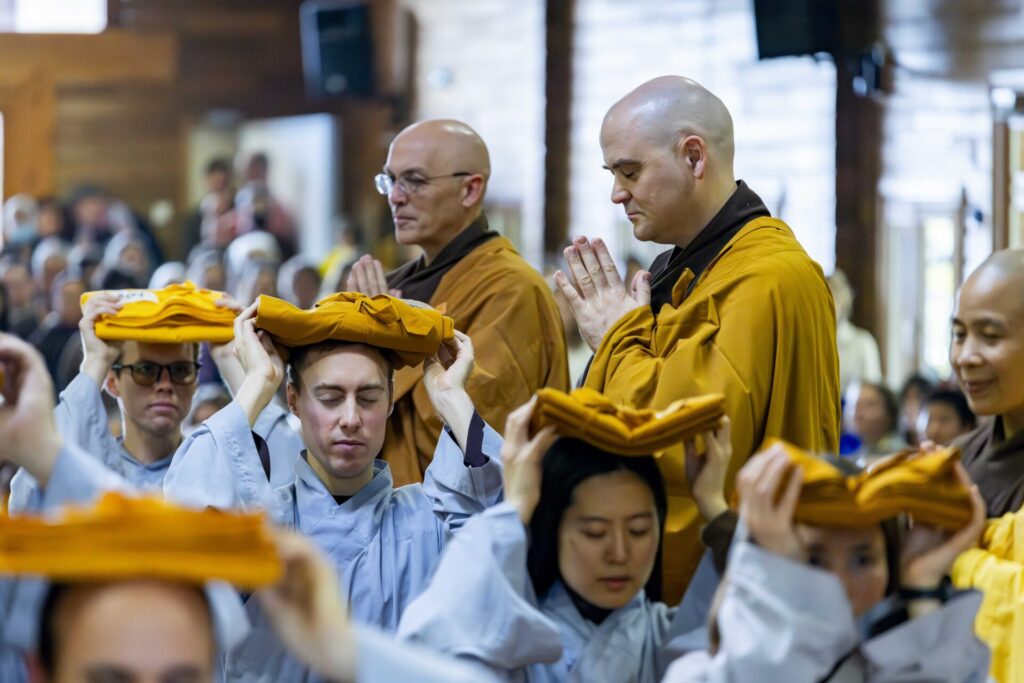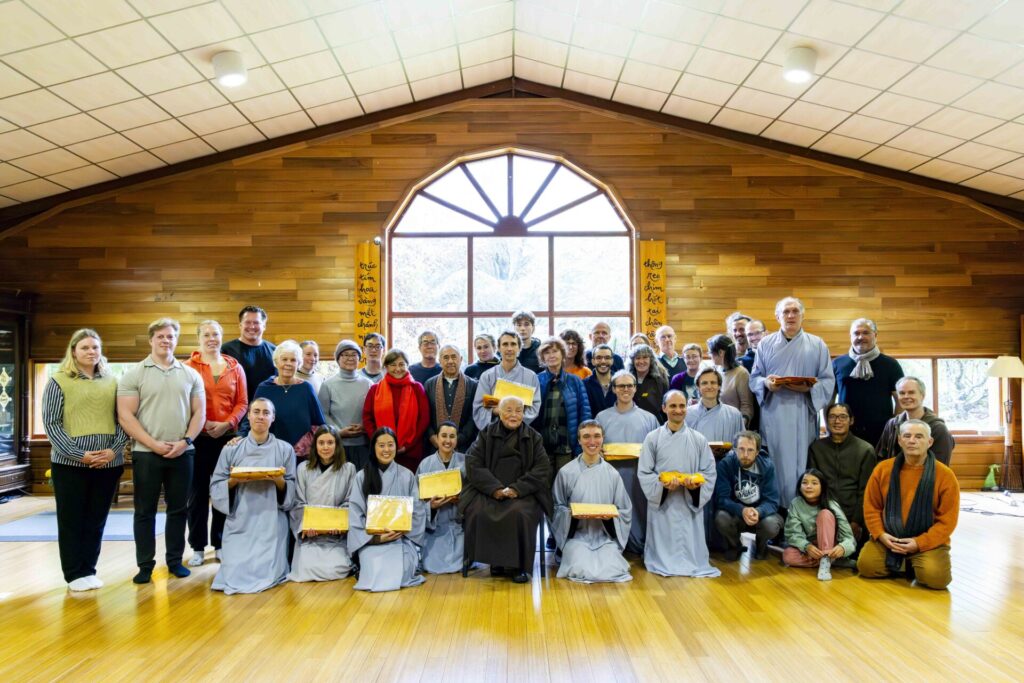 In deep gratitude to the understanding and
love of our family and friends,
who support us in walking
a path of simplicity and beauty.
I am deeply touched by my son's choice to make peace in oneself, which will allow peace in the world.

Isabel, mother of Br. True Spring of Oneness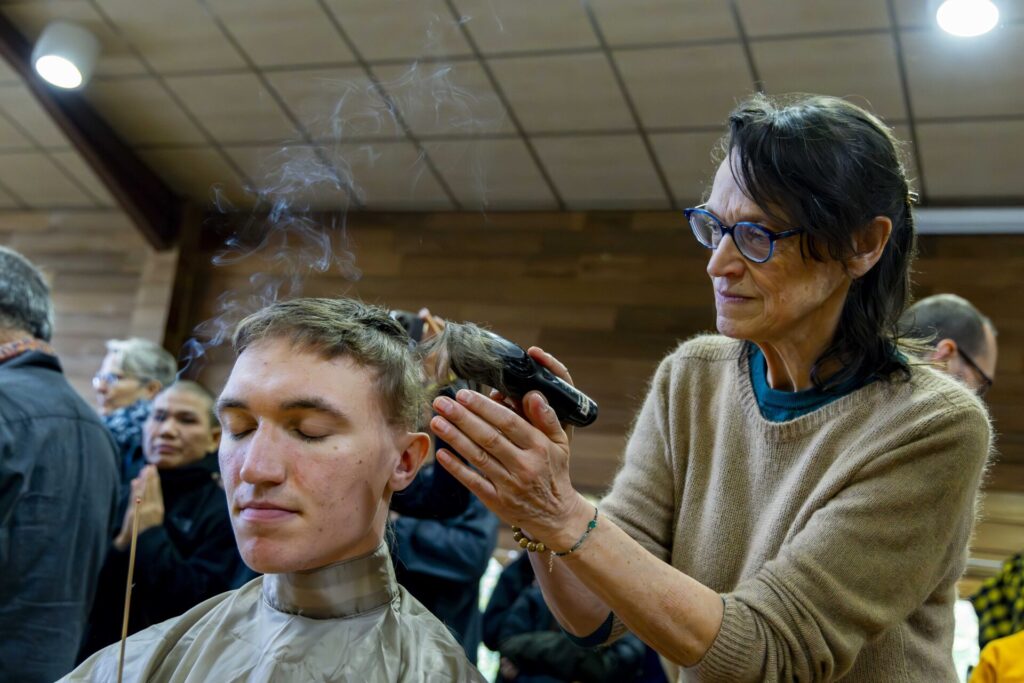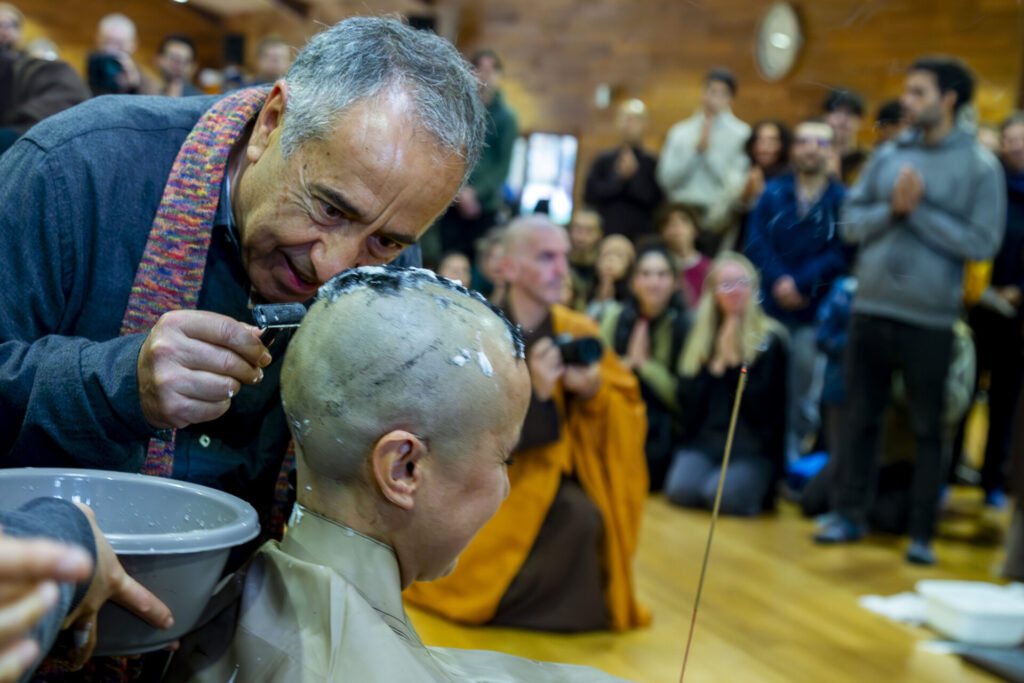 I see that my daughter is a continuation of my mother, who brought up 10 children on a very humble income and she never complained about anything.

Father of Sr. True Kind Action
I am happy that through her inner search for calm and understanding, she can contribute her action to heal a bit of the suffering in the world.

Sister of Sr. True Wondrous Action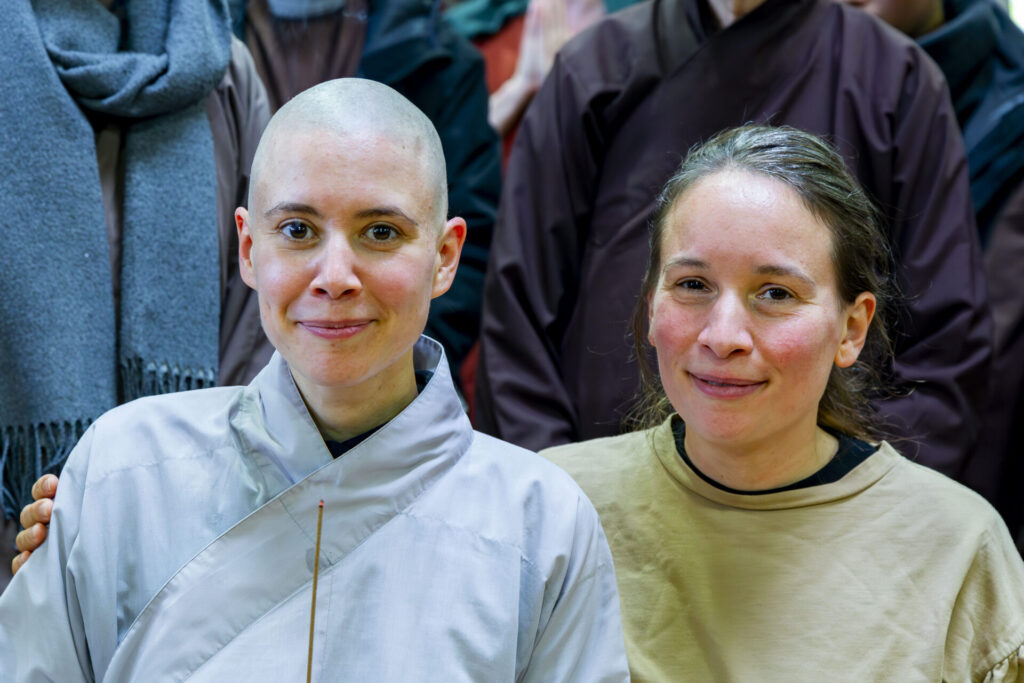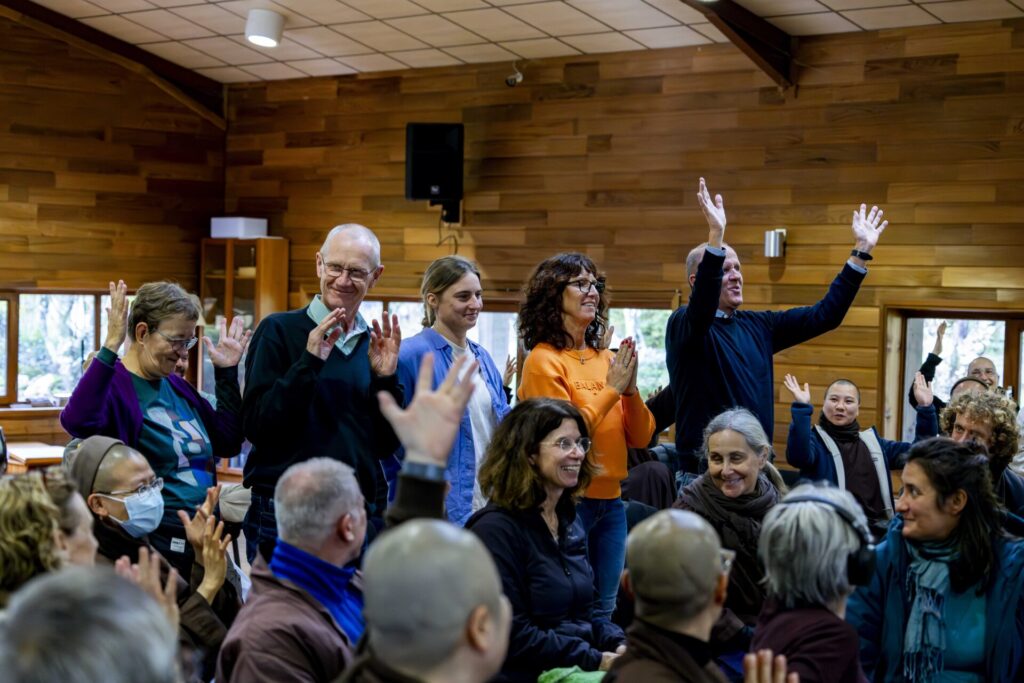 Today, I feel he is at home.
He has always been a seeker.
Now he has landed.

Father of Br. True Tree of Oneness
Welcome to the Brown Family!
Enjoy being the new baby of the family!

– "Transmission of the kookaburra" from Sr. Chân Xuân Hạnh ("True Spring of Action"), the youngest novice of the previous ordination family, to Br. Chân Nhất Xuân
("True Spring of Oneness).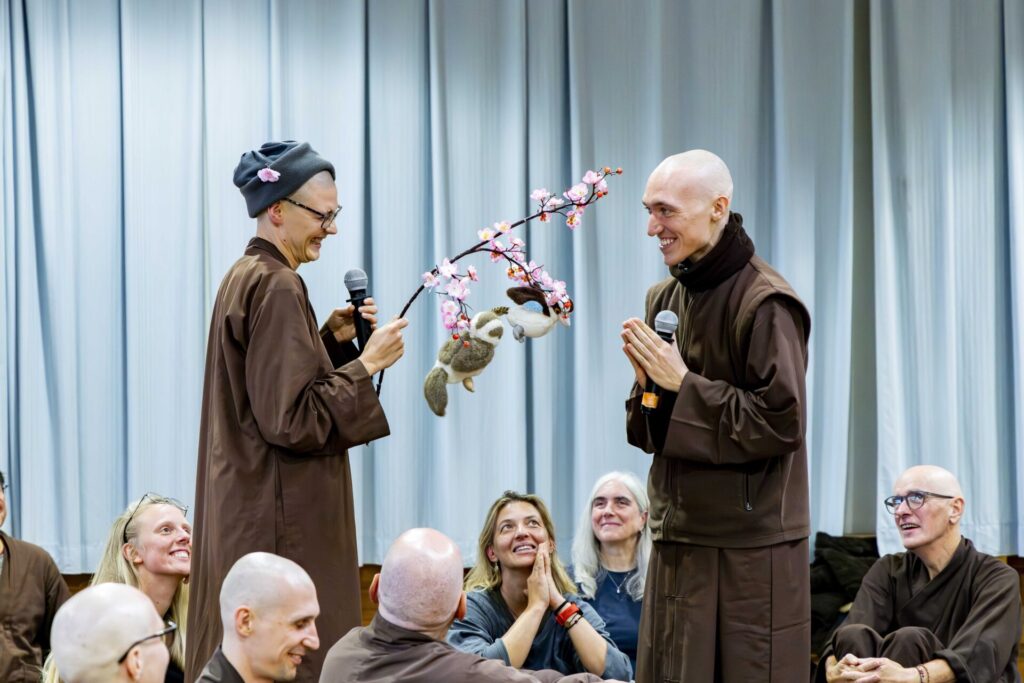 ---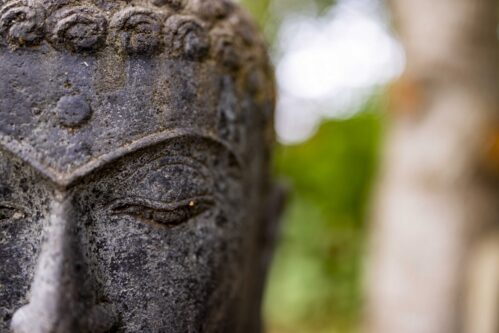 ---
Learn more