Students of our teacher Thich Nhat Hanh were invited to express their gratitude to him on his 94th continuation day (birthday). Many, many thanks to you to all who wrote in and offered their gift to Thay. Below is a selection of heartfelt sharings that we have received in the past weeks, stories of transformation, reconciliation and journeys out of sadness and despair.
There were many, many more incredibly beautiful sharings we could not include in this post, but we hope to post them later. You can find them all here.
As well as enjoying these message, on Thay's continuation day you can:
Meeting Thay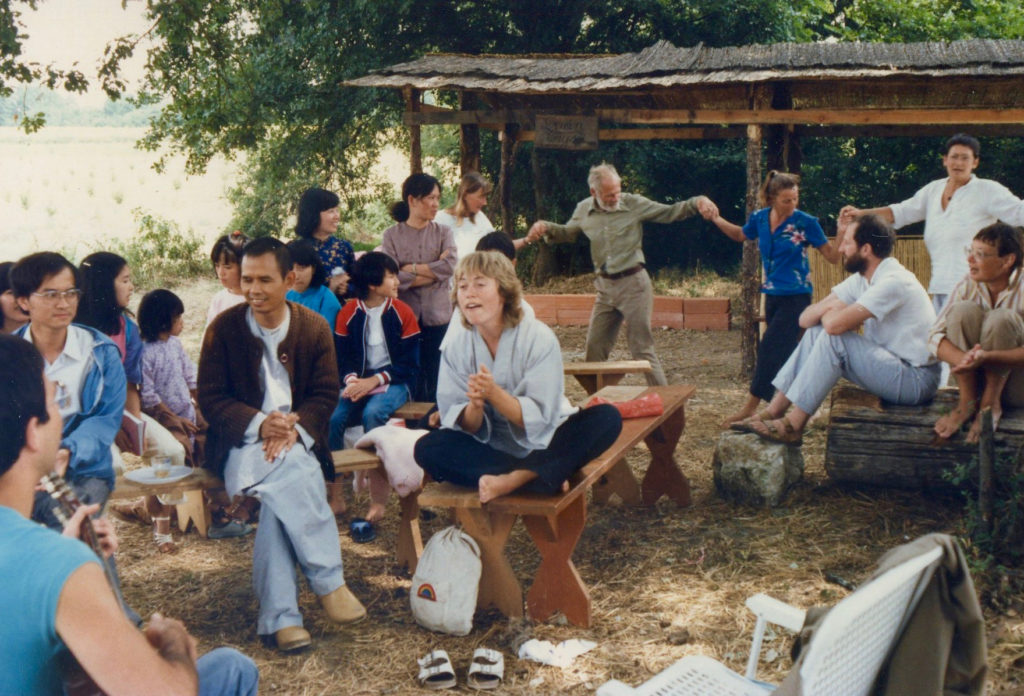 I want to thank Thây for letting me work one summer on his project finding Western sponsors for Vietnamese orphans when I was an unruly gawky teenager and he was not quite a celebrity yet. He was a patient and generous mentor and I still have wonderful memories from that time and, Thây, I still cook rice very simply in the manner we discussed back then. Anne
---
Dear beloved Thay,
I remember with lots of joy the first time I had the blessing to be at one of your retreats in the UK, at Nottingham University in 2012. One day during the walking meditation while you were sitting with some children, some of us standing around you and some still walking to reach the group, it started raining. With your gentleness you stood up, your assistant opened an umbrella and you started jogging lightly and peacefully like a deer and you said to us: " Now we are doing jogging meditation". I felt your Joy and love in my heart and still today that moment makes me smile and I feel nourished. When I practice walking meditation and my mind wanders I think about you, your peaceful slow walking and I imagine we are walking together, this helps me to go back to my feet, Mother Earth and your presence.
May you have a very Happy Continuation Day !!!
In gratitude.
Barbara
---
My Beloved Teacher, Thirteenth-century poet Jalāl ad-Dīn Muhammad Rūmī once wrote, "If you only say one prayer a day, make it 'Thank You.' On your 94th continuation day in this body, I and my family offer your this prayer of gratitude—for your wisdom and for your presence in our lives.
My husband and I discovered you in the early 2000's. Having moved from South Carolina to the northeast, I and my husband, who is an Iranian immigrant and a Muslim, desired to give our children the opportunity to grow up in a part of the country we believed would be more amenable to our bi-cultural family. Then the tragic 9/11 attacks occurred, throwing our lives and those of the entire nation into absolute uncertainty and fear. My husband eventually lost his job and I found myself in a very deep and dark depression.
A year or so later—anxious for a change of scenery and desperate to get out of the house for a few hours—my husband took me to Providence, RI. He told me that a renowned Buddhist monk and his monastics were hosting a "picnic of sorts" in the park, after which there would be a talk. "We don't HAVE to stay for the talk," my husband said, "but I think that a picnic in the park sounds great, don't you?" Reluctantly I agreed. I will admit that I knew nothing of you at this time, nor was I familiar with the practice. Thus, when we found our spot in the park and set down our blanket, we simply began eating, confused as to why no one else was, and marveling at the quiet, despite there being hundreds of people.
After a good while, you and your attendants arrived. You sat down no more than fifteen feet away from me and as you sat, you turned to us and smiled. One of your attendants poured you a cup of tea, which you brought to your lips and sipped slowly…mindfully…peacefully. I was captivated. As you began to eat, so too did everyone around us. Though I wasn't entirely sure why, I found myself suddenly taking my time chewing what was left of my meal. Those last bites were delightful!
Following lunch, we participated in walking meditation—800 or so human beings walking in silent unison along the banks of the man-made lake—with you in the lead. We followed you to the conference center. Though I cannot tell you exactly what you said, I remember that you spent a lot of time talking about Americans' interbeing with the terrorists. I remember you saying that in the same way that a flower is made of 'non-flower elements', a terrorist is made of 'non-terrorist elements'. Truly, for the first time in months, I felt at peace. I bought your book Peace is Every Step, beginning a beautiful journey that has taken me down paths I could never have imagined.
My children spent their weekends and summers at Blue Cliff Monastery; the children my girls played with…sang with…walked with…roomed with are to this day their closest confidantes. When my youngest had a bad week at school or trouble with friends, she would beg me to take her to Blue Cliff where she could "be free for a while" and "see her friends." When my oldest child was diagnosed with brain tumors and developed anorexia as a result of the stress, it was Sister Dang Nghiem who spent hours with her, reminding her that her body was precious and worthy of care. Over the years, we have celebrated birthdays, graduations and awards with our sangha family. We have also beautifully suffered together. What an absolute gift!
On this, your wonderful continuation, I want to say Thank You. Thank you for your teaching. Thank you for your presence. Thank you for the beautiful monastic and lay family you have given us—whose presence and compassion have touched my life so deeply.
Thank you, Thay, for helping me to see that all life is beautiful; that the Kingdom of Heaven is here and now. You have been a light to me and to my family; and so, for today and tomorrow and the next day and the next, I will offer my prayer of thanks for wonderful you. Heather
---
Peace work in the 1960s
You blessed my life on two occasions. You gave the first political speech I ever paid attention to in 1963 (I think). I was in college then and you were touring the U.S. speaking out against the Vietnam War. You said "You think you're saving Vietnam from Communism. Please save us from your salvation!" Your plea broke my heart.
Later I saw you in your full presence as a teacher when you offered retreats at Mt Madonna Center in California two years in a row during the 1980's. I was a member of that community and, although not part of the retreat, we were invited to one of your dharma talks. You sat on the low stage, surrounded by children whose parents had brought them to retreat. I sat two steps below you, very near, basking in your warm and compassionate presence and in the beauty of the sangha..
Yuki
---
In the early 1960's, when I was an undergraduate at the University of Auckland in New Zealand, I read the words of Thich Nhat Hanh in the student newspaper:
"They woke me this morning
to tell me my brother had been killed in battle,
but I am alive … "
These words helped me to confirm my decision to register as a conscientious objector to the war in Vietnam. These words resonate deeply in me to this day, these words and the words of "Call Me by my True Names" express so much that is true to me. Thank you Thai for your continuing presence in my life.
Jim
---
Phrases to remember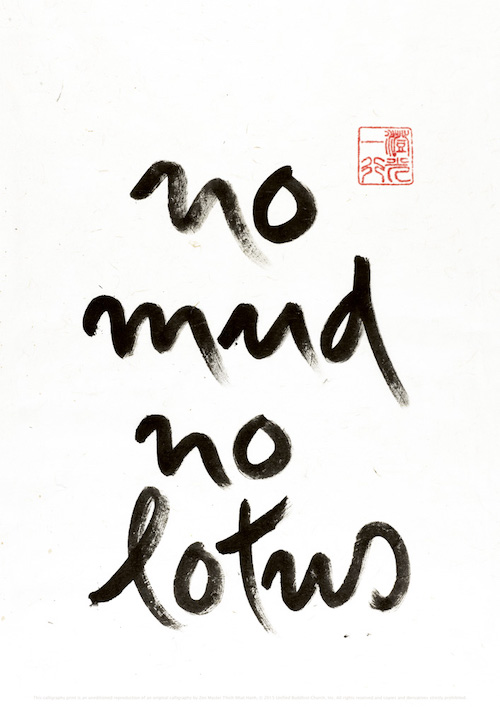 Dear Thich Nhat Hanh,
My favorite quote by you is "No mud, No lotus." Thank you for helping me to understand how to transform suffering by being compassionate in this world. Although there have been many challenges with the pandemic, climate change, and human rights issues; I am constantly encouraged by the peace, wisdom, and true love that you have given. I will practice and strive to bring compassion and forgiveness to these issues in order to help alleviate suffering. Again, thank you for all that you have done for the benefit of all sentient beings! May your health remain stable, and may your love flow continuously.
With metta,
Mikii
---
Dear Thay and beloved Sanga,
I am but an ordinary student who has often found refuge in the words of Thay. Perhaps one of my favorite quotes is "no mud, no lotus." I've often thought of this during difficult times of my life, appreciating that uncomfortable situations often lead to growth. Another one of my favorite quotes is, " Hope is important because it can make the present moment less difficult to bear. If we believe that tomorrow will be better, we can bear a hardship today."
I shortened this simply to: "brighter days ahead," Which was my mantra during a particularly challenging time in my life when I faced the painfully drawn out loss of my marriage and subsequent legal battle, the sudden loss of my father, and the slow downhill spiral of my mother, who had dementia. I found peace during these times by going into nature, walking slowly and mindfully…to quote Thay again: "We have to walk in a way that we only print peace and serenity on the earth. Walk as if you are kissing the earth with your feet."
And when my mom passed this July, reading Thay's remembrance of his mother's passing brought me peace. "the day my mother died….." The afternoon she passed, I went to the woods, and picked up maybe a dozen scattered large feathers… more than I've ever seen in one place before. I very much felt she was with me, and each feather was a blessing.
I would not be the person I am today if it were not for Thay. Although we've never met, his life and his words have been a tremendous blessing to me—and millions of others. The gift of peace is so immense. Thank you, Thay, for being a light in the darkness and for sharing that light with us all. Many blessings to you, happy Buddha day! Much love, Meg
---
Dear Thay,
I first read a book by Thay when I was 16 years old, and I learned the gatha about "present moment, wonderful moment". That has been my anchor ever since, as I've gradually brought more and more of Thay's beautiful wisdom to my life. When I'd lose my way for a while, or become distracted, that simple gatha brought me back to the path again and again. Now I am 38, and the mother of 3 children, and it is such a joy for me share mindful breathing, compassion for all living beings, and so many helpful practices with them, and they love it! Thay's teachings are simple, but so deep, so very accessible, but a beautiful work for a whole lifetime, or more! Each time I listen to a dharma talk or read one of his books, its like he's speaking directly to me. Sometimes I feel great sadness or anxiety about the state of things in this world, but Thay, the Sangha and the teachings ground me and give me so much hope, that humanity can be capable of such freedom and love. Thank you Teacher, for your words, and for the teaching of the whole way you have lived your life. I'll never stop being inspired by you. Kimberly
---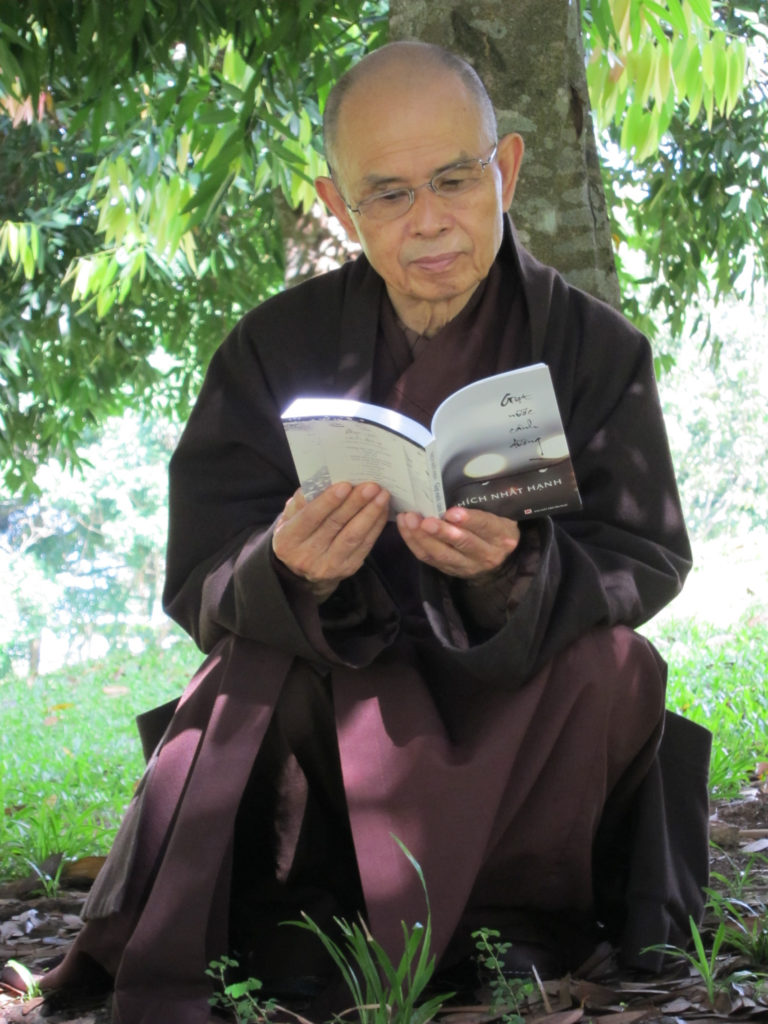 Books and Songs
Dear Thay,
There have been moments of reading which have changed my life. Such a moment came in the shape of 'Peace Is Every Step' which I first encountered many years ago. I was seized by the text's clarity, its poetry, apparent simplicity and at the same time by its unavoidable profundity. I was moved deeply by its heartfelt message, and felt a strong urge to meet the author. Talking about that book with friends soon after reading it, one of them, a French woman and a healer, suggested I go to Plum Village some time. Like many a good seed, both reading the book and her suggestion lay fallow for several years, until chance mention of Thich Nhat Han by a colleague at the drama school I was teaching in pricked up my ears and re-ignited that passionately enthusiastic response to Thay's teachings.
…….. I made my first visit to the Heart of Manchester Sangha. At that time the sangha was just four of us attending in the front room of a house in suburban Manchester. Hearing the bell, following the meditations and sharing mindfully I felt instantly, immediately and deeply at home- a feeling which has never deserted me since and which has acted as a beacon of guidance, safety, connection and warmth. Walking with three others in that front room in Withington,;walking with others alongside Thay at Plum Village;walking with many dear friends in sangha or on retreat down the years; walking alone mindfully during this pandemic with Thay's wonderful teachings and memory of all of those shared, heart-opening encounters wrapped around me- all of these have given me the wherewithal to experience my life knowing peace is indeed in every step if we can only allow it to be there.
Thinking of your continuation day, Thay, one of the first things that sprang to mind was playing guitar and singing Bob Dylan's 'Forever Young' to you and the whole sangha at a Nottingham retreat. Poet; activist; devoted gardener; humble, wondrous teacher sans pareil- forever young you are. I am deeply grateful to you and wish you the happiest of continuation days this Sunday.
Charlie
Sangha in The Peak( UK)
---
---
---
I remember reading 'Creating True Peace' as a young person and being intrigued by the notion of seeds within us, that we always have the potential for both positive and negative actions inside ourselves; all that is needed to pursue one path or the other is nourishing the right seeds.
When I visited Plum Village not long after, I was deeply moved by the monks and nuns there. It was a community of people who were practicing together and encouraging one another–I had never seen nor felt such genuine goodness before. It seemed miraculous that such a place could exist.
I am now a high school teacher, and I assign 'Creating True Peace' to my own students in a Comparative Religion class. So many of them now a decade later remember your book best of all; the simplicity and wonder of mindfulness, and the potential to transform your mind and actions through watering the right seeds, and through that effort make change in the world.
Thay, thank you for inspiring so many of us; your teachings have lit a path that will grow and grow.
Joanna
---
---
On my 23rd Birthday, a dear friend gifted me "the pocket Thich Nhat Hanh" … today , 10 years later,
It sits on a small table by the rocking chair in my baby's room. The book is tattered and worn, having traveled with me in all of my journeys big and small for 10 years. When our baby was brand new, and we were in love, tired and a bit worn, I would read your words, and even just gaze at this small book, reminding me of the impermanence of this moment, reminding me to breathe in the freshness and beauty of our baby, and to breathe out love. reminding me to watch him sleep, And to marvel at his manifold nature , to see his wholeness. This has been the greatest gift.. this book is like a medicine stone I carry in my pocket, reminding me to be peace.
Catie
---
---
Mindfulness in Family Life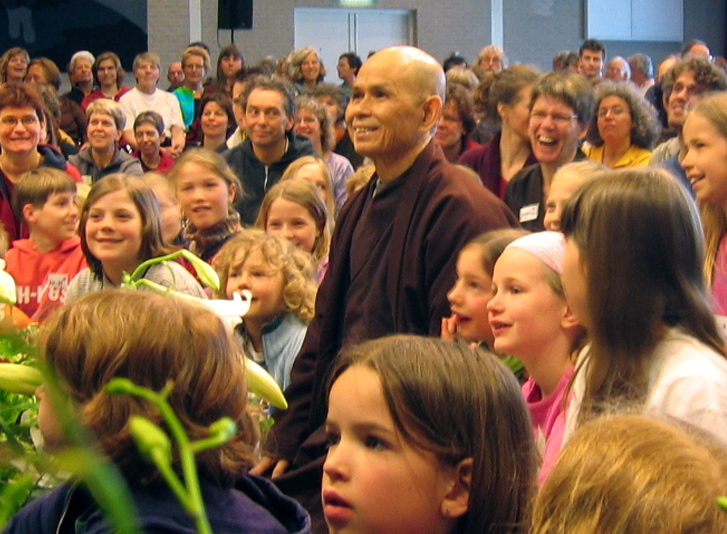 A little more than five years my wife/home and I were given a four month old baby to care for. We love him deeply. While it is early to get a complete psychological diagnosis, an early screening a few years ago revealed some severe behavioral challenges he's struggling to overcome. It is nearly impossible for him to wait, sit still, and be safe. He often shows aggressive and violent behavior. The current situation with remote learning and disruption in his daily routine has only exasperated these.
Early on as a parent and partner I struggled with being present, happy, and aware. I felt as though I was walking around in a thick cloud and dream-like state which Thay eludes to in his prose and lectures. I cannot remember precisely what brought me to Thay, but our family took a summer vacation when [my son] was 1 and a half. I rented a few books Thay wrote from the library. Something instantly clicked. I began practicing his lessons, particularly on how to eat a raisin and orange. It was a challenge, seemed odd, but satisfying.
I started a new job shortly thereafter that took much of my time and energy, but I would always read Thay's "How To…" series. It calmed me during winter and spring breaks. It's as though he's speaking right next to you through his text and artwork. The middle school teaching job was so demanding, I couldn't commit to a consistent practice. I am also a perfectionist by nature and every plan to begin my spiritual journey was met with excuses because certain conditions were not to my satisfaction.
This brings us to 2020 where so many people's lives and the world itself have changed. My son's behavior has escalated, and my wife/house and I are struggling with his demands. Thay's words through several books, his lectures on the website and app, and a more consistent mindfulness practice has helped me survive these times mentally, emotionally, spiritually, and more.
I know Thay doesn't want anything, but I want him to know how much he has meant to me, my being, and that to my family. So from the bottom of my heart, Thay, I bow my head to you and say, "Thank you for your beauty, love, and compassion." – Scott
---
Dear Thay,
…..In 2000, I went on a retreat at UMass Amherst in the US. There, I was touched by your gentle peacefulness, wisdom, and the compassionate presence emanating through you and all of the monks and nuns. I experienced interbeing…as the seeds of mindfulness were watered—soaking in during the dharma rains, walking, sitting and eating together mindfully, practicing total relaxation, and enjoying the whole atmosphere as a community.

The next year, I returned with my husband and teenage daughter— to learn practices that we could do together—that would deepen the love and compassion in our family, especially through those challenging times. We came home and placed a mindfulness bell in the heart of our home—as a way for any one of us to initiate stopping—to become mindful, look deeply, listen to each other, and to speak with loving speech. This was especially helpful during those teenage times…and your teachings continue to nourish our family's insight, compassionate communication and love, twenty years later…… Laury
---
Dearest respected Thay, beloved teacher
You have been present in our lives since 27 years back, when we started our family, which is now made up by our three daughters, Irene (27), Silvia (24) and Elena (19), and us two, Nicolás and María Victoria; We are very happy to practice together the many things you have taught us. With you, we learnt to keep a special space at home for sitting meditation, and also to meditate while walking, enjoying every step as though kissing the Earth, saying with our children "yes, yes, yes… thank you, thank you, thank you".
We like to practice Beginning Anew when something is not working well in our relationships; we feel deep gratitude toward this practice, which has helped us in difficult moments.
We enjoy beginning our days with a smile, and receiving the Dharma by reading from one of your books (now we are reading "Inside the Now: Meditations on Time"), or some days we listen -thanks to the new technology- a Dharma talk. We have felt the difference between starting the day with meditation and listening to the Dharma, or enveloped by the hurry and losing the energy of mindfulness when we let ourselves be carried away by the crazy rhythm of work. Thank you so much for your teachings
…… Always in gratitude,
María Victoria and Nicolás
---
Finding Sangha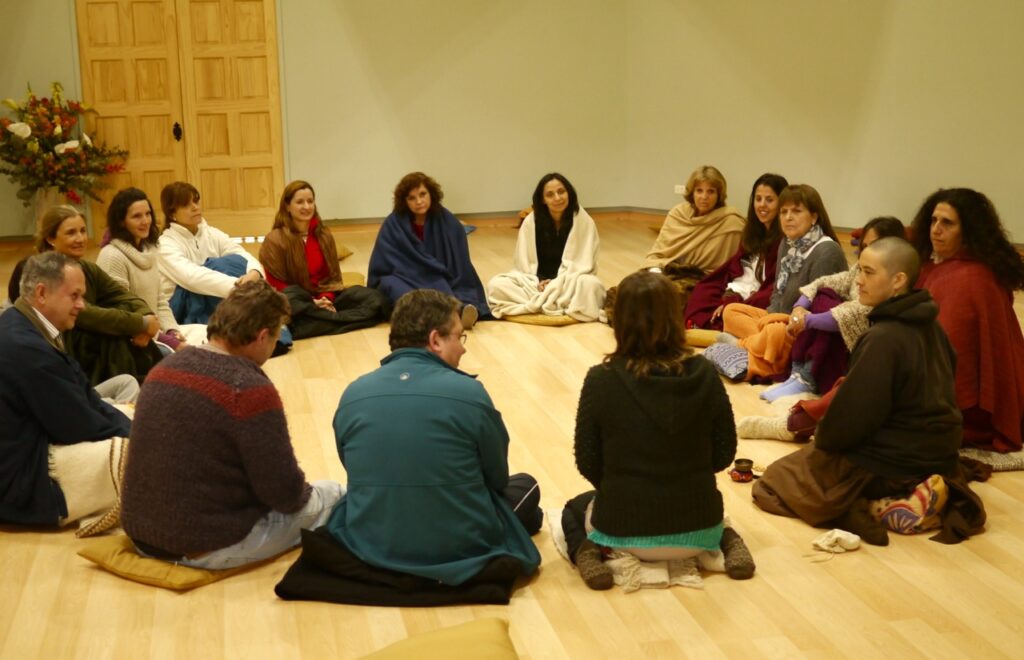 Dear Thay,
I would like to wish you a happy continuation from the bottom of my heart. Although we have never met, you have helped me to change my life in deep and profound ways. I decided to visit Plum Village for the first time in 2018 based on a recommendation from a friend. I was going through the most difficult and challenging period of my life and that visit helped me to see, to deeply experience, a different way a life. There, we lived so simply, so openly, so joyfully, so purely. It was such a stark contrast to much of modern life. While you were not there physically at that time, your teachings lived on in the diligent practice of the community you cultivated.
I am now a part of that community. I am a leaf on a beautiful blossoming tree. I am learning how to be the best leaf I can be and learning from other leaves around me too. I have much to learn, but I know that if I continue to practice, I will continue to grow and to be able to help others with wisdom and compassion. I know this because I've seen these traits in countless practitioners, both monastic and lay.
As my gift for your birthday, I will continue to practice, for the community, for myself, for you, and for the world.
With profound gratitude,
Stephen, Peaceful Earth of the Heart
---
Dear Thay,
My Beloved Teacher, It has been almost 30 years since I heard of your teachings and saw you at the Asian Art Museum in San Francisco. I was standing near a painting holding the hand of my small niece when you approached us at the painting of the willow and we experienced your strong energetic presence of peace. My life was turned around that day. The day I began to study your teachings.
The more I practiced mindful living, the more healing came my body and mind. I learned to sit still and to be with all around me including my emotions. I embraced the concept of inter-being as a condition of my happiness and found peace in knowing we all inter-are with people, animals, plants, minerals and our mother earth. Your teachings have shown me the way back to my ancestors, and the way forward toward those who will continue to come after me. Finding all of this wonder in the present moment. I now know I can embrace all that contains me and all that I contain.
I shared my knowledge of your teachings with my daughter Jody and she too practices the way you have shown us. Jody and I were both ordained together into the Order of Interbeing at Magnolia Grove Monastery. We both remember hearing your teachings and seeing your body. Before the meditation hall was built, a large white tent held us and protected us from the sun. I can see my grandson in my memories as you held his hand in walking meditation and as a grasshopper jumped from his knee into your tea cup in the meadow as hundreds of us sat together in silence.
My dharma teacher was Cherie Maples. She is a gift to me and was a wonderful mentor. I can still hear her words and see her face even though she has left her body. I miss her but am grateful she lives on in me and also lives in many others who benefited from her wisdom.
---
---
Poetry inspired by Thay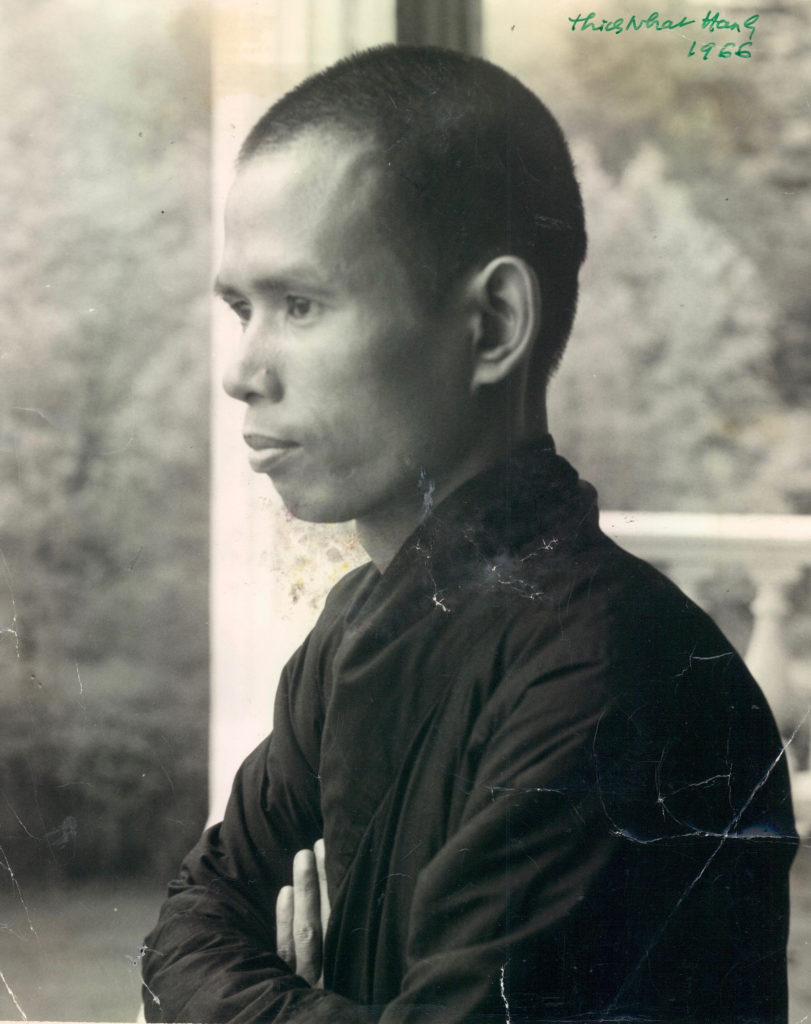 I have arrived- the first time I read this, I knew that I was Ok
I am home- yes, yes, yes I am
In the here Where have I been all this time?
In the now
I am solid
I am free
In the ultimate I dwell.
–Mercedes
---
Dear Thay – You first touched my life in 1975, when I returned from active military service in Vietnam … and I first became aware of how your responses to the conflict had been so vastly different from mine. My meditation practice began shortly after my discharge and, in recent years, I even became a lay member of a Sangha that follows your teachings, here in the Washington DC area. While it's not entirely possible to convey the difference your teachings have made to me in words, it is my hope that you will accept what follows in honor of your 94th Continuation Day …

Dreaming the dream within a dream
Waking from sleep again, to remember
The faces I've lived behind, and the lives
That have ended and begun, time after time

The Husband and Father desperate to find food for his family
The Wife and Mother mourning for her hungry children
The Warrior striving to honor his father and mother
Thrusting himself forward until he breaks against the rock

The Holy One who sits in silence remembering them all
While the upright sword stands tall in the soundless stone
A hand slowly reaches up to cradle and then grip its shining hilt
So, its light blazing, the freed blade lifts and then blossoms, into a pen.
Roy
---
Dear Thay,
I sit each morning and I bring to mind the words you taught me-
I have arrived.
I am home.
You have reminded so many of us that our true home is the present moment-
wonderful moment.
I smile to my body and I know that it is a beautiful gift,
and so is the world around me.
I hear the birds and I know they too are part of the dharmakaya-
the kingdom of god.
I move into my day and know that with each step I can arrive home again.
I may get angry or sad, but I know that these feelings are mud-
the beautiful mud from which I can grow a lotus.
I never knew that until I read your calm words.
When I drink my tea, I know that I am drinking tea.
I never knew that until I heard your gentle voice.
Your words have been such a beautiful gift-
And I know that my words can also be a beautiful gift to the world,
and to those around me.
Your presence is a blessing to the world-
Your smile brings peace to so many.
Your voice remains in our minds, and we know
that you are not the only one who can bring such blessings-
You are not the only one whose smile can bring peace.
Thank you so much, dear one-
for being there for all of us
We are here for you too.
–Adam
---
---
Where is my Teacher?
My Teacher is in the waving of the prayer flags,
My Teacher is in the singing of the tree tops,
My Teacher is in the dance of the falling rain.
My Beloved Teacher is Here. Now.
My Teacher is in the fragrance of the banana bread,
My Teacher is in the peaceful smile,
My Teacher is in the drinking of the tea,
My Teacher is in the quiet of the midnight hour.
My Beloved Teacher is Here. Now.
My Teacher is in the walking,
The singing, the breathing,
The washing, the weeping,
The healing, the being,
My Beloved Teacher is Here. Now.
I love my Teacher.
My Teacher is Love.
– A poem for Thay, from Yvette (11 May 2020)
---
Healing and personal transformation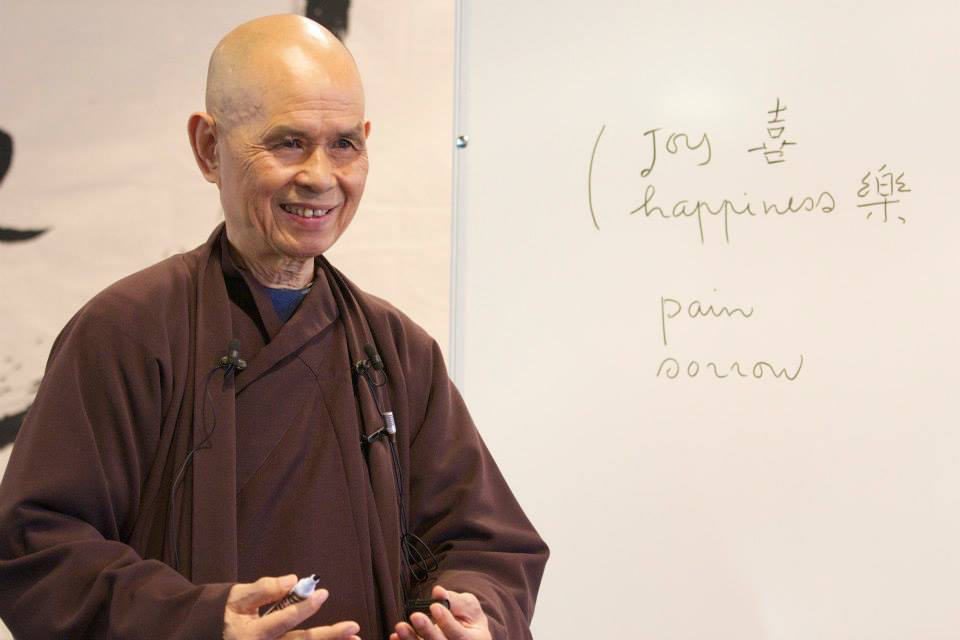 Dear Thay,
You and your teachings have truly saved me, and for that I need you to know – thank you. Thank you so much for saving me, for helping me to come back to myself, for guiding me to face my suffering and to sit with it gently and with compassion. Thank you for providing the conditions – your writings and dharma talks, Plum Village, the monastic community and the sangha – that show me the path to healing is right here and now. Because of you, I can touch peace as I learn to continually acknowledge, embrace and transform my pain.
A few years ago, I experienced a terrible traumatic incident and loss. For many months after, I couldn't see how I could ever come back to myself. I was running away from myself and my suffering, but the more I looked away, the bigger it grew. It was at my lowest point that I found myself at the Plum Village in Thailand.
There, I found refuge, in the truest sense of the word. I found refuge in the sitting, the silence, the bells, the walking, your books, the monastics' presence, and sitting with you in front of your hut for breakfasts. It was a peace so expansive that I felt safe for the first time after the incident, and in that safe place that you have created, I could finally come back to myself, to embrace everything that is inside.
In moments when I feel like I am getting swept away by everyday life, I recall your teachings, the peaceful, healing energy of Plum Village and the monastic community who provides an immense support. I feel incredibly thankful that I have stumbled upon this spiritual practice. In every word, every poem, every song and every dharma talk by the Brothers and Sisters, I can feel your solidity and your peace in them. Thay, I would like to let you know that I feel immensely supported by this – the continuations of you.
On a daily basis, I remind myself to be solid, to be still, to be fresh and to be free. To be there for my breathing. To walk mindfully, to let go of every moment as it passes by, and to be there for every moment that comes. These mindfulness practices anchor me in the illusionary storms of everyday life, and in cultivating these habits, I know that I am developing peace in myself to create little ripples of peace in the immediate world around me.
Thay, thank you so much for doing what you did. Thank you for turning your mud into a lotus flower and for teaching us so simply, gently and with so much compassion, how to do the same. You have created an ocean of love.
Breathing and smiling with you, Thay.
Priscilla
---
Dear Beloved Thay,
I have been touched in so many ways by your wonderful teachings and your beautiful life. Although I had encountered Buddhism and meditation before, when I experienced the Plum Village practice I began to understand how to put it into practice in every moment of my daily life. During a period of a lot of suffering, through sitting and walking meditation and with the support of the sangha, I discovered that it was still possible to be happy even though very difficult things were happening in my life. Seeing your calm presence and lovely smile has sustained me and inspired me to build a sangha near where I live, so that we can practice together and support each other. My heartfelt thanks to you dear Thay for all you have given me.

Anna
---
Dearest and Most Respected Thay,
In the darkest moments of my life, I have always found my way back to you and your teachings. I feel so fortunate to have the opportunity to hear you speak and to read your words. Your gentleness, kindness and compassion radiates through your actions, your smile, your words, like warm light touching my soul. It is a blessing to experience your light and even though I have not had the opportunity to meet you in person, I can feel you in my heart. I wish to express my deep gratitude to you for showing me how to continue learning and walking through the journey of my life as a more mindful and compassionate person. Because of you, I wish to be a good example for my daughter, that she may have the tools to navigate her life compassionately, resiliently and peacefully.
I also wish to express my sincere gratitude to you for enabling me to find peace after the loss of my second pregnancy and maternal grandmother, of which happened very close together.
After searching for answers, I read about your Dharma talk online, "No Death, No Fear", where you spoke about the Japonica Tree blooming too early in your monastery and as a result when the frost came the buds were unable to bloom and had died. After a few weeks, the warm weather returned and the Japonica tree had new buds. You asked the tree, "Are you the same as the flowers that died in the frost or are you different flowers?" The flowers replied to you "Thay, we are not the same and we are not different. When conditions are sufficient we manifest and when conditions are not we go into hiding. "
It brought me such great peace to know that I need to respect my child's will to enter the earth realm when conditions are perfect for them. That I can leave my heart open to them until they are ready to return.
In this Dharma I also found peace with the passing of my Grandmother as I recognised, through your wisdom, that my Grandmother is very much alive in me. That if I am at peace, my grandmother can also feel peace. She can also feel my happiness and I can invite her to sit with me, to walk with me, whenever I need. Because of you, I know that her hands are my hands. That she is with me always.
There will never be enough words or examples to truly convey how much your teachings have impacted my life.
Dearest Thay, I wish you a truly beautiful continuation day. That you feel great love, peace and happiness.
Forever grateful,
Lisa

---
---
Dear Teacher,
I too had a stroke and was trapped in my body for many hours. I remember the fear as I was wheeled into rooms and put into MRI machines and CAT scan machines. Although I could not talk or move my body, my mind was very aware of what was happening around me. There was much excitement and people spoke in loud voices. A doctor kept yelling at me to speak and move but I couldn't. I remember thinking I wanted to leave my body there so my family would not have to care for me.
But then my practice came to mind and I relaxed with my breath. I remembered a breathing gatha you taught us and I came to a place of peace. And in this peace I realized that even though my body could not move and I could not speak, that my family loved me. I felt the love they held for me and I felt the love my ancestors held for me and I knew I had touched a pure form of heaven. And I was at peace with whatever was to come.
Doctors did surgery and were able to replace the right carotid artery that led to my brain and my body began to heal. They were puzzled at the small amount of residual damage considering the damage to my artery and the left side of my brain. But I know why I healed so well. I know my practice took me there, to that little bit of heaven I had experienced.
And healing took place on other levels too. My daughters Jody and Michelle flew to the hospital and arrived at my beside the next day. When I opened my eyes the next morning I saw Jody sitting on the window seat in half lotus practicing mindfulness. She looked at me and said, "Mother you must be afraid. Would you like to practice together?"
My other daughter also flew to the hospital to be with me and my husband. While Jody sat by my bed, my youngest daughter Michelle was home caring for my husband. She and Jody took turns caring for me and my husband for the 10 days I was there. This was my special gift. To see my continuation before my eyes, one daughter sitting on the window seat with love and peace on her face and the other daughter taking care of my husband. They took turns being with me and never left me or my husband alone. They blessed us with their presence and helped us settle back into a life of ease.
So I see now Dear Teacher how you have brought peace to myself and to my family. You have taught me about suffering and the eightfold path. I am eternally grateful. I am so very blessed.
Pam
True Legendary Concentration
---
---
Dear Thây,

I met you in 1990 after the start of the First Gulf War. I was so angry. Your laser-like clarity, your mindfulness and deep compassion touched me deeply and taught me how my anger could be transformed into something healing for the world. My years of practice with you and the Sangha have given me the resources to sit and walk in these ever-challenging times. You introduced me to Engaged Buddhism–a practice that informs my daily work and has given meaning to my life. My daughter, Lisa, met you when she was 7 years old and 30 years later still carries the imprint of five summers at Plum Village in her way of being. I always remember how patiently you answered our questions even though the same questions were asked of you over and over. My deepest gratitude for you and what you have give us. Sending my love to you and the worldwide Sangha.

Lorena (True Perfect Way)
---
Transforming relationships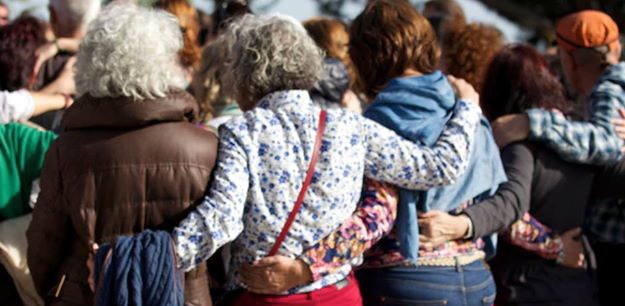 "Deep Listening" has been a practice that has deeply moved and extended my heart towards others. Just hearing your voice speak of this profound teaching opens my heart to others and calms any feeling of wanting to " fix" a situation. It is the ultimate heart practice! Thank you for your life-long dedication to alleviating suffering for all beings. with love and light coming from Japan.

Sarah
---
Dear Thay,
You found me when I was at an apex of success, wealth, power, and deep pain. You saved my life and set me on a path of discovery and humility. That was in 2005. I traveled with you all through VN in 2007–that was a journey of many lifetimes. I lived in your US monasteries for many months and co-founded a successful sangha that thrives after 11 years. All my relationships changed. So many people faded away and so many new folks manifested. My experience of all things was forever altered from your generosity, your devotion, and your integrity. My marriage was deeply enriched, our children all grew to be righteous and giving, my energy attracted loving friends and family. There have been many painful days too since you reached out across time and space to find me. But this was (and is) pain that comes with learning and growing. Thank you, my teacher, for all of your hard and loving work. May you continue to thrive and your days be filled with peace and joy…and good music! I love you with all my heart.

Gregg
---
Dear Thay,

How do you love someone who is a drug addict, even when that person is your dear younger sister? I wan't sure. My younger sister was in the throws of opiate addiction. She was homeless, she was in and out of jail. She lost her two young babies that I watched be born. How do you love someone like this? Such a person in my western christian influenced world would go to hell, surely. Such a person deserved punishment and to be an outcast. My sister died last summer on a hot day alone in her apartment at the age of 36 slumped over her kitchen sink. The autopsy showed the cause to be sudden cardiac arrest from all the medications she was on to quiet her mind and her addiction. You see, she was trying to get better.
For many years I was angry at her and then 10 years ago I was introduced to Thay and his Book Loving Kindness. Just the very notion that my sister wished to be free from suffering sent tears flowing from my eyes in an emotion that I can only describe as life changing. My sister and I talked almost daily in those years before she died even though she still struggled with addiction. I was able to be open, present and there with her. No longer judging, afraid or angry. My suffering was hers and hers was mine. Of course she was loved and although most everyone else in her life had closed their hearts to her mine was open and when i heard she died I felt no regret. It was peace knowing that she died knowing that I did indeed love her. Your loving kindness book in on my nightstand and I read it daily and I am so grateful to have found your teachings.
Heidi
---
Dealing with death and loss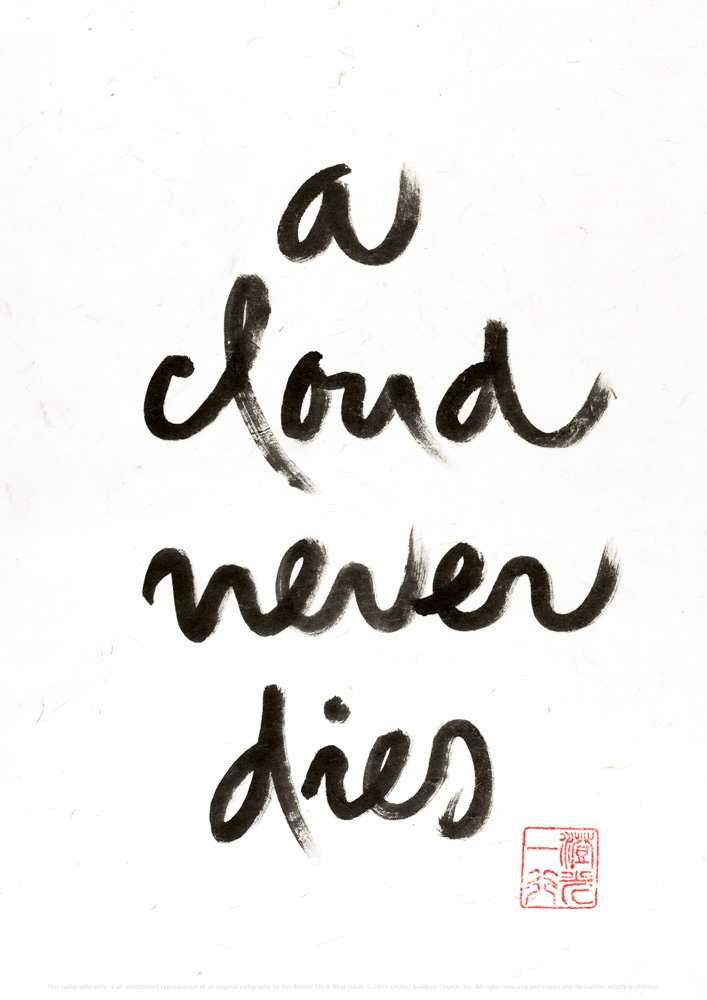 I have been reading Thay's books for a couple of years now and translated a few pieces of his writings into Albanian. My only son passed away unexpectedly last week at the tender age of 18 years old. The pain is still unbearable and it takes my breath away at times, but it has been my practice and Thay's inspiration that has kept my heart open during the most difficult time of my life. I have come back several times to Thay's writings about his mother and his other teachings. It was his teachings that gave me the strength to say a few words in my son's honor at the funeral and that kept me from jumping into the grave after him. I know in my heart that my son is and will be alive in me as long as I live.
The pain is unbearable but my broken heart is not hardened.
Thank you Thay for all you have done and have been in your life. May you be free from suffering and be in peace.
With gratitude and loving-kindness,
A hurting mother
Mirela
---
---
---
A contagious impact
Dear Thay, dear Sangha,

It was such a curious way how Thay touched me long before I got to really know him. I was enjoying some time between Tibetan monastics and somebody started all of a sudden speaking about him. What touched me was it was not about the teaching itself but for the brightness in the eyes of who was mentioning him: he spoke about somebody close, somebody kind, a humble master made of pure love. It was some years after that Thay showed on my way and I was lucky I didn't feel having any expectations: what I saw on him was much greater that what anyone could expect: a real master with the wisdom to make everything easy to learn mixed with the love and innocence of a child. Thay softened my heart and gave me the chance of getting tears in my eyes by just having a look at the wonders of the world surrounding us. Thank you dear Thay, thank you dear Sangha.

Marc
---
Reaching across different religious traditions
Thank you Thay for helping to transform my apartment in Vancouver during the pandemic into a sacred space. Your teachings have reframed isolation into an opportunity for contemplation. Sitting one morning and and the inter-being of East and West, Buddhism and Catholicism came to me: "Breathing in with the Holy Spirit, I unite myself wholly to You. Breathing out, I smile." Your Light shines bright and we are blessed by your kindness. Happy Birthday.

John
---
I have been deeply touched by your work and your writing for close to twenty years. I am a minister at the Center for Spiritual Living on the island of Hawaii. Just last Sunday, I read your poem "Please Call Me By My True Names" as a part of my message titled "Just Like Me." Many were moved to tears by your profound insight. Thank you for being such an important part of my spiritual practice.

Cathy
---
Aloha. I am a Worship Associate at the First Unitarian Church of Honolulu. I use Thay Thich Nhat Hanh's teachings quite often in my readings for Sunday morning service. Having lived in Hanoi in the beginning of this century I came to appreciate and honor your teaching. My life is richer for having you in it. Mahalo for all you've done for our world. Aloha nui loa.

Marie Anne
---
Cherishing the "ordinary" things in life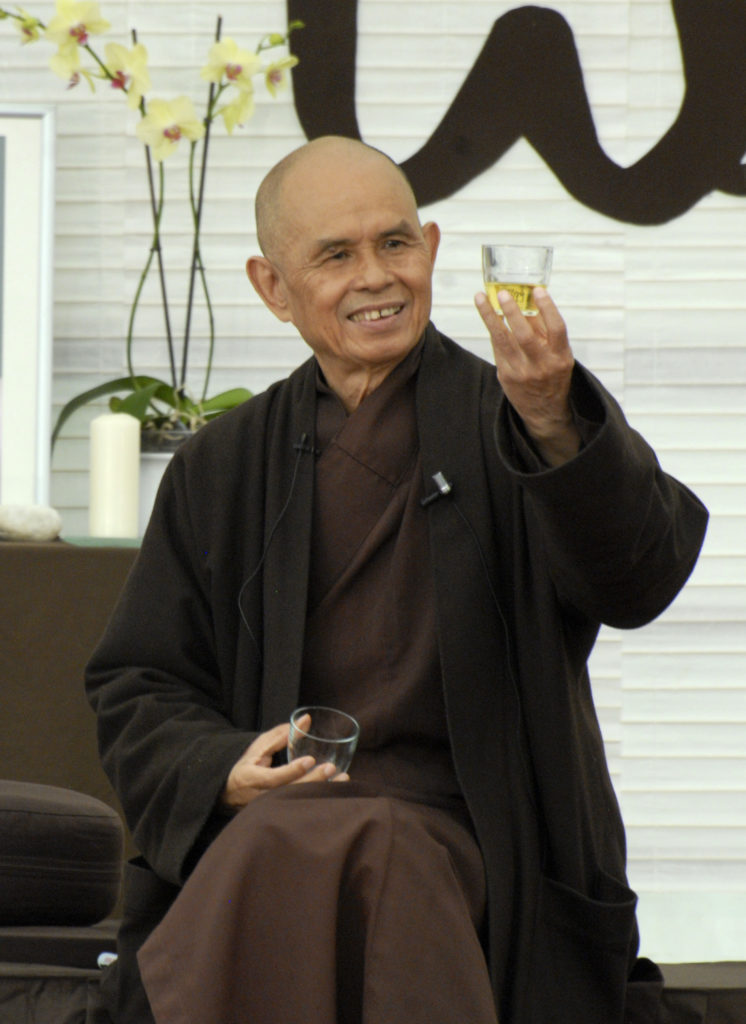 I could write you a book about how you have changed my life. However, when I look deeply in myself I can point out one thing that has changed my life the most: to appreciate and cherish the "ordinary" everyday life. I do not look forward anymore to "special" days like birthday, Christmas, weekends, holidays and so on. I enjoy each day from the deepest of my heart looking/recognizing at all the "little" wonders around me. This makes me happy, smiling and very humble. It is the everyday life that is a miracle.

Yvonne