In this post, we share more stories from our monastic brothers and sisters as well as stories of transformation selected from our friends who have offered their stories as a gift to Thich Nhat Hanh (Thay) as we continue to celebrate Thay's 94th continuation day.
As a manifold sangha, we can continue and spread Thay's legacy of engaged Buddhism. Sr Dieu Nghiem (an elder monastic, also affectionately known as Sr Jina) often shares that the monastic brothers and sisters are like the palm of the hand, and the lay sanghas are like the fingers on the hand. Without the fingers, the hand cannot do much, and without the palm the fingers would not have a structure to be able to do anything. We inter-are, and we are there to support one another. The lay sanghas are like an extension of the palm, helping to bring the Dharma far and wide to places that the monastic sangha may not be able to reach. As the monastic sangha, we are there for you as a refuge where you can learn about the practices, resource and heal yourself in order to continue your bodhisattva work with us.
---
Letter from Brother Đạo Bi
Dear respected Thay,
My name is Chân Trời Đạo Bi. I received novice ordination at Wihara Ekayana Arama, Jakarta, Indonesia in May 2015. Before ordaining I had already wanted to become your disciple, but due to some causes and conditions I ordained in Indonesia with my teacher, whom I feel a deep affinity with and who supported me to receive full ordination at Plum Village in February 2019. My teacher and I have a dream of renewing Buddhism in Indonesia, and because we see that Thay has been able to do so, we know it is possible. When I received a lineage name – True Sky over the Path of Compassion, I felt very happy. The Path of Compassion is one of my favorite chapters in your book "Old Path White Cloud" that I read over and over.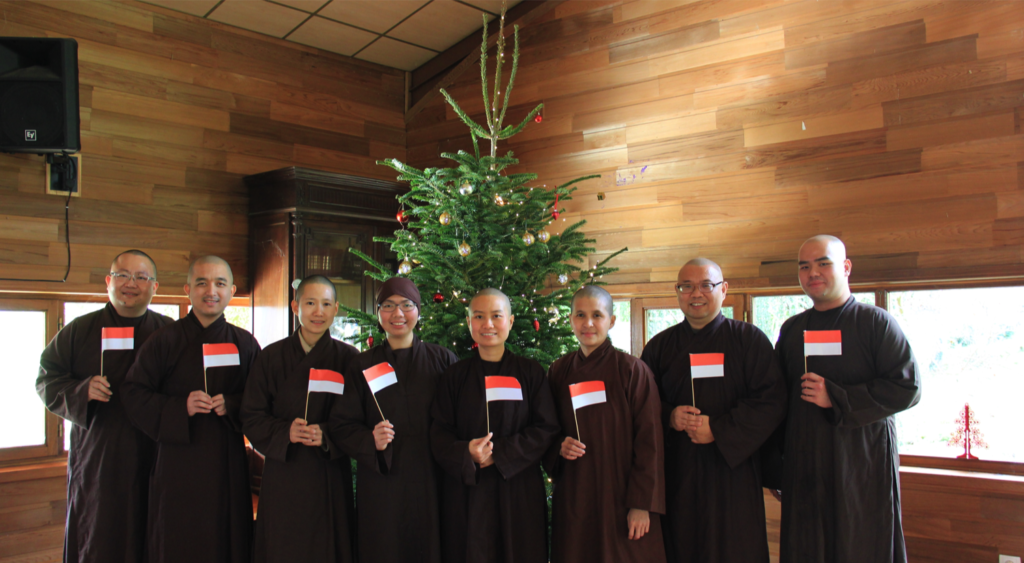 Dear Thay, I first met you at a retreat in Indonesia in September 2010. At the end of the retreat I felt a strong desire to become vegetarian. I received the Five Mindfulness Trainings and have been vegetarian since then. Initially my parents didn't support me to become vegetarian, but as they saw my transformation, my mother decided by herself to become vegetarian a few years later. I think it happened because she saw how my health has improved a lot after losing about 20 kilos. I used to eat a lot of junk food, so I accumulated a lot of toxins and tension in my body. Since I came to Plum Village I have learned to eat in a healthier way, and that what I need to eat is only half of what I used to eat before. Slowly I feel lighter in my body, and it has improved the quality of my practice, in particular sitting meditation.
Dear Thay, I have seen how effective the tools of deep listening and loving speech are in restoring communication in my blood family. I studied communication at university, but it didn't help me to restore communication with others much. My parents often argued with me, telling me to stop being vegetarian. After trying to reason with them for some months, I felt that it wasn't effective because they wouldn't listen. So I decided to practice deep listening whenever they argued or got angry with me. After some years, my mother noticed the transformation in me. She was curious and then started to learn the Dharma. I gave her some of Thay's books and other Dharma books. When my father got angry, together we could listen to him and it changed the atmosphere in my family a lot.
I feel very happy that I can help my mother get in touch with the Dharma. Sometimes I regret that I couldn't help my father to get in touch with the Dharma before he died. Yet I know just by practicing deep listening, my mother and I already helped him to relieve his suffering. Sometimes when I practice sitting or walking meditation, and I feel light and free, I ask my father and mother inside me, "Do you feel light and free?" I find this guided meditation very helpful for reconciling with my father in me and get a lot of healing from it.
Dear Thay, sometimes I share my dream of renewing Buddhism in Indonesia with others. But then I asked myself, "Who am I to have such an ambitious dream of renewing Buddhism in my country?" In Thay's letter for the monastic brothers and sisters, he said that if you want to renew Buddhism, you have to renew yourself first. Dear Thay, I have shared with you my practice of renewing myself in this letter. I'm still a very young monk, and I still need to learn many things and practice to renew myself in many aspects.
I'm deeply grateful to my parents, teachers, friends, and all beings who give guidance and support along the path. Dear Thay, I am aware that I owe so much to you, who shows me the way in this life. I vow to be worthy of your trust and to practice wholeheartedly. Br Chân Trời Đạo Bi
---
The precious breath, the healing breath
My baby Thomas was unexpectedly born with a rare respiratory disease. I lived in the NICU (neonatal intensive care unit) with him, holding and comforting him day and night. I was compelled to place Thay's book, Peace In Every Step, in the large crib alongside the medical equipment. The simple presence of this powerful book offered me a sense of peace. These many weeks living in the hospital with baby Thomas was like a retreat. My focus was on witnessing each labored breath my baby took. The sacredness of each breath and each moment came alive for me in this painful yet beautiful way. Thank you, Thay, for teaching me to breathe, to appreciate, and to love. Lisa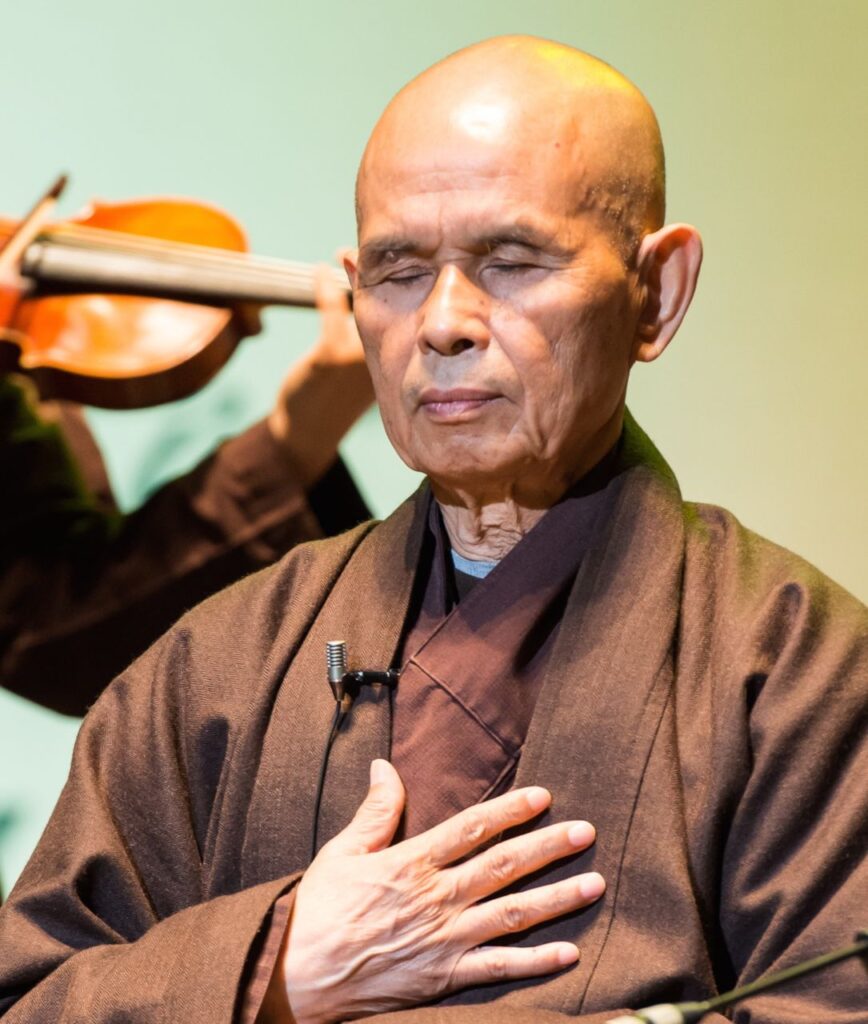 Dear Thay and dear friend reading my words at this present moment, this beautiful moment, thank you for giving me the opportunity to reflect on my journey towards compassion through your wonderful gift to the world of continuing to breathe.
I cannot say when the first seed from the garden of your practice took root in my mind.
I can remember a beautiful flowering of one such seed when, as a young woman I suffered a life threatening illness leading to long term, but not permanent, disability when I practiced breathing mindfully and paying compassionate attention to my sensations of physical pain.
I can recall years later far more difficult psychological pain when I caused myself to suffer greatly through unwise attachment. Plum Village meditation tapes and CDs brought your wisdom to me.
Today in these times of pandemic I am blessed by connection with nature and the spiritual resources I have gathered on my journey towards compassion. When my dear father was dying from Covid pneumonia in April I was able to be with him in spirit and thanks to the dear nurses make connections through technology so that many family members were able to communicate with him in his final hours. The dear doctors and nurses were our hands and hearts. Interbeing.
I was privileged to discover a small ministry of compassionate support attempting with every communication to give appreciation and listen to the pain of all those so deeply affected by the pandemic seeing so many of their patients dying.
May every breath draw me near to that perfect compassion and inner peace of which you are a most beloved teacher. ?? Clare
---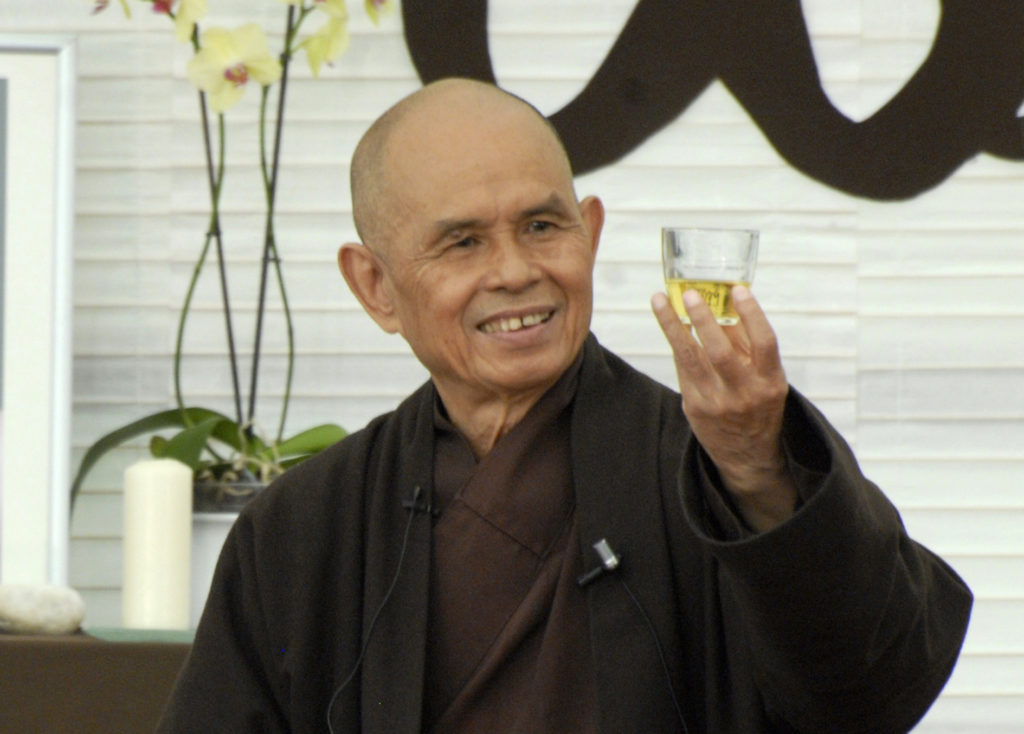 ---
Dearest Thay,
One night I was on my way out when I tripped and fell, hitting my head on a door frame. The pain was intense, and blood began pooling on the floor beside me. I held a towel to my head but the bleeding continued as unbeknownst to me, I had also split my ear open. I was home alone, in pain, frightened, and my heart racing at the thought of not being able to stop the bleeding. I rang for the ambulance and sat on the floor by the front door waiting.
I closed my eyes and I heard your calm and loving voice in my head, "Hello pain, I see you there. I am here for you. I will take care of you" and in that moment, my heart rate slowed, the pain decreased and I was calm.
Thank you for teaching me how to care for myself and all beings with love and kindness.
Blessings to you on your Continuation Day dear Thay. You are a true gift to us all.
Love and Peace, Kerryn
---
Deep listening and loving speech
A few years ago my sister and I had a talk which turned into an argument. I heard her say a sentence about me and understood it in one way. I told her what I had understood and she insisted it was not what she had meant to say.
We stopped talking to each other, only when it was absolutely necessary and only on that specific subject. It went on for a few months. In one occassion we were invited to a family gathering, each came on her own and we did not speak to each other. Family members tried to reconcile us with no success. She insisted at that time that I put words into her mouth and interpretations that were not hers and it was totally my problem. It was very difficult to live during the time that we did not speak to each other. She broke her leg and I was not there for her, We went through times where a close uncle passed away yet we could not reconcile with one another.
I have belonged to the Tel Aviv Sangha for about seven years.
I listen to and practice Thay's teachings yet I could not overcome my mishap with my sister. Until one day I listened to a talk in the Sangha about ideas that may not seem as they truly are. Looking at them from a different perspective – from the suffering of inner self, and BAM! it happened.
I thought about what my sister said and how she had said it and understood that I was wrong all this time. I had misunderstood her and knew that I had to fix it immediately.
So I called her and asked her to meet and apologized for having misinterpreted her meanings. She told me she highly respects what I am doing right now and she knows it is not easy and she is proud of me. (Actually it was much easier than she thought and it came with instant relief).
We reconciled. There is still a heavy air between us since we do not fully trust one another, yet we are back to being sisters, setting an example to our family and friends how to react in difficult times, sticking together.
Thank you Thay from the bottom of my heart and soul for this and many more lessons.
Many continuation days,
Please know that you have impacted and transformed many lives around the globe and will continue doing so through the Sanghas spread around the world, forever.
Vered, Matan, Israel
---
---
Your phrase "My darling, I am suffering and I need your help" truly did save my marriage. I had been responding to disagreements with my husband with the equivalent of "I am suffering and it is your fault." I first used your healing words without much faith, in desperation because we had caused each other so much pain that we were on the verge of divorce. As soon as I said them, a miracle happened for us: there was a shift from a painful cycle of hurt and counter-hurt to one with room for gentle curiousness and concern. With the help of the teachings contained in these words – that my husband and I inter-are, that we need each other's help—we have become supportive friends to one another for many years. Your words help us to work together to transform suffering when it arises between us. You have taught me that deep listening means helping the beloved to truly feel heard: I was able to understand that my husband needed to be listened to in a way very differently than I do: while I do not like to be interrupted, he feels interruptions show my interest and understanding. You have taught us both to not speak when angry but to wait until we can use skillful speech again. Dannah
---
---
Beloved Thay, Beloved Sangha,
A blessed continuation dear Thay.
Every day when I meditate, feel the earth breathing in me, you Thay, are present with me.
Every day when I relax into the stillness, dear Thay, I am with you. Every moment you whisper stop, breathe, stay with awareness, you are alive in me and
I am alive in you.
I remember your words, we rely on each other to manifest. Without a child there is no father, without a teacher there is no disciple. We inter-are. There is no separate self.
I am alive in you, you are alive in me. The Sangha is alive in all of us, we are all cells of one organism. I bow for you, you breathe for me. Together we awaken. I love you.
Chan Tue Chau
True Jewel of Understanding
---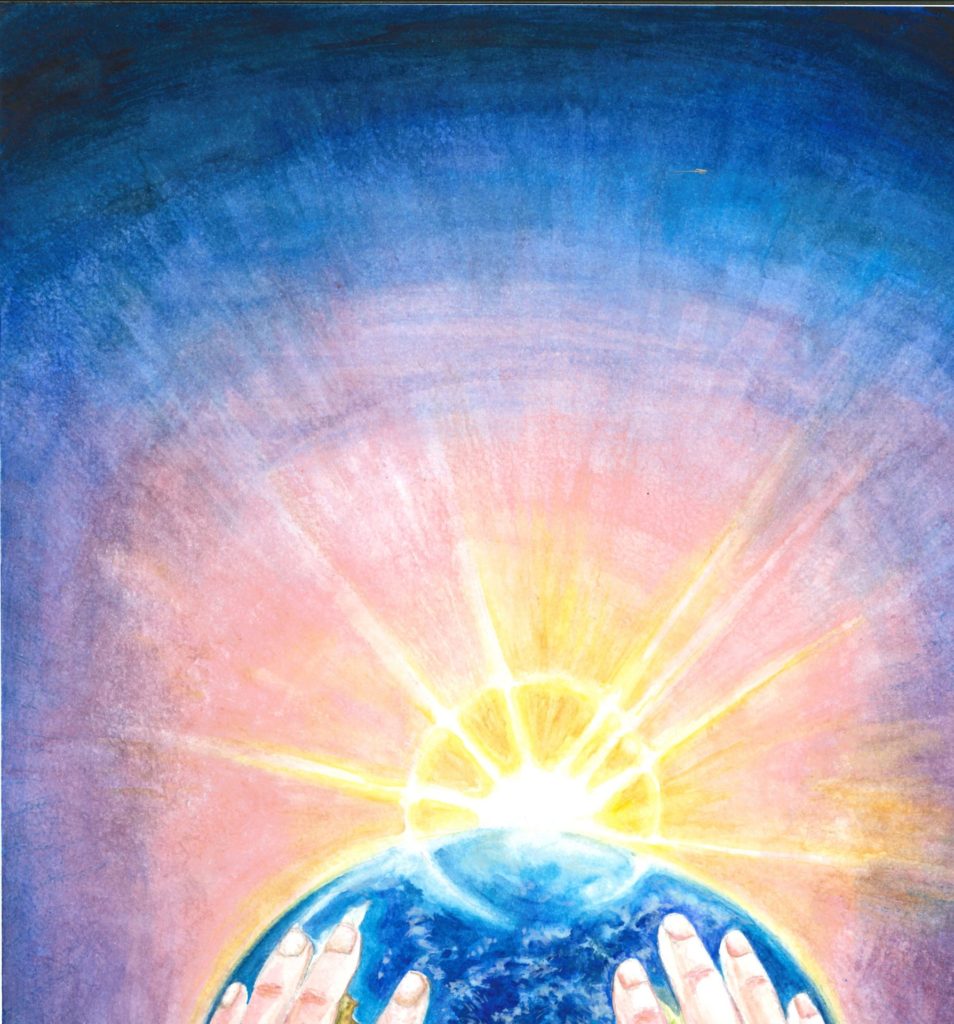 Daily practice
---
For each day that I struggle with my own humanness, I am given another day to reach out and assist others. The beautiful unpretentious teaching Thay has offered for so long is a simple thread to grasp, yet a mouthwatering taste of peace and joy. I refer to his writings often when writing Sunday talks or responding to those who have reached out to me. And so for this auspicious birthday, I offer this reflection in Haiku.
My practice is weak
but my heart soars knowing Truth
is setting me free.
When I stumble now
loving wisdom catches me
and whispers my name
What's this in my heart?
Compassion! Filling me and
all living beings.
One day at a time
I am aware of my heart.
I breathe in and out.
Liliane
---
A few months after I was in an awful accident which changed my life, my friend, Sari Holmes, dragged me to St. John the Divine to hear Thich Nhat Hanh speak. Because I needed special seating, we were seated almost at his feet in the pews. Afterwards, as I was preparing to leave, I was approached by one of his aides. I was told he wanted to know how I felt. I was in a neck and shoulder brace, had been laying on the pew for most of his talk, and was using walking sticks at the time. I told him I don't know what feelings are anymore. His next question was, "What makes you happy?" I responded, "Doing the dishes". I was escorted to the gift shop and given a card of his artwork with three drawings and kitchen meditations on it. That card stayed on my refrigerator for almost twenty years. I'm pretty sure I stored it in my personal memorabilia box, yet since moving to Oregon, I've been unable to find it. Still, everyday, I follow the instructions I was given and remain happy in the now.
If what he did for me was the same for all of us who treasured his being, he will not be forgotten. Happy 94th Continuation Day.
Margie
---
Sister Trang Mai Thon shares her practice…
When I was newly ordained a few months, I had many opportunities to eat lunch with Thay at the Hermitage. He would say to me, "You should write a book about your life, and Thay will write the foreword." I just smiled. Later on, I found out that Thay had encouraged many other brothers and sisters to do the same. In fact, at the time I thought that Thay could see how much suffering I had, and encouraged me to use writing as a means to heal myself. It is because while writing we have the opportunity to reflect on what has happened and what is happening in our body and mind, and through this process we can heal a lot of wounds. Writing to Thay has helped me to heal a lot. In the first few years I often wrote to Thay sharing with him whatever little progress I had made in the practice, my difficulties and what I did to try and overcome them, or what obstacles I was encountering. I already had an elder sister as a mentor and I wrote in my "công phu" book of my daily practice to give to her. But Thay was my "underground mentor", and he could read what was most secret in my heart.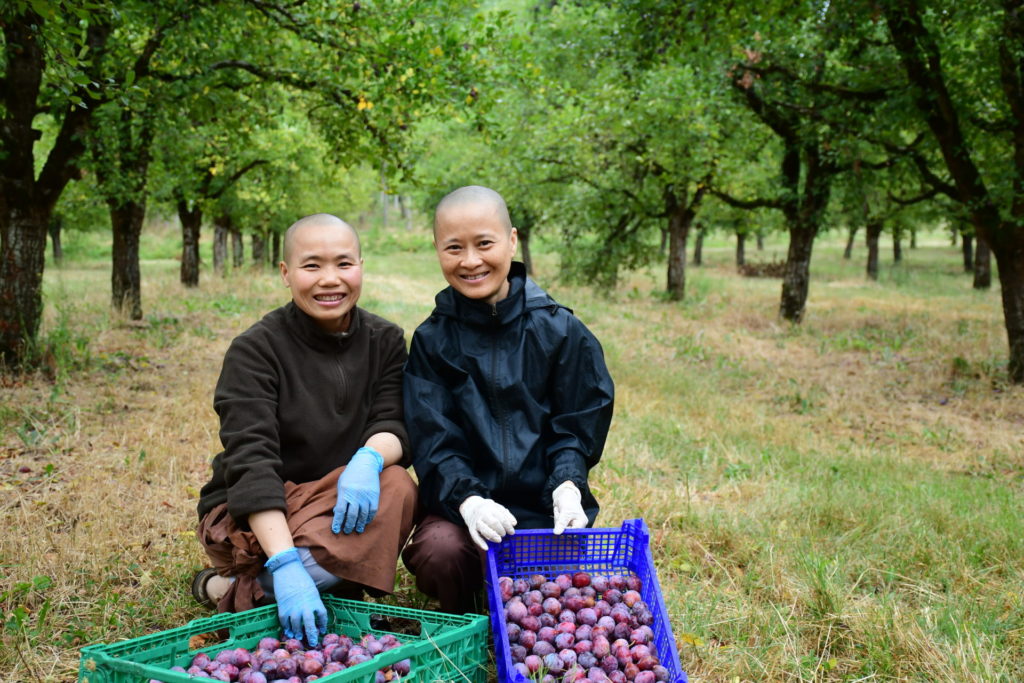 Thay said to me, "Sr Mai Thon, now all you need to do is to live joyfully, you don't need to do anything more". In the years that I have stayed in Plum Village, I have practiced to live joyfully, and have grown up nourished gradually by the joy from Thay and the sangha. I hope that I too have nourished Thay and the sangha by my own simple practice of following the sangha and the schedule, by my practice of being an obedient young novice observing the precepts and find manners. Whatever I learnt, I put it into practice. I enjoyed the simple things in life, allowed myself to enjoy the happiness of my sisters around me. There were times I felt reluctant to join others, but encouraged myself to do so. Every time I made an effort to overcome the tendency to withdraw, I felt a little more joy. I also practiced to recognize my habit of reacting and tried to stop more often.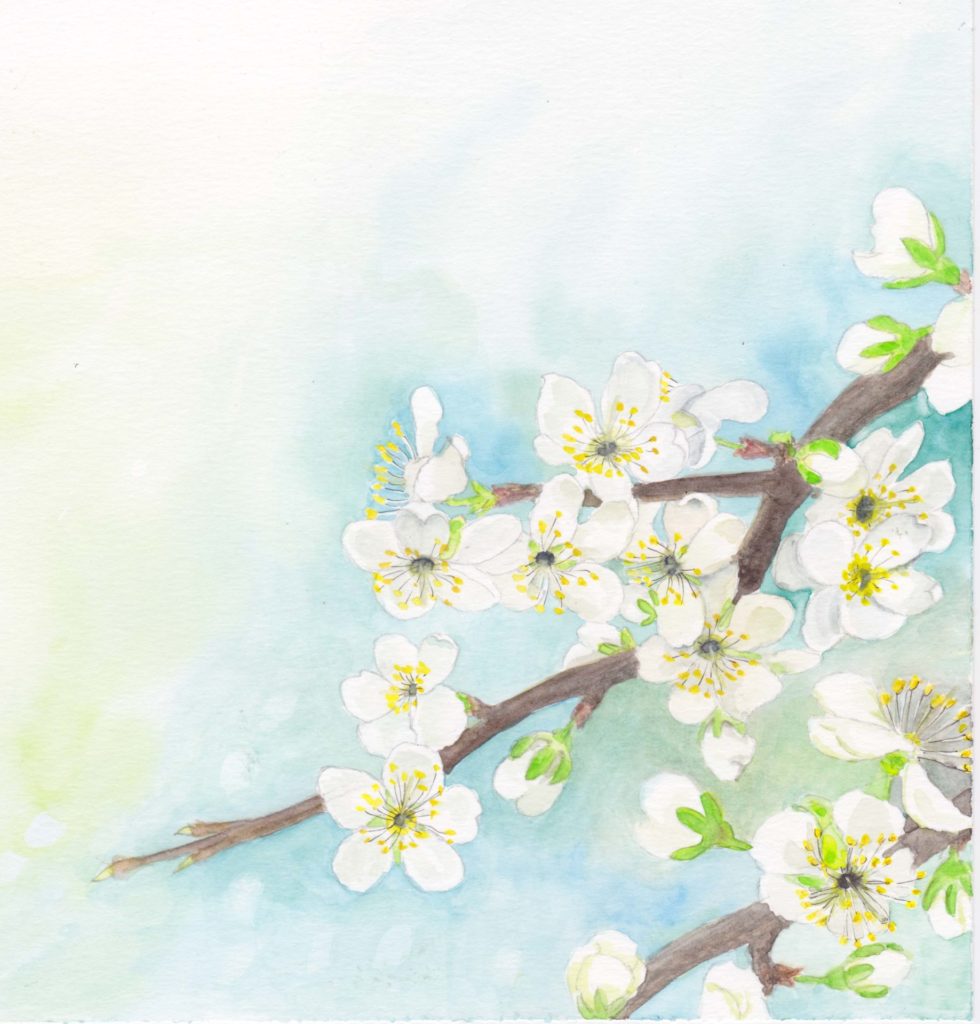 Every year we receive many lay friends for our Christmas retreat. They come for many reasons. Some come alone, others with their parent(s), and some even bring their whole family. Last year I spoke with a lady from a Christian background who came to Plum Village because she had just lost her husband of 28 years. She could not accept this loss because it happened suddenly. She didn't want to celebrate Christmas with her family because she was afraid that her sadness would affect them too much, so that was why she came to Plum Village. In my life I have gone through many losses of loved ones. Sometimes the loss came unexpectedly and I could not accept it. I held on to that pain for many years until fortunately, I heard Thay's Dharma talk about the peach blossom blooming too early when the weather suddenly warmed up in the middle of winter. It thought that spring had arrived, but when the weather became cold again it fell to the earth. Six years ago when Thay had a stroke, he gave us an opportunity to practice facing impermanence through the possibility of "losing Thay". Thanks to all these experiences that I was able to share with this friend and inspire her to see that she has not lost her husband. In fact, he has never left her.
I practice to see Thay in my fellow practitioners. Sometimes I ask myself how I can I feel close to and love these people like that? We come from the ten directions with different languages, habits, and cultures, and yet we can live together, love and accept each other. When someone leaves the monastic sangha I feel sad as if I've lost a loved one. During one sitting meditation I realized that if we did not share a common aspiration; if we didn't have the same practices; if we did not keep the precepts then if we had met each other we would have nothing to talk about. We would not have a common language to communicate with each other. This was very clear to me. There are monastics from other traditions who visit to take refuge in Thay and end up joining the Plum Village sangha. I treasure them very much and feel very close to them. I feel comfortable with them and can trust them. This is because we have a common language – the mindfulness practices, our monastic precepts, our shared aspirations and the sangha.