In this two-part series, we explain some of the ways that we celebrate Tết or Lunar New Year in Plum Village. We see this occasion as a chance to deeply recognise our beloved one's presence.
Dear friends,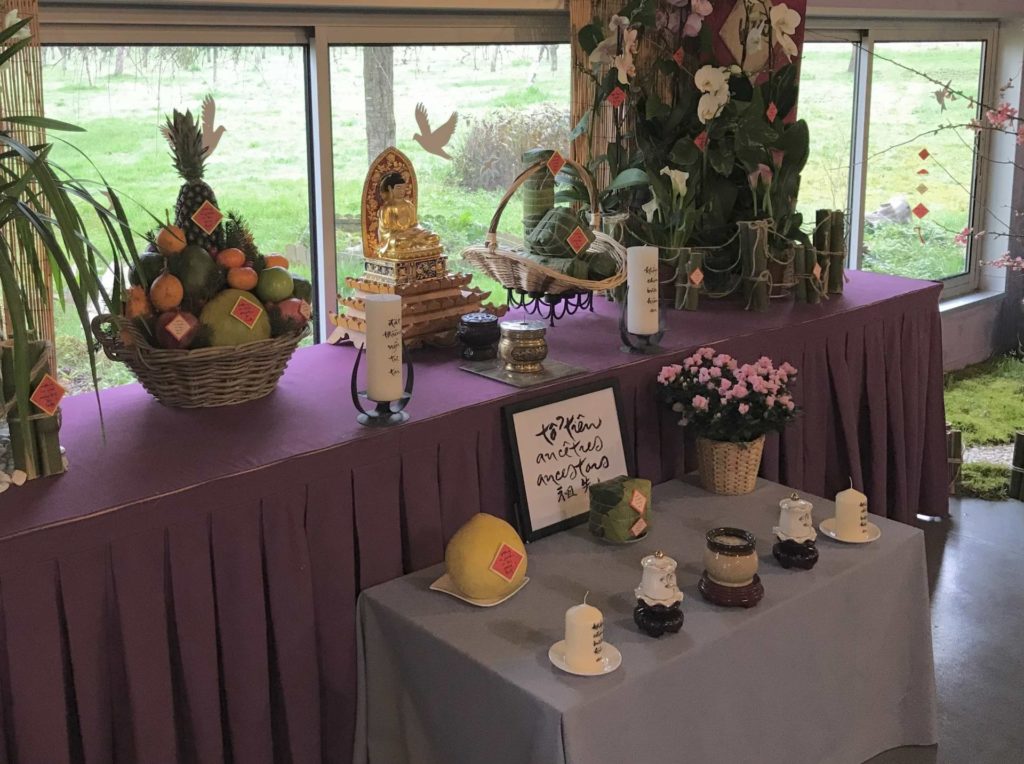 At this time in Plum Village, the monastic brothers and sisters are celebrating "Tet'' (known as Lunar New Year) as one of our traditional annual festivals. As the root of Plum Village's practices originates from Vietnamese Buddism, celebrating Tet in Plum Village is an opportunity to return to our genetic and spiritual ancestors, to see that these two roots inter-are. When we have realized our roots, our life is no longer in confusion and fear, we are well-protected by our genetic and spiritual ancestors.
"Tet" is a chance for us to come together, have fun with lots of youthful activities, but is also the time to be deeply aware of our beloved ones' presence, to begin anew with ourselves and our beloved ones. Thay used to say: "When there is a new year, we ourselves should be new as well". With the practice of looking deeply and mindful breathing; we cherish our beloved ones who are still with us; we forgive those who make us suffer so that our hearts can be lighter for the wonders of life to penetrate in, nourish and heal us. We are as new as the cosmos when we enter the new year. Each of us can look back on our previous year; what have we realized and what we have not, what we promise to make progress in the coming year in terms of personal practice and our the capacity to live in harmony with each other.
We would like to introduce Tet to you, our companions of Plum Village this beautiful and joyous festival, with different events and ceremonies; so that you can also enjoy Tet with us spiritually wherever you are.
Wishing Our Teacher Longevity
As part of the ceremony that we have on the first day of Tet to welcome the Lunar New Year, each hamlet offers a gift to our teacher, Thay (Thich Nhat Hanh). There is a procession of sisters and brothers, representatives of each hamlet, bearing gifts, that walk down the center to the meditation hall, and the gifts are ceremonially offered to our teacher. The eldest representative then wishes our teacher good health and long life as part of the tradition of wishing one's teacher longevity.
In Vietnamese culture (and many Asian cultures), wishing a teacher or elder longevity is a mark of respect and love, and a way to express one's gratitude. It is a wish that the teacher remains with us for a long time, to continue to teach the Dharma, to continue to be a spiritual refuge for the community, to embody his or her wisdom.
Kieu Oracle
The Lunar New Year, known as "Tet" in Vietnam is one of the most unusual and joyous weeks in the Plum Village calendar, with special celebrations and dharma talks, as well as informal teachings centered around the art of poetic " Kieu oracle reading".
A Tale of Kieu is an epic story of a beautiful and talented young woman who sells herself into marriage to save her father and brother from imprisonment. However, she did not realize that instead of marriage she was sold into prostitution, and from there, her life took many twists and turns until finally, fifteen years later she was reunited with her beloved Kim Trong – to whom she had secretly promised her hand before that fateful day.
This tale was fully written in poetic verses by a well-known writer Nguyen Du in the eighteenth century and is considered the most famous classic in Vietnamese literature. It is so well-loved and considered sacred that people have used it as an oracle to consult in important life decisions. At Plum Village, our teacher Thay has adapted this cultural art of Kieu oracle reading as a practice of spiritual guidance. It invites us to look deeply into our present situation to know how to practice so we can have more stability and happiness in the coming year. For each oracle Thay has selected lines from the poem to arrange into meaningful couplets – one line being the cause, like guidance to practice and the other line is the effect.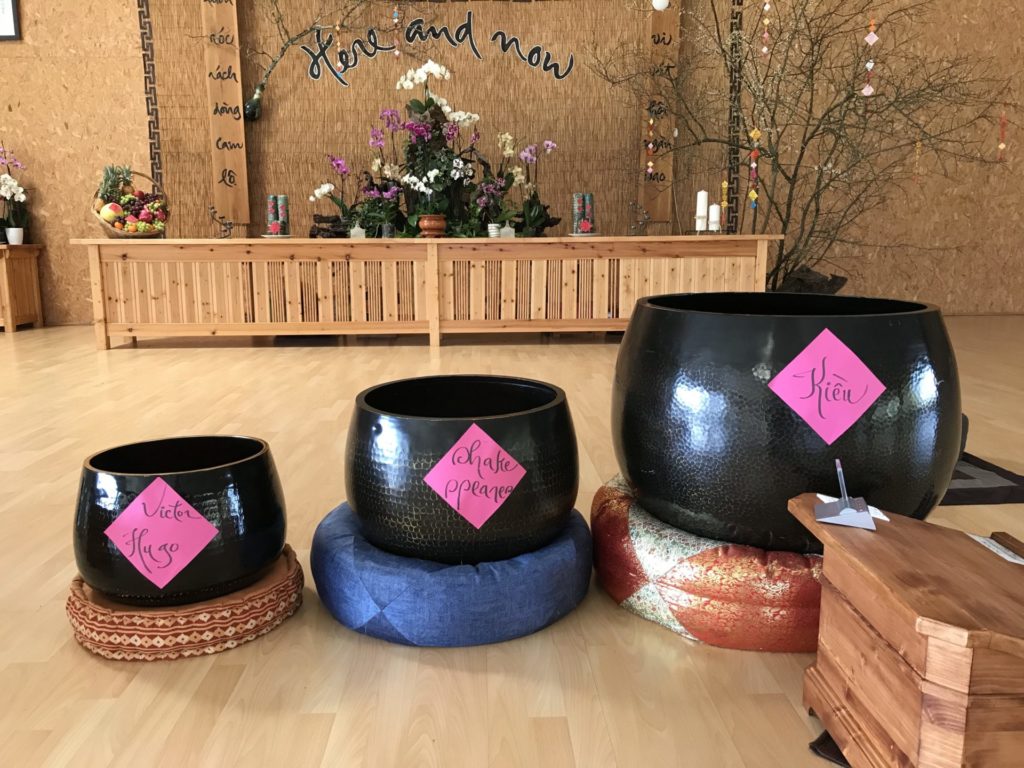 Before selecting an oracle, you can return to your breath, clear your mind, and call upon the spirits of the poet, Nguyễn Du, the wise woman, đạo cô Tam Hợp, and the nun, Giác Duyên. Once you are ready, you can pose a question and pick an oracle (in red envelopes) from the bell.
The Tale of Kiều describes fifteen years of the trials and tribulations of Kiều, reflecting the poet's life and the political environment of his time. Interestingly, the poem also mirrors the experiences of Thich Nhat Hanh (Thay) and the political upheaval during his lifetime, including the French War and the American War in Vietnam. Unlike Kiều, who was swept away by circumstance and unskillful thinking, Thay has used spiritual practice to transform suffering and realize deep wisdom and freedom. Kiều Oracle Reading is one of Thay's precious gifts, illuminating the path of transformation and healing for generations to come.
Flag-raising Ceremony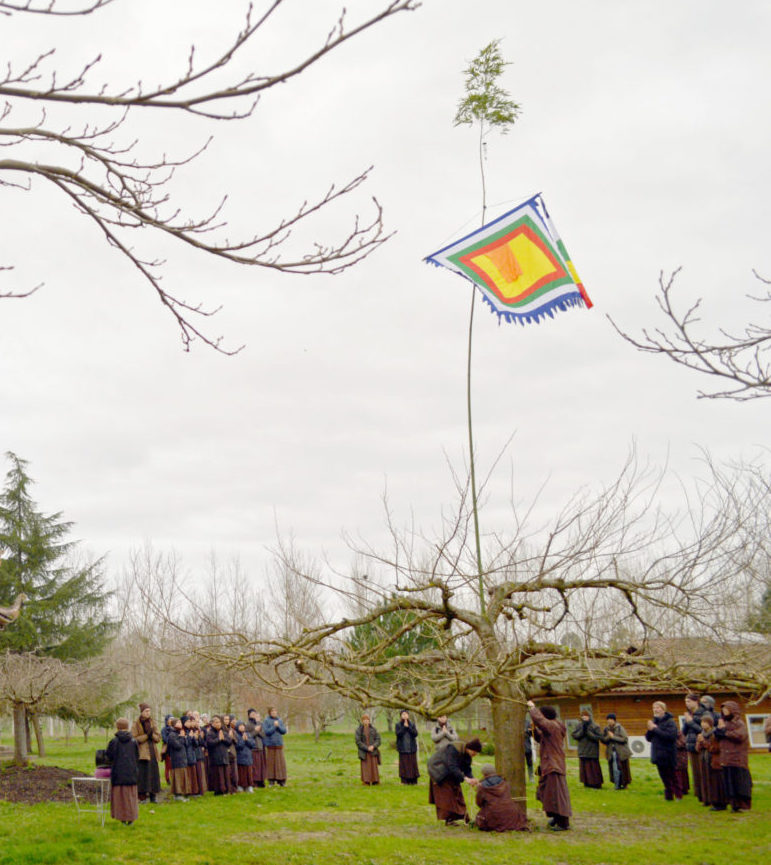 Besides wishing Thay longevity and Kieu Oracles, another meaningful event of Plum Village during this period is the "flag-raising" ceremony. Brothers and sisters will start this ceremony by gathering for a short practice of walking meditation, then assemble in a circle where a bamboo tree with a flag pinned atop is prepared in the middle of the circle. One elder in the monastic community will represent the sangha to remind us of the meaning of this ceremony. After that, the whole sangha will join our palms and do a short chanting while the bamboo is at the same time being raised. The ceremony ends with a series of the sounds of the bell as we bow to each other in the circle to offer our gratitude.
(Click here to read more about the legend of the new year tree)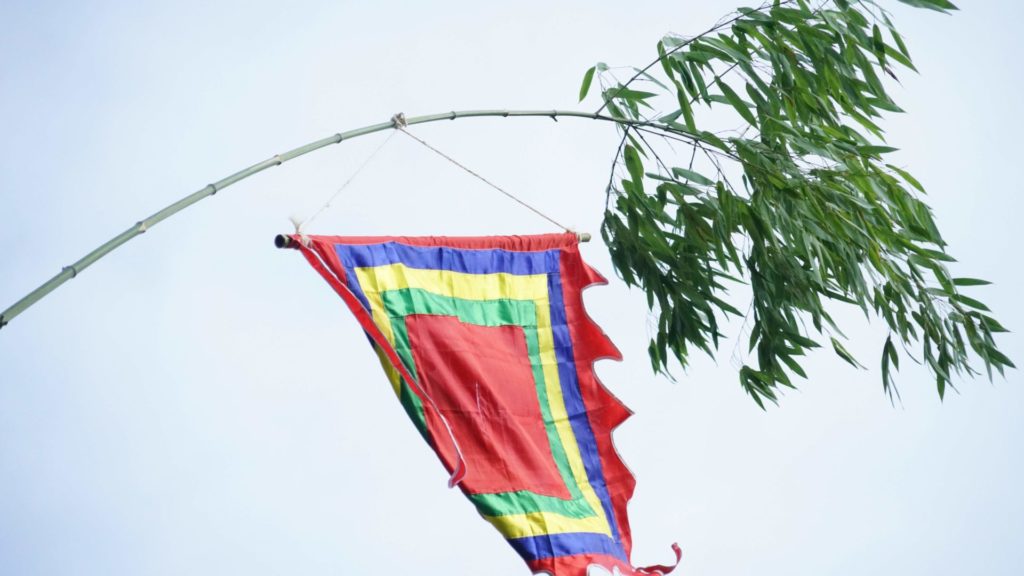 ---
In Part 2, we will explain more about Earth Cakes and Tết room visits.