Tết is the Vietnamese word for the Lunar New Year. In the second part of this two part article we continue to explain the ways that we find mindful and meaningful ways to celebrate this time of the year.
Dear friends,
In Part 1 we started to explain some of the ways we celebrate and honour Tết in Plum Village. Here we continue to explain the significance of our Tết traditions.
Visiting each other
In Vietnam Tết is traditionally a time for family members from near and far to gather, celebrate togetherness, pay our respects to one another and offer well wishes for the new year.  The first few days of Tết are spent visiting family and friends. The first day of Tet is particularly reserved for visiting family, especially our elders.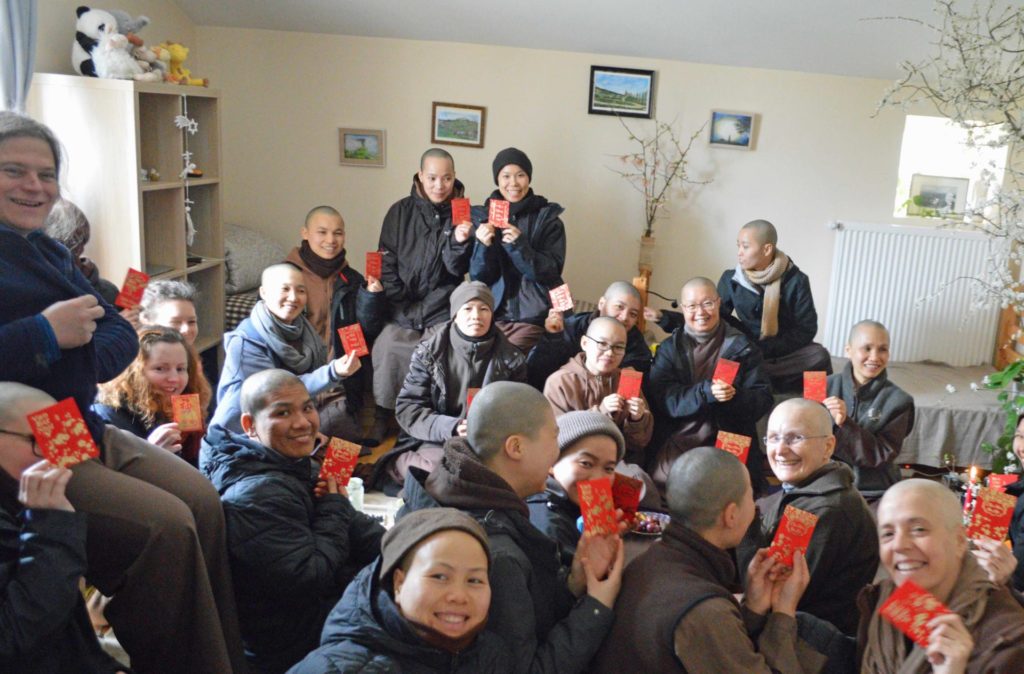 Visiting our elders
In Plum Village, as one large brown-clad monastic family, we spend about the first five days of Tet visiting our different hamlets. This is the only time in the year, monks, nuns and lay friends are allowed to visit each other's residences. It is a chance for us to experience the creativity of each person in their own living space in the way she or he decorates and arranges his or her corner in the room (we share rooms!) as well as the common space in the room, which is quite interesting. It is also customary to pay our respects in each hamlet by visiting the eldest monastic, and also the abbot/abbess in their rooms. If you are lucky, you might get to hear some stories of Plum Village in the "old days", and "bathe'' in their wisdom.
Enjoying the food
There are typically two or more monastics living in each room, and it is customary to offer delicacies that come from our country of origin. As we are a very international family, in addition to enjoying traditional Vietnamese Tết fare, such as candied ginger, watermelon seeds, and "banh loc" (a kind of tapioca cake), one can be mindfully partake of French crepes, Indonesian fried noodles, Japanese tea, Italian bruschetta, etc… as we move from room to room!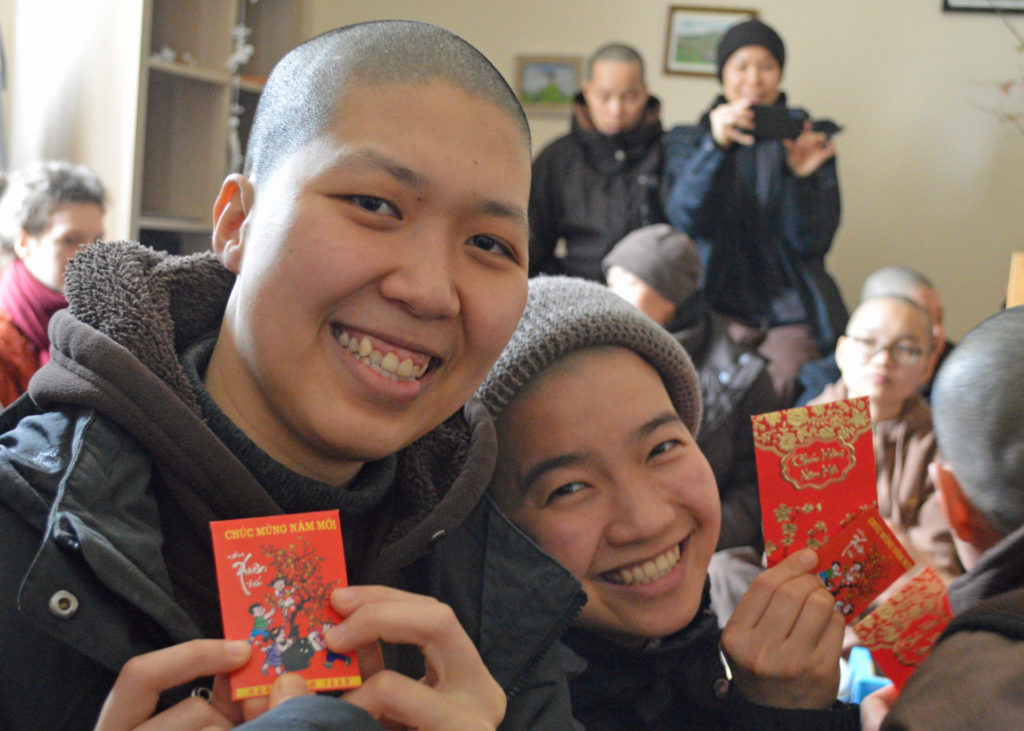 Playing games
Vietnamese families often play games when they get together during Tet, so when visiting a room, you have to be prepared for anything. Playing games, often concludes amidst much laughter, in someone being asked to sing a song or share a story.
Well-wishes
Conversations in each room are often very lively, varied, and international. But as always, there comes a time to move on (there are so many rooms to visit!) and before leaving, it is customary to offer well-wishes to our hosts. We often wish each other good health, progress in the practice, much happiness and joy on the path and depending on how well we know each other, we may end up giving or receiving kind words of advice for our continued practice! For the more musical among us, sometimes a song will be offered as a parting gift, much to the delight of everyone else in the room.

Wrapping the Earth Cake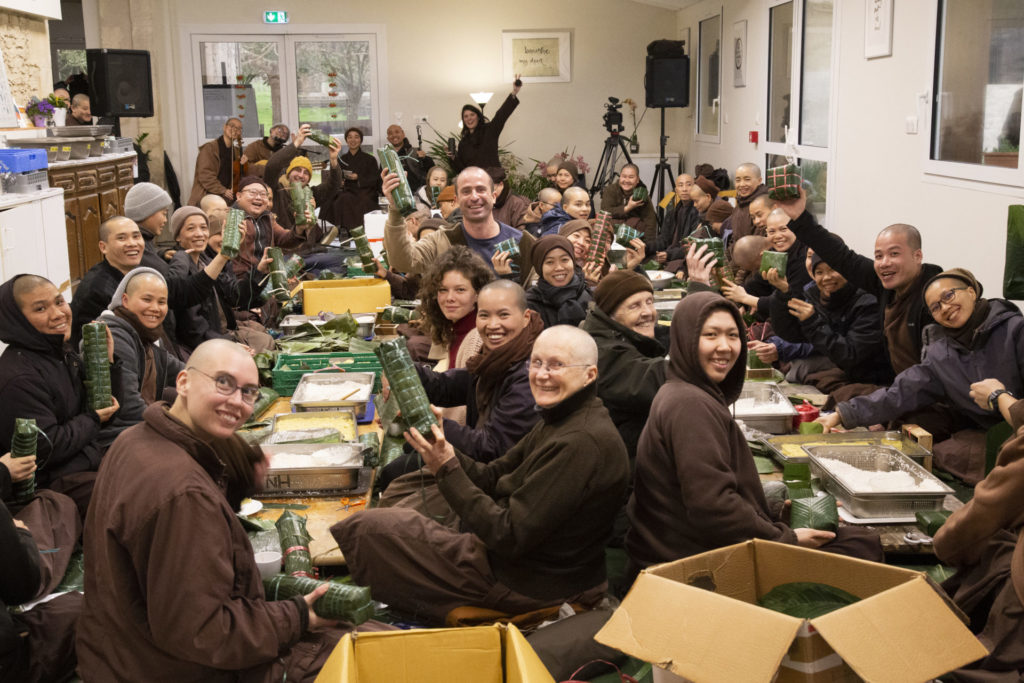 This activity usually starts after the flag-raising ceremony when brothers and sisters all gather in one hamlet to wrap the "earth cake", a traditional Vietnamese rice cake especially made during Tet. The main ingredient is sticky rice, and the filling is made of mung beans, and it is wrapped in banana leaves. In Plum Village, the gathering for wrapping the earth cake can be very joyful and fun. We have "instant" bands and performances offered by beautiful voices in different languages, along with so many interesting Tet songs. When the earth cake wrapping is done, and distributed to the 3 hamlets, it takes around 15 hours on a wood fire for the earth cake to be properly cooked. So we gather that evening around the fire to continue our endless mission of singing and telling stories. The atmosphere is very cozy and full of togetherness, brotherhood and sisterhood.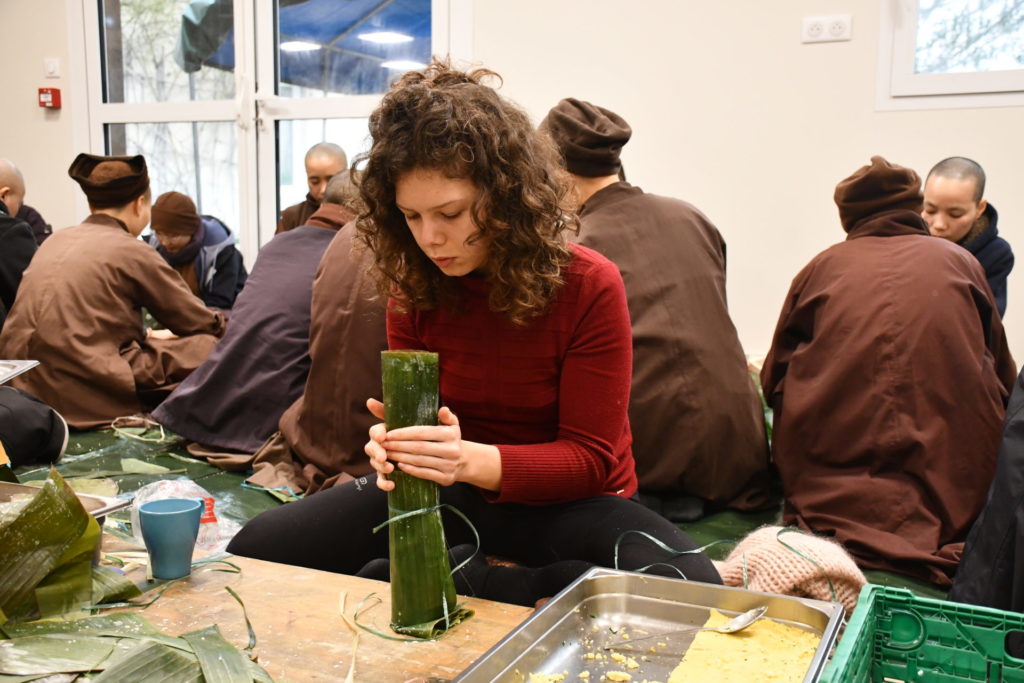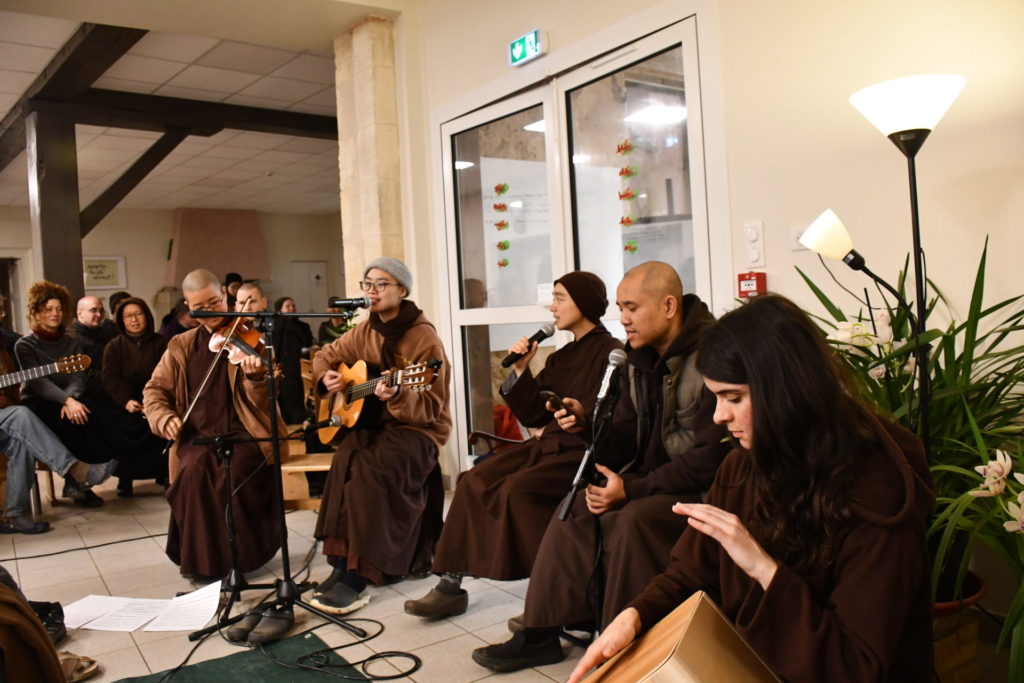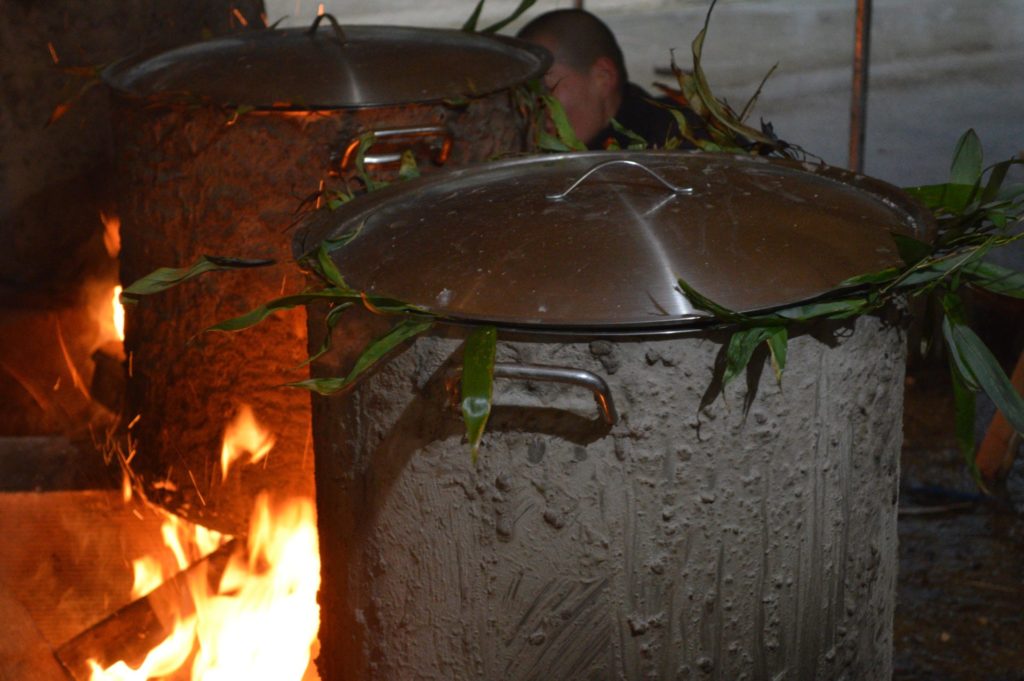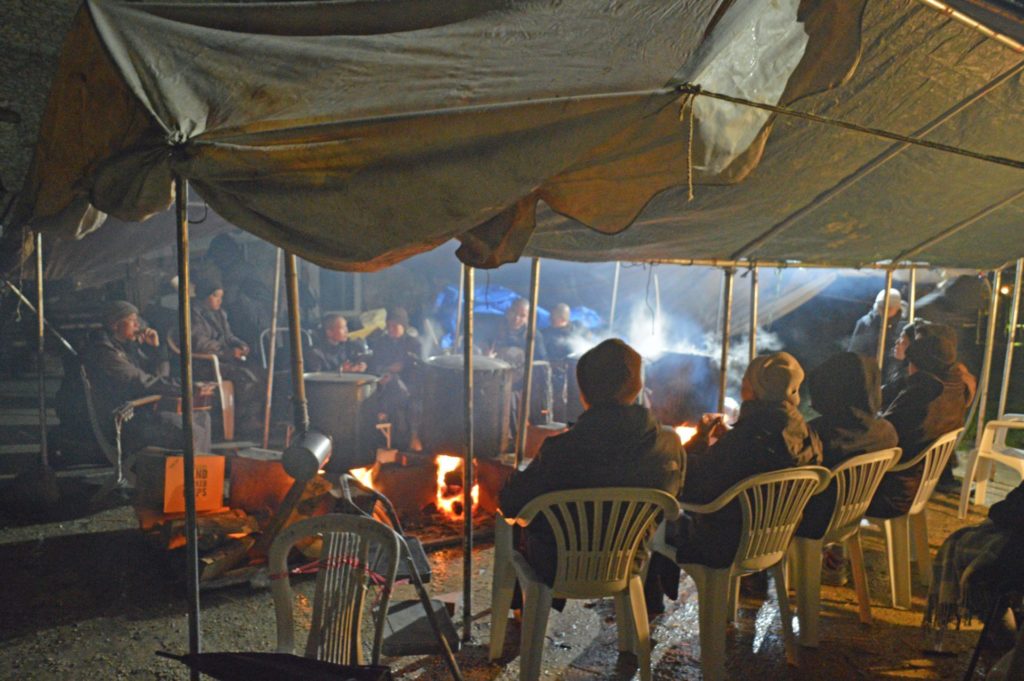 After the earth cake is cooked, we choose the ones which are in the most beautiful shapes to wrap them again with fresh banana leaves, then place them on the Buddha and ancestral altars, as a way of paying respect. The rest we will treat each other during the room visit. The amount of earth cake after wrapped would be consumed enough for the year to come.
Read more about the legend of the earth cake
---
You might also enjoy the Parallel verses offered by the Plum Village community for the Lunar New Year.