As part of our series on Racial Justice, we interview US-based Dharma Teacher Valerie Brown. Valerie offers us insight into how we can keep love alive in our hearts as we fight discrimination and injustice and points to some of the concrete actions we can take to make change.
What do you see as the causes and conditions of the current situation in the USA?
Opportunities to Practice
Taking Refuge and True Beloning
There are  a series of online mindfulness sessions for and led by People of Color with US and UK-based Dharma Teachers and Order of Interbeing Members including a session with Valerie on the 9th June.
Honoring Juneteenth: Love and Justice in the time of Coronavirus
This session, led by Kaira Jewel Lingo and welcomes people of all racial identities to explore how the historical legacy of slavery impacts all of us and how we can take part in racial healing.
I am delighted to be one of many voices to speak about the situation that is happening not only in the United States, but worldwide.
I wish I could say that these troubles began with the murder of George Floyd. But we know, of course, that they began decades ago and they've continued on.
What we're experiencing is kind of the perfect storm of events. The global COVID-19 pandemic has disproportionately affected black people in the United States in particular. They're quite stunning statistics about the percentage of Black people in particular, who have died as a result of this virus.
Added to this, the murder of in succession of innocent unarmed black people. Ahmaud Arbery was hunted down in broad daylight and shot by two men, one a former police officer in Georgia. Breonna Taylor was shot and killed in her apartment. And then, of course, George Floyd was essentially murdered by a police officer in broad daylight.
All of these circumstances on top of the global pandemic have created the causes and conditions.
And these are just some of the causes and conditions. There are also systemic injustices where we know the statistics where Black people, in particular, are suffering disproportionately from gun violence, from poverty, from lack of education, from lack of access to clean water, from lack of access to safe housing. And so what you have is a situation that has come for the Black community in particular, to the point when it is intolerable. So even in the face of this disease that is COVID-19, people are willing to risk their life to say that this must stop.
How can we respond to a situation like this? What teachings and practices can we use?
So I begin by acknowledging what our teacher, Zen Master Thich Nhat Hanh has offered to us. And not just Thich Nhat Hanh, but the entire Plum Village community. And the Vietnamese people and the Vietnamese culture that has produced and nurtured a Thich Nhat Hanh. We are so lucky that we have these people who have created a path forward and a way for us to address this.
As well as our beloved teacher and the beloved community that is Plum Village, here in the United States, we have also countless Civil Rights leaders like Thay's dear friend, Reverend Dr. Martin Luther King Junior, who gave us quite specific instructions on how to be and how to address injustice and violence. What Dr. King said was "Never to succumb to the temptation of becoming bitter. As you press for justice be sure to move with dignity and discipline using only the instruments of love."
Recently, I participated in an online meditation event led by a Black meditation teacher by the name of Ruth King who is quite well known here in the United States. There were over 600 people gathered at that event. What was interesting there was the question that emerged from the chat and the question that emerged was, "How do you fight injustice without hating?"
I go back to the words that Dr. King said about how can we hold these injustices in our heart? Our beloved teacher has given us a tool and a path. He has told us to be aware and that is my practice. To be aware when the seed of anger and violence, which is being heavily watered right now, is arising in me. When it is, I go back to my breath, I engage in mindful walking.
Someone asked me the other day, how do you hold on to your breath when you're not walking in the forest? When you're not engaging in mindful walking in the woods? I said to the person, "I put the woods in my pocket. I walk with the woods and the forest in my pocket and I breathe with the forest right in my pocket. Part of this is remembering that I'm alive, that I have this breath that I can breathe, and taking very good care when this energy of anger, rage comes up in me."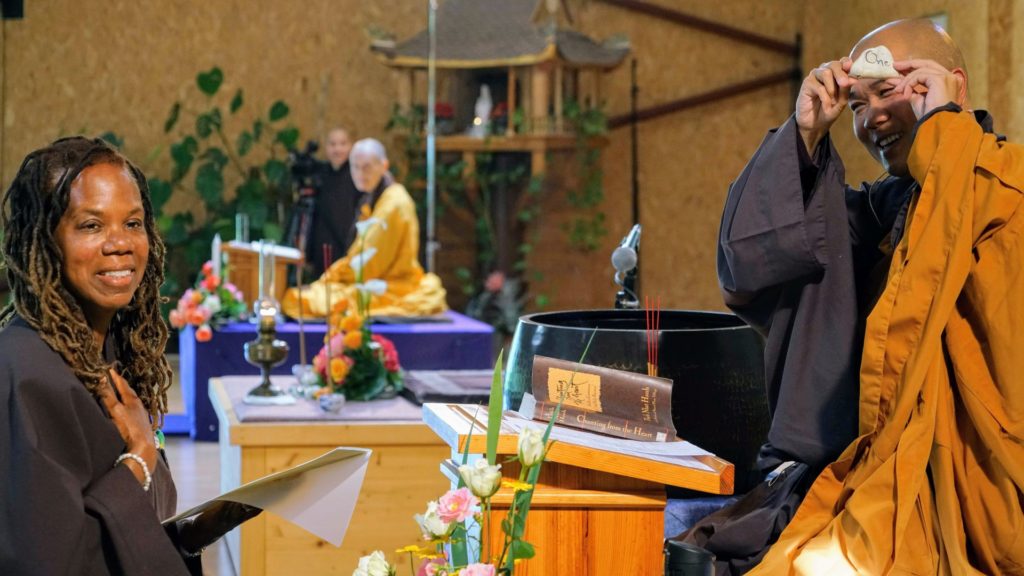 How can we combine our practice with taking action?
I think our practice is our foundation, and one of the practices that I've relied on quite, quite heavily is the practice of Metta or loving-kindness. Every day I spend a lot of time offering compassion, peace, ease and goodwill to the people who I believe are the cause of my suffering.
And the reason for that is to recognize that my fate is interdependent with their fate. That we are really not separate.
I practice with the sutras, in particular the Discourse on the Five Ways of Putting an End to Anger. To see even the tiniest bit of kindness in the people who I think are the cause of my anger and my suffering.
So the firm base [of our response] comes out of the base of our mindful breathing, our practice, the Sangha, the community. That is skillful action.
We also need to take engaged action. What does that engaged action look like? Well, my training is as a lawyer and not just a lawyer, but as a lobbyist in advocating reform to laws that help to provide greater justice and peace in our society. I think as individuals we might say well, what can I do about systemic structures of injustice? We can certainly vote, we can protest, we can advocate for laws that will put an end to some parts of these things that are happening.
For example, here in the United States, there is no national database for police officers who have committed crimes. They can commit these crimes and then go to a neighboring state and be hired. This should not be happening. We need these kinds of checks and balances.
We need to look at the laws that offer immunity to police officers. What is the kind of immunity that they should be granted? What is the federal standard of how we bring a lawsuit against police officers who are engaged in unlawful conduct? So we have the laws of this country as a vehicle to seek justice.
I just want to lift up the words of Congressman John Lewis who is also a civil rights leader and walked with Dr. King. He has said sometimes you have to "get in trouble."
I think that's true. Sometimes you have to get into necessary trouble; not all trouble is bad trouble. In this case, advocating for justice is very "good trouble". [Peaceful] demonstration and [non-violent] protest are the kinds of trouble, good trouble, that is needed to eradicate discrimination, hatred and violence.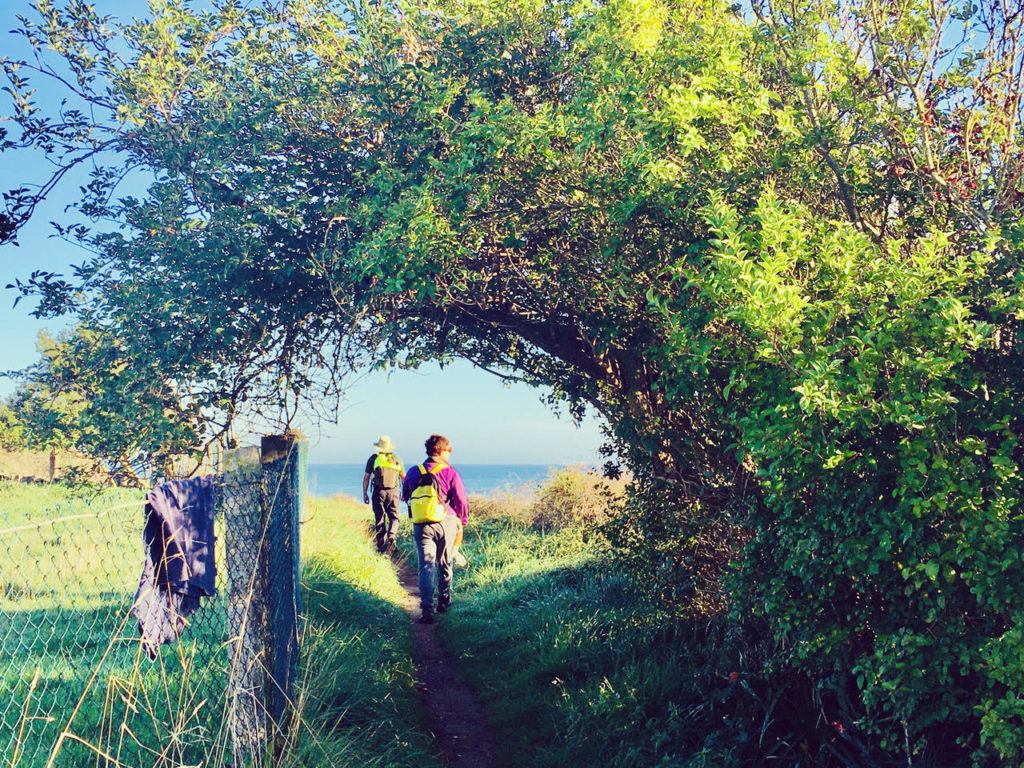 During the Vietnam War, Thich Nhat Hanh often made concrete proposals to the governments and Buddhist leadership, and when he came to the US he also had a five-point plan for peace. As a spiritual teacher, what concrete proposals would you put to the US government right now?
The first thing I would say is we need to look at the federal civil rights laws, and the legal standards for bringing these federal civil rights cases in a court of law. What is the legal standard that needs to be examined?
The second is what is the level of immunity from liability that is allotted to law enforcement? That needs to be looked at again.
The third, we do need a national database, and probably worldwide, so that people who commit crimes are not able to go to a neighboring state and commit crimes again. I would say that many of these may be in the nature of accountability of law enforcement. These are concrete steps.
The fourth thing is that we also need training for law enforcement on community relations and on race relations. This is critically important. In this country Black people in particular, and I would say people of color in general (and I know there are many other terms for describing people of color) are experiencing racialized trauma.
Black people are suffering from racialized trauma and this is affecting us as Black people on multiple, multiple levels.
If I could wave a magic wand to make this all go away, it would be for people to see the humanity of Black people. To be able to see us as human. This violence has dehumanized us as Black people and of course, because we are interdependent this is not limited to Black people.
There is a real need for a shift in our mindset – an awakening, a way to wake up, to see our own humanity in all Black people, in all people.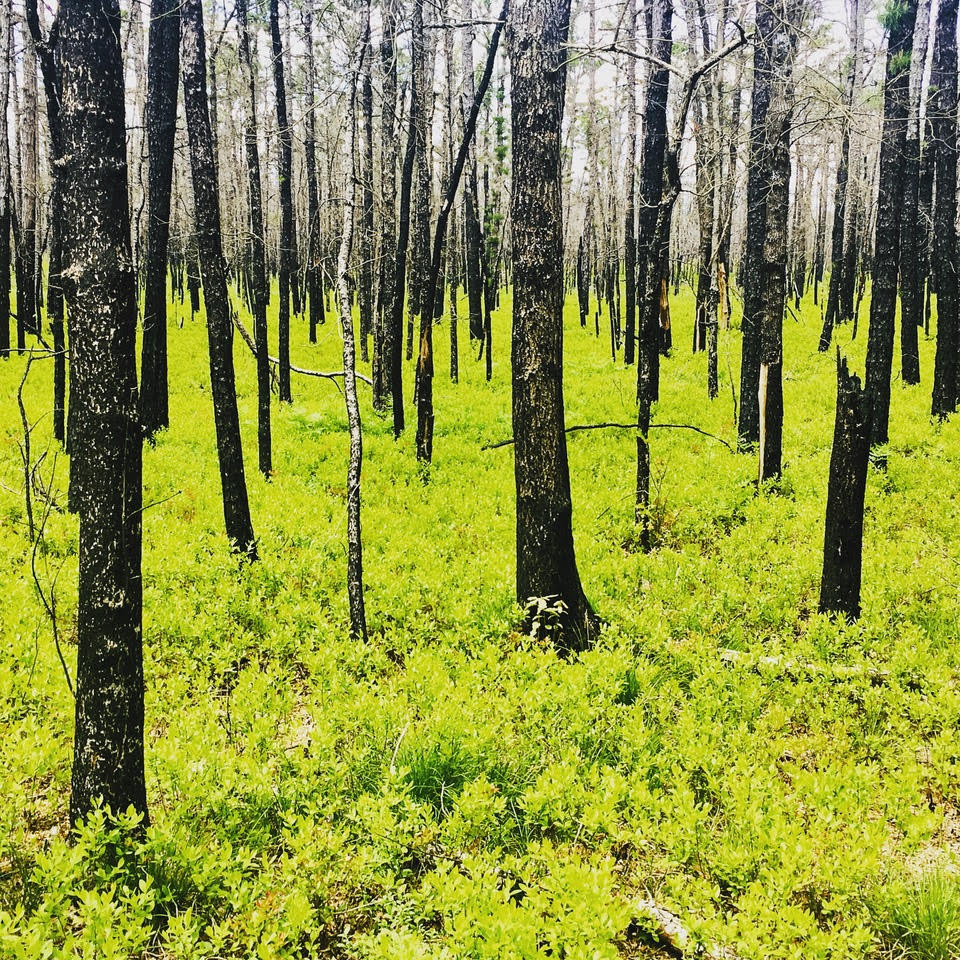 What can White people do to practice Right Action and an Engaged Buddhist response?
Yes, it's an important question. The answer to that question came into my inbox by way of the Harvard Business Review. It's not exactly something that Black people produce! What was really interesting here in the United States is that hundreds of corporations, Fortune 500, Fortune 100, large and small companies, are owned by white people.
I'd like to share with you what the Harvard Business Review this week has said that people should do, and I fully agree with it. So, again, this is not me. This is from the review:
Decentering White people is important.
Acknowledging what we do not know.
Becoming aware of our defensive mindset.
Avoiding sweeping generalizations.
Offering space to Black and Brown people.
Creating a space for reflection and dialog within your workplace, in your home.
Racism, The Harvard Business Review said, is not Black people's problem, and inaction is tacit endorsement of the status quo. This is true.
The time has come for White people to no longer say "I'm one person, how can I address the systems and structures?" I've just outlined several things that each one of us who identify as White can do to address that. This is not the problem of Black people alone. We are interconnected. What affects that historical dimension of my self-identified blackness is going to affect everyone else, because we are all connected. So it affects us not only on the historical, but on the ultimate dimension.
What can we do? We can begin with these things. We each have a role. Silence is equivalent to being complicit. That may feel very strong for some people who may be frightened and who may say, "I don't know what to do" but our teacher has given us this path, of bravery, of love and compassion. We know that with compassion, it's not enough to just think about it. We need to engage in skillful action and sometimes that may be difficult, we might trip over ourselves a little bit, but it's important to start, to begin. That's what I would say.
Is there anything else you would like to add?
I have a lot of gratitude to Zen Master Thich Nhat Hanh, to the Plum Village community, to the Vietnamese people and to Vietnamese culture for producing this great being that is our teacher, a teacher for our time and for the world. I'm very grateful to the Sangha and to the Plum Village community for producing this interview, it is very much needed. We as Black and Brown people are in the fight of our lives. To address this, we need the power of love. Thank you.
---
Valerie is a member of the ARISE Sangha, a community of mindfulness practitioners and monastics who come together to heal the wounds of racial injustice and social inequity, beginning with looking deeply within ourselves and using the energy of compassion, understanding, and love in action.
Please read the ARISE Sangha's special June newsletter which includes a set of contemplations on a "New Paradigm For Racial Justice and the Global Pandemic".