Every year monastics from the Plum Village tradition are invited go to Israel and Palestine to hold days of mindfulness and retreats. In March this year Brother Phap Lai, Sister Luc Nghiem, Sister Mai Lam and Brother Duc Pho spent time in Palestine, this article by Sister Mai Lam recounts some of their experiences.
Howard picks us up at Tel Aviv airport and drives us to a village called Neve Shalom in Hebrew, Wahat Al-Salam in Arabic, and Oasis of Peace in English.
During the long drive my thoughts drift to my friend Lora. Without her, I would never have joined this trip. Three or four years ago, she spent two months in the community where I was living. A few days before her departure, I asked her to write the word Salam for me, which means 'Peace' in Arabic. She looked at me very intensely, with clear, fierce black eyes: NO! When I asked her to explain her NO, she became very animated and loquacious:
This is just a word, she said. It doesn't mean anything for any of us in Bethlehem. Our friends are shot, our houses can be destroyed any time, we are not allowed to move freely, and you want me to think about peace! I never felt happy with what I tried to answer her with that day and I spoke much more than I listened…
But truly, now I realise that I simply wish for all people to be able to think about peace, peacefully, and that's the meaning of my coming to this region.
Neve Shalom is a cooperative village founded jointly by Jews and Muslims to show that the two peoples can live together. I am part of a group of four monastics: two brothers, Phap Lai and Duc Pho, and two sisters, Luc Nghiem and myself – Sister Mai Lam. We expect everything and nothing at the same time.
During the meetings we had to discuss the trip we asked ourselves many times if we were making the right decisions and we constantly asked for advice and insights. We debated if concentrating our trip on Palestine (rather than also including visits to Israel) was the best thing to do? Were we not taking a clear stand by choosing not to participate in any retreat in Israel and by refusing the invitation of our friends in Tel Aviv for a day of Mindfulness?
These questions will come back again and again and during the two first days we are in the country, we take time to sit around a table to talk with representatives from our Israeli practice groups. We listen to them and we share our deep desire to connect with Palestinian youths, to help them to not to enter into a mindset of hatred and in the hopes of passing on to them the practices we have.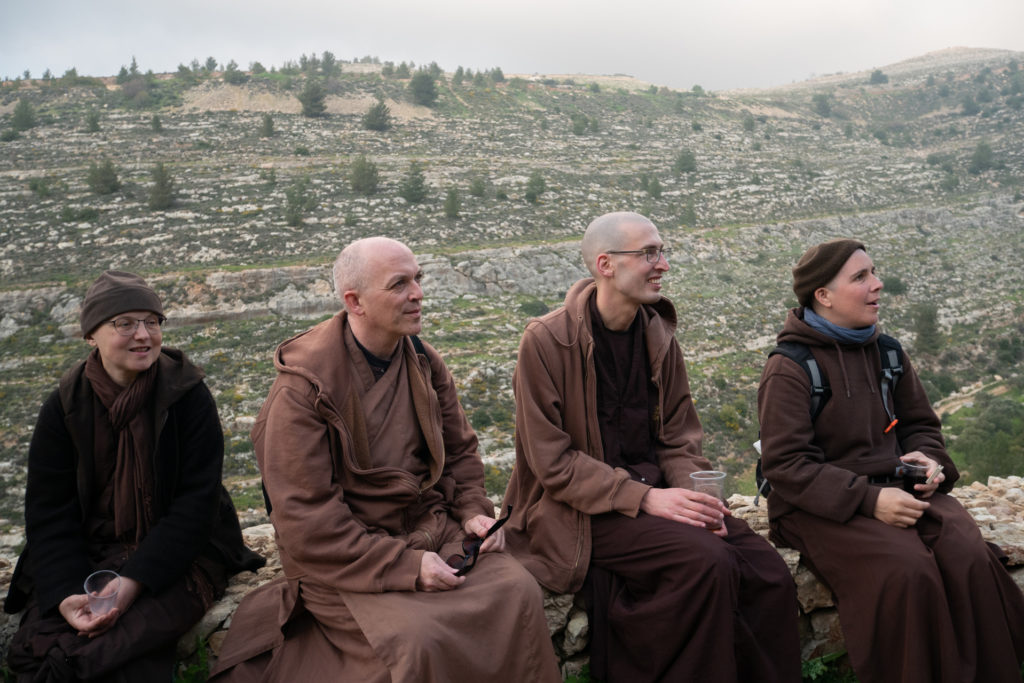 After two days in Neve Shalom we leave for Bethlehem, which will be the starting point of three week trip. We meet people from all walks of life from streets sellers to well-known NGO leaders, even the owners of our hotel, who are all strangers to our practice and our tradition. They are all willing to share with us, they are all warm, welcoming and want to know more about the practice of mindfulness and our way of life.
I go and visit my friend Lora and her family, they are part of the 5% of Christians left in the city of Bethlehem. Buddhist, umm… what does that mean? I try to answer the question sharing about the practices of deep listening and taking care of strong emotions. Her father disappears, embraced in the arms of his sofa: this morning in Bethlehem a young medic has been shot while he was trying to rescue somebody. Obviously, these people already know about strong and overwhelming emotions, and I feel that listening to their fear and anger is the best I can do.
The temptation to take sides is great. The only alternative we have, and the reason for our coming, is to offer our practice. We continue to listen, and hope that the appeasement of suffering through being heard, will create a space where the people we meet can put down what weighs heavily on them, because they know they will not be judged. Neutrality is essential to maintain the quality of our deep listening, and it's a constant challenge.
We also share other Plum Village practices. We teach many children in a school in East Jerusalem, and in one of the refugee camps of Bethlehem, how to listen to the bell. We teach breathing calmly to children who know the fear of tear gas being thrown in their streets several times a week. They play around us, they scuffle with each other, trying to steal the bell inviter from the lucky one who has it. It seems a bit chaotic, but from this chaos emerges so much vitality and joy… and if they can associate listening to the bell with joy, we have already reached them deeply, joy is much better than forced silence.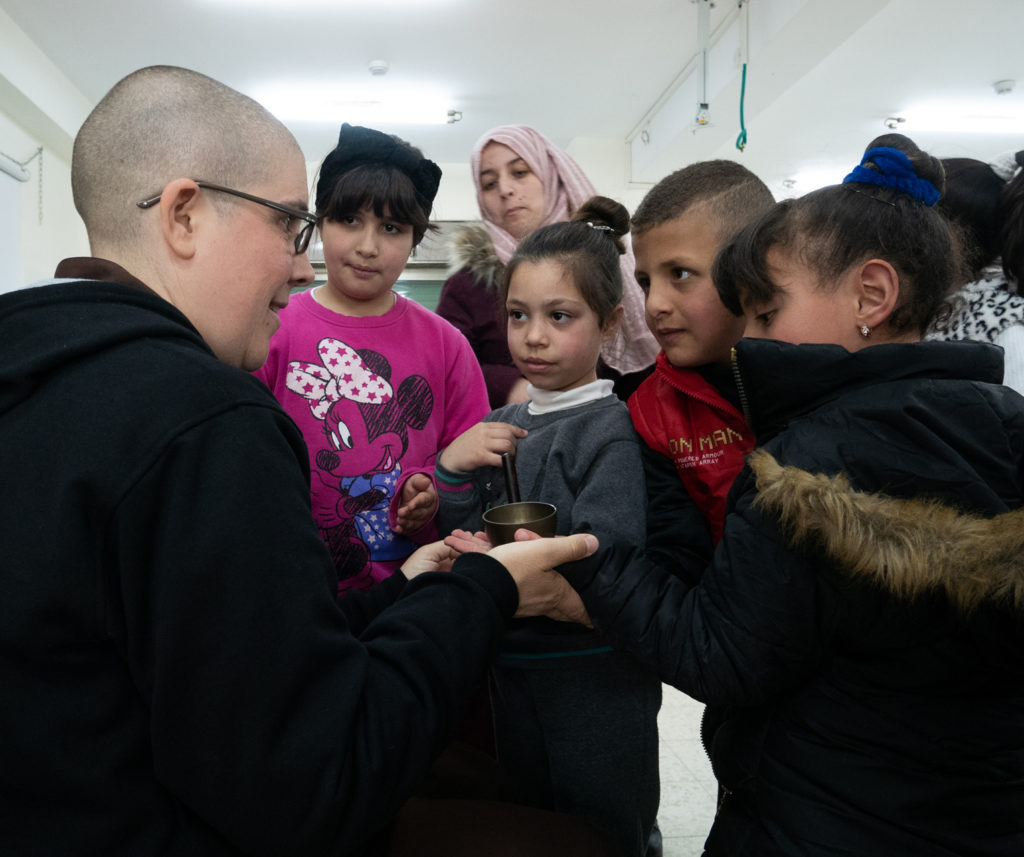 We also spend a few hours in Hebron, some of us visit a group of former Israeli soldiers who have decided to testify to what they themselves have done. They offer a beautiful example of loving speech, using their stories in a very peaceful way, simply reporting the facts as they happened in order to help people in distress. Some of us spend time with a group of young women who are eager to discover the practice. I'm part of this second group and I come out three hours later completely stunned by what I experienced: thirty to forty women are present, most are under thirty, they are happy, extremely lively, talkative and warm. Again we start with deep listening and then we share the practice with them. To tell the truth, silence seems something sad and boring to them. They obviously prefer to tease each other, and to take full advantage of the freedom that comes with being entirely in a group of women, but as soon as we bring up the practices of respect for others, of peace, of harmony in oneself and in the world, the atmosphere changes dramatically. They want to make peace, they want to believe it is possible, and they are ready to do anything to make it happen.
We also offer a short meditative walk and I am surprised that there is nothing of the agitation of the beginning of the session. They put one foot in front of the other, exactly as if the state of the world depended on the quality of their mindful steps…They do not want the session to end and they invite us to dinner (hospitality is a sacrosanct value in Palestine), making us promise to return again in the future. Part of our hearts remains there, in these few hours of hope.
We also visit a group of forty people for a two-day retreat in a Salesian monastery, it's a former seminary in Cremisan, and known for the beauty of its gardens. The participants come from many backgrounds: Christians, Muslims, Palestinians, and Westerners living in the Holy Land, couples, singles, young, and old and the sharing is deep…We also hold a day of mindfulness next to Ramallah, and have an evening of practice with our friend Issa, we have many beautiful encounters with peace activists. It took us three weeks to learn that we do not have any solutions, nor any advice to give, but that we can listen and show others how to listen, first to their own suffering, second to the suffering of their neighbours, and maybe one day they will see the ones they think of as their enemies also suffer.
We end our trip with a two-day hike to the shores of the Dead Sea. Our guide is Christian, and from the same neighbourhood as my friend Lora. He knows her. It makes us feel we all belong to the same human family. This time of walking is for many of us a chance to enjoy silence, to return to ourselves, to pray, and an opportunity to let everything that we have experienced settle. From our mindful, silent, steps emerges a hope to see more mutual understanding on this earth. This hope is a bit crazy, like this trip, but it gives meaning to the few weeks we have spent here and to our lives.
During our teaching tours in the Middle East we have encountered many young people who would like to come to Plum Village, to experience practicing within the peaceful, supportive environment of the community. We would like to create an opportunity for a group of 16 Palestinians and Israelis to attend the Wake Up Retreat in Plum Village this August. To do this, we need your help. Please consider offering a donation towards our scholarship program: https://donation.plumvillage.org/middle-east-wake-up/ .
We offer our deepest thanks and gratitude for any gift you can offer.